Travelling to the Island of Capri in Italy without tens of thousands of dollars is very limiting. It is the holiday place of the rich, an ocean retreat just off the coast of Naples. That's not to say that the general population doesn't visit there. Arriving at the dock of Marina Grande, you're immersed in the bustle of tourists. A mix of British, American and Japanese, they all come to experience the romanticism of Capri and the Amalfi coast. They cling to large cameras, wide brim hats covering their faces, waiting patiently for their tour guide to take them around the island. I managed to get out of this crowd and up into the main town. It sits atop a hill, connected to the port by the funicular.
From there I went down to the other side of the island. This was the slightly less touristy part called Marina Piccola. On the way down, I could see shores lined with large yachts, small dingys bobbing in between them. Further out absolute monolith superyachts dotted the horizon, their million dollar owners oblivious to my struggles with the tour groups. I was instead on my way to rent a 'traditional' boat. I had researched the night before where the best value rental boats on the island were and Marina Piccola was the go.
This led me to Capri Blue Boats, which had a very nice looking website with a slightly dodgy Paypal system. I used this system to rent a boat for the day, at the price 150 euros. In comparison to the rest of the islands rentals, this was a steal. But as I was approaching the Capri Blue office, I was half expecting to see a cluster of boats ridden with holes and rotting wood. To my surprise, there was neat gathering of moored small wood boats, all beautifully painted. Decent size outboard motors hung off their sterns.
---
---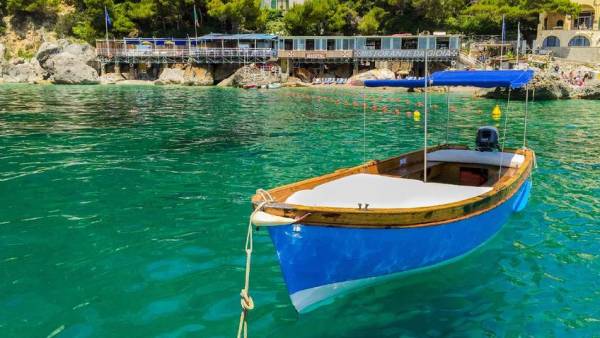 A 60 something Italian man greeted me at the office. He didn't speak a lick of English and my Italian is mediocre at best, so getting to know the boat and area was tough. I'll be a 100% honest; I've never used boats like these before. So as I was nodding there, listening to his instructions, I nervously spotted a cluster of yachts almost blocking the entrance to the bay. This was going to be fun.
Once off, I approached the yachts, slowing down enough to say hello to whoever was lunching on the back of them. Ducking and weaving I made my way out of the bay, and headed to the right. I had spotted a couple of nice isolated shorelines on my way down, and headed towards them to mingle with the other small boats. Anchoring with them was tough. The water gets deep quickly off Capri, so my crappy little rope anchor was inefficient in actually keeping me in one place. I'd lie down on the deck to relax and only moments later I'd be within arms reach of another boat.
To say it was crowded is an understatement. Literally every bit of shoreline was covered. Trying to exit the area, I had a nerve wracking moment where my anchor was caught on some rocks. A very expensive yacht had just pulled up beside me. As I was frantically adjusting a readjusting the boat, trying to get the anchor to shift, a fat middle age Italian emerged on to the deck of the yacht. Looking like he was straight out of the Godfather, he bombarded me with insults and directions as I edged closer to his yacht. At one point I made eye contact with him and he gave me the mother of all death stares from behind his Carrera sunglasses. I finally got the anchor unstuck and proceeded to scoot away as quickly as possible.
It took me about 2 hours to get the hang of things. The irony is that after all that worry, the largest and most expensive yachts are the easiest to avoid. As long as they're not moving, they're like their own islands. Keep a decent distance and you'll have no problems. It's the little boats, used by the locals you have to worry about. They ducked and weaved around frantically and I can guarantee at some point one or two would've collided with each other.
All in all, I got back to shore satisfied with my exploration. The whole experience made me wish I had enough money to own one of the super yachts. Hopefully at some point in the future I can live that #gvlifestyle, drifting around the Mediterranean as a ripped 50 year old. Until then I'm going to stick to ferries around Sydney harbour.