If you don't even read past these first few sentences, just take away two things. First, don't assume anything in Cuba, nothing.
Expect the unexpected and embrace it. That's why you're there in a sense, that's why you're considering a trip to the world's most intriguing, time-locked country. If you knew it was going to be smooth sailing the whole way, would you really go?
I know I wouldn't. Second, you're racing against the clock.
---
---
Time is a wonderful thing in Cuba. For decades the island has been a stagnant, unchanging showcase of a 1950's fusion of Latin America and the Caribbean. That's all changed recently and Cuba is evolving so fast that from the day I left back in May to the moment you read this article and even by the time you get there yourself, it's changed a thousand times over.
First up a little history to prime your palate.
The United States has had the country in an economic choke-hold since Fidel Castro seized power in the 1953 revolution. Castro's brother recently assumed the position as leader of the Cuban Communist Party and the trickle of changes has finally begun. No longer could Castro's Cuba remain defiant while his people lived in such poverty. We are now witnessing the remarkable opening of a country virtually untouched by the globalised world.
In December 2015 when the U.S. and Cuba normalised relations, the tourism time bomb countdown began. American travel agencies began planning for a profitable future and those, like myself, who realised that it was now or never, packed our bags and went.
Six months later I sit here torn between re-telling an Indiana Jones-style, adventure-ridden escapade across a mysterious foreign land, and a pragmatic, cautionary anecdote of the do's and don'ts in a very unpredictable and strange country. I decided that both were equally necessary in this case. Cuba is a place that deserves its novel-like romanticised obituary to balance the hesitant, 'too hard basket' attitude that comes with visiting a country as complex as Cuba.
And believe me, it's not all drinking Havana Club with bronzed Latina babes under palm trees smoking cigars. Before we go any further, ask yourself why you want to go to Cuba. If your answer is to get wasted on a beach with drunk millennials or 60-year-old retirees, then stop right here and go to Mexico instead. Adventure, the thrill of uncertainty, an eagerness to encounter fascinating people and a willingness to undergo a huge lesson on self-awareness should match your motives to explore such an incredible country to some degree or another.
Cuba is also not a place for luxury, even though you may be able to find it inconsistently in some places. Once you've accepted that, we can kick off with the pre-travel lowdown.
---
---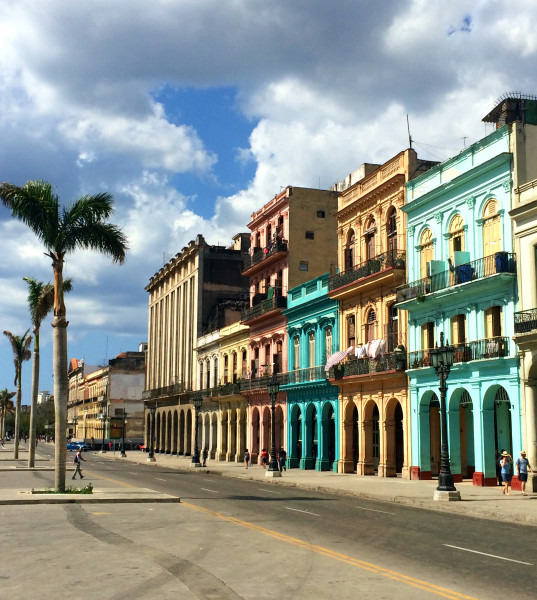 THE ESSENTIALS
BEFORE YOU GO
Getting into the country is surprisingly a breeze for most foreigners, in particular, Australian, New Zealand and European passport holders. If you're American then you've got something to look forward to, but currently, it's still a bit of a shitfight. For the rest of us, you'll need a 'tourist card' that can be purchased from many British and Australian travel agencies, online, or at the airport in Mexico before you fly. Larger airlines like Air Canada may even include it in the price of your ticket, either way, check that you have it before you get to Havana or you're in for a fun introduction to Cuban bureaucracy.
As for flights, your cheapest bet is still to get yourself to Mexico City or Cancun, and flights with Interjet will be no more than 150 dollars one way. It's a budget airline but it's one of the best I've ever flown with.
Money is NOT a thing you can just wing when you arrive. Don't assume you can use your credit, debit or travel money card anywhere in Cuba. You'll need to take all the funds you plan on spending in cash with you just to be safe, you don't want to get caught short. Everything is paid for in cash, even big expenses like accommodation and inter-city transport. So pack it in tight somewhere with your passport and hope for the best.
As for which currency to exchange, I'd recommend Canadian dollars or British Pounds. Euros are accepted too but American dollars are an unnecessary hassle. You'll get charged a 10% commission on any USD, and we know too well that it all adds up. As for how much to take, that's your call. I took 800 Canadian dollars and that lasted 12 days. Just be strategic and plan ahead. Turn left out of the arrivals hall and line up for the currency exchange quickly, you could be waiting for over an hour if you haven't got your shit together upon arrival in Havana.
On the topic of money, Cuba has two currencies – one for locals called the Cuban peso (CUP) and one for tourists called the Cuban convertible peso (CUC). Tourists aren't technically allowed to use the local money, but if you can get your hands on some then it makes your whole experience even cheaper again. Street food, local collectivos and, most importantly, rum are sold in CUP. It's basically a separate economy so the locals can live cheaply and the government can make more money from tourism. There are a few exchange banks around Havana if you can find them or alternatively trade with other travellers. Change 20 CUC worth to start with and that should be plenty.
Cuba isn't a place to just rock up and hope to find a bed for the night, no surprises there. Booking your hostel before you leave is essential otherwise a very disorientating experience will only spiral out of control if you're messing around trying to find a place on arrival. Hamel Hostel in Havana Centro is run by a lovely old couple who speak no English, but Magnolia is your go-to travel agent on the ground and knows a remarkably large number of people all over the country. It's $5 USD per night.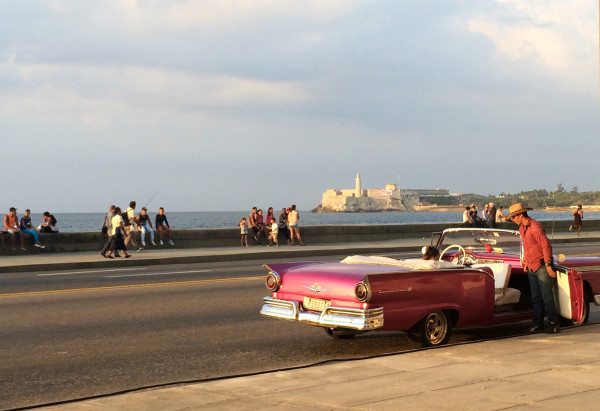 HAVANA(La Habana)
I sat on the edge of our hostel roof watching the final rays of Caribbean sun melt into the horizon. It was being chased away by rolling black clouds bursting with hot and humid rain, ominously waiting to lash down on this surreal city. I can't say I've ever experienced culture shock, but if I had to pick an 'almost' moment, Havana would be it. It wasn't the poverty or the people, it was something else. You can't articulate it. After only a day I began to realise that this country was unlike anywhere in the world.
Two stray dogs chased each other across the street below and a group of children kicked between them what I assumed was a football, but looked more like one you'd find in your backyard after a few years, chewed up by your dog. Some streets in Havana could mirror a war zone. If you leave Havana Vieja especially (Old Havana – the touristy area of town), then if it weren't for the striking colour palette of the buildings you would have a hard time comprehending where exactly in the world you were.
---
---
Across the street I watched an old lady lower a key on a string from her balcony to a man I assumed was her husband. Whether she couldn't open the door automatically or just couldn't be bothered to walk down, I'll never know. People are strange in Cuba.
The untouched 1950's American muscle cars in all their original glory chugged down las calles, somehow still getting their passengers from A to B, their owners probably wondering which trip will be their last.
The tropical heavens finally opened, simultaneously with a crack of thunder, and the children turned their attention to the torrent of water now running off the roof opposite, pushing each other under the much-welcomed relief from the sticky humidity. Behind them, an obvious reminder of the revolution. You'll find it around every corner. The pro-CCP graffiti is easily identifiable, completed in an oddly meticulous fashion – more nationalistic murals than sloppily sketched-out street art.
Revolution is still very much alive in Cuba.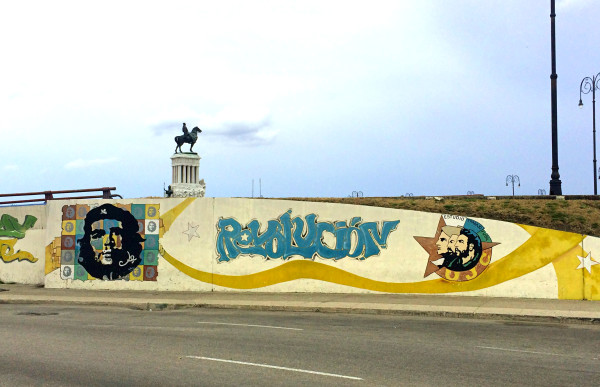 Three days ought to do it in Havana. While a lot of Cuba is simply about soaking up the streets and the atmosphere, there is still enough to keep you busy in the capital. On a good weather day, get the tourist bus from Parque Central to Playas de Este for a quiet afternoon strolling along stunning turquoise blue beaches on the outskirts of the city. If you go further east along the beach you'll find some dilapidated yet mysteriously beautiful beachfront mansions that were requisitioned when the revolution took power. There is no place for wealth in communism.
The Malecón is the oceanfront boulevard that borders the city running along the sea wall. On a Sunday especially get a two dollar bottle of rum and sit down by the ocean with the locals. Everyone comes together at sunset to dance, sing and enjoy a little cheeky water to cap off the weekend. It's the best way to immerse yourself in the local vibes. Alternatively, splash out for a cheesy – but worth it – driven tour of the city in a classic, bright pink 1956 Ford convertible. For about 20 CUC they'll drive you all over the city and along the Malecón. Probably the most expensive thing you'll do but a classic opportunity you can't pass up.
The old town is full of hecklers and scammers. Watch your wallets, and ladies dress appropriately. If you're a woman travelling with a man you'll be fine, although if you're by yourself or in a group of women be prepared for the standard sleazy staredown and harassment. While you're in the old town, the Revolution Museum is the most interesting and best value of your options. If you're into history you'll find a fun collection of communist propaganda and relics from the Cold War unlike anywhere in the world. When you're over the walking, the rooftop bar of the Ambos Mundos Hotel has some fantastic views of the old city and does a killer mojito.
To get an unofficial collectivo taxi back to your accommodation, simply flag down one of the classic cars with a roughly made 'taxi' sign on the windshield and tell them where you want to go. If they are going in your direction they'll let you hop in. Just give them 10 local pesos (about 40 cents) for the trip; if you ask them how much they want for it you'll get ripped off.
---
---
Once you've soaked up as much of Havana as you can, you need to go to the central bus terminal the day before to buy your tickets for your next city. Organisation isn't Cuba's strong point. A hassle I know, but you can't buy them on the day and they fill up fast so go early and confirm a spot for peace of mind.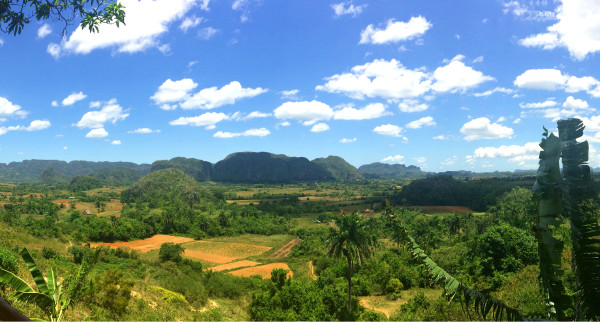 VIÑALES (Valle de Viñales)
Viñales couldn't be more different to Havana. Three hours southwest of the capital is a tranquil little plantation town, trying to find its identity somewhere between a Jurassic Park film set and a rural village in Vietnam. I found myself again, on the roof of our casa (casa particulares are the homes of locals who open their spare rooms to tourists, managed by the government and pretty much your only accommodation option outside Havana) reading a book and watching huge black crows soar above the valley floor.
Horses meandered through the field beyond and the shadow cast by the steep hills either side gradually crept towards us as the harsh sun disappeared behind them. Roosters crowed as I lit, what I can certainly say was a genuine Cuban cigar, rolled previously from freshly cut tobacco leaves in front of my eyes earlier that day. I passed it to my two amigas, Jessica and Zinnia and we cracked open a bottle of Guayabita del Pinar – whatever that was. It was sweet and tasted more like a liqueur than a rum.
It was quiet. A nice change.
Most casas will happily organise for you any trips or activities that you'd like to do while in Viñales. If you let your host know the day before, you'll wake up to three horses waiting outside your door for a tour of the valley the next morning. These all-day tours pretty much tick off everything you should do in Viñales, starting with a coffee plantation tour, exploring underground caves and ending at a tobacco plantation where you observe how cigars are made and can even have a puff or five yourself if you so desire. Finish the day with a dip in a glistening swimming hole and you'll be dry before you can even pour your first rum of the evening.
The food in Cuba is average at best, so consider yourselves warned. Although, some of the breakfasts and dinners we had at the casas were second to none. It's basic, but they do it well and they do it big; you'll almost never finish a meal.
A short 20-minute walk from town will get you to the Balcón del Valle restaurant on the hillside overlooking the valley (photo above). Every meal is 8 CUC and on a breezy afternoon, it's the best spot to get five-star views of Viñales while sipping ice-cold piña coladas.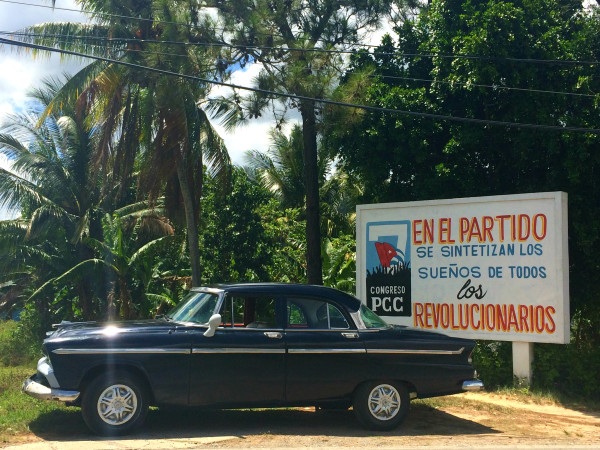 TRINIDAD & BAY OF PIGS(Trinidad y La Bahía de Cochinos)
Ten hours on a bus from Viñales will get you to Trinidad. A colonial town on a slope set back slightly from the sea with cobblestone streets and beautifully ornate off-white churches. It was something straight out of Pirates of the Caribbean (third movie reference, I know) and probably my favourite place in Cuba. A self-guided walking tour will get you those prime Instagram-worthy shots – think of the colours of Havana but on smaller scale houses with horse- drawn carts rather than multi-story buildings and oversized cars.
---
---
In the main plaza bordered by palm trees and quaint lanterns, you'll hear the sounds of African drums mixed with the staples of Latin salsa. Bar and restaurant options are rife and you can even find an upmarket (take that loosely) white tablecloth restaurant to change things up a bit. After dark be sure to check out Disco Alaya, a nightclub in a huge cave 20 metres under the hill above the town. Walk north from the square and you'll soon find the locals opening their doors to revellers, turning their living rooms into cheap pop-up bars. Pre-drink here and then head to the club about 12am. I don't have to tell you what the music was like, you can probably guess from the lasers and massive projector hanging from the ceiling, but it's a fun night out nonetheless and it's not everyday you get to rave in a cave.
Not ideal hungover is the 18km bike ride to Playa Ancón, the closest and best quality beach near Trinidad. It's a predominantly flat ride, but be strategic and leave early and come back late. The ride back in the hottest part of the day after too many Havana Clubs could see you passing out from heatstroke on the roadside.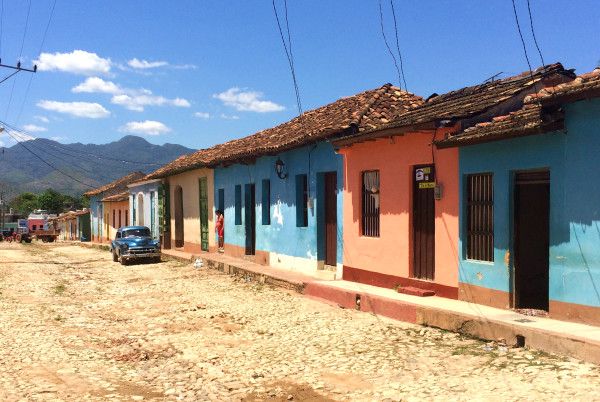 A couple of hours west of Trinidad you'll find the infamous Bay of Pigs. Yes, the place where America tried and failed to invade Cuba in 1961. Now though, it is home to some of the cheapest diving in the world and known as the best spot on the island. The one and only dive centre I'm aware of is by the beach in the town of Playa Larga. For $25 USD a dive you'd be stupid not to, even if you've never done it before. I didn't have my certification with me at the time and they couldn't have cared less.
Visibility in the bay was exceptional and water temperature a balmy 27 degrees. You can dive along a 50+ km long coral shelf that drops 300 metres into the abyss on one side. Hanging precariously on the edge of this drop-off is a sunken American landing craft from the invasion. It's not a big boat, maybe 35 feet long, but just to witness up close such an important remnant from a battle that is rarely observed from the Cuban side, was absolutely incredible.
While the national bus service is frustrating we found it rather reliable, although we had heard stories to the contrary. As an alternative, collectivo taxis – similar to those in Havana – also operate inter-city. It might be expensive for some journeys depending on your route but you can always fill a taxi with fellow travellers and split the cost. Make sure you agree on the price beforehand and specifically stipulate there will be no other pick-ups along the way. Otherwise, you'll soon have nine people and the village chicken in a five person family-sized car for over four hours.
Similarly, don't underestimate the size of the country just because on a map it looks like a small island in the Caribbean. It's more than 16 hrs one way from Havana to Santiago de Cuba on its far eastern side. We did roughly three days each in four cities. Not too rushed, but not too long either.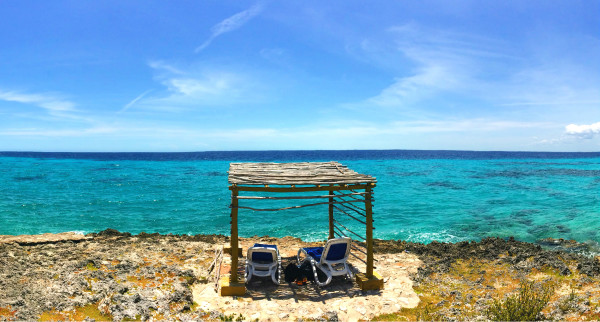 Cuba is a fun one. Many have asked me for advice since my return and every time I give people a different answer. There are too many things to cover and too many wise words to pass on. But in many ways you've got to find them out for yourself.
That's what Cuba is about. It's not a honeymoon destination, unless you're not planning on being married for long. Every problem that is easily solved anywhere else in the world suddenly becomes a mammoth task. When you need to find someone who can speak English, you can't. Supermarkets aren't supermarkets. They'll only stock a dozen items, the strangest things too. Walls of talcum powder, another wall of chocolate biscuits and another of Havana Club and that's it. Internet, phones, TV, newspapers and radio are basically non-existent, so don't expect to Google your dilemma for an answer.
---
---
If you've read all this and thought to yourself at any stage, so why even bother going? Then to be perfectly honest you probably shouldn't. Cuba is for a specific type of person looking for a specific type of experience. If you think that's you, then you better hurry.
The day we arrived in Havana, so did the first ever American cruise ship. The following day we watched Fast and Furious 8, the first ever American production being filmed on the Malecón. Later that afternoon the filming of a fashion commercial, that I can only describe as something you'd expect to see in a ridiculous Gucci ad, had completely overtaken a park in Havana Vieja.
The land where time was once paused is scrambling to fast forward to the 21st century. Cuba has most likely changed ten-fold even in the time it took you to read this article. The old Cuba will soon be the stuff of history books. Your grandkids will read about a world that you yourself were too slow to explore.
You should be the one telling them the stories.
The window is closing fast, so go before the tourism time bomb finally detonates and the Cuba of last century is lost forever.
P.S. A LONELY PLANET GUIDE A MUST. Take a hard copy with you before you go. You can't buy it there and every bit of information you need to survive is in that book. Remember, no phones, no internet. That book is your life.
All photographs are property of the author.