When you think of Italian cities the likes of Rome, Florence and Milan no doubt come to mind, but if you're after a true taste of La Dolce Vita than you'll want to put Genoa at the top of your list.
The birthplace of Christopher Columbus is a vibrant cultural hub and the gateway to the elusive and attractive Riviera. The historic old town is a maze of twisting cobbled streets full of famous landmarks that slowly wind their way down towards the busiest port in Italy.
Like many, you're probably just passing through on your way to the Mediterranean, so we've compiled an express go-to guide to make sure you don't miss a thing.
---
---
Basics
Getting there: Fly direct to Milan and catch a local train to Genoa.
Best time to go: April – June
Budget: Despite what you might have heard you can live pretty well in Italy if you're wise with your dosh. The Riviera, however, will milk you dry.
Visa: You can stay up to 90 days in Italy without a visa.
Digs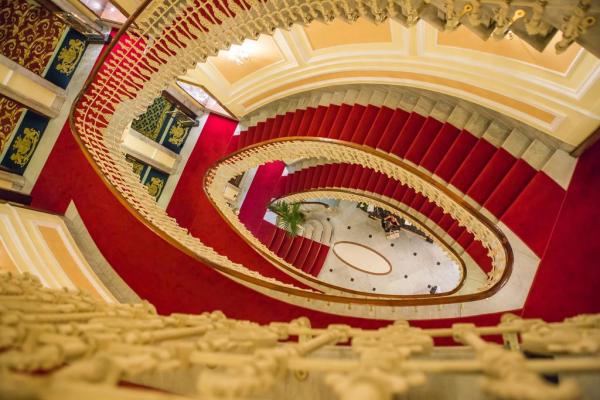 Luxury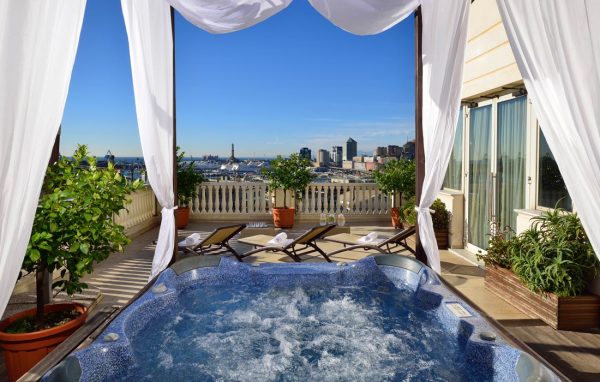 Each room is colourfully themed around a different musical genre. Located close to the bustling Piazza delle Erbe.
Ostellin Genova Hostel
Low-cost hostel with clean and modern dorms centrally located. Young and friendly staff always happy to recommend a good bar.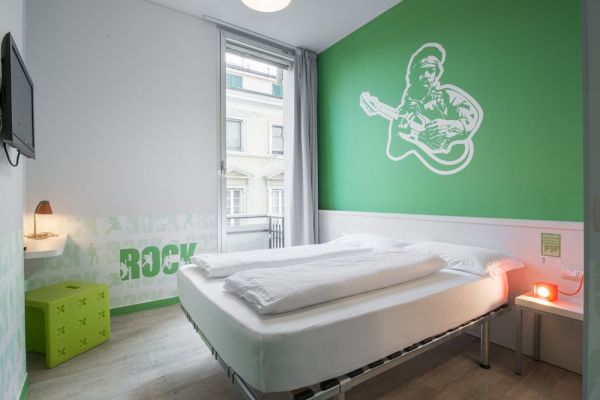 Serving eight different kinds of oysters along with a tantalising array of seafood. Close to the port and within walking distance of some swanky bars.
---
---
Enjoy sensational views of Genoa while chowing down on one-metre pizzas. Accessible by cable car.
$ – Panifico Mario
Favourite bakery of locals where you can grab a Focaccia col formaggio (cheese focaccia) and coffee without breaking the bank.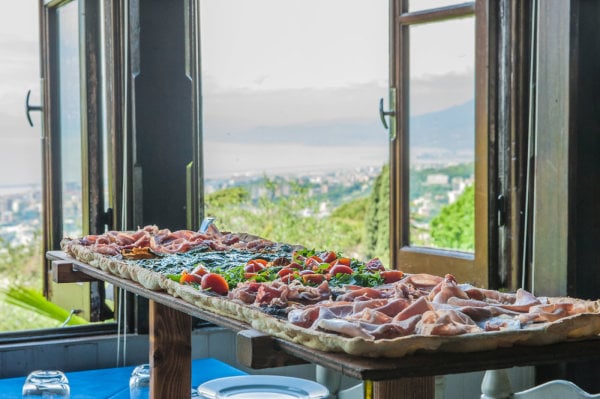 Drink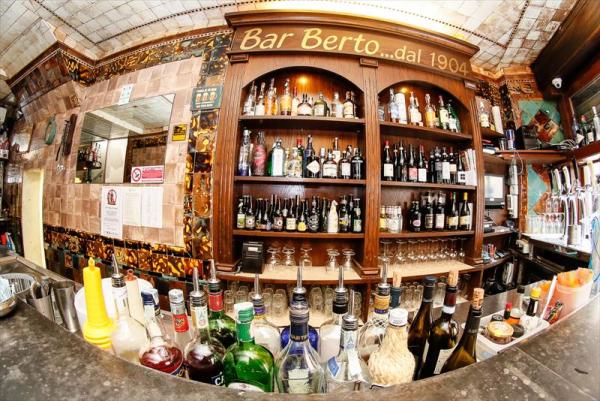 Part night club, part bar and part pizzeria, Estoril is a funky space with Latin, Blues and tango themed nights. Great view of the Ligurian Coast.
Experience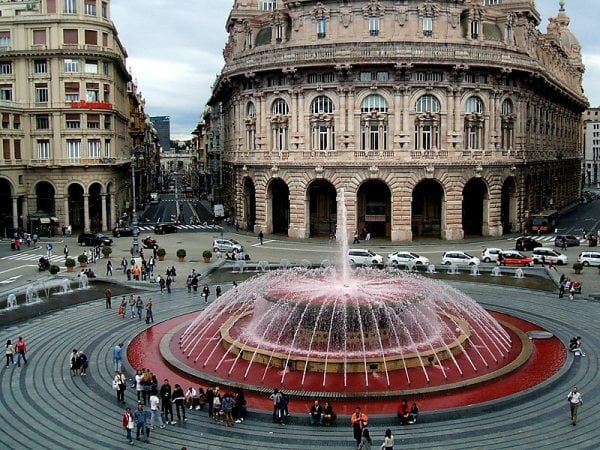 Strade Nuova
A labyrinth of cobbled streets and narrow pathways, Strade Nuova is the heart of Genoa's old town. Built during the 16th century the area is full of historic apartments, local cafes and spectacular architecture. The main strip Giuseppe Garibaldi is recognised as a World Heritage Site and home to a number of former palaces now converted into museums and galleries, including Palazzo Rosso (town hall and museum), the Palazzo Bianco (museum of Italian painters), and the Palazzo Doria Tursi (museum complex housing Paganini's violin).
Piazza de Ferrari
A popular meeting spot Piazza de Ferrari is smack bang in the centre of town. The recently restored bronze fountain is an impressive site and the nearby surroundings contain a number of bars, cafes and souvenir shops. Next to the square is the historic Palazzo Ducale, now a museum, while a short walk to the east will take you to the original 12th-century city gates that once enclosed the city.
Aquarium di Genova
The largest aquarium in Europe is home to over 15,000 different animals belonging to around 400 species. From small colourful native fish to penguins and sharks the aquarium has it all. It's also the only European aquarium to hold Antarctic fish species, making it high on the list of places to visit for underwater fans.
---
---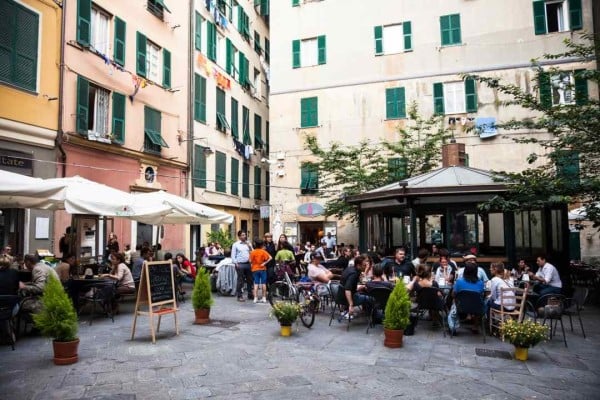 Boccadasse
A small fishing village about three clicks from the city centre, Boccadasse offers picturesque views of the surrounding area. The pebbled beach gets packed in summer and the nearby restaurants serve fresh fish and seafood. At night it gets lively as the youth bring their own beers and congregate on the beach.
Galata Maritime Museum
Fans of naval history will go gaga for the Galata Maritime Museum found in the old shipbuilding site on the waterfront. Two dozen rooms contain a large number of permanent and temporary exhibitions while a reconstructed 16th-century war galleon takes centre stage.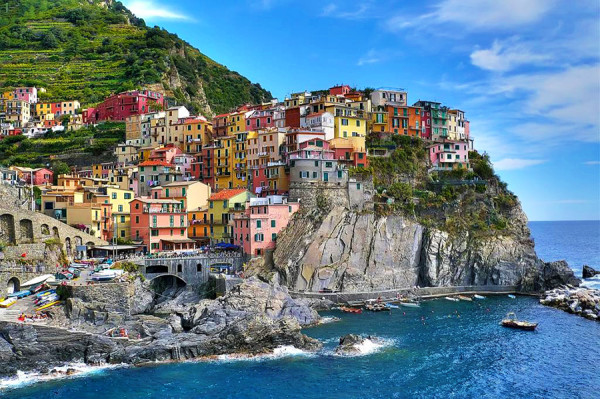 Day Trips
What you're all here for. There's no better place to base yourself for the Italian Riviera than Genoa. The wealthy harbour Portofino is a short train ride to the east where you can indulge in high-end dining experiences while watching luxury yachts and boats glide past.
Further south is the must-see villages of the Cinque Terre. Linked by scenic hiking trails, with each town sports colourful terrace houses and amazing restaurants. Big cities such as Milan, Turin, Florence and Bologna are all close enough to explore or if you'd rather stay close to Genoa, take a boat cruise around the harbour for the day and enjoy the quaint sights.