With summer just arriving in the Northern Hemisphere, it's likely you'll be passing through a dreary airport on your way to the ultimate winter escape. With Hong Kong's international airport taking in over 5 million passengers for the July period last year, it's also likely you'll be passing through Asia's world city with Cathay Pacific. This means you'll want the best of the best when it comes to waiting for your next flight. Look no further than The Pier business and first class lounges.
On a recent trip over to Shanghai with Cathay, we were able to test both options out in a decent chunk of time.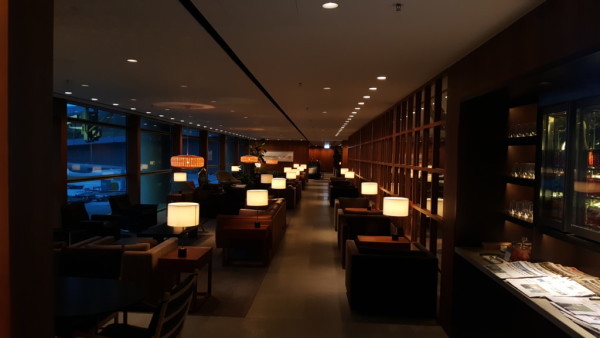 Business Class
Flying Sydney to Hong Kong, we entered the business version of the lounge at 5:30 in the morning. With the place to ourselves, it was a good chance to delve deep and see what was on offer. When you walk in, the immense variety in seating is the first thing that catches your eye. Whilst it may seem like a minor feature, most airport lounges usually have stock standard and bulk bought furniture. Cathay has managed to provide a number of different breakout areas which go beyond the usual armchairs. These are all furnished with homely accompaniments and warm feature lighting, making the space feel extremely welcoming.
---
---
Beyond the initial seating area, there are three food spots to choose from; Teahouse, The Noodle Bar and Food Hall. Each provide a different experience depending on your need. First off is the Teahouse, which is kind of gimmicky but does provide for a relaxing moment between flights. With a solid selection of teas to choose from, a morning cuppa or evening jasmine is easily within reach. The Noodle Bar comes next, serving up made to orders dishes in a large restaurant style dining area. If you're looking for a quick bite, the Food Hall provides you with the classic buffet style eats that you can take off into your own corner. A chef actually sit behind the trays making sure the food is fresh, setting it apart from a lot of the other lounge offerings.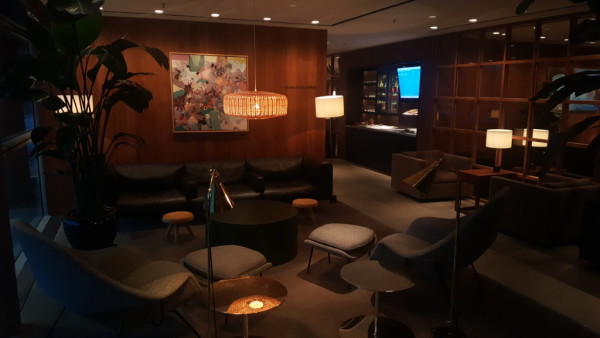 The last selling point is the amenities. Unlike their competitors, Cathay chooses to go all the way with their provisions. 14 shower suites include all the features you'd ever need, allowing you to get a quick clean up in before dinner. Heading inside one of these, you'll feel like you're in a high-end hotel suite. Honestly nothing's better than lathering up after an 8 hour journey. We left for our Shanghai flight relaxed and filled with food.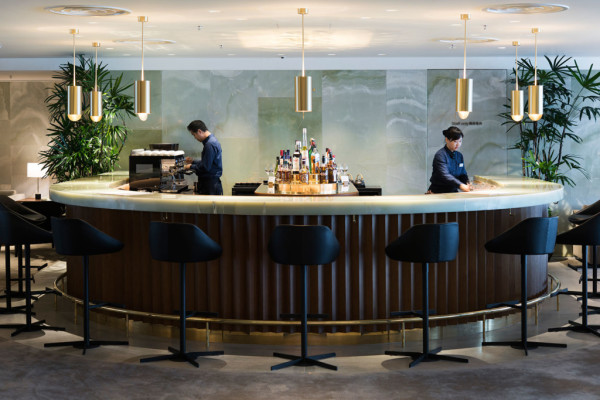 First Class
If you were blown away by the business lounge, the first class one takes it to the next level. The more established Pier features additional personalised services which really set it apart from the competition. Dropping in before an evening flight back to Sydney, it's a great place to unwind and transition into the night. An authentically styled bar beckons from the seating area, inviting you to pull up a stool and grab a favourite drink. Surrounding it are a collection of couches and seating which share a similar decor to the business lounge, only with a little more room for privacy. This represents another core part of The Pier's concept, the consistent shared aesthetic across both lounges which ties them together really nicely.
The first class lounge is also perfectly structured for long stopovers and wait times, featuring 8 unique day suites where you can put up your feet and relax in complete privacy. The rooms contain a decently sized daybed with a private view over the runway, making it the best spot to catch up on lost sleep. A massage service is also included, which helped us to unwind before boarding the 9 hour flight home. It's a great way to ease into the often tough endeavour.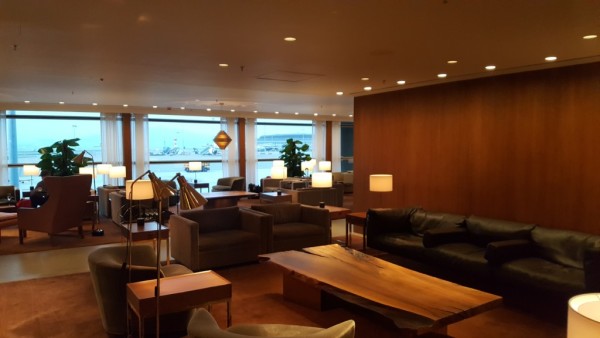 Topping off the whole first class experience is The Dining Room, a high end restaurant featuring an extensive, mouth watering range of food options. With a chance to eat everything off the complimentary menu, it's the perfect place to stuff yourself silly. The burger is highly recommended here, as is the duck breast.
The quality feel of the restaurant comes as no surprise; it's handled by the world class team at the luxurious Peninsula Hotels group. They also manage the outside greeting area, which helps in creating an overall hotel hospitality feel. It was definitely the perfect way to finish up our trip.
For more details on Cathay Pacific (@cathaypacific) who flew us to Hong Kong & Shanghai, head here. Check out more of their lounge offerings here and details for becoming a part of their frequent flyer program here.
---
---