Honeymoons are all about secluded destinations, relaxation, romance and of course, endless wining and dining. Park to one side for a minute ideas of the Amalfi Coast, Bora Bora or the Maldives.
Instead – insert the Caribbean.
Think crystal clear waters, palm shaded white beaches, free flowing rum punch, sizzling jerk chicken, Bob Marley tunes, and a unique cultural fusion.
---
---
From Melbourne & Sydney, the Caribbean can be reached much easier than you think. Just two flights: a direct flight to Dallas Fort-Worth and then a three-hour flight south lands you directly in Montego Bay, Jamaica.
We decided to send a recently married couple (Will & Lib from Monte Store) to the Caribbean to compile a list of the most luxurious hotels you should be calling home on your Caribbean honeymoon.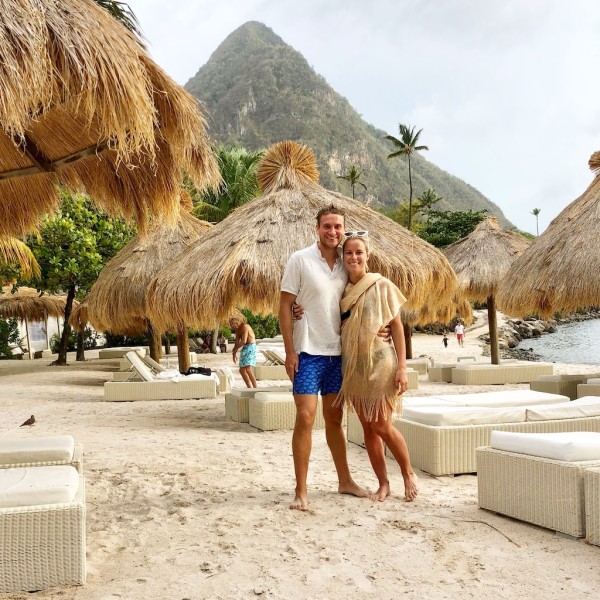 Rockhouse Hotel – Negril, Jamaica
Nestled on the cliffs near Seven Mile beach in Negril, Rockhouse Hotel is one of the finest hotels in the Caribbean. An hour's drive from Montego Bay airport, the Australian-owned Rockhouse Hotel offers everything you need for a relaxing yet fun filled stay. Situated in the perfect location, the hotel is slightly away from the busiest parts of this coastal hub, offering peace and relaxation but close enough to the hustle and bustle of Seven Mile Beach.
The waterfront stone cottages, set along the cliffs of the hotel, offer premium accommodation fit with a generous-sized room, outdoor shower and terrace with ocean views. A cliff jump into the sparkling Caribbean water is only footsteps away.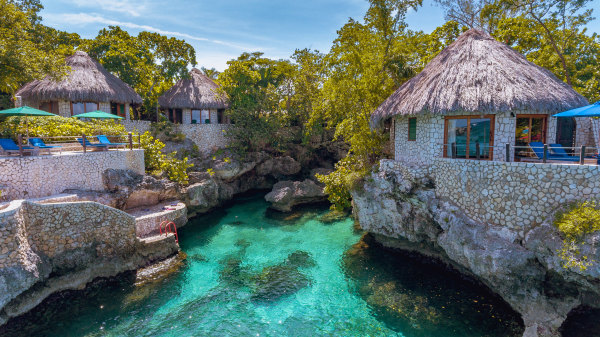 Rockhouse has two top-notch restaurants, the main restaurant and the more casual but equally as delicious, Pushcart restaurant and rum bar. You won't find Sanka at Pushcart, but you will have incredible island dishes overlooking the cliffs and waters below.
You can also enjoy a basic lunch menu by the infinity pool and settle in for the best sunset snaps and Sundowners. There is always something going on at Rockhouse, with plenty of activities planned for you each day – from yoga to snorkelling to Zumba dancing.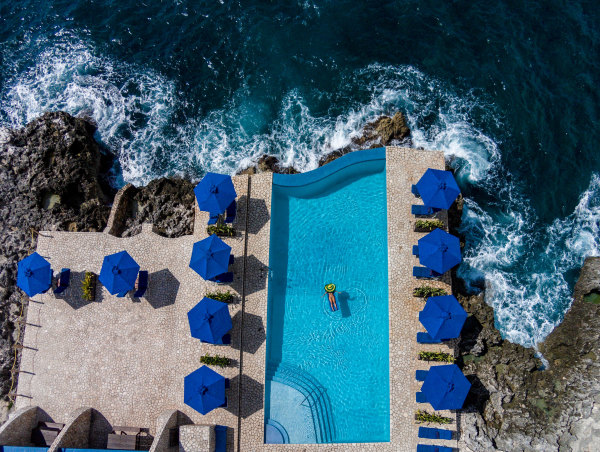 We recommend you take the courtesy bus to the sister hotel Skylark on Seven Mile Beach. Free shuttles are offered to guests to spend the day by the beach and eat at the renowned, Miss Lily's, the same stable as the one in New York. You'll experience some of the best Caribbean food accompanied with delicious cocktails. While you're there, call up Tiki Pond A Sea and cruise Seven Mile Beach with captain Kevin at the helm. You'll get the full Caribbean experience on the floating raft bar drinking rum punch and Red Stripe with pumping reggae tunes.
---
---
Good local tip: venture across the road from Rockhouse to Presley's for a seafood lunch or dinner. Enjoy a bespoke menu tailored by you. All you need to do is give Presley a shout the day before and tell him your menu and he does the rest: captures your seafood that morning and then cooks it himself. It's not fine dining but if you want great food and a chilled atmosphere, this is for you.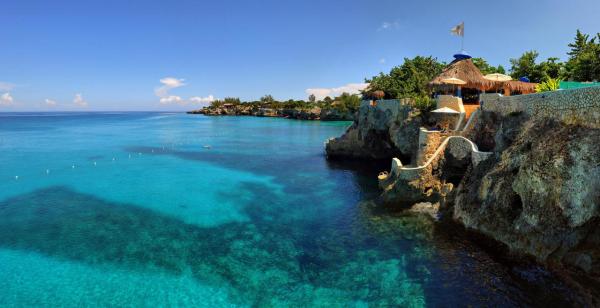 Cocobay Resort – Antigua and Barbuda
If you've never tried an all-inclusive hotel (we hadn't) and somewhat sceptical (we were) then Cocobay Resort in Antigua and Barbuda will change your mind. This is the ultimate Caribbean honeymooner's resort. A short half-hour drive to the west of the international airport of Antigua and Barbuda (flights to and from Jamaica and many other international destinations), this hotel provides everything you need.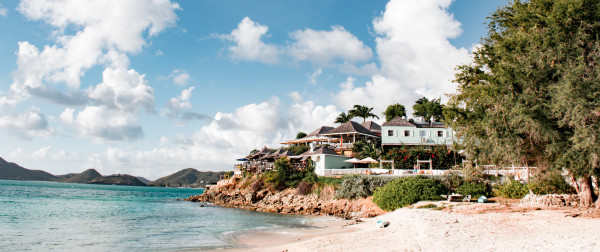 Perched on the cliffs overlooking Coco Beach, the adults-only boutique hotel with a collection of cottages, some with private pools overlooking the beach below, offers the perfect romantic and relaxed destination for your honeymoon.
Disclaimer: you will trip over many honeymooners, but it's OK as everyone is on their own post-wedding Cloud Nine. There are two beautiful pools, both with very fun pool bars. As it's all-inclusive these get busy after lunch and are a lot of fun until people retreat for dinner.
---
---
For those who love the beach, there is a quiet and tranquil beach just next to the hotel. There are loads of activities on each day for hotel guests to enjoy including jet-skiing, snorkelling tours and booze cruises. If you're wanting to escape the fellow honeymooners and opt for some private time, enjoy afternoon drinks at one of their private infinity pools. There are also couples massages, we recommend the 'de-stressor'. Who isn't going to need one post-wedding?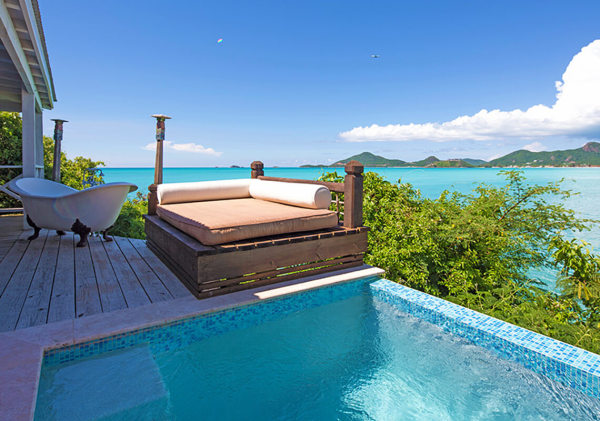 Make sure you reserve a table at Sheer Rocks for lunch or dinner which is located within the hotel poised on the cliffside. It is without doubt one of the best meals you will have in the Caribbean and a must if visiting Antigua.
Leave your wallet in your room and worry only about when the next swim is, and whether it's a Pina Colada or Rum Punch at Cocobay.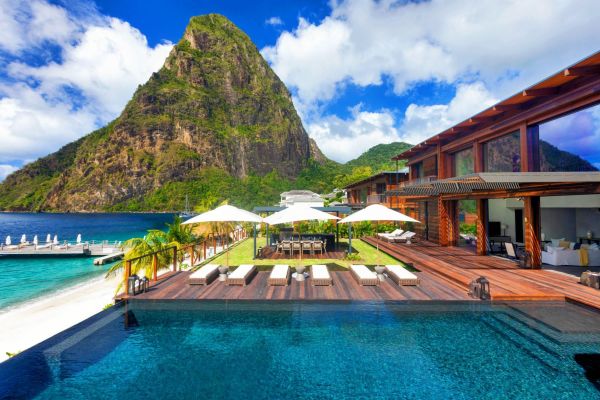 Lone Star – Mount Standfast, Barbados
Situated in Alleynes Bay on Barbados' Platinum Coast, Lone Star is created from an old car garage and is the pinnacle of intimate luxury in Barbados.
A direct flight from Miami or New York, London or Toronto, one of the southern islands of the Caribbean, Barbados brings all the elements together for you to have the perfect romantic adventure.
---
---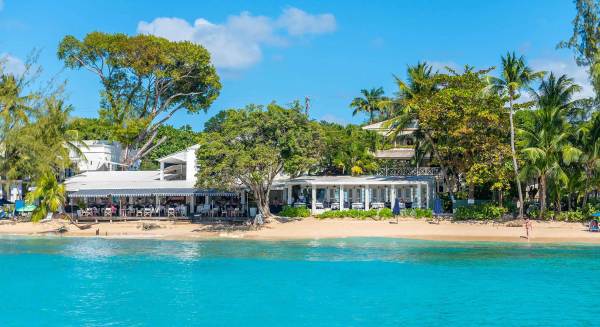 A short drive in your hotel chauffeured car to the north-west of the airport, you'll be blown away as you walk down the steps in the main restaurant and first see the crystal blue waters of the Caribbean. The white on white interiors of Lone Star reminds you of a Byron Bay getaway with unrivalled light and light reggae music. Spend a day on the private lounges on the sand, steps from the Caribbean waters you've seen in photos, go snorkelling, jet skiing or water skiing, take a stroll to neighbouring beach bars and dine at the some of the most iconic restaurants in Barbados.
The small boutique hotel, with just four rooms and two penthouses, centres around the signature Lone Star restaurant offering intimacy and ultimate relaxation. The decent-sized rooms boast a beautiful décor you will love, with the beach, literally on your doorstep. Staff seem to outnumber each guest five to one and are on hand to assist with any additional touch you need. The restaurant offers all the specialities of Barbados – fresh fish or mouth-watering chicken curry and with the cocktail bar, attracts all the trendy island residents and visiting neighbouring tourists. It's the perfect destination for bulk beach relaxation time. We recommend checking out The Cliffs restaurant for stunning food and incredible views. Make sure you take the bus there and sing along to some reggae music with the locals (just have cash).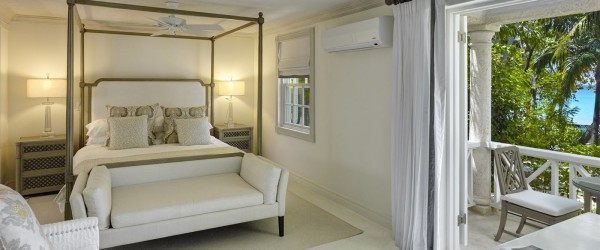 Make sure you're there on a Friday night and take the local bus, which is so easy and safe, south to Oistin's Fish Market for never-ending seafood and dancing. When the sun shines you'll shine together (tip your hat to Rihanna, Queen of Barbados) – quite simply, Lone Star is an unmissable stay in Barbados.
Stop over:
Viceroy L'Ermitage Beverly Hills – Los Angeles
If you're looking to extend the romance, we recommend stopping over in LA or New York before enjoying some serious relaxation yet action packed time. If the bride wants her Pretty Woman moment then this is the hotel for you. Just a five-minute stroll to the hub of Rodeo Drive, this hotel is intimate yet exclusive with superb service and spacious rooms. The perfect gateway before or after a long-haul flight from Australia. The rooftop pool is exclusive for hotel guests only and has great views of the Hollywood Hills. The spacious rooms feature all the required amenities and standout staff who accommodate any request with precision and detail. Make sure you take the complimentary house car – a chauffeured Mercedes – for a drive down Rodeo Drive, you'll really feel like a boss.