Hotels can sometimes lack that character, that history which makes them interesting beyond the usual carbon copy rooms. The rise in boutiques has helped to combat this deficit in variety but those options can often result in lacklustre room features and pretentiousness. There are, however, some gems that truly stick out, defining luxury and inclusions in whole different ways.
Sydney's Hotel Palisade is one of those places, a hotel pub that actually has rooms to rent. Sitting atop a hill in the famous suburb of The Rocks with a view directly orientated at the Harbour Bridge, it's a century-old venue that's had it's fair share of guests. Walking into the ground level bar, there's no fancy reception. Rather a simple 'ask behind the bar' policy is implemented, meaning a complimentary schooner is a must when grabbing the keys to your room.
Heading up in the elevator, our resting place for the night was on the third floor. Playfully called the 'Regi James', the charmingly creaky door for the suite opens immediately to reveal the queen-sized bed. A gorgeous canopy hangs from above it, framing the headboard up nicely and initial view of the room nicely. Moving further inside, the space is definitely studio apartment sized. A couch lays against the far wall, along with a coffee table and armchair. A small sink and marble tabletop sit to the right of that, decked out with the usual mini bar and a Nespresso machine. A pretty average shower and toilet is down a short hall, but it's what you'd expect from a place that's a century old.
---
---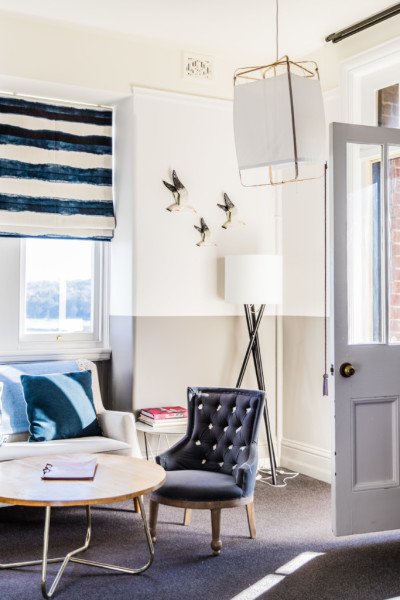 These features help to set the room up as a great entertaining space, especially when paired with the amazing balcony. The sizeable outdoor space that this presents is unheard of in The Rocks, an area that could easily hold 5-10 people at a time. It has a spectacular view looking directly at the Harbour Bridge, which means it's set to impress. Exposed brick also brings in that old Sydney atmosphere nicely, with hints of styling that herald bygone era. These are carried on from the interior of the room, with specially selected items that bring that past history forward. It's reflected from the fridge all the way down to the skirting boards, the historical character which the Palisade truly embraces.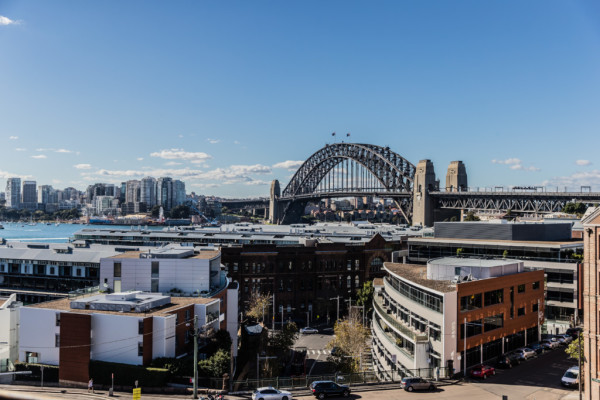 At the end of the day, this historical context is what differentiates Hotel Palisade from the rest. It's not pretending, it's not trying to be something, It's being true to it's roots and in doing so it's not skimping on the good stuff. There's more than enough room and facilities to make it a realistic choice for a stay, not just some gimmicky night away. So whether you're there for business or pleasure, highly recommended you cop a night or two here to really get a true taste of Sydney. If that's not enough to persuade you, the excellent Henry Deane is also only a lift ride away, ensuring the food and drink is sorted in style.
To check out more or book a room, head to hotelpalisade.com.au