In a roller-coaster landscape constantly punctuated by festival discontinuations and new launches, Listen Out remains one of the few events unshaken and showing no signs of slowing down since its arrival in 2013.
The festival once again led with a lineup dominated by electronic and hip hop acts, with this year's roster featuring home-grown favourite Flume, American DJ Diplo, and hip hop artists 6lack and Schoolboy Q. The festival's stages also welcomed a greater number of house and techno performers, reflecting a shift in mainstream popularity towards these genres.
We hit up the Queensland leg at the Brisbane Showgrounds to delve into Listen Out's day of premium-cut sonic heaters – this is who impressed us most.
---
---
Flume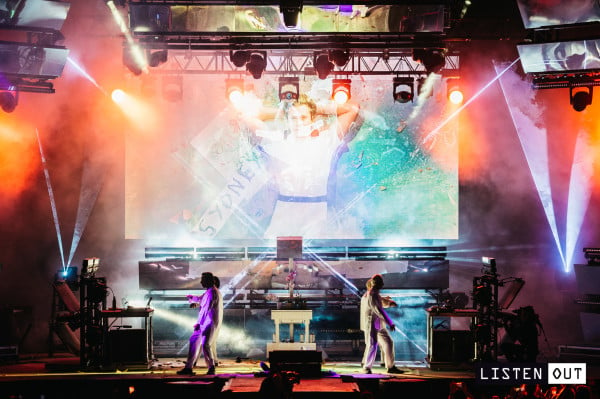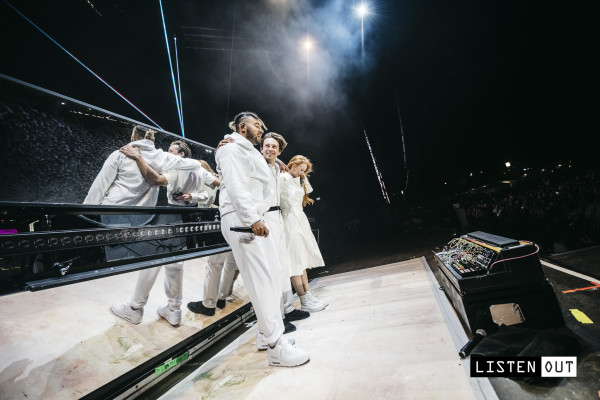 Is there anything this bloke can't do? Flume's ability to control the crowd is arguably his best feature, a talent which the young puppet-master demonstrated masterfully at his closing set on the Atari stage. Sheer carnage and delirium ensued for the entirety of his 26-track set, which started with newer material from 'Hi This Is Flume' and climaxed with fan-favourites 'Say It' and his 'You and Me' remix.
Visually, Flume forged a pioneering performance bursting with originality. He spent time on various heavy tools, including cutting metal with an angle-grinder and destroying things with a sledgehammer, which collectively added to a sort of construction zone theme that somehow matched the music.
Diplo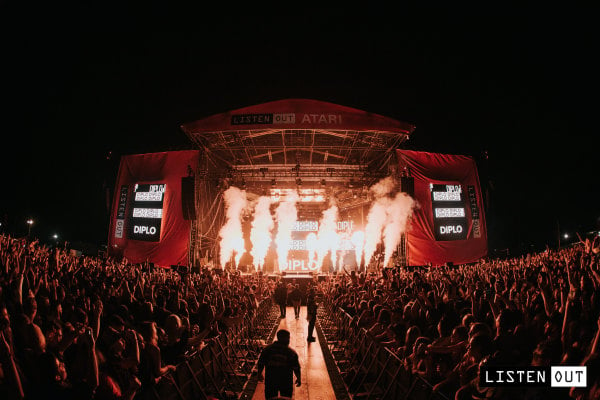 Fresh off the back of a world-first Sydney Harbour Bridge set, Diplo arrived in Brisbane meaning business. The American DJ brought with him a massive pyrotechnic setup backed by abstract visuals and CO2 cannons that quite literally blasted the crowd away. His set was laden with remixes of popular songs like Daft Punk's 'One More Time', yet featured some heavy-hitting originals such as singalong banger 'Lean On'.
It's promising to see such a big international DJ playing an Australian festival, in stark contrast to the monotony of interchangeable 'boutique' festivals who think people want to see Peking Duk and Client Liaison for the fifth time this year.
Whethan
Well-known for his catchy electronic loops and smooth vocal collaborations, 20-year-old Whethan played a high energy sunset slot on the Juno stage. The crowd was expecting a performance led by his trademark popular songs, but was instead pleasantly surprised with a set fronted by heavier house and even bass tracks.
A backboard of firing strobe lights was a fitting accompaniment and appeared to pull passing revellers into the fray as the crowd progressively grew to massive proportions throughout the set. Whethan also had a few tricks up his sleeve in the form of 'Hurts' featuring Wafia and 'Radar' featuring Honne, which had Brisbane belting out the lyrics as a euphoric mass.
Malaa
Gracing Listen Out for the second time in three years, the French mystery man came on with the express intention of sending Brisbane into chaos, sonically assaulting anyone not ready to rave immediately. Malaa's trademark thumping bass and deep house tracks added a sinister sound to the backdrop of Brisbane's night sky as the front row became the definition of a hot mess.
---
---
His uniquely anonymous stage presence, complete with a kit comprising a black ski-mask and near-permanent cigarette, drove a sense of illegality to the set which was underpinned by tunes so dirty they simply must contravene the law. In what was a brilliant hour of music, Malaa simultaneously paved the way and set a high bar for stage-closer Hannah Wants to see out the evening.
Not all standouts are positive
As many may have heard, it wasn't all smooth sailing for the festival this year. The Melbourne leg was marred by disruptions and issues, as extreme weather resulted in the forced closure of the main stage for close to an hour and a half, preventing Wafia from playing. Denzel Curry was also M.I.A. on the day, with the American rapper pulling out last minute due to losing his voice.
We experienced a few hiccups with the festival's organisation on the ground in Brisbane: navigating the event turned out to be a nightmare as no festival map was available until the last minute, the officials we spoke to knew nothing, and the RNA Showgrounds was something of a labyrinth.
For our thoughts on another one of Australia's premier music festivals, check out all the things Splendour in the Grass 2019 got right and wrong.