If you happened to be browsing Instagram over the weekend, you would have known that we at Boss Hunting were privileged enough to experience 2017's instalment of Splendour in The Grass. As always, this three day festival of all three day festivals delivered a brilliant package laden with thrills, chills, and indeed, spills… and I'm not talking about your Vodka Red Bulls. Here's our take on Byron Bay's annual musical bonanza.
The Standouts

Peking Duk
---
---
Homegrown party kings, Peking Duk, came onto the Amphitheatre hard and strong, showing no signs of slowing their going-like-there's-no-tomorrow ways. Their high energy set saw them breaking out instruments and AlunaGeorge onto the stage, for an hour that was hard to not be excited about.
HAIM
The sister-queens of 80s inspired indie/alt rock returned after a much noted absence by their fans down under– and they returned with a guitar shredding vengeance. It is to an honest belief that Danielle Haim is among the echelon of greatest guitarists alive, and does not get nearly enough of the recognition she deserves (classic middle child). Perhaps on the basis of a) gender, or b) the pop sensibilities of HAIM's music. That is not to detract from the talent of bassist/eldest sister, Este, and keyboardist/youngest sister, Alana. You'd be hard pressed to find a weak link in this tight unit.

The xx
There was some hesitance on our part to see this solely due to the subdued nature of their music, but all that went away as soon as the performance went underway. The ethereal and impossibly intimate vocals mixed with precise DJ-ing of military tier discipline felt like the aural equivalent of a Renaissance painting, and one that would not be forgotten anytime soon.
Slumberjack
---
---
We almost missed this because of a secret Samsung party complete with private performances and complimentary servings of alcohol. Understandable, really, but we wouldn't have forgiven ourselves if that was the case. It is no secret that Boss Hunting has plenty of love for Slumberjack. Beyond our biased inclinations, it is worth noting that they consistently fulfil a promise to the fans, both of sound design and showmanship. This time round, they destroyed all preconceived notions of what it meant to be in a crowd watching them, and rebuilt into higher altitudes of hype-territory. Hyperbole in these post-event write ups dripping with 20/20 nostalgia are understandably met with eye rolls and grains of salt, but this was truly a once in a lifetime moment.

Queens of the Stone Age
You often think you understand what it means to be cool. Then every once in a while, you come across individuals like Josh Homme and co., who redefine what it means to be a cool motherfucker. Whether it's the snarling guitar wails, the angry thumps of a kick-drum, or the infectious riffs of the bass that all just screams anti-authority, you felt as though you were a apart of something bigger, and standing against something heinous. This was probably best encapsulated by the casually brutal shutdown of a heckler, courtesy of Homme himself ("It's past your fucking bedtime, son.")
Client Liason
There were whispers of how removed from the proverbial hook this was going to be. If there were awards for choreography and showmanship, Client Liason would take it– no contest. If there were awards for surprise featured artists, Client Liason would take it– no contest. If there were awards for crowd fun, Client Liason would take it. No. Fucking. Contest. You'd assume the peak was when the legendary Tina Arena revealed herself for our unfiltered pleasure. But it wasn't. And that speaks volumes of how enjoyable the overall performance of these Australiana obsessed collective were.
The Surprises

Luke Million
---
---
In all honesty, this was not on our radar in the slightest. Tucked away in a smaller stage, we wandered in out of curiosity, and left as Luke Million fans. For the uninitiated, similar to that of the present company on this keyboard not forty-eight hours ago, Luke Million is a retro-synth based artist that is far more than just a gimmick. The cherry on top of this unexpected sundae was the guest appearance of the talented KLP as well as the one and only Sam Sparro, of Black and Goldfame.
Bishop Briggs
This was another act that blindsided us. Almost out of nowhere, the sound of heavy trap beats beckoned like a siren song from across the fields, only to be contrasted with crystalline clear yet firmly soulful female vocals. You know a talent is overwhelming when you download their entire discography on the drive home.
The Disappointments

Lil Yachty
Our worst fears were confirmed. Mumble rap does not translate well into a live experience. Or at least this one didn't. This was heartbreaking as a fan of the small boat. For a brief moment, we didn't think we would be able to make our way into the crowd and plans for a grand exodus to the front barrier were in the making. By the third song, enough people had left that there was a clear path to the centre. Other complaints fielded by fellow Yacht Club fans included, "… something's up with the sound mixing…", "… I can't hear anything he's saying…", and most prominently, "… there aren't any of the songs I want to hear…". Yeah.
Allday
What was amiss about his set was not entirely clear. Every element felt like it was a half-measure commitment. And before any of you chalk this up to disdain for the Australian hip-hop scene, it is worth noting the present BH parties are fans of Allday. Sometimes a miss is just a miss, and there's nothing to be done about it except pick yourself up, dust yourself off, and try again next time.
---
---
Honourable Mention Shortlist (Positive)
For lack of ample word count space:
Big Scary– Stage presence.
Bonobo – Light sequence, relaxed end atmosphere yet element of gravitas.
Cosmos Midnight– Turn up dance environment.
Catfish and the Bottlemen – Heart and soul of UK independent spirit.
Dan Sultan – Fervent passion for the craft, political statement.
Dune Rats – Scott Green.
San Cisco – Triumphant return to the scene, seamless transition back.
---
---
Schoolboy Q – Hype.
Stormzy – Hype, the sequel.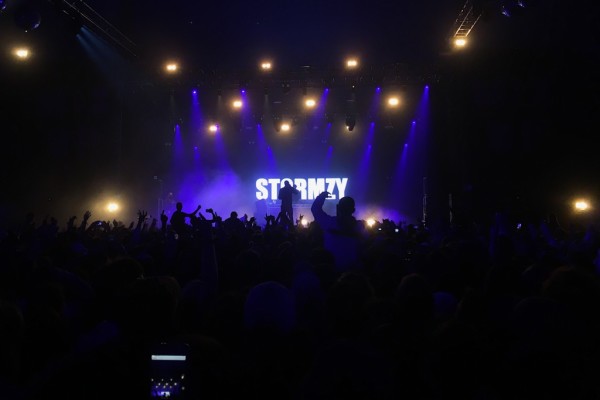 And finally…
The Dagwood Dogs – This one isn't musical, but I think we can all agree it was the headliner of our stomachs.
Until next time Splendour.