The Blueprint Series is a rolling release of profiles on individuals from any walk of life, pioneers of what they do best. From athletes to artists, fashionistas to entrepreneurs, this series will give you a personal insight into the minds of masters at the apex of their respective professions.
All good music discoveries come from recommendations. For us here at Boss Hunting, Tom Misch was no different. Eight months ago my mate Ted threw on Tom's (at the time) fairly fresh album Beat Tape 2. When he asked me if I'd heard of this guy, I naturally replied that I hadn't but was curious as to what sort of music it was. He was strangely stumped. Unable to articulate the vibe in anything less than five descriptive mix-and-match genres, he gave up and simply just told me to listen to the damn music.
Ever since, we've been hooked, referring the soulful, funky, Kaytranada-esque electronic hip-hop vibes to everyone under the sun. You see? Even now I can't condense the overwhelming fusion of sound in Tom's line-up. I've conclusively agreed its only description can be 'that cool music at a whisky bar you'd rather focus on Shazaming than chat small talk with your date.'
---
---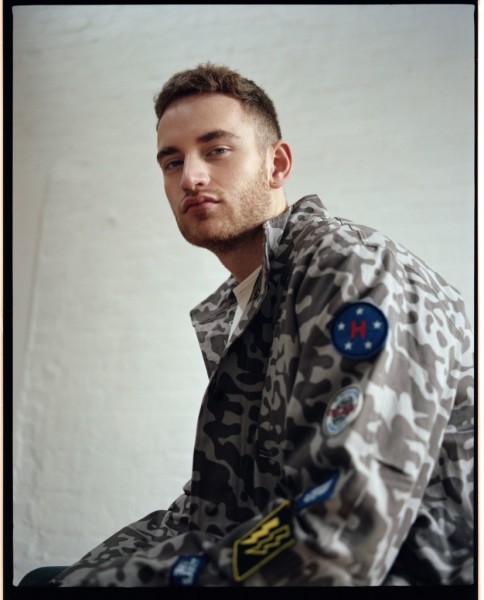 At the youthful age of 22, the British multi-instrumentalist and musical prodigy catalysed his current success from a humble beginning. The easy-going South Londoner sourced the roots of his passion in the musical world when his parents took him to classical concerts around the age of four.
Initially starting his instrumental portfolio with the violin, Tom admits it was a "chore" at first. Retrospectively, however, he's come to a realisation. "In the long run, I'm definitely glad I did it. I think I picked it up quite easily on the whole."
The evolution of his current sound is easier to pinpoint at his transition to guitar at 11 years of age, the acquisition of a loop pedal facilitating his knack for mixing and matching samples. "I spent all of my time jamming over chords and building layers," he says. "That's what gave me the appetite for making beats and music production."
His discography kicked off while he was still completing school with a sporadically produced Beat Tape 1, but it wasn't until its sequel in August of 2015 did Tom really make people constantly ask "who in the world made these catchy, groove-inducing songs?"
When asking Tom of his creative process, he admits that "it honestly varies from time to time. I like to work in different ways and switch things up depending on the outcome I want. Sometimes I start a track from just jamming on the guitar, and other times I'll be chopping up old records making a beat."
It's these samples and old records that fuelled the origins of a lot of Tom's tracks. One of the obstacles to a majority of his recent music, however, was its collaborative nature, proving solo live shows a little difficult for a one-man-band without vocalists.
Getting a band together for his live gigs has been a long developed two-year project, he tells us, especially recognising the demand for his live performances. "I've started tailoring the music I make to work really well live, so that when you see a live show of mine the music sounds sonically similar to the record."
---
---
Tom's personal lyrical touch on his tracks has also developed more recently, both from a practical perspective and him warming up to his own vocal abilities.
"I never really used to like my voice and was quite shy of recording it. I think I slowly started to like the sound more and had good feedback when I started singing on my beats. I guess it makes my stuff a lot more accessible."
This doesn't mean collaborations are on the back burner, in fact, his entire 5 Day Mischon EP release was built entirely on these exact concoctions of artists. In the much anticipated build-up to his forthcoming album, Tom wanted to try something different, go with a natural production flow and roll the dice with the end product.
"I'm working hard on my album but there will be a little wait, so in the meantime I wanted to go back to my roots and create new songs and release them as quickly as possible, working with a few collaborators and musicians I really rate and just seeing what happens over the course of five days."
The EP, which features an incredibly diverse range of local London talent, was recorded in his home studio. The behind the scenes film can be watched below.
Collaborations seem to be an enjoyable part of Tom's formula, offering a fresh sound with each track to keep his music dynamic and accessible. Perhaps this is why it was so hard for us to categorise his genre.
"I'm a huge fan of Loyle Carner, Alfa Mist, Barney Artist, Carmody etc. There's a little scene of musicians and artists in London that I'm a part of and it feels good."
---
---
Melbourne native Jordan Rakei has also featured on a few of Tom's tracks. The two connected online before Jordan made the move to Mother England himself, all the while dropping similar, funk-infused releases.
Tapping into the mind of an 11-year-old Tom sampling tracks and jamming on his guitar, we found his love for rappers and hip-hop is still a burning desire to be explored, the ultimate collaborative opportunity, perhaps.
"I'd love to work with some old school rappers that I've grown up listening to – Q-Tip, Busta Rhymes, Snoop Dog just to name a few; that would be insane."
In response to our praise that he'd redefined the Jazz/Funk R'N'B vibe for our generation, his noticeable modesty kicked in. With over 50 million streams on Spotify, his popularity has remarkably surged in such a short space of time. Was he at all surprised by the exponential success of his sound?
"Ahh thank you! I think I am surprised…but I try and draw from a lot of jazz and more underground music that isn't very commercially popular. I try and make it accessible at the same time."
Tom seems to have bridged the gap between this underground scene and comparatively novice listeners like ourselves, perhaps speaking volumes of his success. The best part about it, though, he's just your regular bloke who's a genuine musician; lounging around in his bedroom messing with chords on his guitar, drinking tea and inviting mates around to spit a few bars over it all. Next thing you know he's got another EP.
The 5 Day Mischon EP is available here and can be streamed below.
Like Tom on Facebook and follow him on Instagram for more album sneak previews.
---
---