The first half of this year has seen the likes of Sony, LG and Samsung in a three-horse race to offer the Australian public mammoth television screens that push the boundaries of what's legitimately possible to fit in one's living room.
And it's not only their size that'll make you do a double-take.
Samsung's 98-inch QLED 8K television, which is the only option of the aforementioned trio that's currently available in Australia, is retailing for a staggering $99,999. That is not a typo, but it is more than a grand per inch.
---
---
Whilst this race towards the big 100″ barrier was coming up 2 inches short, Hisense slipped into the country to make a surprise splash this week with the official media reveal of its own contender.
Prior to its new flagship TV landing in stores at the end of September, we spent a night with the outrageously large Hisense 100-inch 4K Ultra HD Laser TV to see if it deserves a place in your pad.
What I can't hold in any longer, though, is the real head-turner (more like neck-snapper) of this entire announcement – the price-tag.
$19,999.
Sure, for most of us that figure is less of a sting on the wallet than it is a knockout punch from Mike Tyson, but it's a helluva lot cheaper than Samsung, and even $18,000 cheaper than LG's 88-inch offering.
So let's cut the bullshit – what do you get for your money?
100-inch screen – tick.
---
---
4K Ultra HD – tick (it's no 8K as advertised by the likes of Samsung, but nobody's even making 8K content yet so don't get your knickers in a twist about this one).
Smart Dual Colour Lasers – tick, tick (whatever that means).
High Dynamic Range (HDR10) – tick.
JBL Cinema Sound (with a wireless subwoofer) – tick.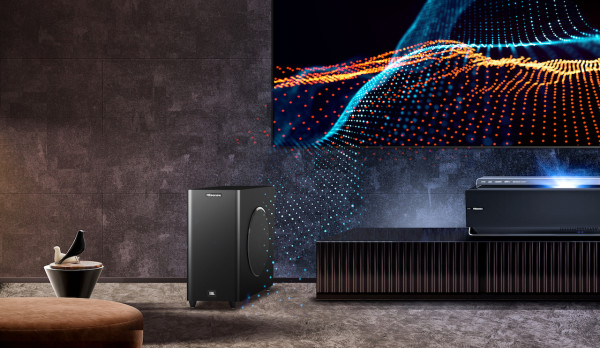 What we liked
The screen itself is, obviously, (f*cking) massive. It's inobtrusive with a thin and lightweight design that hangs nice and flush with the wall and doesn't have any cables – at all.
The interface is extremely easy to navigate and the JBL sound is very solid. Overall, it's a great buy for both the size and the price point in comparison to what else is currently available in market.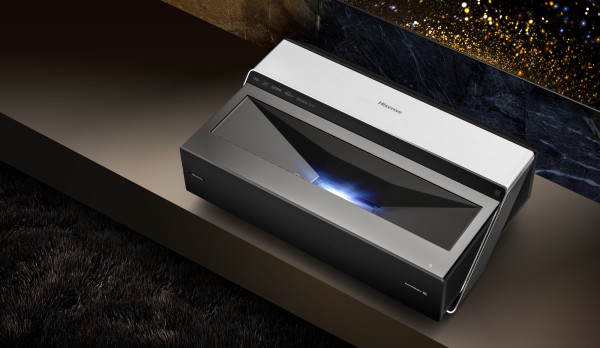 What we didn't like
While the Laser TV is marketed as a 'TV' – it is, more realistically, a projector/TV hybrid. The image is essentially projected upwards from the console on to a specially-designed screen at a perfectly calibrated angle.
Aside from the size of the very large laser console (it really is quite large in person, compared to the image above) there's absolutely nothing wrong this technology. The only thing I'd say is to not expect the truest of blacks you might get on an OLED screen. Hisense has done an incredible job of minimising reflections and absorbing unwanted light, but if the morning sun directly hits your screen every day you might not be able to watch breakfast TV as comfortably as you would on a normal screen.
---
---
Is it worth the investment?
So you want a 100-inch TV before old mate in the ridiculous mansion next door, but is the 20 grand flex worth the investment?
The Hisense 100-inch 4K Ultra HD Laser TV is the ultimate home cinema showpiece, there's no doubt about that. The colours, vibrancy and sharpness of the image are incredible for the technology and beats any projector 100 times out of 100.
Sure, it might not hit the blacks as hard as a fully-fledged OLED screen, but is the extra 80 grand worth it just for that?
Short answer: no.
For what's available, the Hisense 100-inch Laser TV is a damn good buy, and it's available now from JB Hi-Fi, Harvey Norman and The Good Guys for $19,999.00, including delivery and white-glove installation.
RELATED: Behind The Scenes – Our Exclusive Chat With Daniel Ricciardo & Hisense