Are the days of brick-and-mortar clothing boutiques behind us? Not quite. Not when a brand can pull off something as beautiful and compelling as this. That is, the new Aimé Leon Dore flagship that just opened in London, revealing a superlative, highly conceptual store that discerning gents looking to explore one of the world's most exciting streetwear and lifestyle brands would actually want to spend time in. Shaped by interior designer Sarita Posada, Aimé Leon Dore London looks to capture the same type of casual elegance that's splashed across ALD's New York City flagship in NoLita.
It's no secret that Aimé Leon Dore and its founder, Teddy Santis, now enjoys the kind of cult following that represents a substantial shift in fashion trends. Since springing up in 2014, the NYC flagship has become one of the hottest boutiques in the world and an exacting statement that fashion retail has just two choices – evolve or die.
This evolution, hinged on a sense of community and culture, is writ even larger with the Aimé Leon Dore London store, which opened in June and mirrors the New York boutique with the same sense of casual coolness that's spread across everything from the scalloped, dark green and gold awning that frames the entrance to the walnut wood panelling and those antique Persian rugs sitting flush against the swirling cipollino marble floors.
---
---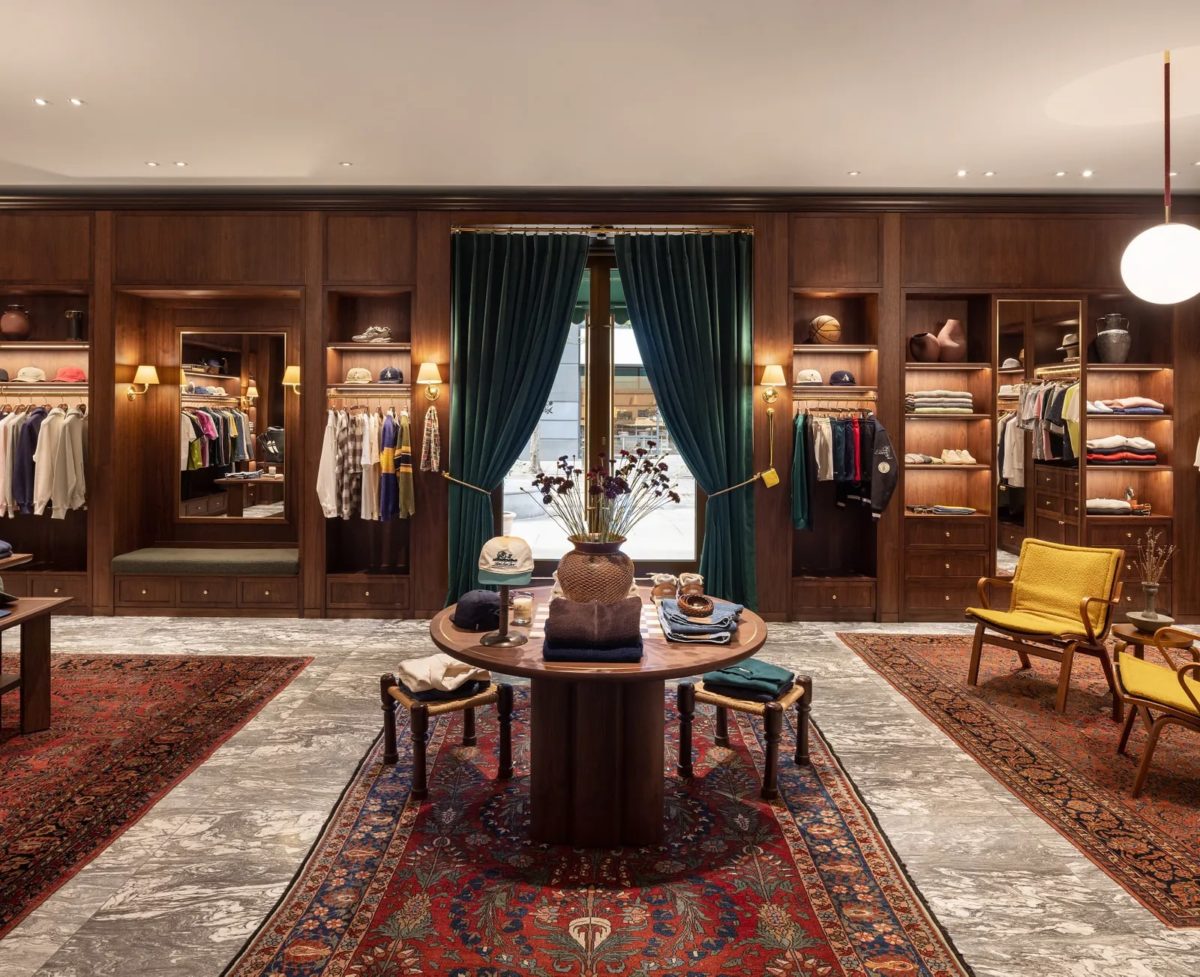 RELATED: New Balance & Aimé Leon Dore Link For A Subtle 550 Collaboration
Much like the brand itself, the store is defined by that kind of sophisticated, vintage-minded frame illustrated by thoughtful, locally-minded pops of nostalgia. On the walls, plenty of '90s London memorabilia help restrain the high-class midcentury interior and bring it closer to street-minded warmth. Basketball and vintage vinyl are referenced constantly across the space, including the boutique's exclusive second floor which reportedly has a full bar set-up and a DJ set up within a listening room laced with no less than 13,000 vinyl records.
And speaking to the lifestyle approach, Aimé Leon Dore London also features an attached Greek café nodding to Santis' heritage and encouraging shoppers to view ALD as much more than just a place to pick up some new threads. In line with the New York store, it's also one to listen to good music, pick up some snacks and a coffee and disconnect from the day. That seems to be the way forward for fashion retail: present sanctuaries that are calming, atmospheric and packed with features that go beyond racks of swag.
Between burning incense and the low-end thump of '90s hip hop, it's clear Aimé Leon Dore London is taking the idea of immersive retail a step further with the help of Sarita Posada, who makes sense for this interior design project seeing as she comes from a background in hospitality rather than one in traditional retail.
Speaking to Architectural Digest, Posada reiterated that Aimé Leon Dore London has been intended as more than just a retail space.
"The clothes are meant to last, the space is meant to last, the community is meant to last."
And from these photos, it's clear that ALD London will be doing exactly that as it provides a different kind of space for the brand's wildly popular clothing and apparel. Plus, those almost instant-sell-out seasonal drops should find their way to this boutique on occasion as well.
---
---
Address: 32 Broadwick St, London W1F 8JB, United Kingdom
Opening Hours: Monday – Saturday (11 am – 7 pm); Sunday (12 pm – 6 pm)
Check out photos from the Aimé Leon Dore London store, all shot by Ståle Eriksen.