Situated in the heart of San Francisco's South Beach neighbourhood, this four-storey penthouse hidden inside a clocktower is both one of the city's most historic landmarks and unique residences.
Originally built in 1907 and once used as the headquarters for a lithography company, the clocktower has been transformed into a one-of-a-kind luxurious residence that could be yours for a cool AU$8.7 million.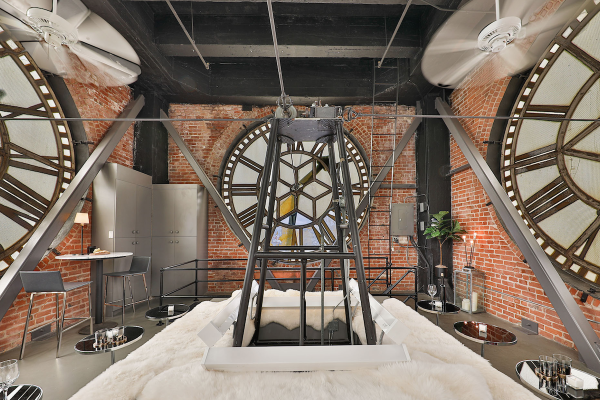 The 3,000-square-foot penthouse features hardwood flooring, brick walls and exposed structural beams that continue the historically industrial vibe throughout the clocktower.
The primary level is made up of the living area and dining room which features a glass-enclosed fireplace and high-end furnishings. The master suite includes a spa bath and dressing room alongside a smaller second bedroom with an ensuite. To cap off this level, you'll also find a library and gourmet kitchen.
The second floor is home to a large office space while the third is a dedicated games room complete with a Dirty Harry pinball machine. The fourth floor is the 'Clock Room', where you can gaze upon the exposed gears of the clock and see what makes it tick.
If you're in need of some fresh air, the penthouse also comes with a 1,300-square-foot wraparound deck that offers incredible panoramic views of San Francisco.
Find out more about this impressive property by visiting theclocktowersf.com.
RELATED: Tom Ford slashes the price of his incredible New Mexico ranch