Palm Springs, Southern California, is the 'Capital of Cool.'
The desert oasis sleeps Coachella's leading acts and hosts their best after-parties. It has palms for days and year-round blue skies, under which you can tee off 100 days in a row without ever repeating the same golf course.
But the town's biggest drawcard is its world-class collection of Mid-century Modern (MCM) residential architecture.
---
---
The iconic 50's and 60's era of architecture, art, fashion and design is celebrated every February during Modernism Week. This year's instalment kicks off February 13-23.
In Good Company
Hollywood stars have escaped to Palm Springs since the golden era of classical cinema. Studio contracts in the '30s included a "two-hour rule" that required actors to stay within a two hour, (or 100 mile) radius of film studios in case of reshoots. At 1.5 hours from LA, the desert resort town was an obvious choice to build a weekend home. Plush nightclubs and (illegal) gambling venues quickly followed to cater to over 500 celebrities who settled in.
In its heyday, Palm Springs shared its postcode with The Rat Pack's Frank Sinatra, Dean Martin, Sammy Davis Jr., and others like Marlon Brando, Humphrey Bogart, Bob Hope, Bing Crosby, Kirk Douglas, Cary Grant, Albert Einstein, John Wayne, Charlie Chaplin, Elizabeth Taylor, Steve McQueen, Howard Hughes and Walt Disney.
Not a bad lineup at all. Marilyn Monroe was even scouted by the pool at the historic Racquet Club.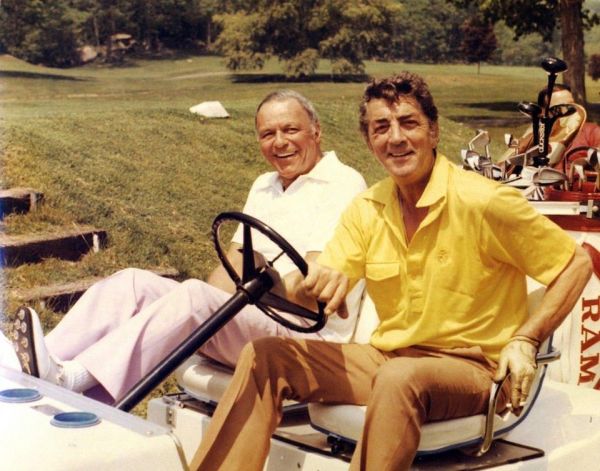 The Masters Of Mid-Century Modern
Forget dodgy draftsmen, celebrities commissioned only the most prominent 'starchitects' for their brand-new builds. Hotshot architects William Cody, Richard Neutra, E. Stewart Williams, John Lautner, Albert Frey, and Donald Wexler, were all in their prime when they reimagined the desert town.
The US was feeling an optimistic post-war boom in the economy, and its architects did not hold back on their A-list client briefs or budgets. They transformed the desert into a sea of glass, steel and stucco. Between them, they spawned an offshoot of MCM Design known as Desert Modernism.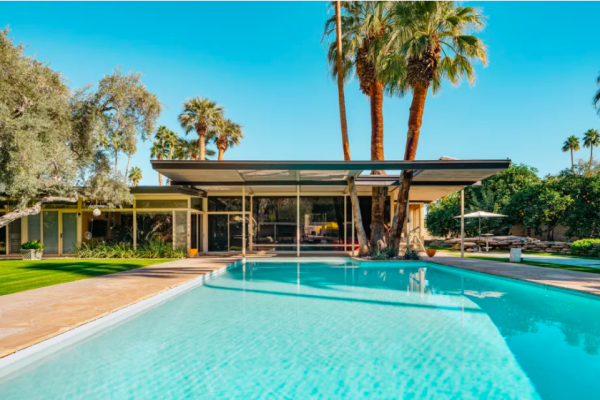 Key features included;
---
---
Clean horizontal lines
Single story dwellings
Dramatic flat roofs
A lot of glass
Blending of the indoor and outdoor
Landscaped gardens
Exposed stone interior walls (often by the fireplace)
Minimalist interiors
Statement MCM furniture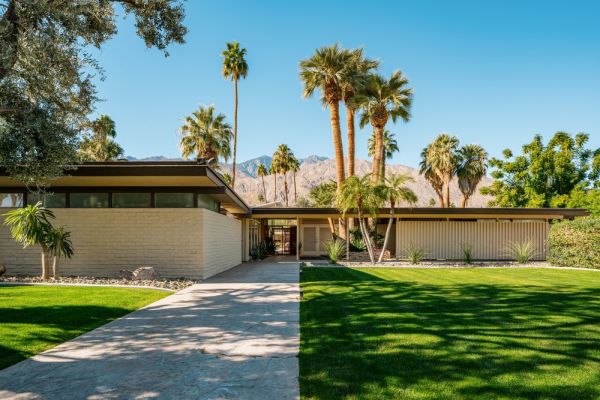 What To Look For
Because you absolutely can't separate Palm Springs from the gram, the most shared and replicated design features today, are the likes of colourful front doors, 'breeze blocks', landscaping with desert succulents and shimmering pools with a backdrop of the Santa Rosa Mountains.
If you find yourself in the Greater Palm Springs area, visit the neighbourhoods of Las Palmas, Indian Canyons, Twin Palms, and Deepwell Estate for hours of eye candy and cactus porn. The sleepy residential and colour-popping streets are best experienced by scooter if you have the time.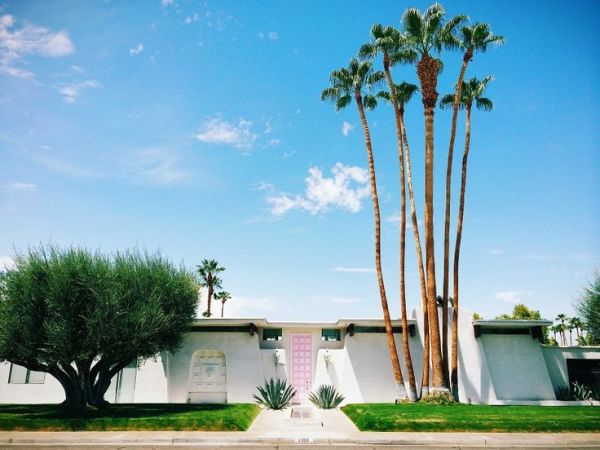 Palm Spring's most tightly held properties, which if you're lucky to find on the market, sit upwards of $8 million, and include;
Kaufmann Desert House
Neutra's largest domestic commission to a Pittsburgh department store magnate swapped hands shortly after to Grammy winner Barry Manilow.
Frey House II
Frey's own residence has floor to ceiling glass for maximum valley views and incorporates the site's projecting rocks into its interior.
Elrod House
Lautner's domed property featured in Sean Connery's Bond classic, Diamonds Are Forever. It is now being looked after by fashion designer Jeremy Scott. Construction took seven years out of hand-cut Idaho quartz stone.
Elvis Honeymoon Hideaway
The original architect is contested, but the property is more renowned for its year-long renters Elvis and Priscilla Presley, anyway.
And the commercial stuff isn't too bad either. Get around to downtown icons like Baumfield's Bank of America, Frey's Tramway Gas Station, Palm Spring's City Hall, Williams' Palm Springs Art Museum and Coachella Valley Savings & Loan bank.

---
---
The Full MCM Experience
Modernism Week provides glimpses into homes normally restricted to the public, and curates lectures, talks and lavish parties. But it's not only the architecture which is deified; all other aspects of MCM see a huge revival.
Don Draper wannabes flock to the city to sport their 'mid-mod best' as they party poolside to swanky music from the Rat Pack era, sip on cocktails and throwback retro hors d'oeuvres.
Need any more reasons to visit? There are plenty on the calendar and it's always sunny in California. Whatever you do, don't forget your golf clubs.
The Palm Springs International Film Festival (January)
Modernism Week and The Tour de Palm Springs (February)
The BNP Paribas Open (March)
And of course, Coachella Valley Music & Arts Festival (April)
If You Want To Stay & Play Like Sinatra
Parker Palm Springs
Elegantly chic, the Parker Hotel is supposedly where Brangelina spent their early days (under an alias) and Robert Downey Jr. got arrested after a drug-induced fiasco.
---
---
4200 E. Palm Canyon Drive, Palm Springs, CA 92264
ARRIVE Palm Springs
Founded by a former Facebook employee and it shows. Tech-savvy ARRIVE let's you text in your hangover room service orders, or if you're up early enough, head to their in-house Wexler's Deli for some pastrami hash.
1551 N Palm Canyon Dr.Palm Springs, CA 92262
ACE HOTEL Palm Springs
The decor and vibe at the ACE are on point and it's for that reason that the destination is an institution. It was the Howard Johnson Motor Lodge in its former lifetime, where Sinatra sang at the poolside bar.
701 E Palm Canyon Dr, Palm Springs, CA 92264
Twin Palms Estate, Frank Sinatra's Former Pad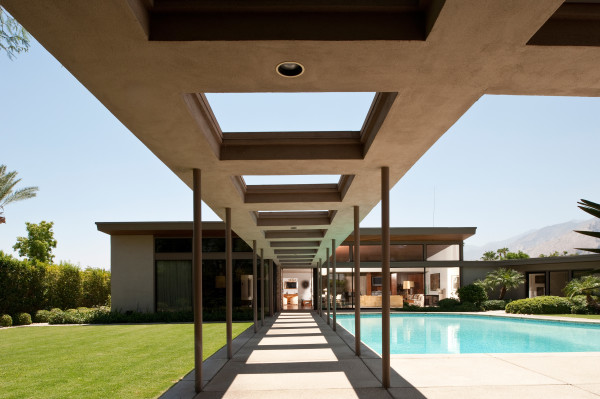 Can you get any more nostalgic than enjoying a dip with your mates in Sinatra's famed piano-shaped pool? You better use a coaster when knocking back a negroni in his old recording studio. JFK even spent the night, but when he chose Bing Crosby's pad for his next visit, Sinatra was so angry at the snub that he became a Republican.
1145 E Vía Colusa, Palm Springs, CA 92262
Dinah Shore Estate, Leonardo DiCaprio's Digs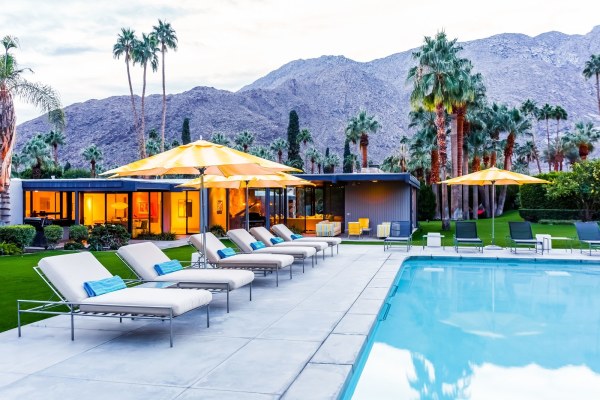 The US$4,500 night, two-night minimum splits pretty well between your mates for Leonardo's six-bedroom, seven and a half bathroom pad with a pool and tennis court. If only walls could talk. Likely booked out over Coachella, however, as the guy is a festival fiend.
---
---
432 Hermosa Pl, Palm Springs, CA 92262
Melvyn's Restaurant
The only remaining treasure from Hollywood's Golden Age is Melvyn's. Spark up a chat with maître d' Brian Ellis and he'll share stories of turning away Steve McQueen on opening night and the scandalous affairs that went down in their wine cellar.
200 Ramon Road, Palm Springs CA 92264
Truss & Wine
A chic cocktail bar which divides its menu into eras; Golden Age, Prohibition, Tiki, Dark Ages, and Originals, and whose most popular drink is 'the game-changer' can't ever be a bad time.
800 N Palm Canyon Dr, Palm Springs, CA 92262