Having your very own pub, custom built especially for you, in your backyard sounds like a dream. And before COVID-19 it would have had to stay that way. Enter My Little Pub, spearheaded by a bunch of Kiwi blokes and led by an award-winning designer and master joiner, with designs to build tiny 3m x 4m mini Irish pubs for anyone with the dosh and a dream.
Founder Steve Rosling, who's designed plenty of Irish and English style pubs over the years, built My Little Pub's first product – T. O'Loughlin's, for co-founder Gary Altenburg's father-in-law, Terry – after some COVID-induced soul-searching.
According to NewsHub, Rosling was worried about his future career prospects as a commercial interior designer during the COVID-19 lockdown, leading him to the idea of bringing a 'local pub' even closer for people. Hence, O'Loughlin's was born, named for Altenburg's father-in-law, pre-fabricated, and shipped just before Christmas to his backyard in the semi-rural New Zealand town of Spencerville, just north of Christchurch.
---
---
The 3.6m x 2.8m T. O'Loughlin's was designed as a complete one-of-one tiny pub, with details modelled after the owner. The mini Irish Pub has Terry's name on it, was painted in the colour of his Irish home country, and was decorated with old historic family photos.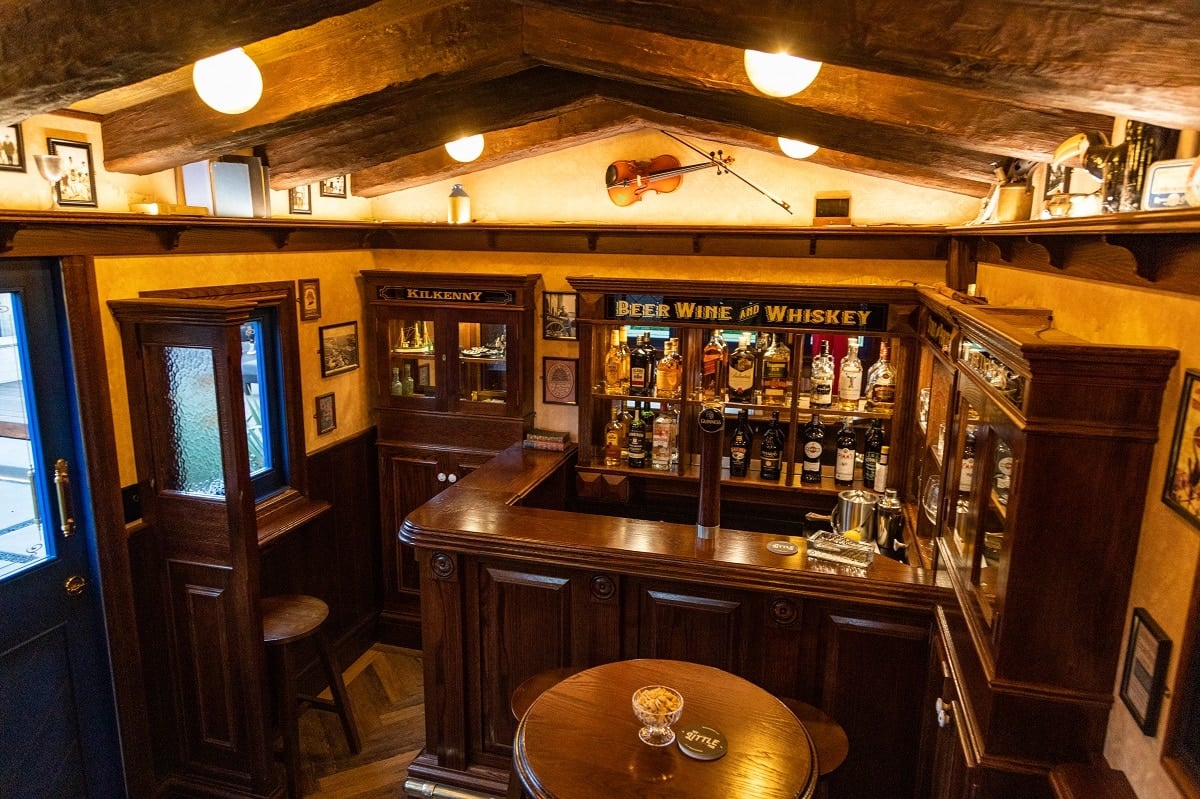 "These designs have you sitting in your own backyard feeling like you are tucked away at a secret bar in the middle of Dublin, or a small township in the English countryside," said Rosling in an official press release.
"My Little Pub is for people who really appreciate that feeling of being with their close mates in a good environment."
RELATED: You Can Now Build A Pub Inside Your Own House With Abrecht Design
Since building O'Loughlin's, Rosling has since created pre-fab pubs for many customers across New Zealand, including an English pub in a suburban Christchurch backyard. And since they are made off-site and shipped to their location, My Little Pub is able to offer the same service across the ditch, so any Aussies who want their own personalised pub can have it shipped straight to them.
It will cost you though. Base models start at roughly $70,000, while the higher-end and "fully fitted out" versions will clock around $100,000.
All you have to do is enquire online, tell the team about your ideas for a tiny pub and its intended location, then choose a base model out of three options – Little Irish, Little English, or Little Custom. From there, the team sketch up a pub in alignment with your ideas, colour preferences, and any unique touches or upgrade options. Once you're happy with the designs, building starts and the team set it up once it arrives at your home.
---
---
The pubs are built in a factory off-site and, at least in New Zealand, arrive on the back of a truck ready to be installed in their new owner's backyard. Best of all, no building permit is required and the energy footprint is as tiny as the pubs themselves. So far, owner's have been just needing caravan plugs to power their My Little Pub before pouring up some cold ones for their mates.
For a better idea of what to expect, click play on the video below.