Overnight, Apple held their annual September iPhone launch event in San Francisco, and as usual there were some big new releases, some very cool new features, and one or two strange launches from Apple. Here's a rundown of all the latest news.
iPhone
The big one. The new iPhone 6s and iPhone 6s Plus promise to be even better with a new 3D Touch display that should save you time and allow you to multitask more effectively. You can long press on apps on the home screen to access a variety of shortcuts. The new phones also feature Apple's new A9 chip, an improved TouchID sensor that promises to be twice as fast, a 5MP front facing camera, as well as a highly improved 12-MP camera that shoots 4K video (although shooting 4K will eat up the storage of the 16gb model in a little over 3 minutes). The new iPhone is available in store September 26, with no word on Australian pricing, but expect it to be in line with current prices. There's also a rose gold option now.
Apple TV
Apple is set on changing the way people use their TV with the new and much improved Apple TV which features a completely new interface, a brand new touch sensitive remote, Siri integration, and a fully fledged AppStore with a range of games. We fear that this update may be too little too late for a product that really should've launched in 2012 to have significant relevance.
---
---
Targeting mobile pros, Apple announced a supersized iPad Pro, which pairs a 12.9-inch display with a powerful A9X processor. There's a new $99 Apple Pencil and $169 keyboard accessory. (Think potential Surface Pro killer.) The Apple Watch got a brief mention at the beginning of the event, which will be getting native apps and new design options.
iPad Pro
Set to be the the biggest iPad ever at 12.9 inches, Apple announced the iPad Pro, and it looks pretty awesome. Expect desktop like speed with their A9X chip and multitasking, with other highlights including a 10 hour battery life, a four speaker audio system, and a screen with more pixels than a Macbook Pro retina.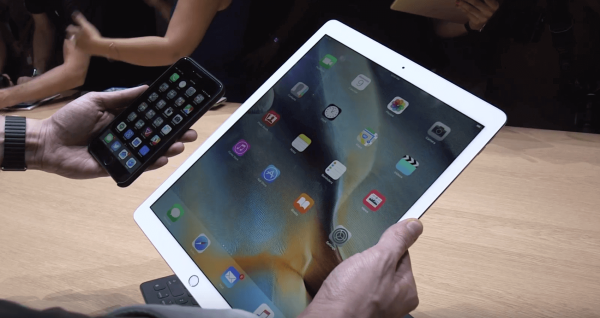 The iPad Pro weighs in at just 1.57 pounds, which is almost exactly the same weight as the original 1.54 pound iPad. Apple will sell a new Smart Keyboard accessory with the iPad Pro, which connects magnetically. Seems like this is Apple's answer to the Microsoft Surface. The iPad Pro will come in silver, gold and space gray and will start at $799 USD for 64GB variant.
Apple also announced the iPad mini 4, which takes the power of the iPad Air 2 and puts it into a smaller frame for $399 USD.
Apple Watch
The somewhat maligned Apple Watch already boasts more than 10,000 apps, but there are a raft of upcoming apps that might well bring it closer to being mainstream.
Apps on the way include Facebook Messenger and one of the coolest things they demoed to in AirStrip, an app that will vastly improve communication between doctors and their patients. During the demo, you could differentiate between a mother's heart rate and the baby's (using additional sensors).
They also one upped themselves in the style game, launching the Apple Watch Hermes edition which will be available in October, as well as a range of new bands in fresh colours.
---
---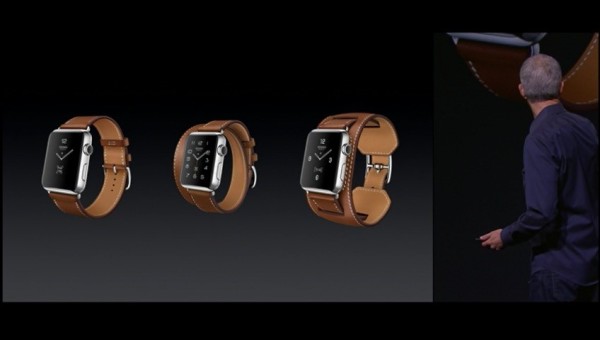 Apple Pencil
Another accessory coming to the iPad Pro, and one that will have Steve Jobs turning in his grave is the Apple Pencil, which is a glorified stylus that will let you sketch and draw directly on the screen. The iPad Pro can detect pressure and tilt, and you can use the Pencil in tandem with your finger.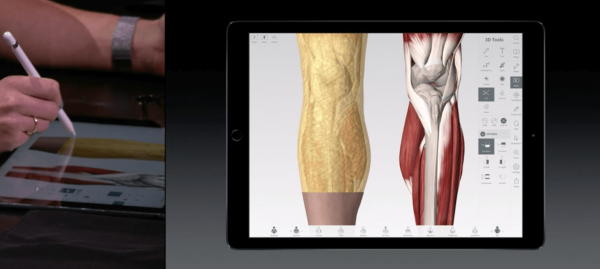 Adobe showed off some of its apps that work with the Apple Pencil, including Adobe Photoshop Fix for retouching images on the fly, and it looks like it works pretty well.
Jobs once told his biographer, Walter Isaacson, that "as soon as you have a stylus, you're dead" so it's certainly an interesting call from the top at Apple, and one that we'll be watching with interest. The Apple Pencil is set to cost $99 USD as a standalone accessory.
You can watch the full keynote here.