As one of the very first speakers to support the new Bluetooth 5.2 standard, the Beosound Explore from Bang & Olufsen is a rugged, resilient music box that sports a seriously impressive 27 hour battery life.
Bang & Olufsen constantly push out ambitious speakers like this, but much of their output as of late has been focused on visually spectacular design and gold-covered audio devices. While the design for Beosound Explore is attractive enough, with its incredibly durable Type 2 anodized aluminium shell and futuristic concentric rings, it's the superior performance and unparalleled durability that's got people talking.
Beosound speakers aren't exactly known for their ruggedness, so clearly the high-end Danish brand set out to prioritise function and centre the form around that. Designed specifically to accompany you on your next outdoor adventure, whether that's a road trip to find obscure outback pubs or a simple trail run in Australia, the Beosound Explore makes full use of the aforementioned aluminium to present a speaker that's IP67 water and dust resistant, and can withstand plenty of scratches – so don't worry if you're a rock climber planning on taking the speaker with you on your next challenge.
---
---
What's equally remarkable is the fact that the lightweight Beosound Explore, which weighs in at just 631g, manages to squeeze 27 hours of playtime on a single charge out of a modest 2,400 mAh battery. That figure is obviously based on very average use, so pushing this to higher volumes will easily shave some hours off that standard.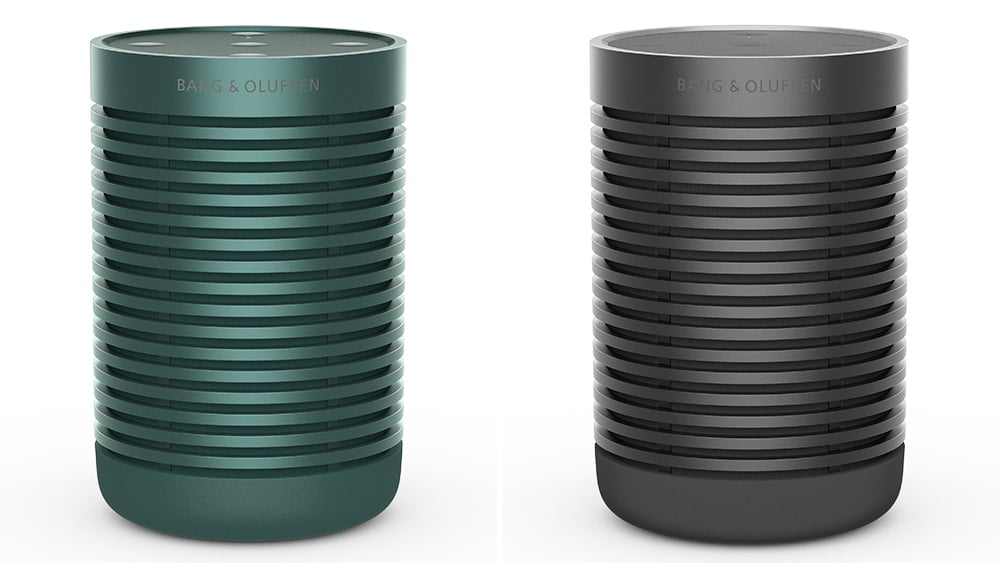 The smart use of power highlights one of the many benefits of the new Bluetooth 5.2 standard, which is much more efficient in the way it receives audio from a connected device. This helps with the battery life for sure, along with the decision to ditch voice controls completely, as well as move away from the ability to add the Beosound Explore to any existing Bang & Olufsen ecosystem.
There are other obvious nods to the outdoors. Bang & Olufsen's design team has replaced the usual brown leather shoelace that's attached to many of their speakers, and gone with a weatherproof nylon strap instead, as well as a detachable aluminium carabiner clip so you can hang this from a harness or backpack. Instead of touch controls, which you can't use with gloves, the top of the speaker hosts five physical buttons that can be used to lead the usual playback functions such as play/pause, skip, volume, and pair.
RELATED: Sonos Roam Could Raise The Bar For Portable Speakers
Even the audio architecture has been arranged with adventure in mind. The pair of 1.8 inch, full-range drivers have been tuned with beaches and mountaintops in mind, as opposed to a living room or hotel lobby. Bang & Olufsen are claiming a bass response of 59db here, which should make for some beefy, intense low-end to help bring a bit of muscle to sound that is obviously going to be contending with more ambient sounds in open air situations, as opposed to the relative quiet of an enclosed space. And even if the sound isn't right for whatever you're doing at that moment, the Bang & Olufsen app has one of the best EQ tuners in the game.
The speaker's grille has been cut in 360-degree lines to help achieve true omnidirectional sound, which should be ideal for use around a campfire.
Taking inspiration from the landscapes of Scandinavia, the Beosound Explore comes in black anthracite, green, and gray mist finishes. The black and green versions are available now, but the grey mist won't be arriving to market until later this year.
---
---
Bang & Olufsen's Beosound Explore is available for RRP of €$199 (~AU$313).