Two of our favourite things; scotch & surfing. These gorgeous Glenmorangie Original surfboards are carved from American Oak ex-bourbon casks which are the source of the brand's signature single malt scotch flavour.
Clocking in at $5,500 per plank, the shortboards are a product of Grain Surfboards of Maine, USA, through a partnership with the Scottish whisky distillery.
The boards have been handcrafted using New England boat-building techniques such as "bookmatching" to showcase continuous patterns in the oak. The wood, funnily enough, has now come full circle. Originally grown in the Ozark Mountains of Missouri, the oak was then used in the bourbon ageing process down south before being snapped up by the Scottish distillers – finally returning to the United States for these unique creations.
---
---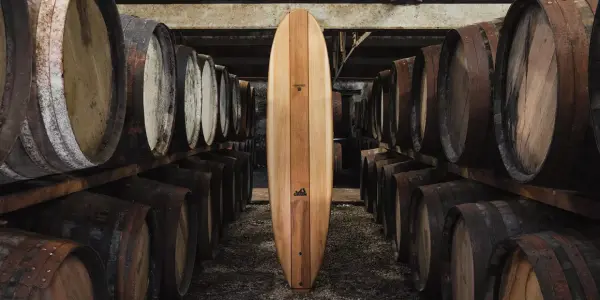 Each board boasts roughly half a cask of an oak barrel and is blended with Maine's northern white cedar to provide stability and lower the overall weight. The beautiful strip you can see contrast down the centre of the board is a layer of iconic red cedar.
You can order your own piece of handcrafted mastery over at www.grainsurfboards.com