As Apple continues its narrow dominance over the smartphone market, more details are beginning to leak about the upcoming iPhone 11.
In development for a number of years but only front of mind for consumers in recent months, the next generation of Apple's mobile phone is shaping up to be the company's most ambitious yet.
To help you decipher all the chatter flying around the net about what to expect from the iPhone 11, we've trawled through all the information to bring you the lowdown on Apple's next big product release.
---
---
Three new designs
Apple will release three new smartphone – the iPhone 11, iPhone 11 Pro and iPhone 11 Pro Max. The phones will have similar screen resolutions to previous models, with the iPhone 11 and iPhone 11 Pro boasting a 3x OLED Retina display and the iPhone 11 Pro Max featuring the 2x Liquid Retina display. There will be two primary phone sizes that customers able to choose from, the smaller 5.8-inch or larger 6.5-inch design.
Apple to release three 'iPhone 11' models this fall, including A13 chip, new Taptic Engine, more https://t.co/hW2MKjGydh by @_inside pic.twitter.com/eGslviQiU9

— 9to5Mac.com (@9to5mac) July 23, 2019
As 9to5Mac reports, this new phone will use the Apple A13 chip model T8030, codenamed 'Cebu', along with the Taptic Engine that's set to replace the 3D Touch functionality of previous models. While the iPhone 11 won't be 5G compatible just yet (expect that to happen in 2020), the phone will apparently stick with the Lightning connector instead of the much-rumoured USB-C connector.
New camera technology
The iPhone has never had the best camera, but that looks set to change with the iPhone 11. According to Bloomberg, the iPhone 11 will have three rear cameras – a standard lens, wide-angle lens and zoom lens – along with a laser aided 3D camera that can sense depth.
A new feature called 'Smart Frame' will also reportedly allow users to adjust the framing and perspective of photos. The iPhone 11's upgraded cameras will feature 12 megapixels and should help users shoot slow-motion footage at 120 frames per second. Simply put, the new camera will be the best in an iPhone yet.
---
---
Alleged next iPhone case moldings show what we discussed in our story last week in terms of new cameras. 3 on the high end, 2 on the new XR. Plus all models apparently getting a square, at least based on this one mold floating around. https://t.co/BhAFTZZL6u pic.twitter.com/QlNJTsApzX

— Mark Gurman (@markgurman) May 13, 2019
As you can see from the pictures above, the new case doesn't exactly look phenomenal, with the three cameras clearly visible on the rear on the phone. To solve this, Apple is rumoured to be using a dark coating to conceal the third camera to make it more appealing.
Longer battery life
Ah, the age-old dilemma for Apple loyalists.
While Apple hasn't come out and confirmed anything in regards to longer battery life, many experts believe the iPhone 11 will have a (naturally) greater capacity to last longer – hardly a groundbreaking deduction.
The new A13 chip is larger and more powerful than previous chips and should result in a battery that won't drop to 50% after a few hours use.
A Dark Mode is expected to help reduce screen brightness, which we're really excited about, while Japanese tech site Macotakara hints the iPhone 11 will come with a USB-C-to-Lightning cable and more powerful adapter for 18-watt fast charging, meaning if your iPhone is starting to drain it will charge much quicker than older models.
---
---
Similar to Samsung's latest Galaxy smartphone, 9to5Mac reports the iPhone 11 will support bilateral charging, so you can share juice with other iPhones without needing a charger.
Goodbye sliding mute button
The design of the iPhone 11 is virtually identical to the iPhone XS (bar the three-camera arrangement), but one noticeable change is the removal of the sliding mute button. The side slider is being replaced by a small circular button you press to mute your phone, ensuring a sleeker look.
New colours
While the colour of your iPhone has no bearing on its performance, people really seem to love owning a smartphone that's not a generic colourway. Along with black, white and gold, the iPhone 11 is rumoured to be dropping in 'Forest Green', with another iPhone leaker who's usually on the money, Max Weinbach, suggesting a rainbow coated iPhone that changes colour when viewed from different angles, similar to those sold by Samsung and Huawei, is also in the works.
It won't be cheap
It should come as no surprise the iPhone 11 will hit you hard in the wallet. According to Evad3rs, Apple will offer the sim-free 5.8-inch iPhone 11 at US$999 (128GB), US$1099 (256GB) and US$1199 (512GB), with the sim-free 6.5-inch version set to retail for an eye-watering US$1299 (512GB). Australian pricing has yet to be confirmed.
Of course, even the US prices aren't set in stone, but considering the standard cost of previous models, they appear spot on.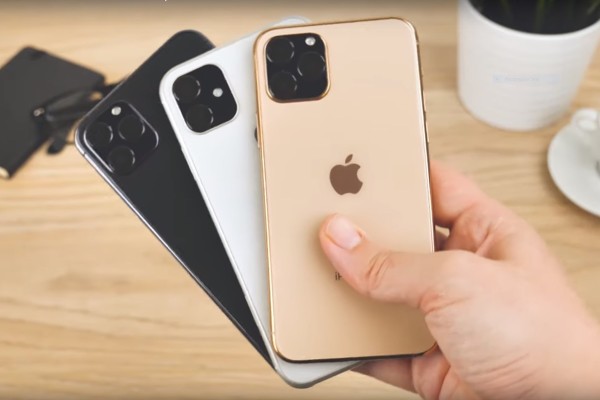 Expect a September release
While Apple is yet to confirm a date, well known iPhone leaker Evan Blass (@evleaks) believes he found code hidden within the iOS 13 beta release that suggests September 10 as the day the iPhone 11 will be available. Expect Apple to announce further details in the coming weeks.
RELATED: Telstra launches long-awaited loyalty program
---
---