It's 9 PM on a dark night, smack-bang in the middle of Australia. I'm outside, under the stars, sitting at a table eating dinner while listening to a star talker guide us through the galaxies above. The only light I can see is coming from the star talker's (awesomely powerful) laser pointer, as well as the stars we're gazing at. For all intents and purposes, it's pitch black.
We're here for the launch of Huawei's new P30 smartphone range, and I've got one in my pocket – a week before anyone else in the world. Huawei claims that the four camera P30 Pro is the most advanced smartphone camera system ever. And what do you do when you have something like that in your pocket? You take it out, tap the night mode button, and then take this shot.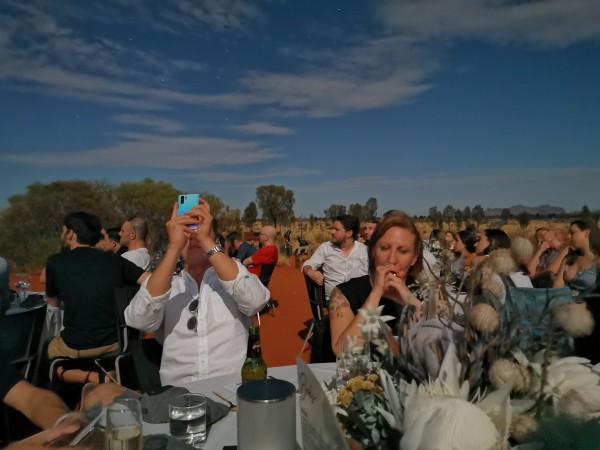 Yep. The photo above was taken with no flash, outside, in a near completely black environment. That's Dalton and Jane in front of me, who – I swear to god – I could barely make out with my own eyes. However, the cameras on the P30 Pro make the scene look like it was taken at midday in the glaring sun – the only giveaway is the stars littered between the clouds. Night mode and the ISO range on this phone is honestly so impressive it has to be seen to be believed.
---
---
I mentioned cameras plural earlier because the P30 Pro has four of them, each with their own purpose. There's a 40-megapixel main camera, a 20-megapixel wide-angle lens, an 8-megapixel zoom lens with 5x optical zoom, and a time of flight depth-sensing camera. The combo works, because in any situation, this is hands down the best phone camera I've ever used – and I'm currently flipping between an iPhone XS and a Samsung Galaxy S10+ as my daily phone.
This being said, the Huawei P30 Pro isn't a perfect phone – it's certainly not as easy to use as the aforementioned iPhone and Samsung (although this may have something to do with the fact it was a pre-release product I was using), and the available colours are a bit much for my taste. But if taking great photos is your number one priority when looking for a new phone, the P30 Pro is the only phone you should be buying. It's also very competitively priced, with the P30 coming in at $1099 in Australia and the P30 Pro ringing up at $1599.
Check out some more low-light shots I took on the phone below, and get more information on the Huawei P30 range here.