With CES 2021 rolling along, the tech innovations we can expect over the next 12 months (and beyond) are starting to trickle in. We've already seen a slick new pair of smartglasses that can handle fivr displays at once, and now we've latched onto the news that Samsung has updated their 2021 TV line with a few new interesting products. The most interesting? Possibly an update to decorative lifestyle TV The Frame, the highest-end model Samsung will offer from the new batch is able to easily switch between portrait and landscape mode.
The various new designs and form factors in the Samsung 2021 TV range are all set the redefine how consumer's can play around with their home cinema set-up, with standouts including the 110-inch MicroLED which we reported on just a few weeks ago, as well as a series of new Neo QLED TVs, which further improve upon Samsung's renowned QLED screens for more precise light control thanks to a micro-layer instead of the traditional LED module lens.
The Frame is of particular interest because of how it brings over a feature from last year's Samsung Sero – as mentioned above, that's the seamless pivot between landscape and portrait mode, furthering the The Frame's purpose as a premium TV that also doubles as a high-end digital art piece. The Frame was first launched in 2017, and has since become one of the most unique offerings from Samsung.
---
---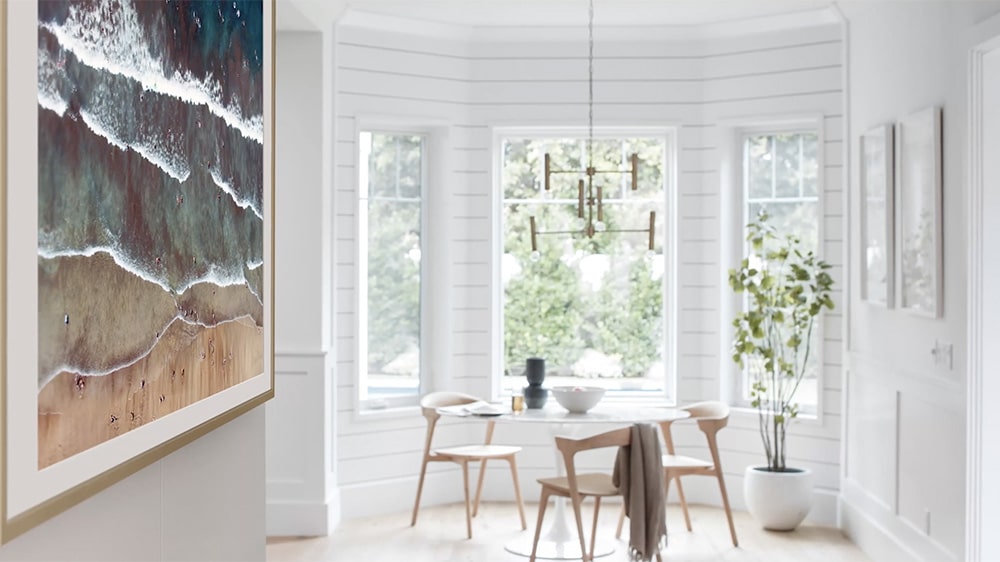 Note that only the biggest version of The Frame, the 43-inch model, will boast the ability to switch orientations on a whim. Like all the other models, it's also about half as thin as previous iterations of The Frame – 24.9mm thick to be exact – mirroring the depth of a traditional picture frame for a more realistic, head-turning look.
New attachable bezels come in five different colour options – white, black, red, brown and beige – and either a "Modern" or "Beveled" style, to better suit whatever design scheme the TV is a part of. Adding to the customisability is a reimagined Art Store, packed with 1,400 curated pieces which can be fed into Samsung's new AI-based auto-curation software, designed to better analyse an individual user's preferences and recommend artwork as a result.
This boosts Samsung's lifestyle TV portfolio to now include new version of The Frame, The Serif, The Sero, The Terrace and The Premiere, all distinctively designed to upgrade the décor of any home.

As with a lot of newly minted CES announcements, Samsung aren't quite clear on the pricing and availability, but based on history we should know more details around March of this year.