Disney Pixar's Cars franchise is back, with American racing hot-shot Lightning McQueen returning to the screen front and centre in the slickest and fastest instalment yet, Cars 3.
To celebrate the release of Cars 3, Boss Hunting was invited on an exclusive trip to Pixar Animation Studios in Emeryville, California last weekend to explore the intricacies behind the Pixar brand. We were granted access to a private screening of the film, along with a studio tour and an afternoon at 'Motorama' – an exclusive car show for Pixar employees and their families on the movie's opening day.
The Lightning McQueen we know is approaching his use-by date. A new generation of racers are slowly pushing him out of the sport he loves and McQueen is no longer the best in the game. After a prompt reality check, McQueen decides to hit back at the changing status quo and go after the top spot in one last hurrah. With the help of young trainer Cruz Ramirez, #95 knuckles down for a tough and nostalgic battle for supremacy with the futuristic Jackson Storm for the championship in Piston Cup racing.
---
---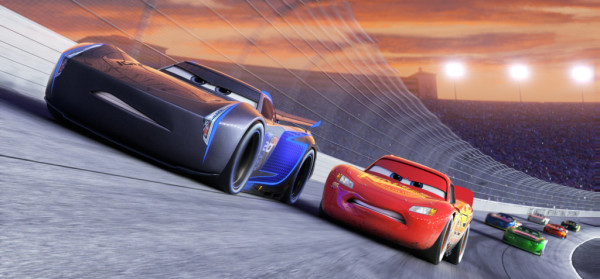 The film boasts unbelievable animation quality. Believe me when I say this – it actually looks real in some scenes. Pixar are privy to an ultra-high-tech new rendering software called 'Renderman,' which has revolutionised the lighting process.
As for the story itself, it comes full circle, taking it back to the original theme of the franchise while introducing fresh characters and a rich back story. The pace of the film subsides a little during the middle third, but makes up for it with a historically robust background behind the 'Legends' characters, friends of the late great Doc Hudson. These cars have been moulded around real pioneers of NASCAR from its early days, each with their unique affiliation to Doc and the world of American racing.
This film is unlike anything from Pixar previously, so we caught up with Director Brian Fee & Producer Kevin Reher to deconstruct the franchise and find out a bit little more about Cars 3 ahead of its Australian release this Thursday, June 22nd.
What are your daily drives guys? Do we have any of your cars here today [at the Motorama car show]?
Kevin: I was supposed to put mine in but I didn't, couldn't get it detailed in time, but I have a Ford Focus RS, 350 horsepower, 6-speed, all-wheel drive, it's awesome.
They're a lot of fun, pretty whippy those ones aren't they?
Brian: I have a 2009 Toyota Prius [laughs], with like 160k miles at this point. It didn't quite make the cut – they had to put it in the far back parking lot because the line to see it was going to be too long.
---
---
You've both been with the franchise from the beginning, what's the most significance difference for the both of you from 2006 to now?
K: From a tech standpoint, we have a new renderer, and our images are much richer than they were back then. I would actually bet that the Cars 1 final images were probably what our low-res versions of this movie looked like. The depth of the images has come so far in 11 years.
B: Just the lighting tools and what we can achieve now, well we couldn't do that previously. The look we were going for though, was the same world you remember, but as if you've just got a better pair of glasses on.
K: How about story wise?
B: We wanted to develop our characters. We wanted them to go through life experiences that surprised us, that were new, and at the same time we wanted to bring new characters in like Cruz Ramirez, for instance. We wanted to add some feminine qualities to the franchise, you know? Not just have female characters in supporting roles. I have two daughters that I go home to everyday, and I'm starting to see the world through their eyes. I'm starting to realise that they don't have enough of their voices out there in the world.
K: And also, it's been 11 years, and with sequels you don't want to tell the same story. You don't want people spending 20 bucks and then going "but I've already seen this." We needed something fresh, or a continuation of the story so we weren't repeating ourselves.
Regular viewers may underestimate or underappreciate the processes that go into creating an animated feature. Tell us about McQueen's 24-second-long crash sequence as a case study. Can you give us some perspective of how long a scene like that would take to put together from start to finish?
B: That one actually came together fairly smoothly. In storyboard we tried a bunch of different versions, and once we tried it for the first time we were like, yeah let's just crash him and see what happens, can we do that?
---
---
K: Are we going to do that to our lead character?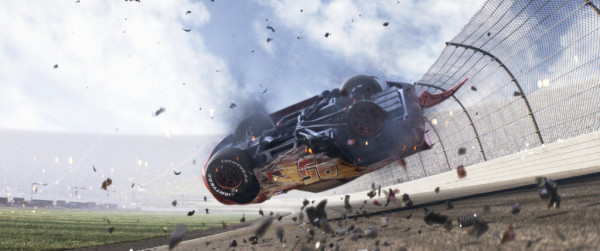 B: But it was important for the story, we needed something to push McQueen into this area where he had to wake up. The first time we cut it in story boards, we got this sinking feeling in our guts.
K: Especially that slow motion woosh which really hits your emotions – you hold your breath.
B: So once we got past that and it was done in story boards, from then on it was about the layout, how do we shoot it, how do we experiment, to get it as visceral as possible?
Did you study real crash scenes quite closely?
B: Yeah of course, hundreds of them.
K: We watched a lot of real crashes.
Do you just get the boys around for a few beers and type in 'best NASCAR fails' on YouTube?
---
---
B: [laughs] Yeah, there are endless videos. We wanted it as authentic as possible, we didn't want it to look like he was just dangling on strings. The animators look at a lot of crash scenes to try and get the physics as realistic as possible, figure out how the cars move and how they react to their environments when they crash.
K: The scene did its job. We had a really cute little five-year-old write us a letter saying "Are you killing lighting McQueen? And who's killing him because I'm gonna buy his toy and then kill him." His mother told us she'd just got him to calm down over Trump and now you're killing lighting McQueen! It was great.
B: We take creative license over a scene like that. You'd notice that a real track is really well lit, we wanted the sparks to stand out as much as possible. We slowly made the screen darker and darker in that area so the sparks pop. At that point you're just trying to play on the audience's emotions, how do you want them to feel and experience the crash?
The soundtrack is also such a big part of the Cars franchise, but can you expand on the process of sound engineering and how the engine noises of these vehicles are chosen? Fair to say you've got a Porsche in the film so you take the engine sound of that model. But for McQueen and Storm, how do you create their engines?
K: It's as accurate as possible. For someone like the character Louise Nash, we were on a plane heading to L.A. to do a recording session and the sound guys were there in Jay Leno's garage, because he had a Nash just like our character Louise and they wanted to get the exact sound. Brian, talk about Jackson Storm.
B: Storm doesn't exist, right? Even as a car, we made him up. For his engine, we kinda wanted it to be its own character. I remember watching Back to The Future as a kid when the DeLorean pulls out of the trailer and you hear that distinctive high-pitched whine. It is its own character. We wanted Storm to sound different when he pulls up next to McQueen. He's from 20 years away in the future, so let's look at him from the perspective that he does need to sound like a car, he needs to sound grounded, but there also needs to be a unique quality there. We used the recording of an early electric car and then mixed in low-end layers to give it some power. For McQueen, we used the same engine sounds that had already been established. You wouldn't make up a new Tie fighter sound.
You know when you talked of the distinctive sounds of these vehicles, the first thing I thought of was the Tie Fighter from Star Wars. You know what it is before you even see it.
B: Exactly, and we tried to do that as much as possible. McQueen doesn't actually sound like a NASCAR. In reality a recording of a NASCAR engine is very thin and kind of buzzy. It doesn't have that growl we wanted, so for McQueen we used a Cobra. For Cruz, that was another thing entirely, as we couldn't have it overpower McQueen but still be throaty enough when we needed it. It was a delicate dance but it's really fun.
---
---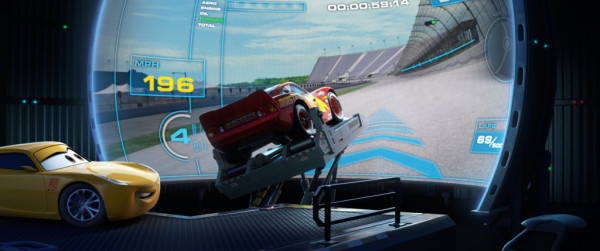 Brian it's your directorial debut. I normally picture a set with the director walking around taking control of the scene, but when you lack that physical environment in an animated feature, and there are so many different arms of production working simultaneously, I assume you don't really have that consolidation. Did you find it challenging?
K: Live action you have coverage, we don't have coverage. That's what the storyboard process is, try this, try this, and this, but when it gets down to the doing…
B: We know what we want the movie to be once we're in production. The biggest challenge is that the director has to have the movie in their head. When the art department is showing me a character design, I have to be able to fast forward in my mind to the feature and think about what's going to tell the story, how do I want it on screen? Even if I have the answer, it's about how the story develops. Everything that is in the shot, even a building in the far background is helping to tell the story. So everything that happens I just have to ask myself 'is this helping me tell the story?' Once you frame it in that way, all the different departments come together and my role is actually very streamlined.
You did a lot of research for this story, particularly into the NASCAR history, what was the most interesting thing for the both of you that you discovered about the sport you didn't know before?
K: For me it was the 'Legends' stories. We actually went out to Louise Smith and Wendell Scott's foundation. We met with Junior Johnson, to talk about their stories that were so amazing. Louise once stole her husband's car and went in her first race and crashed the car only to come home and say, "honey I crashed the car." Those kinds of stories you can't make up, and it was so fitting for Cruz to hear "I just took a number, life's too short to take no for an answer."
B: I remember the feeling of visiting some ghost tracks, some old race tracks from the olden days that were ruins really, sort of like being in the Colosseum, and imagining the atmosphere. You can just hear wind blowing through the fallen down fence and that's it, it's haunting. So we actually tried to capture, in a good way – that feeling like you're in church. When we had McQueen drive out onto the track that's how we wanted it to feel, as a holy place for McQueen, where it all started. We got goose bumps ourselves, and we wanted to try and replicate that.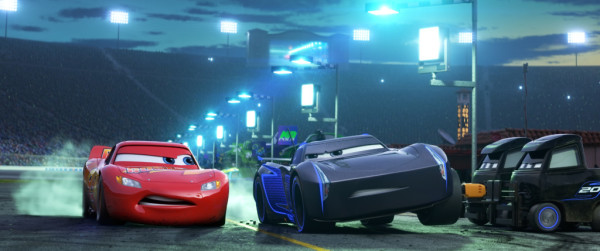 Lewis Hamilton makes another appearance in Cars 3, a regular now for the franchise, perhaps you guys are fans? Or is this John Lasseter's [Pixar Creative Chief] little nod to the other code of racing?
K: I met Lewis Hamilton once when I pitched him Cars 2. Lewis had so much fun being in Cars 2, that he was still in touch with Denice Reeve who was the producer, and she put me in touch with him again. He'd never been to Pixar, but for this film he said he wanted to come to Pixar and wanted to be in Cars 3. But how do we get a Formula 1 racer in an American story?
---
---
B: It didn't make sense to have his character show up, we couldn't figure out how to make that happen. Although we had this other role that actually had a lot of lines.
K: So I called him and said "hey dude, want to be a computer?"
That role wasn't made for him, you already had the car computer character?
K: Oh yeah for sure, we had another British actor already lined up.
B: We didn't know if he [Lewis] would be interested in not being a physical car, and just being a voice, but he said yes and really wanted to do it. So we renamed the character Hamilton. We had the most amazing time when he came here, it was a lot of fun recording him.
K: He left us the nicest note, saying that is was one of his best days ever and thanked us, we couldn't get over the fact that this was Lewis Hamilton.
Either of you get the call up for Monaco last month?
[Both laugh] No, no yacht party this year.
Lastly, can I get a favourite Pixar film of all time from the both of you?
K: Weirdly, I know this is biased, but Cars and the franchise is my favourite. I was the car kid with my Dad, and my brother was the sports kid. Dad never got to see Cars 1 and he kinda looked like Paul Newman back in the day. The whole Doc Hudson thing, my dad, motor trend magazine when I was a kid. I even saw a car outside just now that I drooled over when I was a kid in the sixties.
B: I'm not going to say Cars 3, I see how that might look. The reality is, there's a lot of my kids in Cars 3, my experiences being a parent that has inspired the story I wanted to tell. Outside of the Cars world I would say easily it's The Incredibles. I just absolutely love it. When it's over I'm so fired up I just want to watch it again.
Cars 3 opens in Australian cinemas this Thursday, June 22nd.