1976 was a huge year. Enterprise, the first space shuttle, was unveiled. Concorde made its maiden commercial flight. NASA safely landed two vehicles on Mars. A computer company by the name of Apple was established. And in Australia, a bloke called Mark Webber was born. Over in Germany, VW was putting the finishing touches on a performance version of its newly launched Golf hatchback, calling it the Golf GTI – now celebrated with the Golf GTI 40 Years.
Forty years on the space shuttle and Concorde no longer fly, NASA is still trying to get a handle on Mars; Apple is doing alright for itself and Webber's retired from an illustrious career in F1 and more recently, as the World Endurance Champion for VW family company Porsche.
And the Golf GTI?
---
---
Originally slated as a niche model of 5,000 units, the GTI has been going gangbusters ever since, becoming the benchmark hot hatch with over 2 million sales globally.
To celebrate, VW has given the world a treat, in the form the Golf GTI 40 Years. The fastest and most powerful production GTI ever.
I could easily end my review here with; There are only 500 available in Australia, (400 dual-clutch autos and 100 manuals) so if you want the ultimate Golf, get off your bum and race down to your nearest VW dealership and thrust $48,990 for the auto or $46,990 for the manual (+ on-road costs) into the salesperson's hand and secure yourself an instant and iconic classic.
But I don't want a tap on the shoulder from dear Ed about scribbling short reviews, so let me tell you more about this captivatingly brilliant hot hatch.
Setting it apart from the GTI and R is a tailored 40 Years body kit with a bigger rear spoiler, prominent side sills, black roof and side mirrors, bulging exhausts and newly designed front bumper and rear diffuser. Also new are the striking 19-inch 'Ruby' (signifying the 40th anniversary) alloy wheels.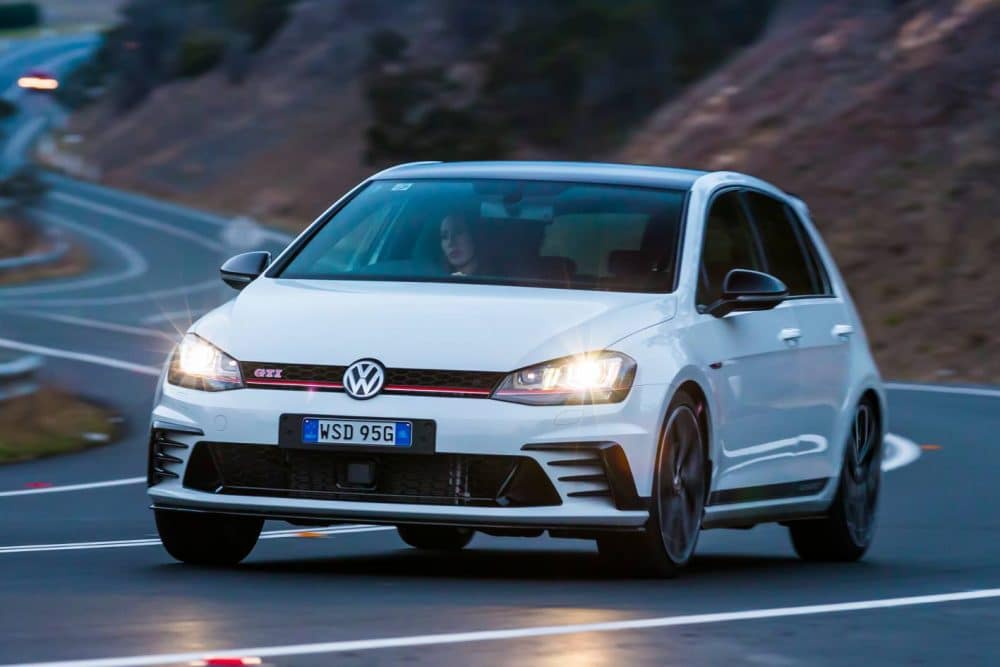 There's lots of 'go' to match the 'show' in the form of a Golf R engine under the bonnet and Golf R brakes under the guards and some serious tweaking of the sublime chassis to seek out even greater performance.
Inside, the Golf GTI 40 Years is equally seductive with piano black and brushed aluminium highlights, super comfy, super supportive, black cloth sports seats, a decent amount of leg and headroom in both rows, a centrally-mounted infotainment screen with a cache of apps and technologies, the familiar Golf dash layout, tactile surfaces, a premium feel, with first rate fit and finish and to top it all off, the best steering wheel in the business, bar none.
---
---
An F1 steering wheel is worth about 50 grand and that's all you get. With the GTI 40 Years you get a beautifully crafted, flat-bottom wheel, lovingly wrapped in black Alcantara and delicately finished off with red stitching, which to me, is worth the purchase price of the GTI 40 Years alone. It's the perfect shape, size and thickness and feels ridiculously good to hold. Best of all, for less than 50 grand you also get the rest of the GTI 40 Years its connected to!
While the standard GTI's two-litre turbo four delivers a not inconsequential 162 kilowatts, the 40 years pumps out a whopping 195 kilowatts and 350-newton metres. A 'kick down' boost function gives the GTI 40 Years extra 'short burst' wallop, topping 213 kilowatts and 380-newton metres. The GTI 40 Years reaches three figures in just 6.3 seconds and tops out at 250km/h.
Its scintillating cornering is thanks in part, to the electronically controlled front differential lock and the XDL+ vehicle dynamics function and like many modern race cars, the GTI 40 Years has launch control guaranteeing fast getaways.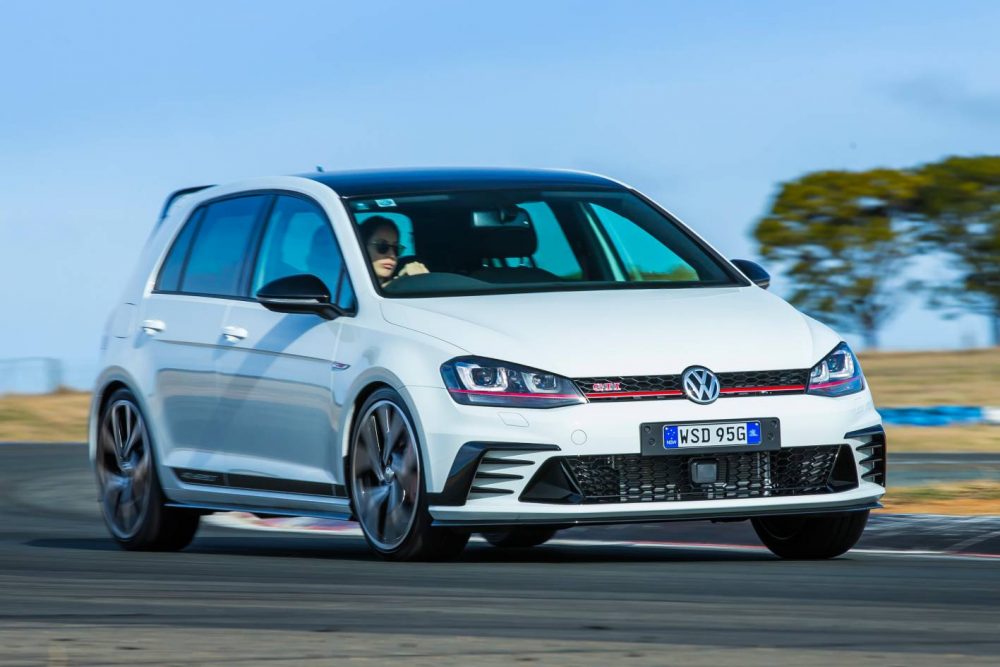 I couldn't wait to get behind the wheel, and as soon as the keys hit my hand I was off for a run through the hills near home, to relish the completeness of the GTI 40 Years.
Immediately noticeable is the extra grunt, torque and noise, even when poodling along in traffic, its underlying urgency is like no other GTI I've driven.
Its pin sharp steering is perfectly weighted, its ride, though firm, absorbs bumps and dips superbly, regardless of the drive mode selected and its kart like cornering agility combined with the velcro grip from the Pirelli P7's is breathtaking.
The 40 Years benefits from the latest safety technologies, including adaptive cruise control, blind spot monitoring, rear traffic alerts, park assist, seven airbags, rear view camera, ESP that can be disengaged for track days, post-collision braking and front assist with city braking.
If you're quick enough you might still get one, if not, keep a close eye on the classifieds. If you love hot hatches, the Golf GTI 40 Years is the king.
---
---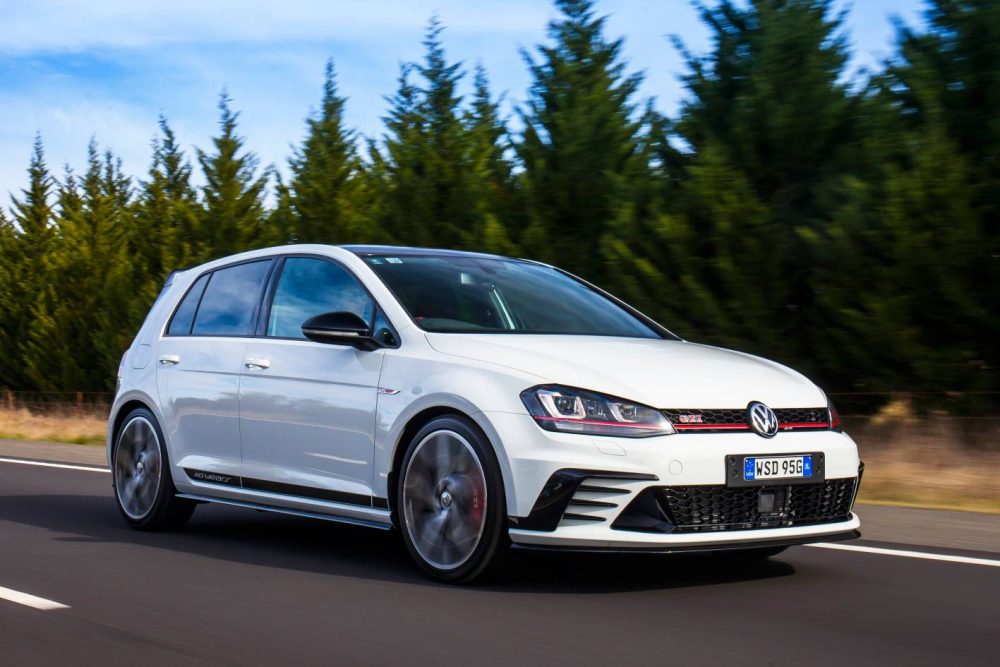 By Mark Higgins