Call me bias but the Porsche 911 992 GT3 is the best car I drove in 2021. I'm throwing it out there straight away, so you know what lies ahead.
If this isn't a 10/10 car, I don't know what is. If you're not a believer you can mosey on. If you are, you can read on as I explain why. And the bias point? Well, the 991 GT3 Touring in Irish Green was my modern grail. And secondly, the brand can do no wrong in my eyes. From the Cayenne Coupe GTS to the Taycan, right up to the touring or track-focused GT3, it consistently over-delivers on performance, luxury, and (relative) value. I knew experiencing the GT3 at Sydney Motorsports Park would be one of my Boss Hunting highlights, I just didn't realise how good it would be.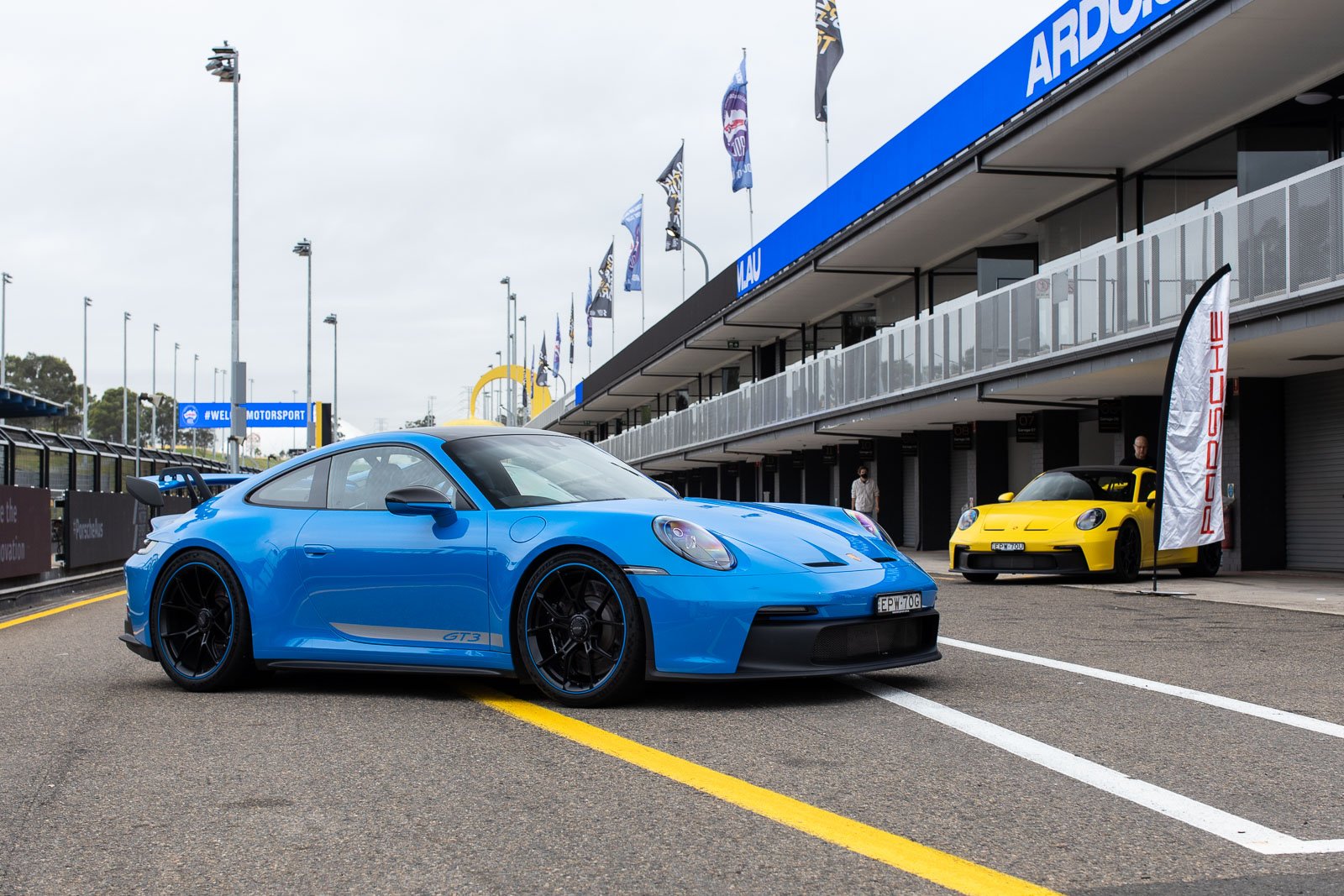 For the 992 GT3, Porsche has further engineered and refined what was reportedly a brilliant thing. I'm sad to admit I don't have a personal comparison to its predecessor, despite it being my dream car. Fortunately, the differing specs is a move Porsche decided to continue with the 992, and while I don't see myself opting for the racecar variant if I'm ever lucky enough to buy one, experiencing it on the track is something I'll never forget.
---
---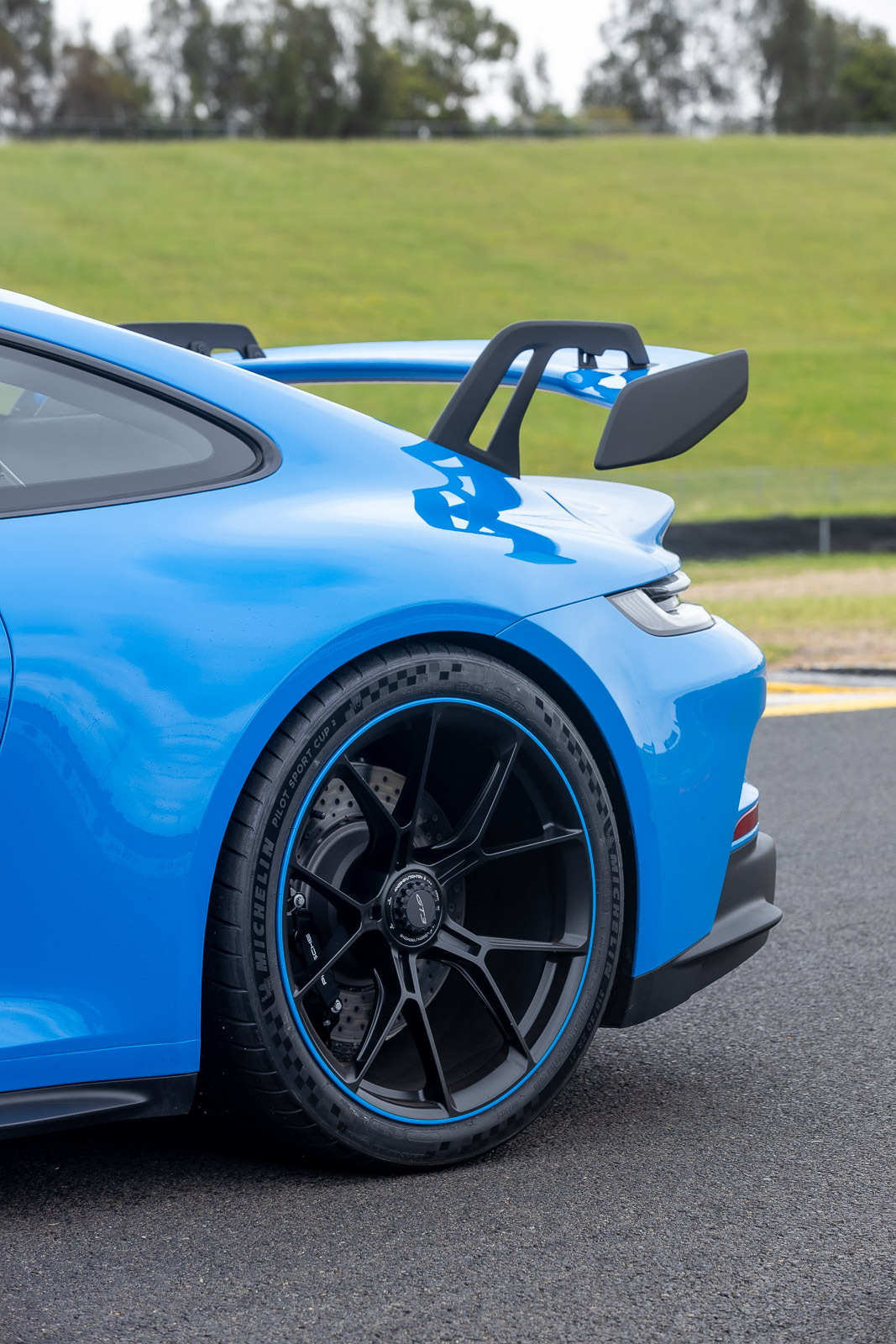 While I haven't piloted the 991 GT3, I'm extremely familiar with the Porsche range, both on the road and on track, and what I can attest to is the incremental innovation and improvements that each year, or model refresh, brings. Sensory overload continues to envelop me, and that's why I love the brand so much. For the 992 GT3, Porsche has essentially delivered a 991 Cup car circa 2018, debuting their newly developed double-wishbone front wheel suspension, on a road-going vehicle for the first time.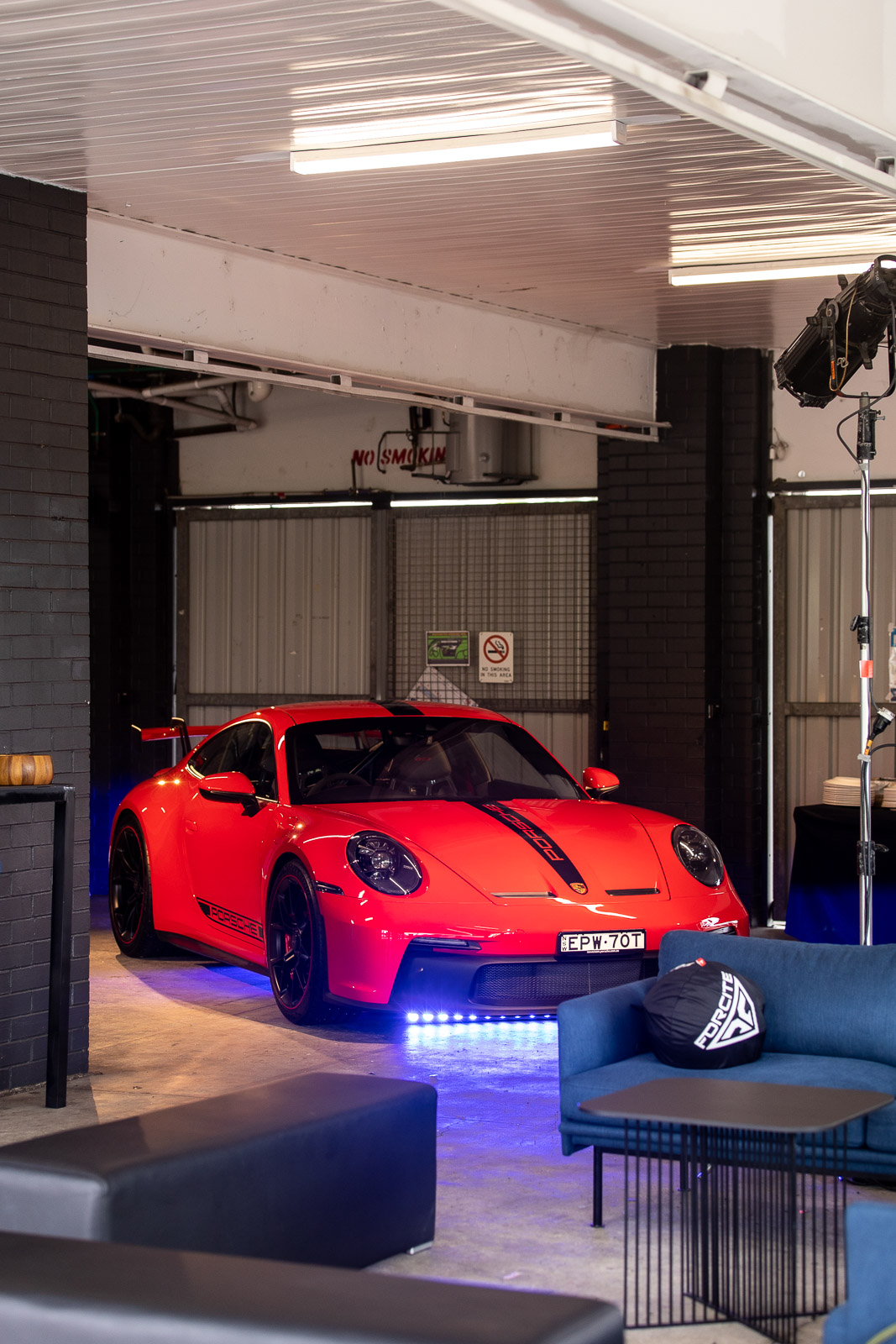 Finally, I can see the appeal of this GT3 over the Touring. Especially in this striking Shark Blue, accentuating its aggressive aero and swan-neck rear wing that produces 50% more downforce than its predecessor, cosseted by a six-point harness and roll cage, with an emergency fire extinguisher at the ready. It channels authentic motorsport at every opportunity. And while I can only imagine what it's like on road, it's safe to say that whether you're doing 180km/h through turn 1 at Sydney Motorsport Park, pushing second to redline as you tackle some country twisties, or sitting in bumper to bumper traffic, there's an insatiable racing aura present always.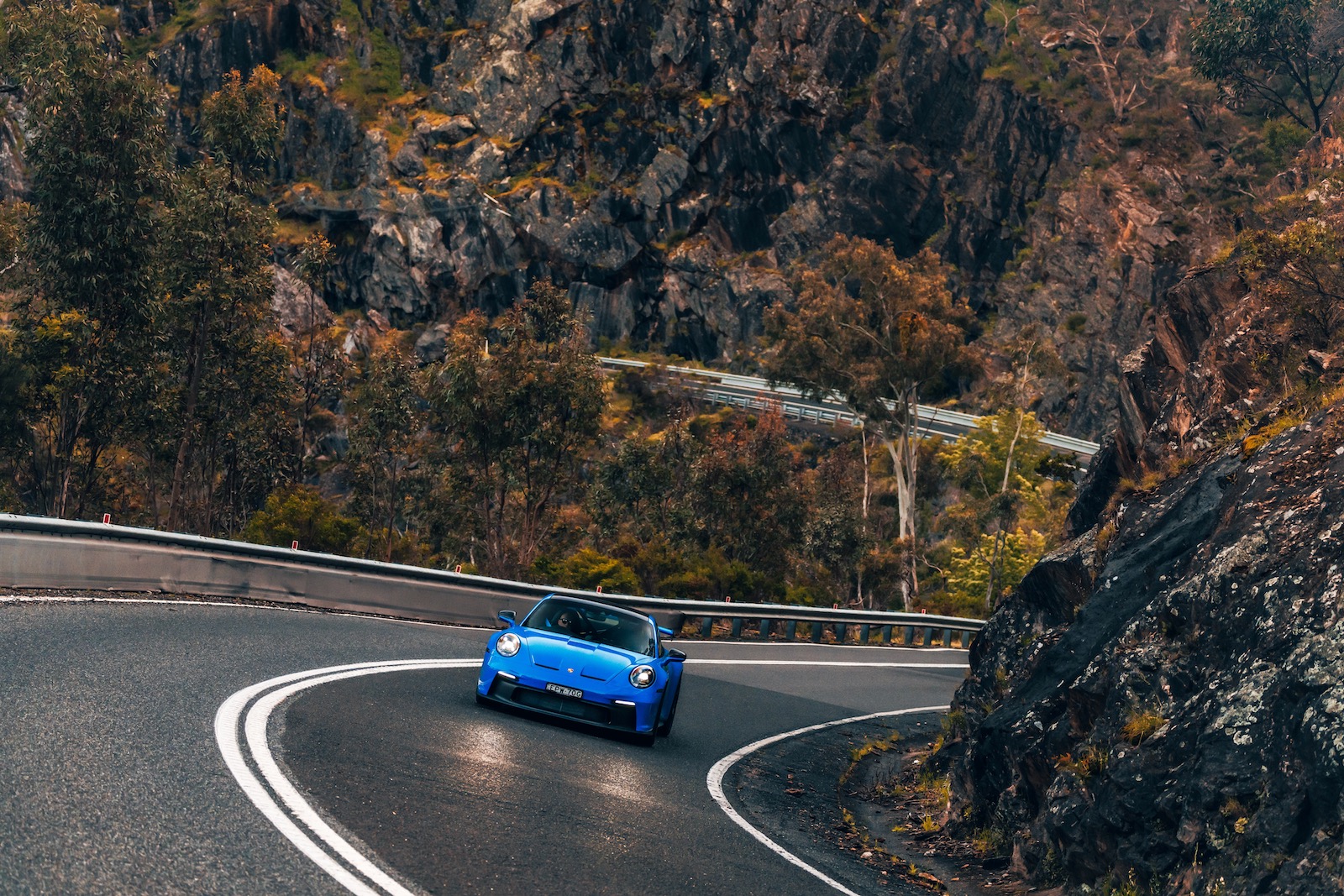 Now in its seventh edition, the 992 GT3 epitomises the very best of what Porsche is about, aimed to further enhance performance without compromising everyday usability. Would you use it every day? Absolutely not, it's shockingly fast and far too much fun for daily drives on public roads. Besides, you've got a Taycan Cross Turismo, Cayenne Coupe Turbo or Panamera GTS for that – so to speak negatively of the ride is doing the 992 GT3 a disservice. If you find the ride too harsh for the one day of the week you get to drive it, well perhaps you need to look at the Bentley Continental GT V8. On track the ride is exactly as you'd want it to be, providing a seamless transition through to the steering wheel and into your clammy palms as you search for 250km/h down the straight.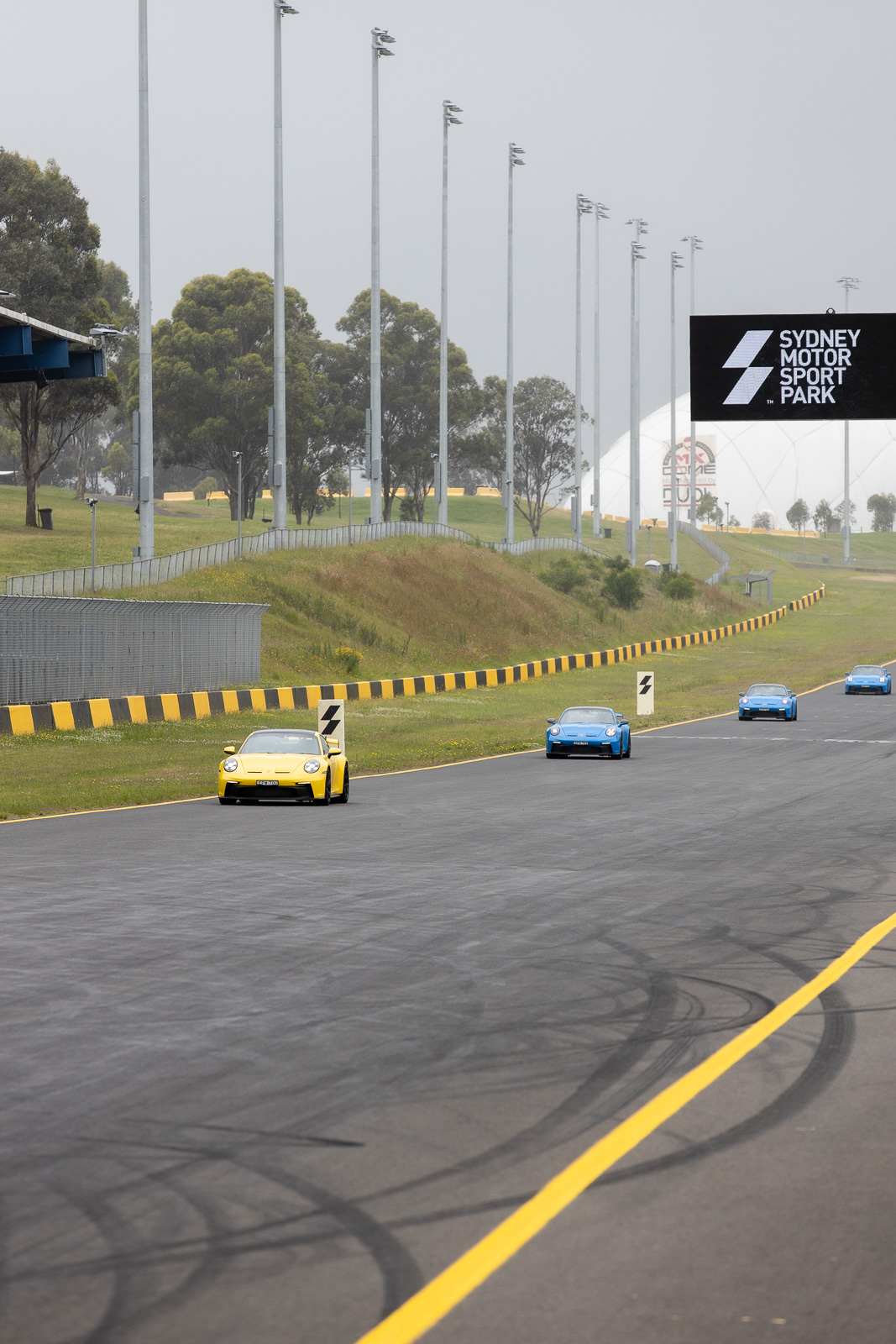 And steering is where the Porsche 992 GT3 shines – it has no right to turn as it does. We began our day in the slalom, snaking through cones before a sharp right-hand hairpin to tackle them one again. If you thought the 992 Carrera moved well, wait till you sample this. The new double-wishbone suspension offers even more precise turn-in agility, with better cornering grip and greater braking stability – most noticeable under hard braking.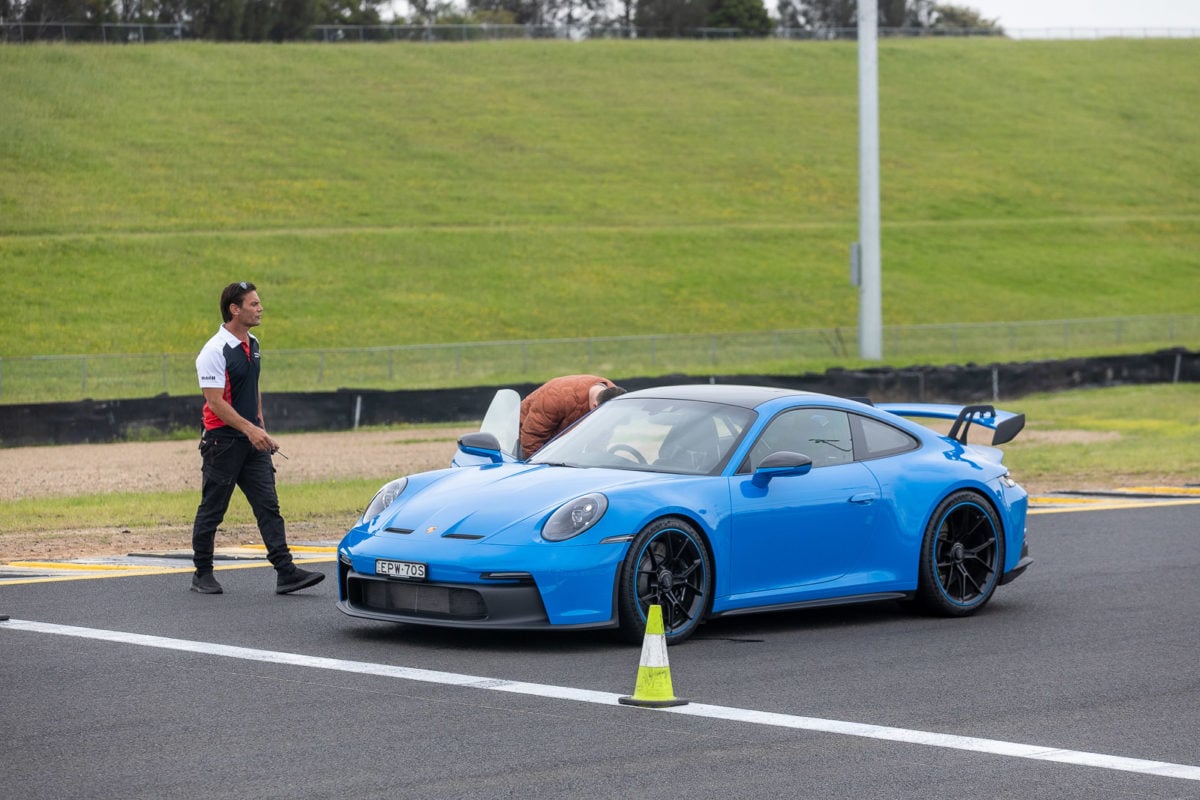 Consistent and controlled application of the throttle paired with fluid movements of the wheel sees the GT3 gracefully duck and dive through the cones with the nose stable and poised, hungry for its next challenge. At ungodly speeds, through corners, it just doesn't falter – gripping every millimetre of bitumen on offer and then planting the power down on exit. It instils unjustified confidence in the gentleman driver, just enough to light up the rear momentarily, a timely reminder that you're not Luke Youlden and the GT3 you're sitting in doesn't belong to you.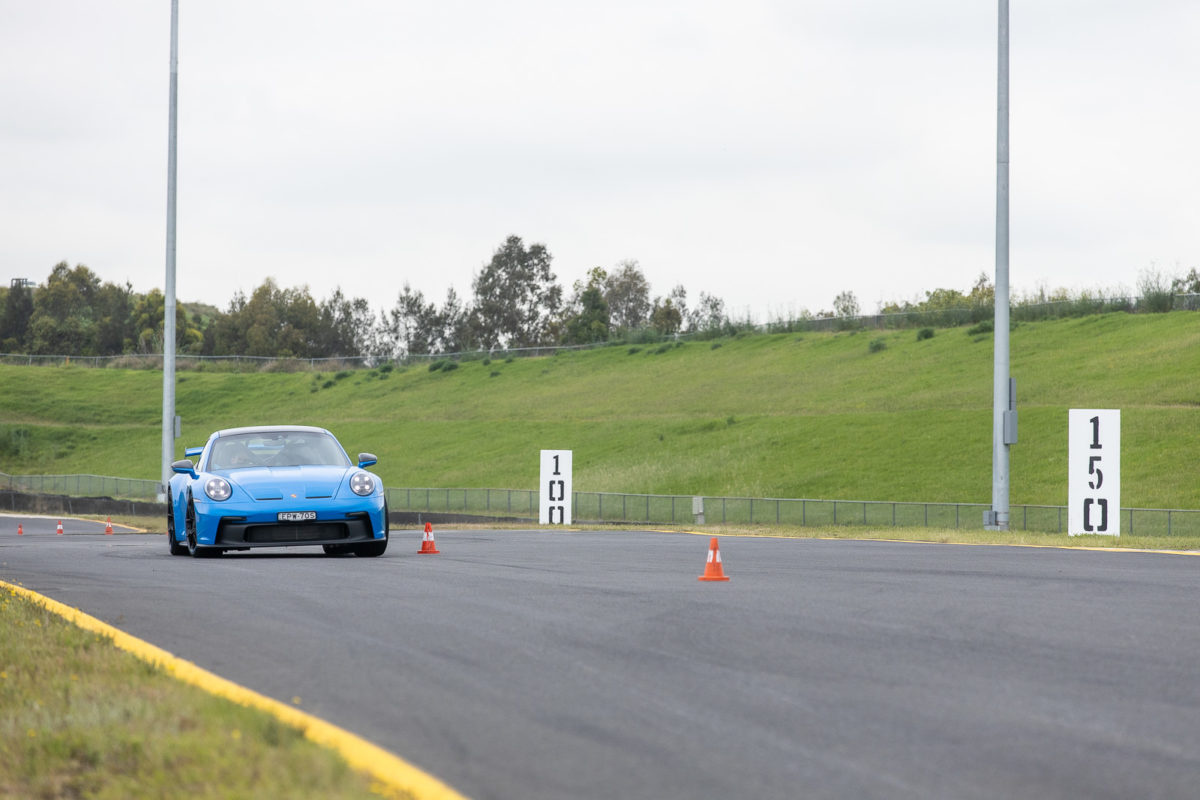 Powering the 992 GT3 is Porsche's naturally aspirated 4.0-litre boxer engine which delivers 375 kW and 470 Nm, while redlining at an acoustically magnificent 9,000 rpm – it really is the pinnacle of Porsche's soundtrack – mated to a new, 10kg lighter, stainless steel exhaust. Customers have a choice of two transmissions, a six-speed manual with an auto-blip function that wasn't present at our launch, or a seven-speed PDK twin-clutch which will have you at 100km/h from standstill in just 3.4 seconds (3.9 seconds with the manual). I loved the Carrera T manual gearbox and I'd like to say I'd tick the no-cost option but the PDK is so effective on the track, and so much better than me at selecting gears, that it would be hard to go past.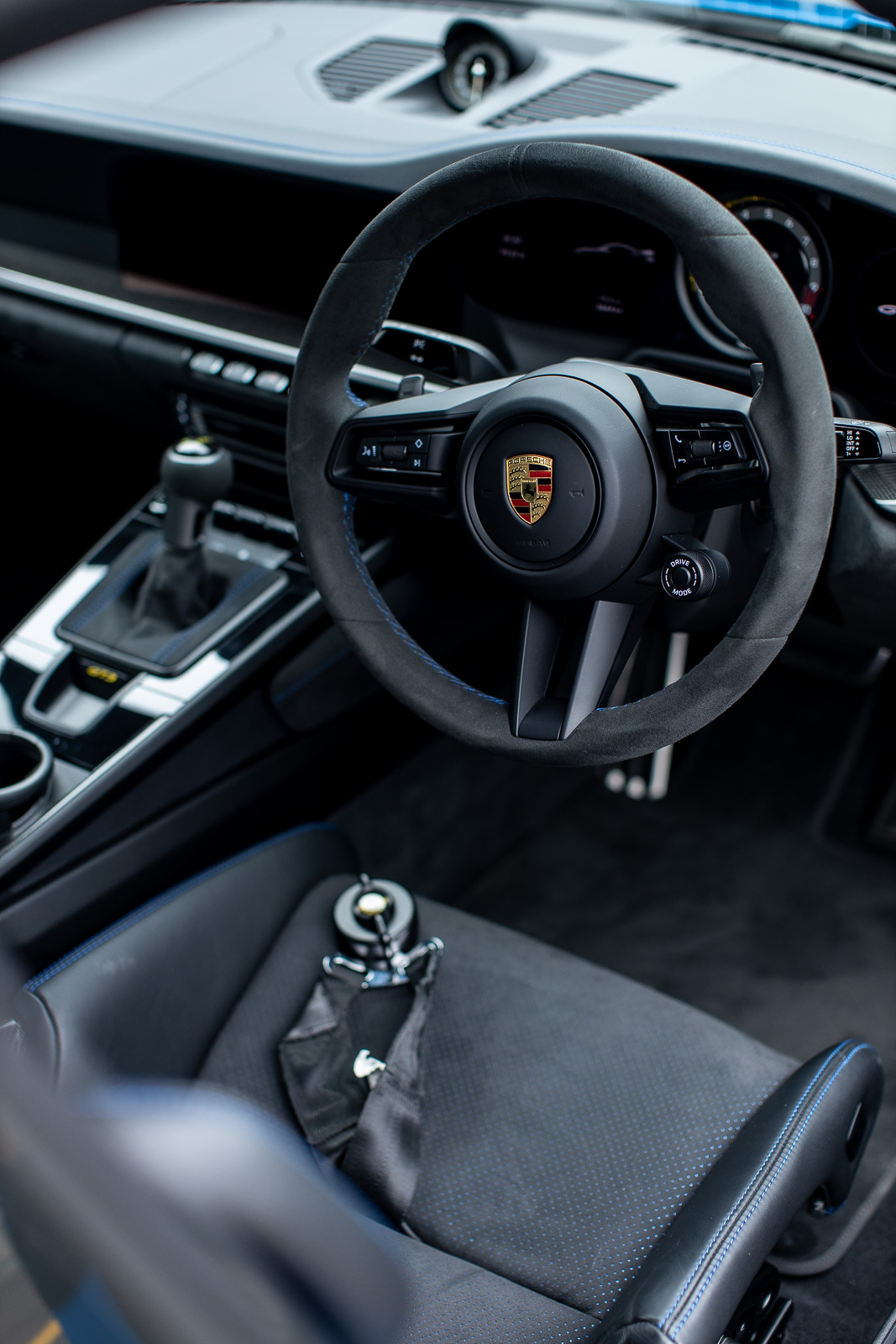 Inside the cabin, the race meets luxury balance is executed to perfection featuring a harmonious combination of Alcantara, carbon fibre, leather and market-leading tech. Our test vehicles had a number of options ticked, including leather interior with contrast stitching ($11,210), BOSE audio ($2,975), carbon interior package ($2,750), carbon exterior mirror accents ($3,120) and carbon roof ($7,470), among others. It's also worth flagging that the no-cost option 'Club Sport Package' which adds the roll cage, harness, fire-extinguisher can only be ticked if you option the full bucket seats ($11,250), which of course our test models had.
---
---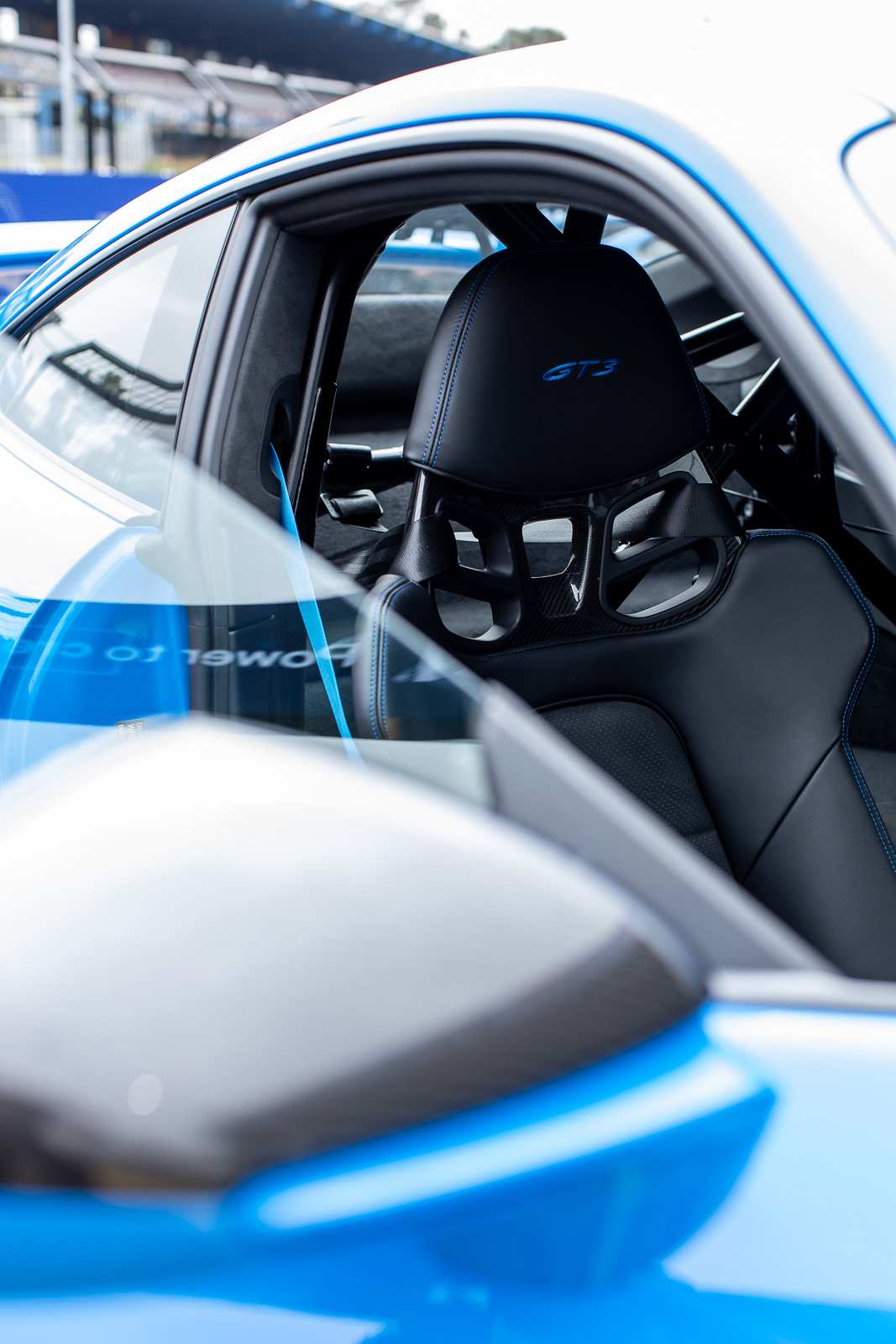 Climbing in as a passenger after 15 of the best laps of your life (thinking you're pretty crash hot), you get to see what the GT3 is capable of at the hands of a professional, and it's staggering. Precise, composed and truly effortless, the Porsche 992 GT3 is an engineering marvel I simply must-have, and with a starting price of $369,600 (or ~$430k as tested), it's comparatively reasonable for a car this special.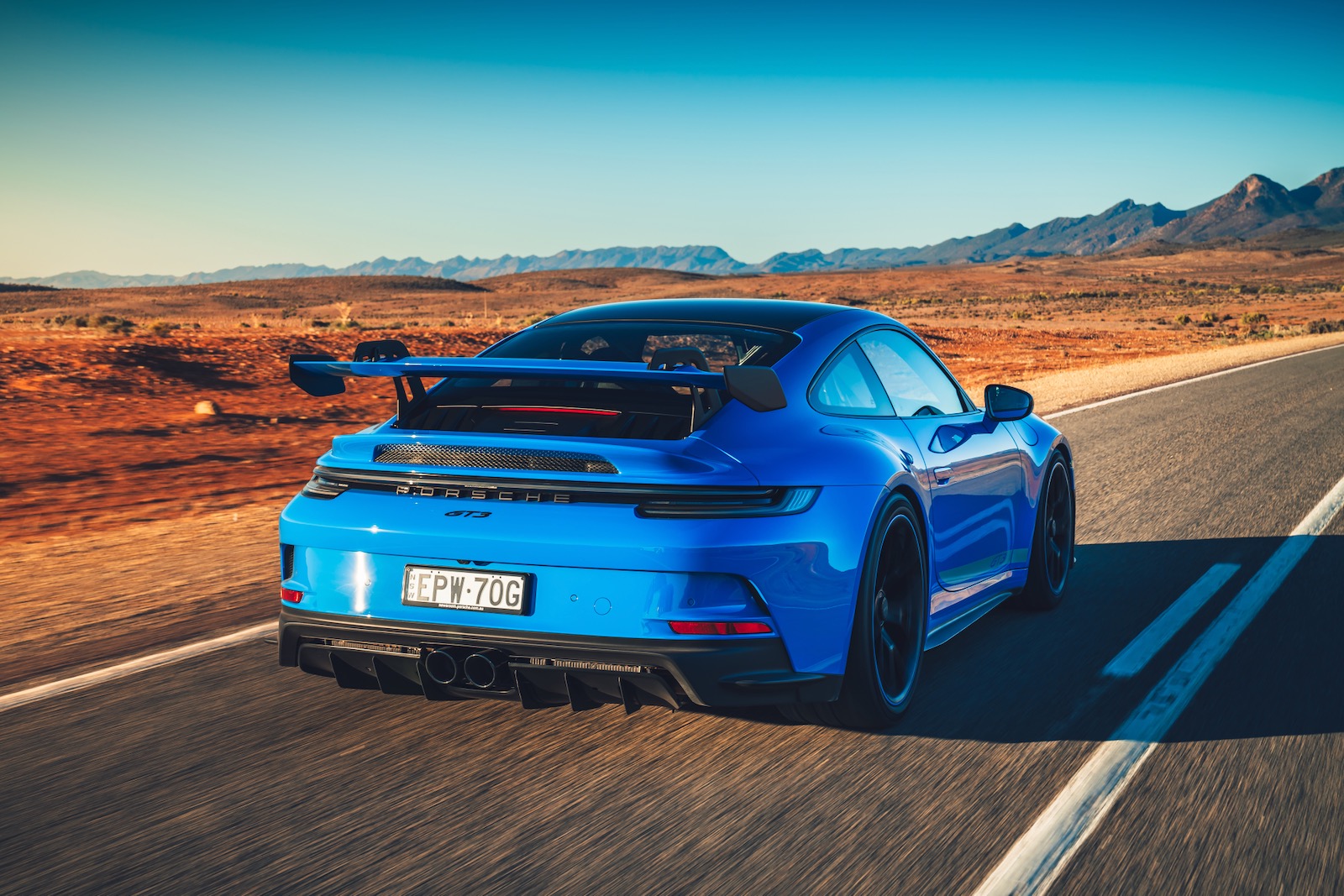 If you can access one, buy it and smile forever, otherwise, you'll have to live your life with a deep sense of regret.
I'm exhausted from praising this car. Enough.