I'm going to cut the BS straight up.
You're curious, you're intrigued and by giving this article a chance you've also given Infiniti a chance. I can appreciate this, so let me save you the time.
This car has genuinely re-calibrated my expectations of a sports car below the $100k mark. It's quick – like, really quick – it drives with excitement one hundred percent of the time and it's surprisingly luxurious.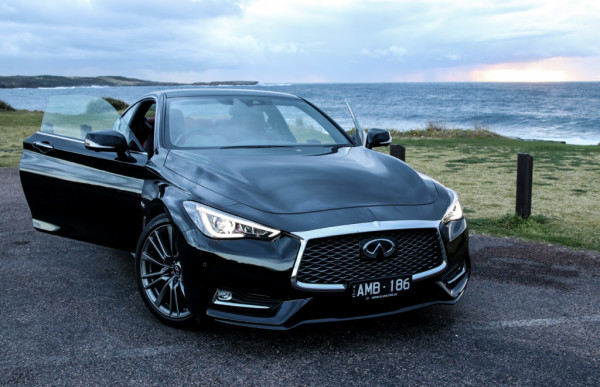 Think Japanese street racing meets the class bracket of a Lexus. The mystery attached to the relatively low-key brand I presumed to be a hindrance at first, only to discover it was actually an asset.
For those that are not entirely aware – which is perfectly understandable – Infiniti is the luxury take on world-wide Japanese automotive outfit Nissan. Despite not having a sizeable dominance in the Australian marketplace, this in no way implies a lack of veracity. Infiniti are genuine players with their top shelf sports coupé we have here.
That coupé is the mighty Q60 Red Sport, a whippy 3.0 litre V6 twin-turbo rear wheel drive car that seeks to find the perfect fusion of both power and elegance with it's impressive 2017 variant.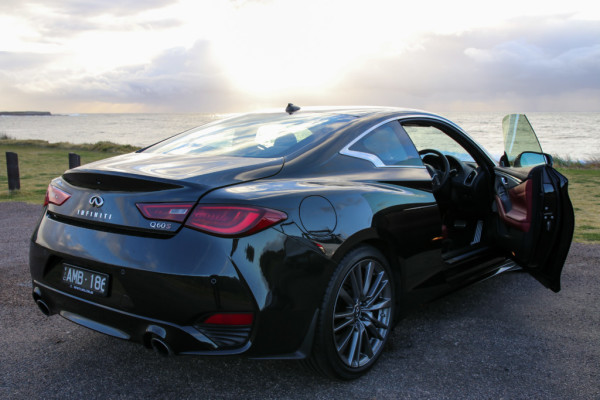 This is a car that you feel like you're driving. It's responsive yet touchy. You're never quite 100% in control, and that may sound a little odd to some, but for those who understand what I mean by this, you can sympathise with the excitement that comes from not knowing what experience the four wheels will give you.
Since my time with Tesla's Model S P100D, I had yet to experience such a feeling akin to driving the quickest production car in the world – that was until I got behind the wheel of the Red Sport.
The Q60 Red Sport owns its low, wide profile with confidence. This aggressive stance channels the 298kW of power and 475Nm of torque straight to the 19″ rear wheels. Being a relatively light weight, 1.7 tonne machine, the back end is one to watch out for even in the most sensible conditions. Turn the traction off and you'll really be dancing with the devil.
The high performance driving really opens up on the top end of of the RPM scale, with a clean and refined engine noise that shifts responsively. Even without manual Sport+ mode engaged, the Red Sport requires little driver intervention to make you feel like you are in a sports car. If it were only a lot more vocal, I'd throw money at Infiniti in a heart beat. The lack of decibels to support such a character-driven car took the shine off a little, but by no means became make or break.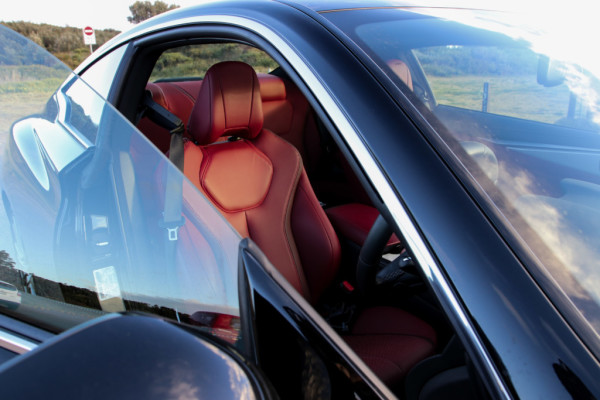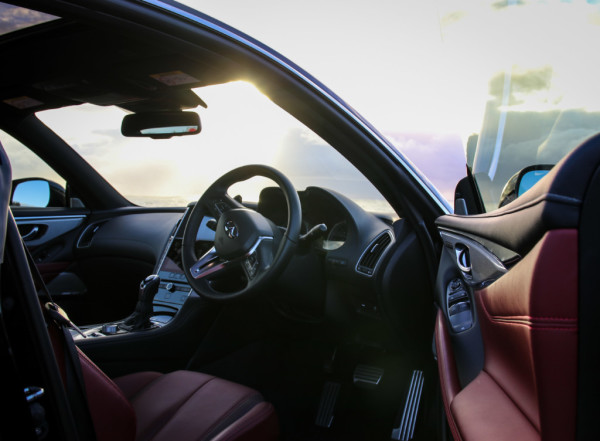 The Q60 Red Sport's direct adaptive steering (DAS) technology isn't for everyone, either. If you're unsure what that is, basically its Infiniti's way of saying 'steer-by-wire' i.e. there's no mechanical connection between your hands on the wheel and the wheels on the ground. It's all electric signals.
This may frustrate some, especially those who enjoy flogging their cars along windy country mountain roads on the weekends, but the average Joe won't notice any discernible difference. Where this DAS does show its true colours is highway driving. The electronic mechanism is Infiniti's bold, forward-thinking step towards eventual autonomous driving. The DAS excels in making lane control, predictive cruise control and brake assist effortless and responsive. It'll also give you a more comfortable ride, reducing the vibrations from uneven roads. Once you're used to DAS it'll unlikely stray from your subconscious or be an decisive issue.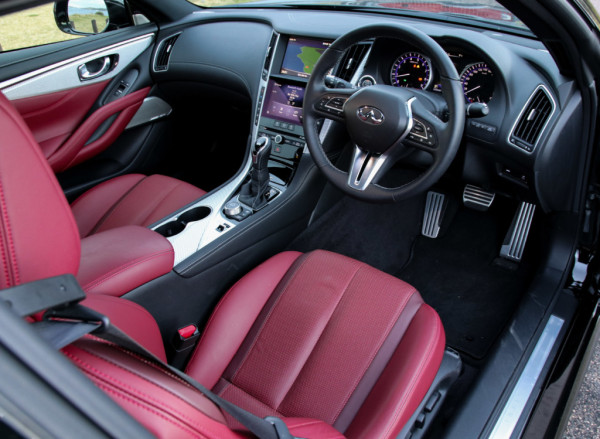 The Red Sport's attractiveness is undoubtedly lead by its speed. Much like its sub-$100k price tag, the car's sub-100km/h performance is where the magic happens. What may come as a surprise is the impeccable interior, our model boasting a subtle red leather contrasted with a silver optic fibre trim and classy ambient lighting.
The sunroof is a commonly overlooked luxury that gives occupants the convertible vibes without suffering from the douche bag connotations. The Red Sport's dual infotainment configuration at first seemed a bit unnecessary but earned my respect as it went on, proving useful with the variety of parking cameras and customisation options the driver may wish to display at a single time. The lack of a digital speedometer was inconvenient but easy to move past.
The Red Sport is a comfortable two seater car, and can adequately fit four – but I wouldn't recommend the latter for substantial drives. The boot space is a little on the smaller side, but with such a dominant front half, the vehicle is looking to keep things short and sharp in the rear.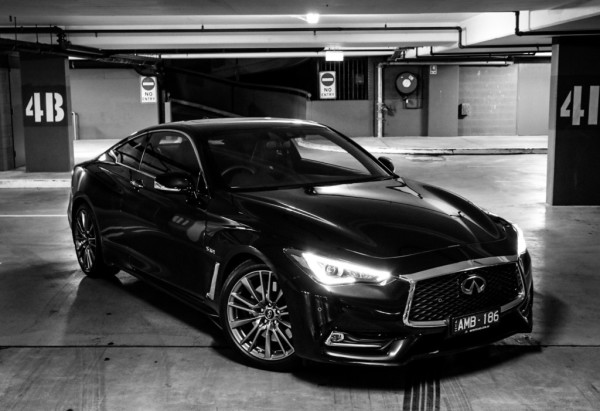 Pretty much everyone who sat in this car admitted they'd buy one. It's really that simple. Value for money, there are very few reasons to look past these four wheels as a competitive option in the sub-$100k price point.
What's one better, is that it's actually $90,000.
Price: $88,900, plus on-road costs
Engines: 3.0-litre V6 Twin-Turbo
Power: 298kW @ 6,400 rpm
Torque: 475Nm @ 1,600-5,200 rpm
Transmission: 7-speed automatic
Top Speed: 250 km/h
Fuel use: 8.9L/100km