It takes a thick skin and a good sense of humour to turn the story of your long-term girlfriend sleeping with your best friend into a TV show. It makes sense then that the man behind Stan's new show, The Other Guy, is open book comedian Matt Okine.
The six-part series, set to be released in full tomorrow, follows "a successful radio host who finds himself unexpectedly back in the dating pool for the first time in a decade, after discovering his long-term girlfriend has been having an affair with his best friend".
Sounds familiar, right? That's because the show is written by Okine (with the help of fellow comedian Becky Lucas) and is based on his own real-life experiences; experiences which Okine has shared in part already through his stand-up show of the same name and also with listeners during his time at triple j.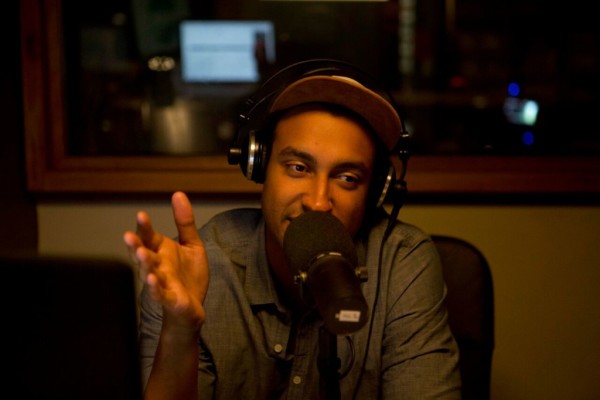 It's been exactly eight months since Australia bid an emotional farewell to Okine and his Breakfast Show co-host Alex Dyson. After three legendary years together, the duo decided to call it quits simultaneously, with both citing a desire to try different things as their reason for leaving. Or as Dyson put it when announcing their departure: "We haven't been pushed, we're jumping."
After 10 years at the station, Dyson was looking forward to finally utilising his passport and "tackling his addiction to new Australian music". To stay on Dyson's jumping metaphor, Okine on the other hand was actually on the precipice of launching into the career he had always dreamed of. The only person stopping him from finally experiencing it really, was himself. To leave any stable career at 31 is always a risk, but to leave the coveted triple j Breakfast gig – a role that garnered you national celebrity – requires some serious resolve.
Okine had always wanted to make a TV series; whilst he states The Other Guy was definitely not the deciding factor that saw him leave triple j, he also says he knew he would never be able to do both. Leaving radio would also mean that Okine would have time to finally pursue another passion of his: music.
Being a comedian by trade, when Okine released his first serious song last August as part of his music project Boilermakers, it came as a surprise to most; he admits prior to the track's release he was scared of what these people would think. Overcoming this fear of criticism, Okine says, was key in seeing him take the next step forward.
Now, less than a year after exiting radio, the man who started off acting in McDonald's commercials has written and starred in his own original comedy series. To coincide with the shows release, Boilermakers are also releasing a new song, 'Warning Signs', which features Okine's old triple j colleague KLP.
Leaving radio was a risk, but it seems to be paying off.
Last week we got in contact with Okine to discuss The Other Guy, trying to make it as a struggling actor with a tendency to party too much, overcoming his own self-doubt and his plan to add the title of 'novelist' to his ever-growing list of credentials.
There is now less than a week to go before the release of The Other Guy, how are you feeling?
Man, I'm really excited, it's something I put my whole life into and I think we've made a really good show and I just want people to see it now. It's this weird sort of down period where I'm talking about it a lot but I just want people to be able to see it and make up their own mind. Once it's out there there's not much I can do about it after that. I can't do anymore from this point on; it's finished and it's just sitting there and I just want it to be out. It's like a fuckin' ah…it's like a fuckin' meat pie that's too hot, it's cooked and ready to be eaten, but it's just too hot at the moment so I've got to wait a week until it cools down before I can actually enjoy it.
You have obviously already tasted success in your role as triple j Breakfast host, that's no mean feat, but to now have your own TV show that you have both written and starred in, that's on a whole different level. Is this everything you've ever wanted?
Yeah man, this has been a dream since I was ten-years-old watching Seinfeld, you know? It's kind of the reason I got into comedy and acting in the first place, like that's just always been the goal. Radio was awesome and it's a really good skill to have learnt over three years. It's sort of like I went to university and now I've got a degree in radio that I can now use whenever I need it, but this is something I want to be doing for the rest of my life at this stage.

Let's take it back to before you got your big break on triple j, to when you first started honing your skills as a stand-up comedian in Brisbane. What was it like coming up in the Brisbane Open Mic scene, and how long was that journey between when you first started, to when you won best newcomer at the Melbourne International Comedy Festival in 2012.
That was like an eight-year journey and I spent half of it in Brisbane and half of it in Sydney. Brisbane turns out some fuckin' awesome comics, some of the comics killing it all over the world are from Brisbane. Like Josh Thomas is a Brisbane comic, Mel Buttle is a Brisbane comic, Becky Lucas who wrote the show with me is a Brisbane comic. Like a whole bunch of the guys from Fancy Boy are from Brisbane. There's something about that Brisbane scene that is like a really good launch pad into the international comedy scene.
But it was tough; that eight years between starting and winning best newcomer was really fucking shit at times. I was going out too much. I was having massive benders then having to go to this shitty call centre job where I had to sell wine on the phone; or I was being some temp at some shitty office where people pretend like you don't exist. I did a couple of McDonald's commercials and stuff. I did it all before anything really popped off. It wasn't easy. But that's also down to me. I was probably dedicating too much time to getting fucked up over you know, actually being good.
That's called finding yourself, isn't it?
[laughs] Yeah I didn't get my gap year in London to go and discover myself with one pound pingers, so I just sort of stayed around Sydney and went to too many clubs here. Look there was some good memories, but you really put yourself through the hard yards some of those Monday and Tuesday mornings.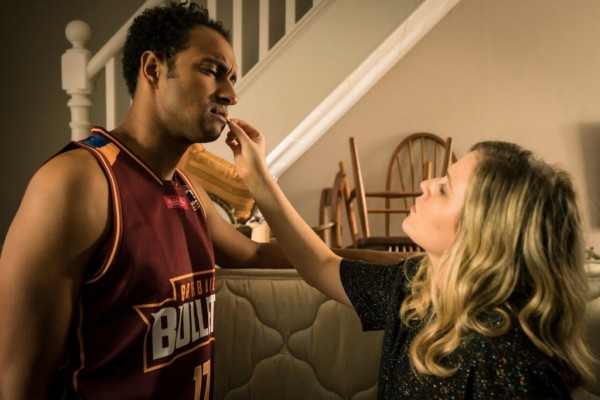 You are a comedian by trade, but you now obviously write and make music as part of Boilermakers. How do your creative processes differ when it comes to each of these crafts?
You know what? It's all kind of the same. It's basically just have an idea and write it down. And you know when you're doing it what sort of folder it fits in. I've got my TV folder, I've got my radio folder, I've got my comedy folder, I've got my music folder, and these are all basically just notes in my phone. Something will happen where I'll think of one good line: If the line is a funny line, I'll think, "Ok, can I expand that line into like a 4-5 minute bit to talk about on stage, and if I can't, I'll likely just put that single line of dialogue into the TV folder and just use it whenever I need some dialogue in a scene later on down the track for a TV show. Or if something funny happens to me that doesn't seem to work on stage, it could be good for talk back on the radio, I'll chuck it in the radio folder and next time I'm being interviewed we can sort of go down that path.
It's just things like that, it's just setting goals for each of the projects you're working on and making sure you dedicate time to each and I guess just knowing that the door is open for each of them all of the time. It's also knowing that just because I'm working on a TV show now doesn't mean that if an idea comes up for music I should just dismiss it. I should still flesh it out and think about it because when it does come time for me to write a song. I'll be really thankful for those ideas I've had previously.
You studied acting at QUT in Brisbane before you started doing stand-up, is acting still your first love, and despite a few smaller roles over the years, do you feel like you are finally returning to her after all this time?
You know what? Yeah I am. Because I was acting every day on the TV show and it was fuckin' rad. I felt really at home on set and I was like man, I can't believe it's really taken me this long to give this a proper go. Because you know, all the other acting I had done had been, you know, I'd play an Ethiopian diplomate on Sea Patrol, or I'd play a photographer on Neighbours where I'm in one scene. I'd never felt like I got the swing of it properly. This has been the first time where I've thought: "I can fucking do this."
Now I feel like when this show comes out I've proven to other people that are making TV shows and that are making movies, that I have the strengths and the talents to hold a lead role in whatever production might be coming.
I think a lot of people are excited to see how you will go. I saw some footage from The Other Guy recently where you were having a little bit of a cry, and I just thought: "Wow, it's a bit different to be seeing him like this, but I'm excited to see it at the same time".
[laughs] Yeah there's some ups and downs in the show like, yeah, it's a comedy but we also wanted to make sure it's a real comedy. You know it's just like life: Shit can be going down and sometimes you'll stop for a second and laugh because something's funny, but then two minutes later you'll be left feeling like you want to end it all because you're so depressed at everything. That's just what life is and we really wanted to capture that in the show. I know there's going to be criticisms from people who say, "What man, I thought you were supposed to be a comedian, I thought this show was meant to be funny not sad shit". But again, we want to make people feel everything, we don't want to box ourselves into one particular emotion.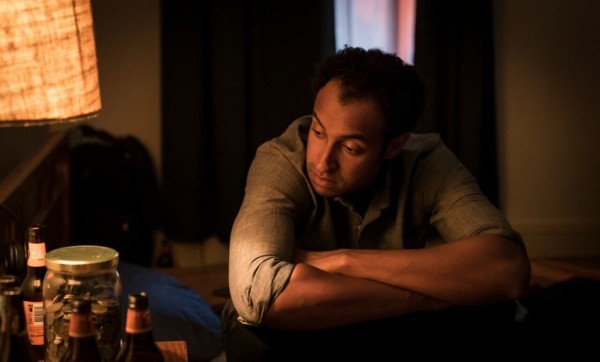 For a comedian to go into television is sort of a natural progression, but for a comedian to enter into the music scene is obviously not as common an occurrence, with the exception of course being Donald Glover. Have there been people that have told you to stick to what you know and stay in your lane, or has the support mainly been positive thus far?
Oh nah, there's heaps of people saying "You know, why are you bothering to do this and that sort of stuff?" But that's just really on them. They can't wrap their head around someone who might be good at different things. And you know they also don't want to retrain their brain into perceiving me in a different way. They kind of think that they've figured me out and want to set that in stone. For them to have to have to do that bit of work reconfiguring me, you know, it's obviously tiring for them, so the easiest way is to just tell me to stop doing something. But at the same time a lot of people have been super supportive.
Do you think in a way making this progression was about letting go of what people thought about you?
Yeah it's just your own fear you know, it's just being scared of criticism, but the reality is I'm going to be criticised no matter what I do so I might as well be doing what I want.
The biggest person who was telling me to stop and to not try for a long a time was myself. The doubt in my head was as big as any of my critics. Overcoming that, and realising that I was sort of the only person stopping myself from seriously pushing ahead with it, that was a big stepping stone in terms of being fearless and going, "You know what, I might cop some shit for this but at least I'll die knowing that I've tried".
Aziz Ansari is another comedian who has recently written and starred in his own show Master of None, which also appears to be loosely based on his own life. Aziz actually had his real life parents play his characters parents in the show. My question then is – and I'm sure a lot of other triple j listeners would also be curious as to the answer – why didn't your real father, "Daddy Mack", get the call up for The Other Guy?

[laughs] Daddy Mack did get the call up O.K!? It's just he's a dentist, he's not an actor! We just needed…we couldn't…it would have been his first time acting ever and we only had four weeks to shoot six episodes and umm, you know it was hard for me to do it and I've got an acting degree so we didn't want to put too much pressure on a first-time actor, so we thought we'd pass the ball to someone who had acting experience. But you never know the Daddy Mack in my show might have a brother or a cousin or something in season two. We might just see the real Daddy Mack spaced in there somewhere, you never know.
I'm not sure about that Matt, it sounds like a lack of faith to me.
[laughs] Yeh look probably. Maybe I've got to trust a bit more in my own maker's ability.
What's next for you?
Mate, hopefully season two for this show. That's the dream. More music. And I ah, I reckon I might try to write a teen novel. You heard that from me first.
Oh wow, has that been a dream of yours for a while?
It's been floating around in my head yeah.
Would that be loosely based on your own experiences as a teenager?
Oh yeah, I think everything I do is going to be loosely based on experiences I've had. Like I said, I like being honest whenever I'm making stuff and the best way to do that is to have experience in it or at least be close to that experience. So, you know, it might be something close to that.
"Write what you know" – that's what they say isn't it?
Exactly.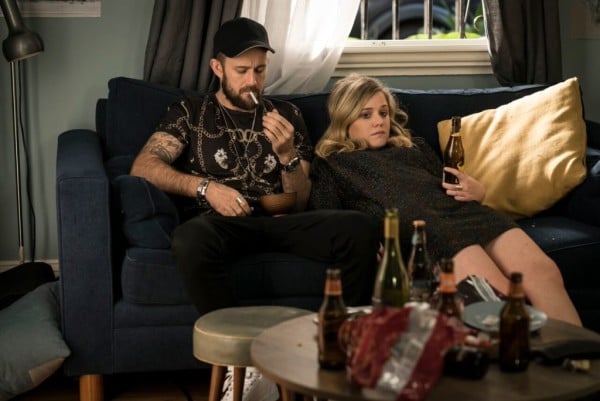 All six-episodes of The Other Guy will be released on Stan tomorrow (August 17th). Co-written with comedian Becky Lucas (Please Like Me) and Greg Waters (Soul, Mates, Dance Academy) the show also features the likes of Valene Kane (The Fall, Rogue One: A Star Wars Story), Harriet Dyer (No Activity, Love Child), Christiaan Van Vuuren (Bondi Hipsters), hip hop artist Adam Briggs, comedian Michael Hing and Magda Szubanski (Kath & Kim). Producing the show is Aquarius Films, the team behind the hugely successful Lion starring Dev Patel.