The Brisbane Global Rugby Tens Tournament brings together 300 star players from all the Australian and New Zealand Super sides, plus Pacific heavyweights Fiji, Japan's Panasonic Wild Knights and French powerhouse Pau for a two-day rugby bonanza. Aside for the World Cup, the quality of international talent on show is unrivalled, and with 31 games over two days the tournament really is a rugby fan's wet dream.
To prepare for the second instalment of the tournament which will take place on the 9th-10th of February, we headed to Brisbane for the final game of last year's Bledisloe Cup to check out the best Brisbane has to offer when it comes to a footy weekend away. Here is your guide to the ultimate footy weekend in Brisbane:
---
---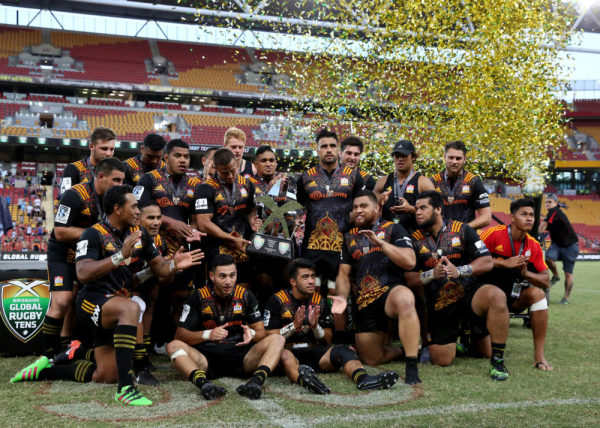 Travel
If you are on a footy trip, chances are you are not all going to be able to squeeze into the one Uber. If you want to keep the crew together when cruising around Brisbane, check out Belbaker Bus Charter. They provide a range of vehicles from limousines to mini-vans and even 71 seater coaches if you are really rolling deep.
Stay
Drop your bags off at the the very slick Capri by Fraser designed by award-winning Ministry of Design (MOD). The luxurious, polished rooms of Capri are complimented by their in-house restaurant bar and cafe, Asana, by celebrity chef Pete Evans. The hotel is centrally located in the heart of Brisbane, meaning it is the perfect place to set up base camp. The hotel is within walking distance to Queen Street Mall shopping, City Botanical Gardens, riverside dining at Eagle Street Pier and is also just a ten-minute drive from Suncorp Stadium where the tournament will be taking place.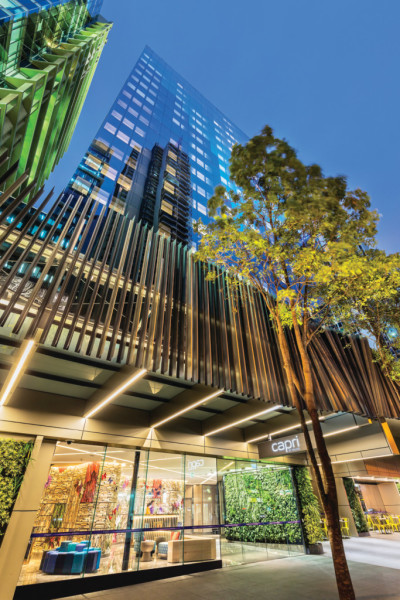 Play
Riverlife is the perfect way to explore Brisbane whilst also fitting in some mild form of exercise before a weekend of indulgence. Spend the morning cruising around the Brisbane river, Southbank and the Botanical Gardens on some bikes or even a Segway if you are up for a laugh. If you feel like channelling your inner Ethan Hunt, there is also the option of rock climbing and abseiling. If that all sounds a bit too tiring after a night out in Bris Vegas, then we suggest a casual night-time float down the river on some kayaks. The Riverlife team will even cook you up some prawns to enjoy out on the water.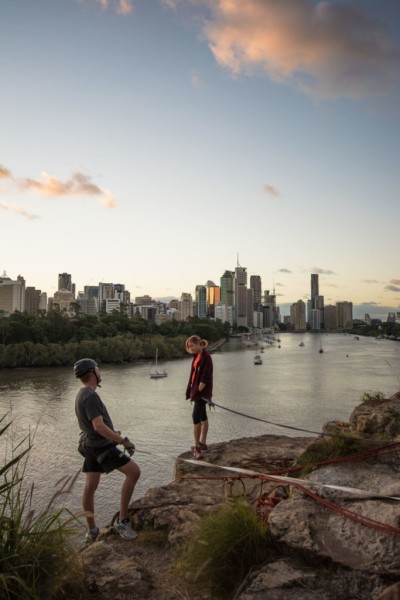 For any photography enthusiatists with a bit of spare time, the Story Bridge Adventure Climb is well worth a look. The two-hour experience includes a unique journey up over the bridge's superstructure to the 80 metre summit which provides awesome uninterrupted 360 degree views of Brisbane City, the river, mountain ranges and Moreton Bay Islands.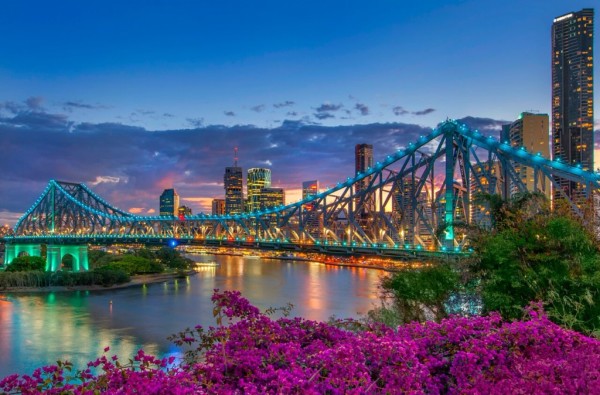 Eat
Situated right on the river, Jellyfish is arguably one of Brisbane's best located restaurants, and they have the food to match the view. As the name might suggest, Jellyfish specialise in seafood having previously been recognised as Australia's best seafood restaurant. If there was a time to splurge during your trip, it would be here. We recommend going for a boozy lunch; get a few bottles of red to share, order every entrée, and tuck in whilst you enjoy the epic views of the river and the Story Bridge.
Football aside, Eat Street Markets will perhaps be one the most memorable things you do whilst in Brisbane. Set on an old disused container wharf, Eat Street Markets is essentially a massive food festival featuring a plethora of international cuisines, boutique beers and live performers. When considering the logistics of running a market of this size, one would think that months of planning has gone into hosting the event for just one weekend. Crazily enough though, Eat Street Northshore operates every Friday and Saturday night at Hamilton Warf from 4pm to 10pm and Sunday 11am to 7pm. We recommend making this your Friday night dinner destination so that you can hit up Caxton Street after game days.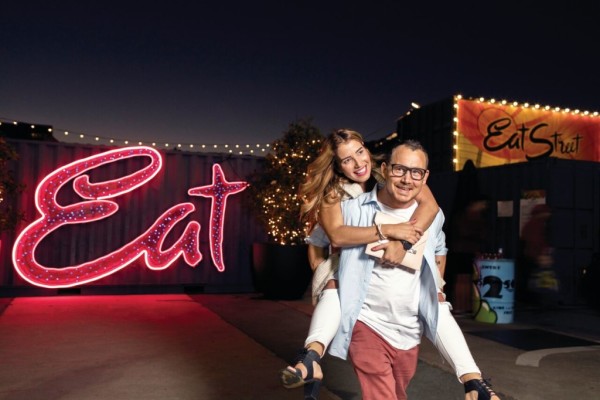 For breakfast, it's off to the Spicers Balfour Hotel to experience the Balfour kitchen. Balfour kitchen is fast becoming one of Brisbane's most popular breakfast destinations, although if you happen to miss your alarm they also do high teas and dinner. Balfour is perfect if you need to get away from the crowds for a bit as it offers a pretty unique dining experience with an intimate, homey feel. Sit down for a quite brekkie on Balfour's wrap around veranda or courtyards and share some stories from the night that was.
---
---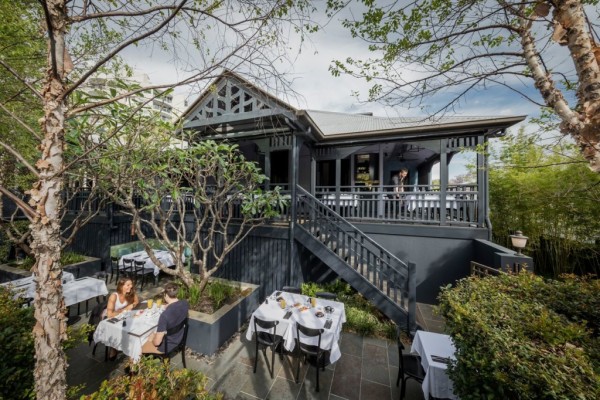 Drink
Now for the most fundamental component of any footy weekend – where to drink? Brisbane has got a great local craft beer scene, and Hop on Brewery Tours will take you to some of the region's best breweries. During our tour we had the opportunity to meet and talk to the brewers, understand the brewing process from start to finish and (most importantly) sample the product. If you consider yourself a beer connoisseur then this is obviously something you will want to experience, if not, just smile and nod while you enjoy the atmosphere of some of Brisbane's most popular and historic bars/breweries, such as the Newstead Brewing Co, Green Beacon and the Archer.
The legendary Story Bridge Hotel, built around the massive pylons of Brisbane's iconic bridge, is one of the city's favourite watering holes. The redeveloped hotel is a pre and post-match haunt for Australian rules and cricket supporters because of its close proximity to another local legend – the Brisbane Cricket Ground, better known as the Gabba. The Story Bridge hotel definitely delivered when it came to the mass of passionate fans present in the venue, with our lunch guest Nick "The Honey Badger" Cummins being swamped by Wallaby faithfuls as soon as he walked through the door. One thing we weren't expecting though was the quality of food on offer; the hotels expansive cellar and plethora of beers on tap is backed by an innovative and award-winning cuisine. The Badge himself put away two steaks with sides in just under twenty minutes. It was truly impressive to watch.
It's off to Suncorp Stadium to watch 300 of the baddest men in Rugby go at it in 31 games over two days. Some say Suncorp Stadium is the best stadium in the southern hemisphere and we here at Boss Hunting would have to agree. The stadium has a really intimate feel yet it still plays host to some of the world's best games in Rugby League, Rugby Union, Soccer and is home to Brisbane's biggest sporting teams.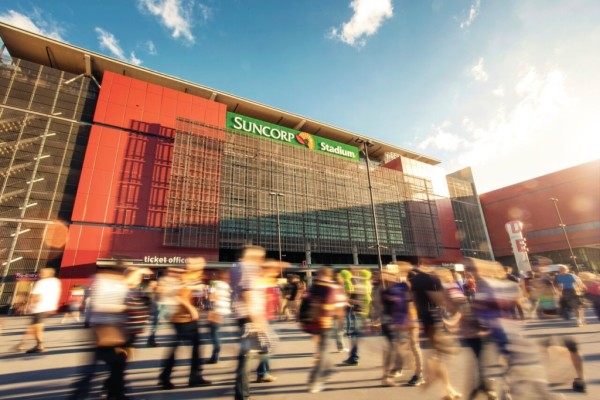 After the game it is time to hit up Brisbane's premier footy district, the aforementioned Caxton Street. The atmosphere along this strip of pubs and bars after a game is intoxicating, so imagine what it will be like after a full weekend of football. Our advice? Try and keep a lid on it on the Friday and then let loose after the conclusion of the tournament come Saturday.