The Chargers NFL team have completed a sizeable move as of the 2017 season, shifting their home city from San Diego to Los Angeles after quite a fuss.
The team's relocation brings with it some every day complications – no matter what money you're on, you still have to deal with horrendous L.A. traffic.
For the still San Diego resident and Chargers quarterback Philip Rivers, this commute was a hurdle easily fixed by the purchase of a $200,000 USD custom SUV, specifically decked out with a film room to allow time for study on the road.
---
---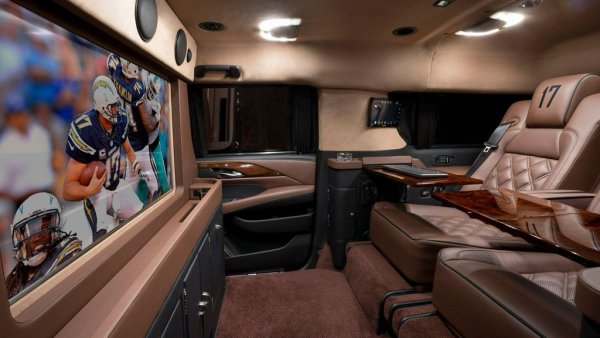 Rivers told the San Diego Union-Tribune that "There may be some days where we're hoping to get in a little traffic because we have more work to do…"
"My two biggest things were my family time and my preparation and what I owe this football team," quoted Rivers. "I was not going to sacrifice either of them in any big proportion. I can look at all the pluses and minuses and say, 'OK. This does it.'
Finding the balance between staying family orientated in San Diego and remaining committed to the game – which has now been moved to L.A. – was Rivers' biggest motivation. It's also said the No. 17 considered helicopters and even carpooling with other players before purchasing the vehicle.
Check out some snaps of the interior below.
The SUV Philip Rivers rides from SD to LA ⚡️🔥 #Chargers (via @sdut) pic.twitter.com/r2dMmbkMiV

— CHARGERS⚡️HYPE (@ChargersHype) September 4, 2017
---
---