"But you'll never play me like LeBron vs. Jordan/in twenty years wonder who they gone say was more important/Both changed the game, came through and made a lane/Who's to say that who's greater, all we know, they ain't the same" rapped J. Cole on Sideline Story way back when in 2011.
A wise man once said champions should be admired not compared. So let's compare. Michael Jordan has one of the richest legacies in world sport let alone the NBA. LeBron James' legacy is currently playing out before our eyes.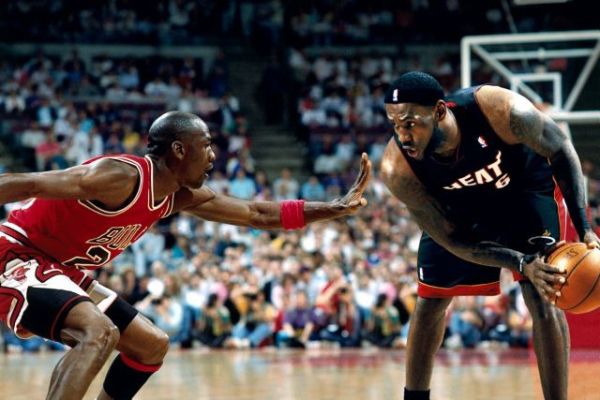 When asked most NBA analysts, fans, and players will tell you that Michael Jordan is the GOAT – greatest of all time. Drafted at pick three in 1984 Jordan, or MJ, remains one of the most recognisable sporting figures ever. He is one of those rare athletes who have transcended sporting arenas to pop culture status. His Chicago Bulls #23 jersey remains one of the most recognisable pieces of sporting merchandise 17 years after he last wore it.
19 years after MJ was drafted in 2003 LeBron James was taken with pick one to the same league, but a different game. The Cleveland Cavaliers small forward ('small' at 6ft 8in) also wears the famous number 23. "The King", like MJ, is the most influential player of his generation.
At the end of his career Jordan had five regular season MVP awards, an impressive six Finals MVP awards (one for every ring), he was 1o times the highest scorer in the league, and three times lead the league in steals, and won the MVP for the NBA All Star game. There are countless other honours on his resume.
As it stands James has won four regular season MVP awards and two Finals MVP awards. One regular season MVP and four finals MVP awards shy of the great MJ. This finals campaign, 2014-15 season, James broke the record for most points ever scored in the first three games of the playoffs with 123 points (Jordan is fourth with 117 points). Most of the debate for James passing Jordan centres on the predictions of what James' resume will look like when he one day calls it quits.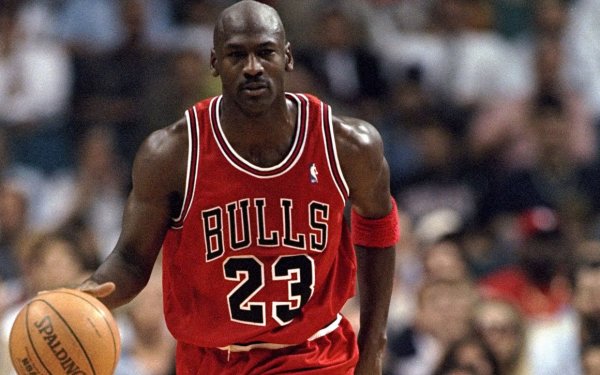 The two men are remarkably similar and supremely confident. In the same week that James announced he is "confident because I'm the best player in the world. It's that simple". Jordan, at aged 52, declared he could beat members of the Charlotte Hornets, the NBA team he owns. The only reason he doesn't do so is to prevent from further shattering the struggling teams confidence.
Jordan finished with an average of 30.1 PPG (points per game), 5.3 APG (assists), 6.9 RPG (rebounds), 0.8 BPG (blocks), and 2.3 SPG (steals). James averages 27.3 PPG, 6.9 APG, 7.1 RPG, 0.8 BPG, and 1.7 SPG. Both men had a field goal percentage of .497%, with James slightly better from the three point line at .342% to MJ's .327%. This NBA finals series James is averaging 36.6 PPG, 12.4 RPG, and 8.8 APG – triple double territory.
One of the biggest jewels in the legendary crown of Jordan is the fact that he won all six of his rings with the one team, the Chicago Bulls. MJ twice took the Bulls to three-peat titles from 1991-93 and 1996-1998. The year 1994 of course was his first retirement and attempt at Major League Baseball. Depending on what conspiracy theory you believe in, say what you like about the baseball stint.
On the other side James failed to carry his hometown of Cleveland to a championship when he was first drafted. This culminated in the hugely scrutinised "decision" to leave for the Miami Heat in 2010. That decision saw the Heat winning back-to-back titles in 2012-13, before losing to the San Antonio Spurs in 2014.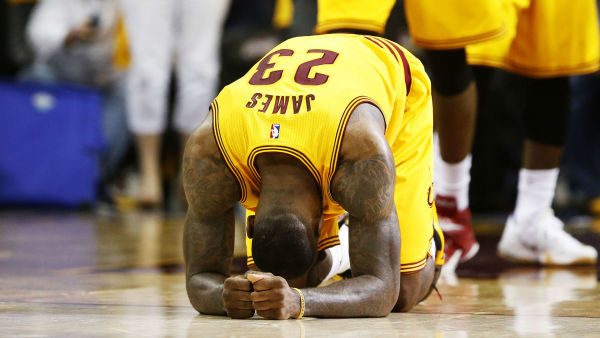 However this is about legacies, not who is better, because both are great. This year James returned to his hometown like the prodigal son. His return saw Cleveland's odds go from 33-1 to 4-1. At the start of the season the first draft of the script had a fairy-tale finish for James and his Cavs – something that was helped by the signing of three time NBA All-Star Kevin Love. Previous number one pick, Kyrie Irving, was already there waiting to hit his full potential.
However this script had twists no one saw coming. Injures and on-court dysfunction brought heat on James and head coach David Blatt. James himself got injured as rumours of locker-room disharmony became rife. Yet in another twist clever recruiting and the return of The King saw the Cavs hit form. Unlikely heroes came in the form of the much-maligned J.R. Smith and gigantic Russian, Timofey Mozgov.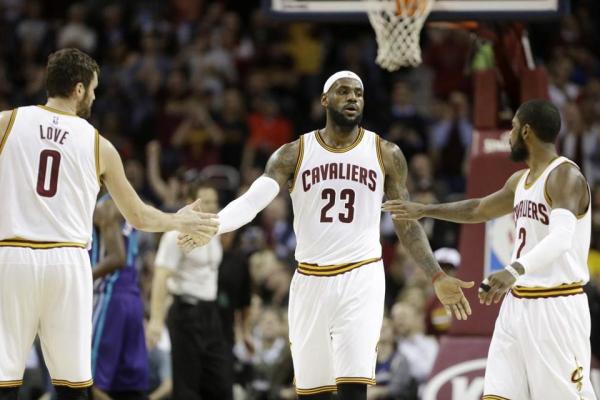 The Cavs stormed into the playoffs and were looking unstoppable. Then down goes Kevin Love – his shoulder literally pulled from its socket. Fear not because up rose Tristan Thompson, an offensive-rebounding machine. Under the leadership of James the ship seemed to be stable. However the script had another twist, shattering the kneecap of Melbourne born and three-time All-Star, Kyrie Irving. Irving, like would be opposing point guard Steph Curry, is an attacking ball handling weapon.
With the Cavs offence decimated by injury, The King found himself dragging a bunch of 'C' and 'B' graders towards the ultimate victory. James' stats have been off the charts as he runs the court, rebounds, passes, and shoots. Almost taking on the roles for the injured Irving and Love.
The way he has lead his team, shielded his players, and took the blame in media conferences has all the hallmarks of an incredible leader. In fact the way that James has handled himself in the face of adversary, beginning with injuries to key players, to protecting others, it is hard to think of a better leader in world sport.
This is where it comes down to legacy. There were no doubting Jordan's defensive efforts; in fact he was elite, winning the defensive player of the year in 1987-88 seasons. But Jordan was first and foremost a scorer who played alongside one of the greatest defensive players of all time, Scottie Pippen. In fact Jordan was surrounded with talent from Pippen to two-time defensive player of the year, Dennis Rodman. Calling the shots was the legendary Phil Jackson. No matter how well Matthew Dellavedova plays, he is no substitute for 'A' grade player like Kyrie Irving. That is no knock to Delly, it is just fact.
Today James and his team of role players take on the reigning MVP, Steph Curry, and the rest of the tightknit Golden State Warriors team in a do or die game. The Warriors will be looking to close it out; the Cavs just want to stay alive. The Cavs are expected to fall down, if not today, on Saturday.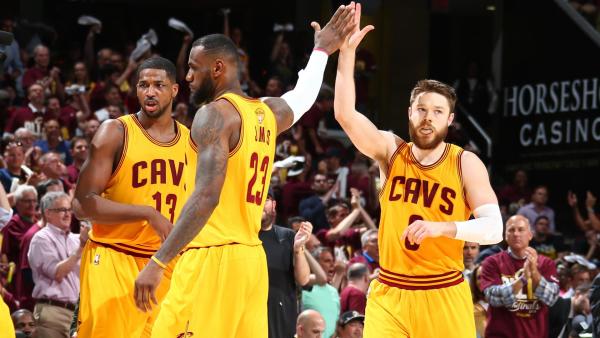 For all his individual brilliance, Jordan's legacy was in part due to playing in incredible teams. Consider then the scale of achievement that stands before James. Today he has the opportunity not to be considered better than MJ, but a chance to fight one more round.
If LeBron James can win that fight he has the chance to forge a truly great legacy, one that is unquestionably worthy of a King.