If you're planning a boy's trip, be it a buck's party, birthday, or good old-fashioned getaway, there's a new player on the scene. Think bigger than paintball or go-karting. We're talking barrels, beers and hot tubs in one of the world's best wave pool facilities – Urbnsurf Melbourne.
After a stifling 2020, the Victorian capital's much-hyped wave pool is back at full capacity and pumping out waves for all abilities. Whether you're a complete novice, seasoned pro or weekend warrior, you're in for a unique and challenging treat. However, it's not all about the waves. Now with luxe dining, chill-out zones, and catered (read licensed) facilities, you could argue that Urbnsurf is offering the complete package.
The sheer scale of this operation is the first thing that strikes punters as they walk through the gates. The 2.2-hectare pool creates a unique centrepiece, with a diamond-shaped surf lagoon that's been compared in size to the MCG. Reeling tubes in shades of cyan and turquoise might be reminiscent of Fiji, but the reality of this location is a five-minute drive from Tullamarine and a convenient wander across the road from Ciloms Airport Lodge.
---
---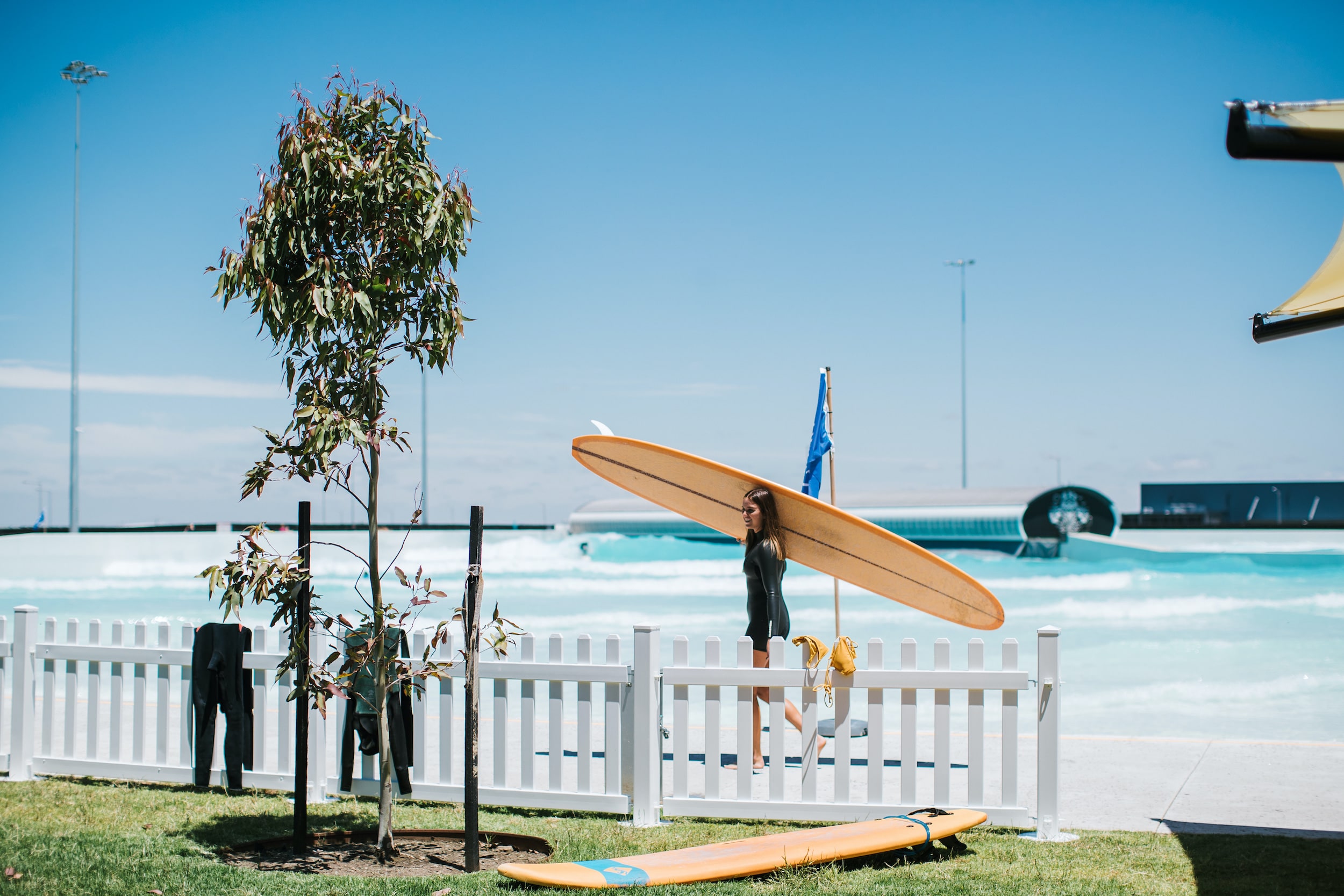 The facility dishes out left and righthand waves that reel for 12-16 seconds at different paces and sizes, depending on which hour-long session you book into.
For kids and beginners, you've got 'learn to surf' sessions in The Bays that provide one of the safest and most consistent opportunities to get comfortable in the water on a board. Master your pop-up and you're ready to surf.
Cruiser sessions are the next step, with rolling waves that run the length of the pool and allow your crew to get their feet in the wax and feel the flow of riding a wave from take-off to completion. Perfect for mal riders or budding novices.
Then you've got intermediate sessions, catering for those who want to get some turns in. More accomplished surfers may be underwhelmed if surfing a performance board but can still have a blast on these waves with the right craft, as they offer a super-playful wall. Twinnys are the hot tip for maximum enjoyment.
The advanced setting is where things get spicy. Bigger walls with steeper take-offs and more challenging faces allow advanced surfers to rip in and really lay some rail. Around half time, your guide will announce that the setting is being ramped up for tubes. The next set will send waves with serious grunt that create a demanding take-off and quick set-up section before drawing hard off the bottom in a marvel of modern engineering. Crystal clear tubes of aqua-blue clarity envelope and unreel for a few moments of slotted solitude amongst the lights, spectators, cameras and concrete. Surreal is an understatement.
Advanced turns is the newest setting, for those who want to practice their rail work and really dial in specific manoeuvres with predictable and repetitive waves of quality. The session gets progressively energised as the waves jump up in size and power every 20 minutes.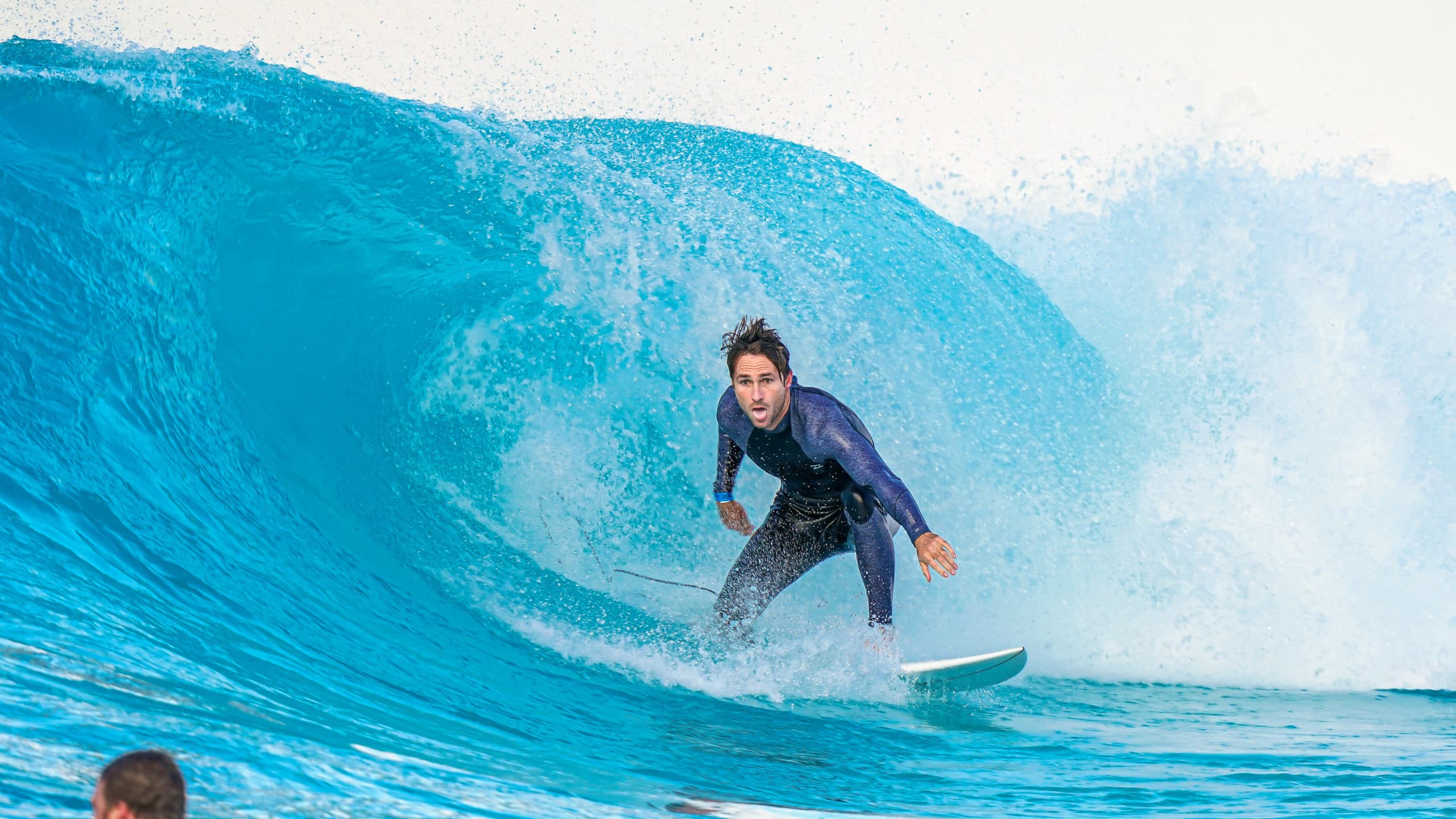 For those chasing thick, slab-like pits, expert is the final and most challenging option. Aptly nicknamed 'Beast Mode', each wave during this hour session creates a steep take-off and critical tube that will gurgle and sometimes even spit surfers out into the channel. The rip will then draw you back out to the take-off zone. Jump in line, catch your breath, call your mates into the next few, and get ready to do all it all again.
---
---
It's non-stop action, in a bizarre and thoroughly enjoyable environment that has friends hooting you into waves, and spectators on the walls above cheering and taking photos. When Beast Mode is on, spectators from around the neighbourhood often head across to watch this spectacle unfold from the safety of the wall above.
The kicker? You can book out private sessions at Urbnsurf for just you and your mates. So, if you want to trade waves, run a mini competition for bragging rights, avoid unknown quantities falling off and getting in your way, or simply have more waves to yourselves, then the option is there. And it's well and truly worth it.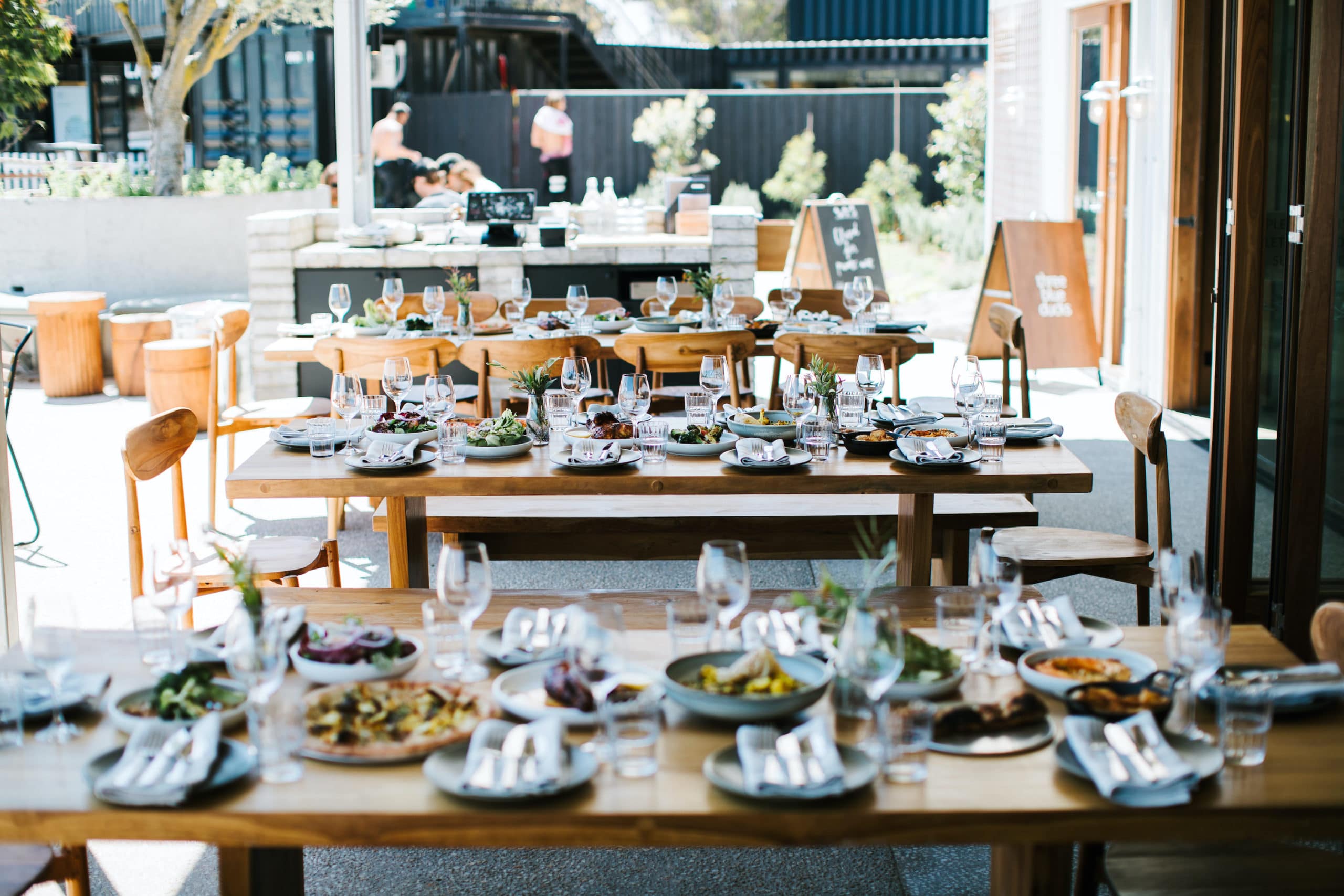 RELATED: Wisemans Surf Lodge Is Coming To Sydney In 2022
What impressed me most, however, might have even been the surrounding facilities on dry land. Hot tubs right in front of the wave, warm showers and spacious change rooms on the shoreline, ample heated booths to sit and enjoy a coffee from, and of course the delectable charm of Three Blue Ducks.
Pizza and a beer after throwing spray sure work a treat, however nothing satisfies that surfed out feeling as well as kicking back with their decadent 'feed me' banquet. Kingfish ceviche, tender satay beef skewers in Thai salad, duck fat roasted potatoes, freshly baked Turkish bread paired with sweet potato and dukkha dip, roasted chicken, lentil dahl, and a decadent dessert. The wine list is sublime, and a range of craft beers and cocktails round out the other beverage bases. Generous portions are an understatement, and exactly what hungry surfers need after a solid session amongst Melbourne's most consistent wave.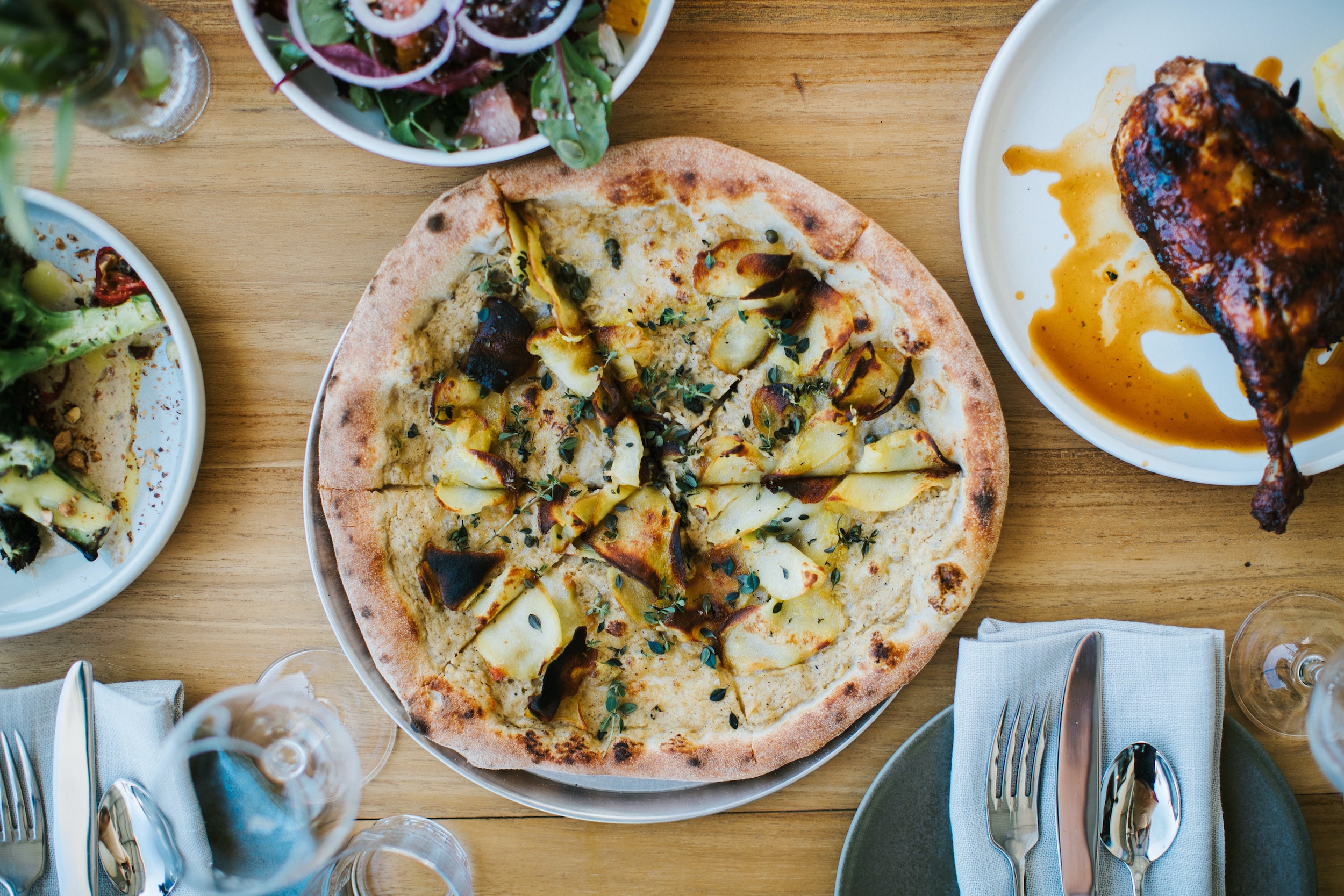 The sessions at Urbnsurf are demanding, and even the fittest and most eager surfers will feel the burn after a few hours in the tub. With sets of 12 waves rolling through every few minutes, you're likely to score 15-18 waves per session. Keeping in mind that you'll fall on a few of these and have to make the lap around the pool and back into the line-up. In short, you're in for a decent amount of exercise. The take-off requires a concerted effort, and those who come a cropper need to be wary of the concrete wall and flooring that you can quite literally slam into if you're not careful. Throw in the excitement of a novelty wave machine generating these powerful swells that you need to paddle over and positing yourself around to avoid the mesh wiring on the other side, and there's plenty to keep your mind and body working overtime.
Other on-site value-adds include a photo booth to view and purchase snaps of your accomplishments, a Yeti drinking fountain, onsite parking, storage lockers, café, and 'beachside' cabanas, replete with real-life seagulls who fly in to heckle from the sidelines.
Words of warning: don't overbook sessions or over judge your ability – it is challenging and exhausting. Back-to-back sessions at Urbnsurf are not good for your back and shoulders. And an hour in-between to stretch and limber up will serve you well. Take thongs for these in-between times so you don't get cold feet, and a poncho towel has never been better utilised. Coffee is also your friend between sessions, and these guys sure know how to whip up a quality mug of joe.
---
---
Oh, and Sydney… you're next. Urbnsurf Sydney is set to open at Sydney Olympic Park in 2022.