Has your style game hit a wall? It happens to all of us every now and then. You might have the freshest gear but you always seem to fall into the same trap when dressing to impress.
Too often we'll go for alternate colour schemes when choosing our outfits for dinner parties, nights out or those all important BBQ's at the in-law's. Does the standard navy button up and beige chinos combo ring any bells?
Time to change it up, simplify things. Take David Beckham's all black power-play, for example.
---
---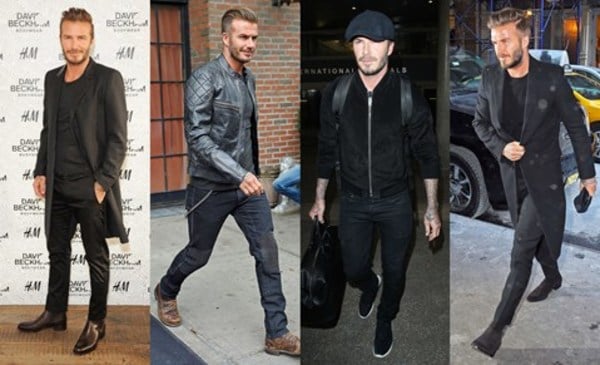 It's almost too simple. All you have to do is wear all black. It sounds boring, but if you're the kind of guy who is always wearing lighter colours or two-toned combinations, this can be a real game changer. Beckham has been nailing it for years.
And how is it a 'power-play,' you may ask? It's a very bold and striking move. Those that know you will double take when you walk in the room, those that don't will instantly become curious. Why? Because it's different, you stand out. It's almost like those guys who wear ridiculous, attention-grabbing pocket squares or bright coloured socks with their suits. Except you haven't done any of that, you've done the opposite, and it has the same effect. The all black has done it for you.
It's complexity and mystery in simplicity.
It can be classy and casual at the same time, perfect for those occasions when you're not too sure on what style to expect from others. If you're slightly on the shorter side, too, wearing all one colour can make you look taller. Tall blokes, fear not – if you weren't the standout in the room already, you definitely will be now.
Ideal in colder months or evening occasions and offset by a khaki or grey utility jacket, match it with some tough black winter boots for maximum effect.
It's mysterious, it's alpha and it's always a winner. If routine is killing your style game, next time, go all black like Beckham.
Sometimes less is more.
---
---