If you're familiar with the hit television series Suits you'll most likely already be acquainted with the main character that is Harvey Specter; you'll most likely know him not only for his sharp wit and boss lawyering skills, but also for his incredible style. The subtle traits that Harvey's outfits portray are: dominance and confidence, two traits that any Harvard lawyer would need.
They are what sets him apart from his fellow colleagues, in the very first episode Mike asks Harvey "Why does it matter how much I spend on a suit?" Harvey simply responds by saying "People respond to how we're dressed, so like it or not this is what you have to do" – a nice reminder that perception is everything.
On that note, here's five tips to get you looking like Harvey in no time.
---
---
1. The Full Windsor
Never overlook the major effect the knot of your tie can have on the whole outfit; The Full Windsor as the name suggests provides a wide but contained position on the neck, not too thick but thick enough to replicate the full body of the tie right from the start of the neck downwards.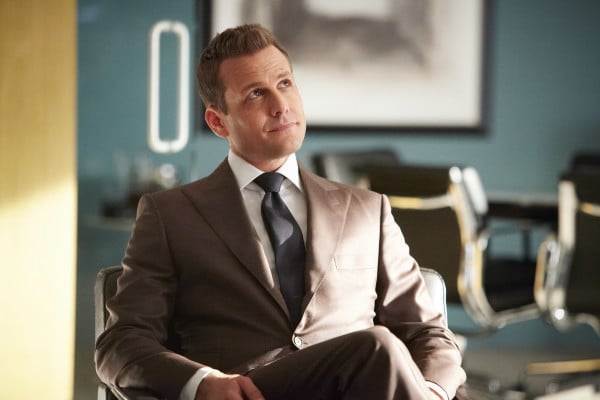 2. The Three Piece
An extremely old style of wearing a suit, but the three piece is a style not to be ignored if you wish to truly show your sartorial knowledge to your coworkers and clients; not only is the three piece versatile it also acts as a piece of under armour for when you remove your jacket as it still lets you remain quite dressed up with just a plain shirt and tie.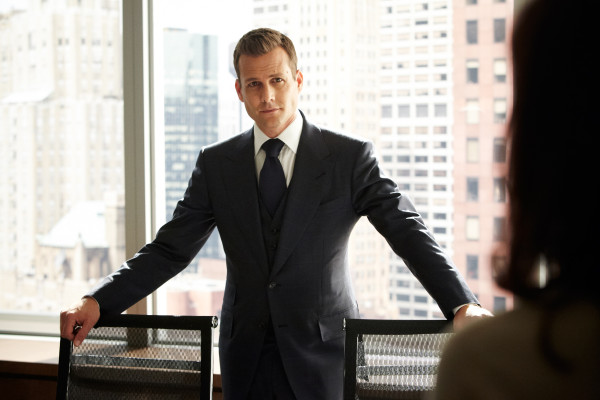 3. The Pocket Square
Looking for the tiny addition to complete the outfit once and for all? Yes you thought right, it's the humble white pocket square; but you must be careful when pulling this off, notice that Harvey never has the pocket square erupting from it's pocket in an outlandish fashion; the pocket square is not there to grab attention it is simply there to compliment the shirt, so when opting in to use a pocket square in your next outfit be sure to fold it in thirds and have less than 1cm showing above the seam line, this gives the effect of the handkerchief appearing as a slim and sharp "blade" across the chest.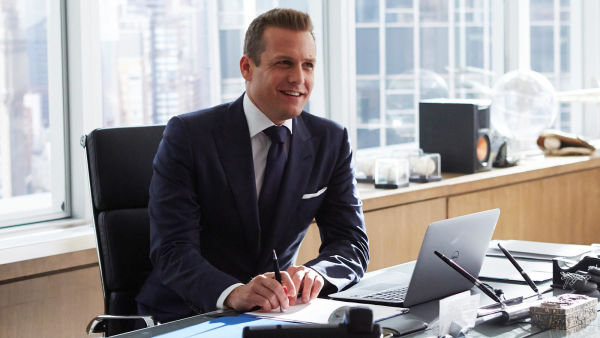 4. The Peak
A constantly overlooked feature of many suits, the lapels are the first visual indicator that one will use to gain a correct visual of one's figure. If younotice, Harvey opts for peak lapels in almost all of his suits, reason being is that this type of lapel is purely designed to accent and broaden the shoulders which in turn aids in making the chest area appear to be larger and broader.
Compare these lapels to Mike's choice of basic notch lapels you will quickly see why the writers of the drama opt for Harvey to have larger and more dominant lapels than Mike's: because Harvey is his boss and his leader and thus requires a more dominant figure on screen. Not only do they utilize his on screen persona and strength to display his place in the firm but also his choice of jacket and lapel style to complete the effect. Although a common mistake made by most is buying a suit with lapels proportionately larger than their figure will allow, if you are a slimmer build simply opt for a smaller peak lapel.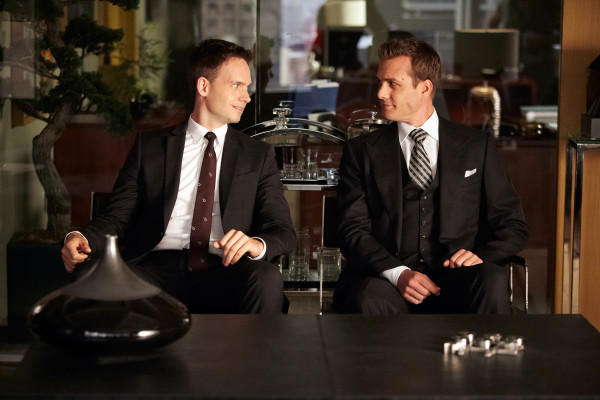 5. The Waist
To ultimately complete your look of complete sartorial dominance, make sure the suit you opt for is fitted. Many off the rack suits are tailored to the average proportions of males in that size range, not your particular figure. To instantly make any suit look more fitted, take it to a tailor and have the waist brought in appropriately to make your chest appear to be larger and your figure more athletic.
Brands worn by Harvey include: Zegna, Brioni, Ralph Lauren, Tom Ford, Prada and Gucci.
---
---