I find it funny that the perfect tie knot, for many of us, is one that is only achieved by imperfections, and none so more than the delightfully asymmetrical four in hand knot. Symmetry is a thing of the past, you don't have to look far to realise that the Windsor knot has well and truly exited the building. As Simon Crompton pointed out, "Scores of men in the past century have been held up as style icons and they all tied their ties in a four in hand knot."
Often when I wear a tie alongside friends, we end up discussing our knots, in particular how they differ and the tying process that went into achieving them. I don't know if this is the norm but it should be. Everyone ties their tie a bit differently and I think it's important to talk about the little nuances each person has when tying them. Sharing that knowledge amongst the gents will help each of you hone your skills and no doubt provide you with some tips to add a touch of classic elegance or 'sprezz' to your next look.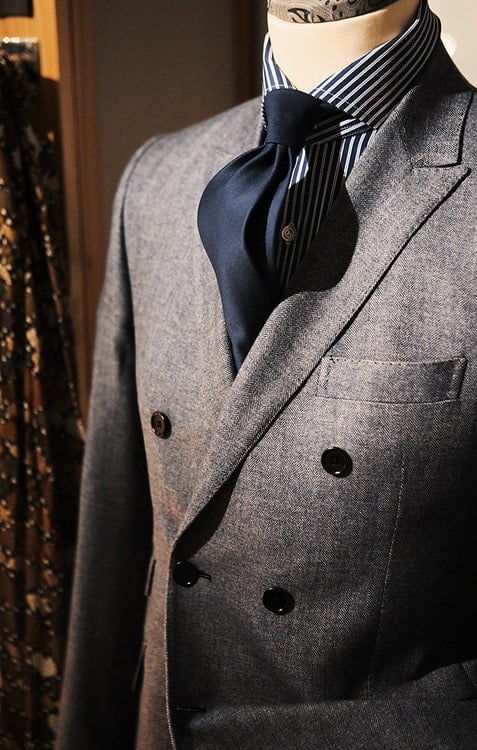 There's a lot of factors that need to be considered when trying to achieve your perfect four in hand knot but I think the most important are material and texture, knot variation and collar style and fit.
---
---
– Material & texture: My tie collection features an array of materials which all have different thicknesses and textures – consequently they all tie a different knot. Unlined silk ties with hand rolled edges are considerably thinner than silk knits or wool ties and thus will produce tighter knots that are smaller and in turn better suited to double four-in-hand knots. Tying a silk knit for example is a different process. Because of the thickness, I try to keep the knot as small as possible so I opt for a standard four-in-hand knot that I tie closer to my neck so I don't need to pull the blade much to bring the knot flush against my collar. The only way you're going to get good at producing a knot your consistently happy with is getting familiar with how each material forms its knot and practising with each.
– Knot variation: As I just addressed above your tie choice will decide what knot you're going to tie. As you get familiar with the different materials you will get more confident at playing around with a suitable knot and its tying process. Heavily textured and thicker ties are more suited to the traditional four-in-hand whereas thinner silks and linens often require an additional step if you want to achieve a bigger and more robust knot.
– Collar style and fit: How your tie sits will depend on how tight it's tied and how tight it's tied will depend on the collar of the shirt you're wearing. A good quality business or formal shirt will have a firm collar that provides a solid foundation for wearing a tie. A linen shirt or shirt with an unstructured button-down collar will lose form if the tension of the tie is too taut around the neck. Because of the texture of a silk knit it's possible to create enough friction to tie a good knot without having to tighten it outrageously, allowing it to be worn with a more casual shirt.
At the end of the day, the best way you can learn is to watch others focusing on their steps, subtle hand movements, blade placement, dimple and knot refinement and tightening techniques. The team from The Armoury have put together a great little collection of clips (all showcasing how each of them tie their own tie (all variations of the four-in-hand) and it exemplifies just how different everyone's style is. I suggest taking a look at the whole series and working out which individual elements you might like to add to your own technique.
Here's Michael Hill tying a traditional four in hand knot, notice how high he ties the knot.
Here's Mark Cho tying a slight variation with an equally desirable result.
You can watch all the videos at The Armoury's Vimeo page. Check out our definitive guide to the cocktail dress code while you're at it as well.
---
---