When one utters the name 'Gucci', a flurry of evocative scenes colour the mind's eye. Such is the influence of this iconic fashion house — arguably, Italy's most recognisable luxury brand — that, in any given group of fashionistos, no three men will share the same experience of how they first became acquainted with the iconic 'GG' logo.
From Dapper Dan's mutton-sleeved jackets to the design of the legendary horsebit loafer (widely aped, seldom equaled) the story of Gucci is one that should be told in multiple, equally fascinating chapters. Among these, the tale of how the brand's rich historic connection to travel was formed is a certifiable classic; and is still being written in the 21st century, through collections like Gucci Valigeria.
Inspired by the experiences of the House's founder, Guccio Gucci — who spent much of his youth working as a bellboy in the gilded halls of The Savoy Hotel — Gucci is, at its very core, a brand dedicated to the magic of travel. After returning to Florence to establish his eponymous company in 1921, Gucci's first order of business was to begin mastering the craft of bag, luggage and saddle-making.
Captivated by the cream of European society (who he'd had ample opportunity to observe in their natural habitat) Gucci's artisanal travel cases soon became magnets for artists, industrialists and the many larger-than-life personas who populate the Jetset community. In the ensuing decades, Gucci became so interwoven into the elite travel lifestyle that today, nearly all of our popular culture finds expression in its iconic travel products — many of which are, inexplicably, decades-old.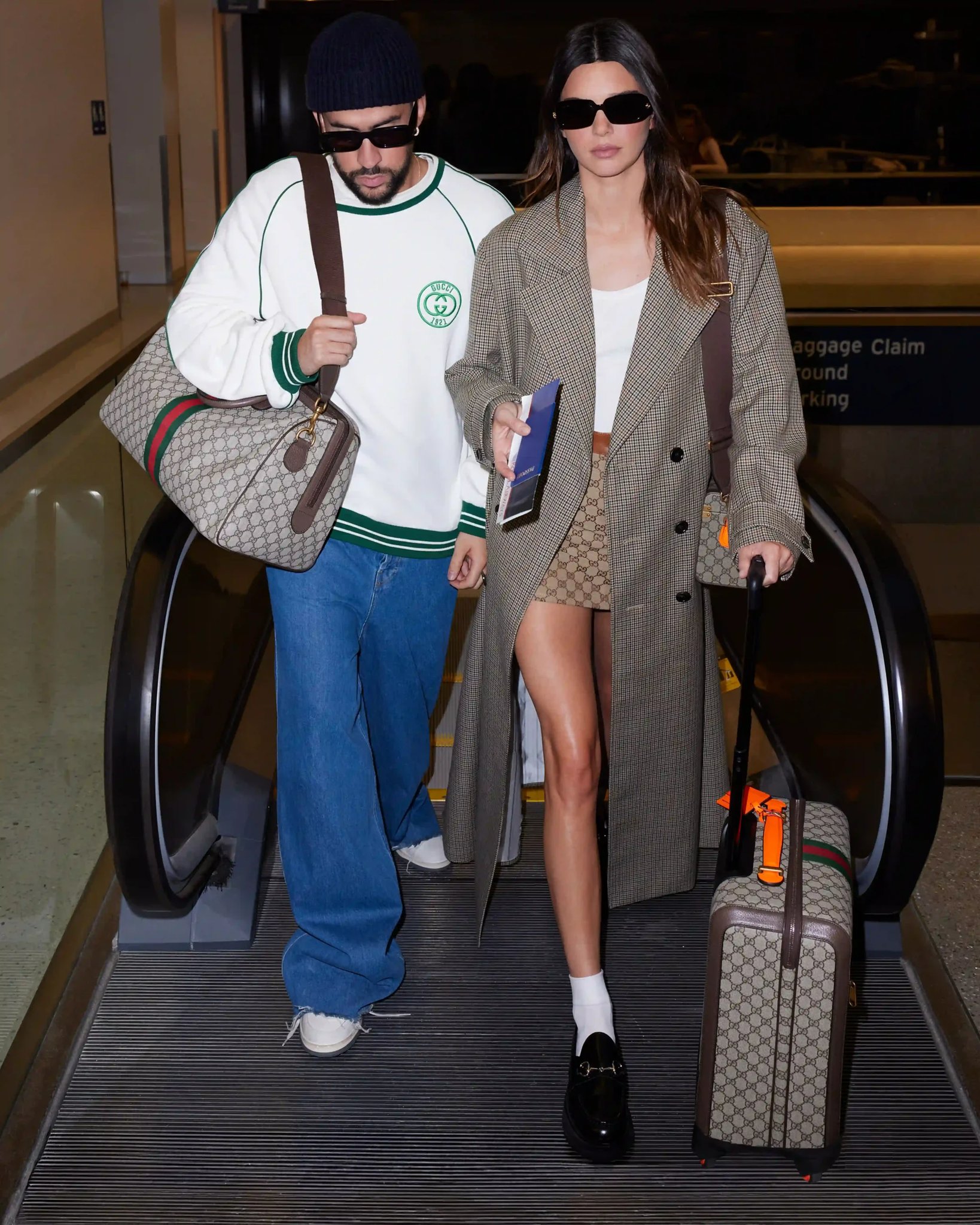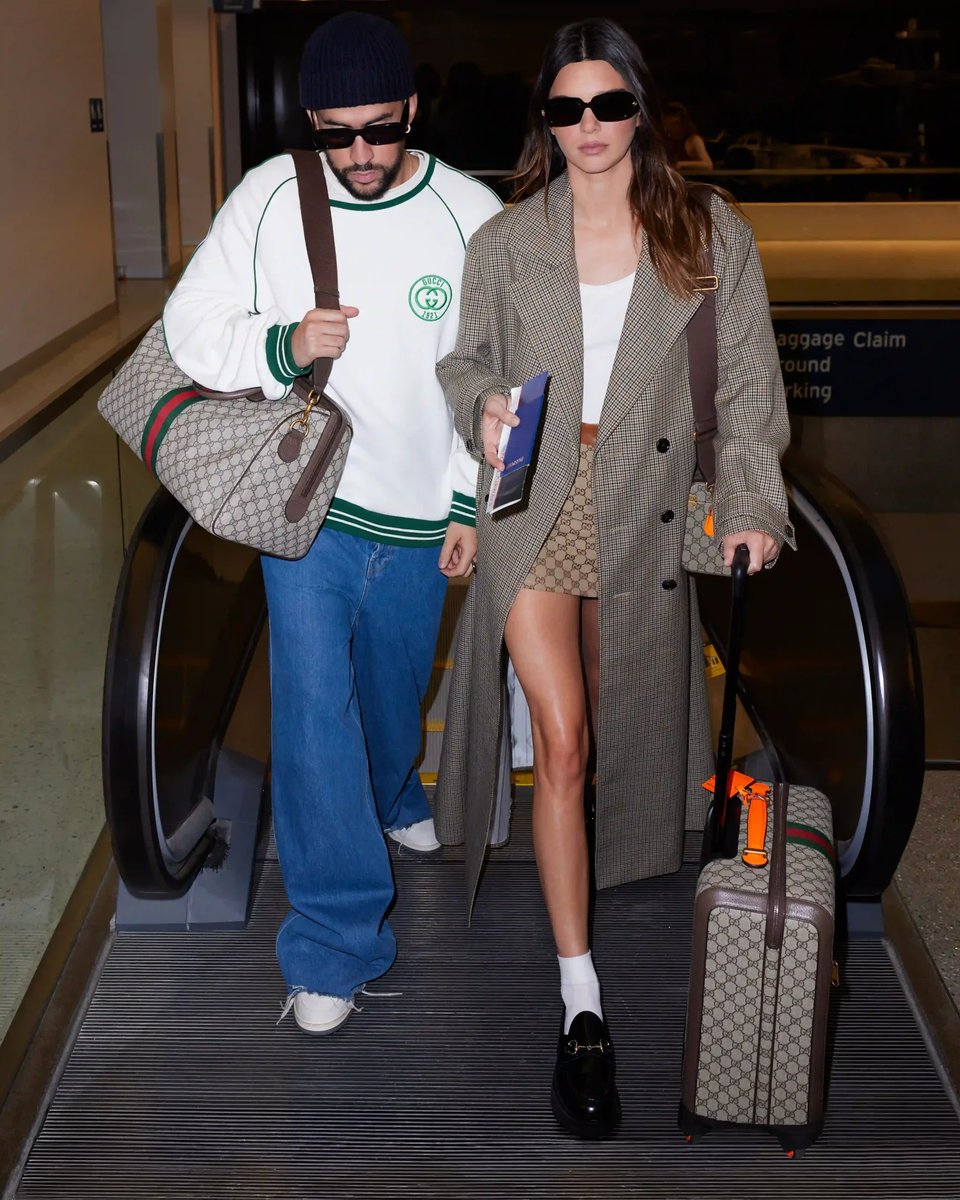 You wouldn't guess this almost century-long backstory looking at the campaign. Shot by renowned photographer Anthony Seklaoui, and starring both Kendall Jenner and Bad Bunny, the Valigeria collection consists almost exclusively of duffles, trunks and carry-on suitcases — all presented in the 'Supreme Canvas' material that references Gucci's historic prominence across multiple decades.
The 'Savoy' duffle bags are a work of particularly whimsical beauty: in size and shape, they embody the perfect piece of hand-luggage for short trips and or stays. Undiminished by history, the Savoy's classic cylinder shape — undisturbed save for two medium-sized top handles — is the canvas upon which Gucci champions contemporary ideas.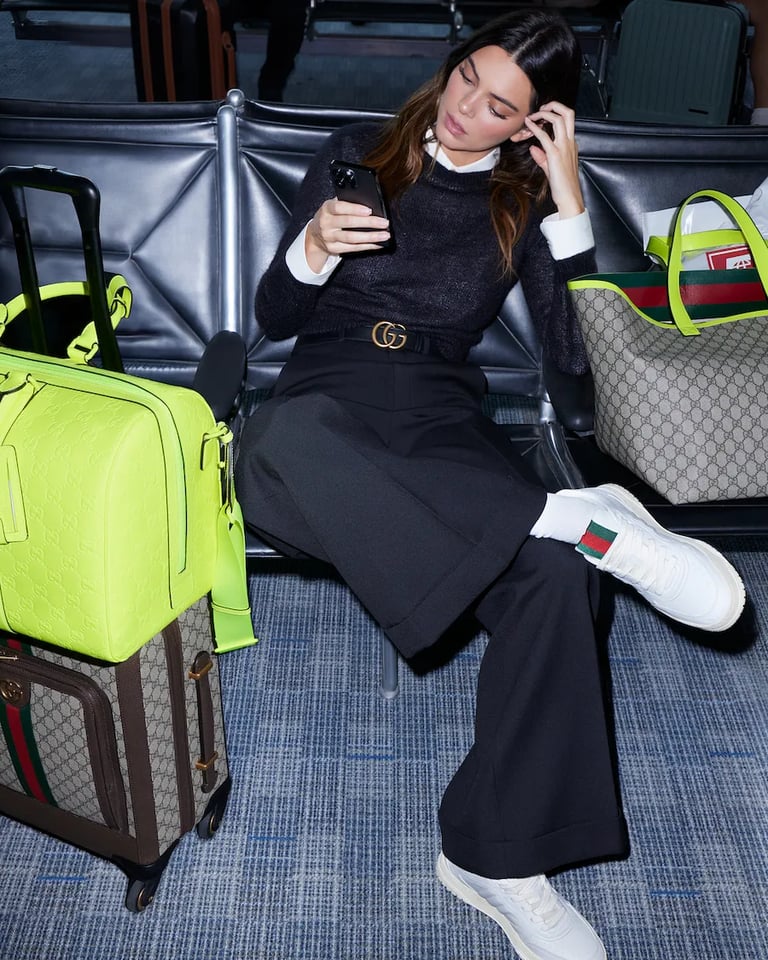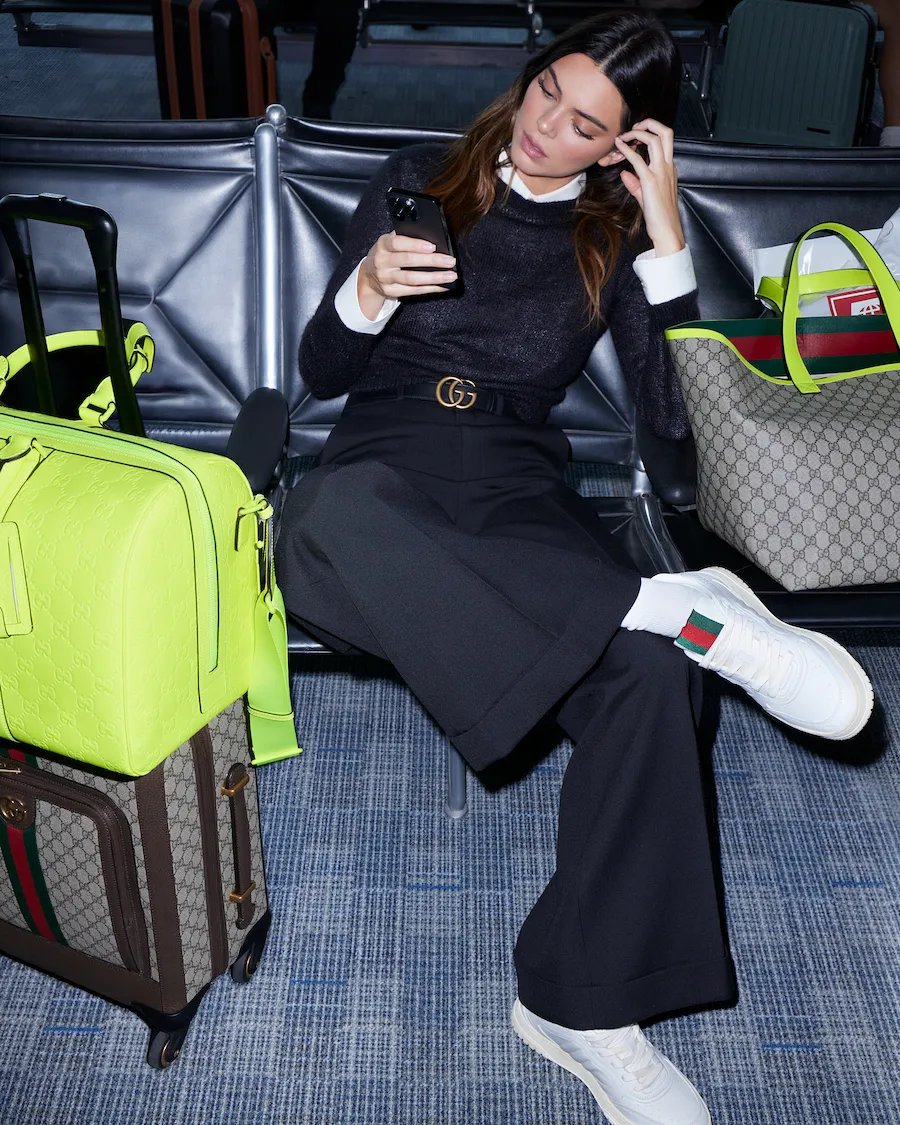 Those with a severe case of logomania will love the beige fabric covered in the House's iconic GG monogram; produced with an environmentally conscious process that gives this duffle a coagulated, water-resistant exterior.
A versatile carry-all, the Savoy duffle shares the same 'Web Stripe' motif as its (more practically minded) cabin trolley sibling: meaning you can bundle these together for a real 'complete set' aesthetic, or treat them individually as statement accessories.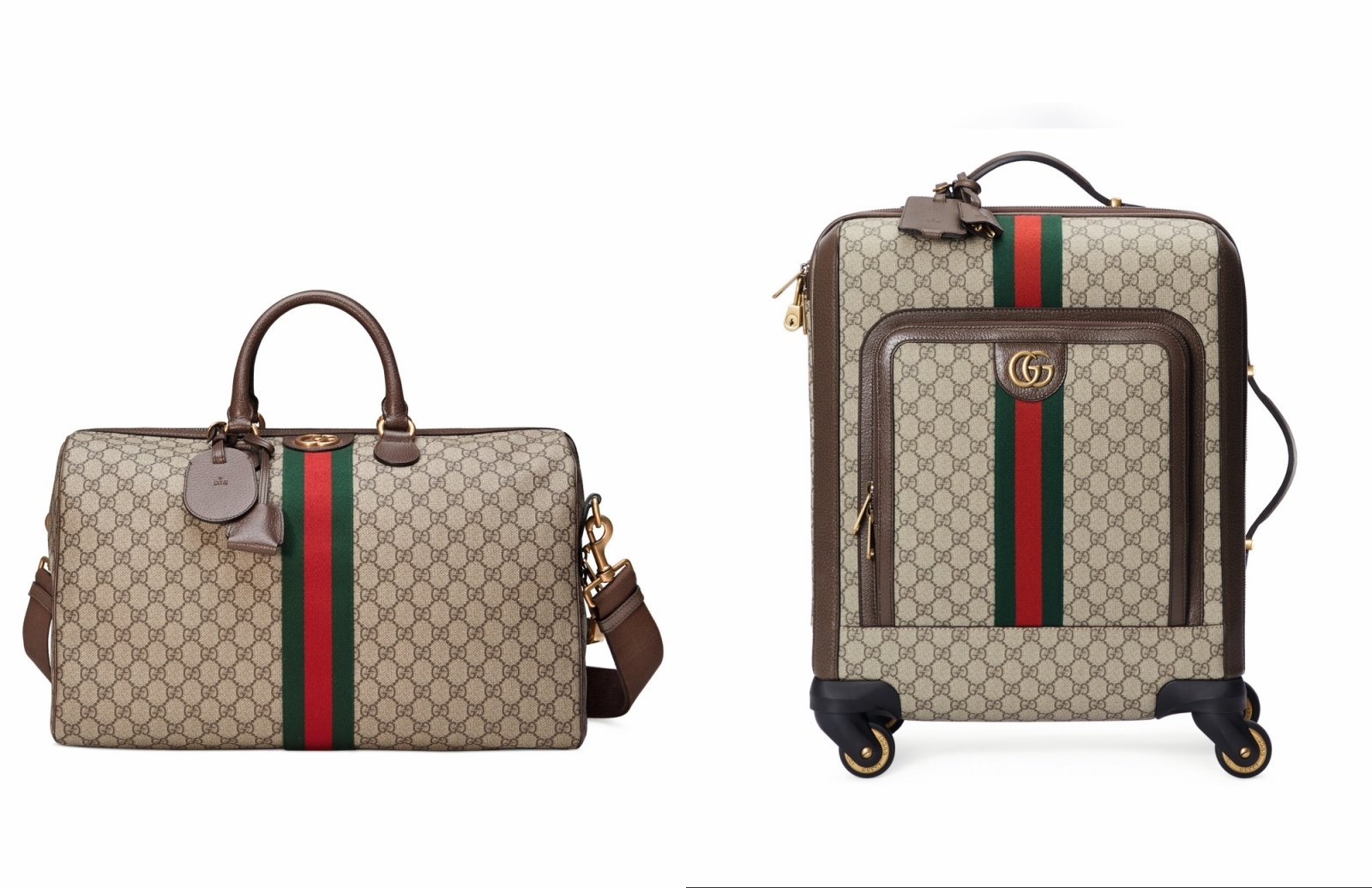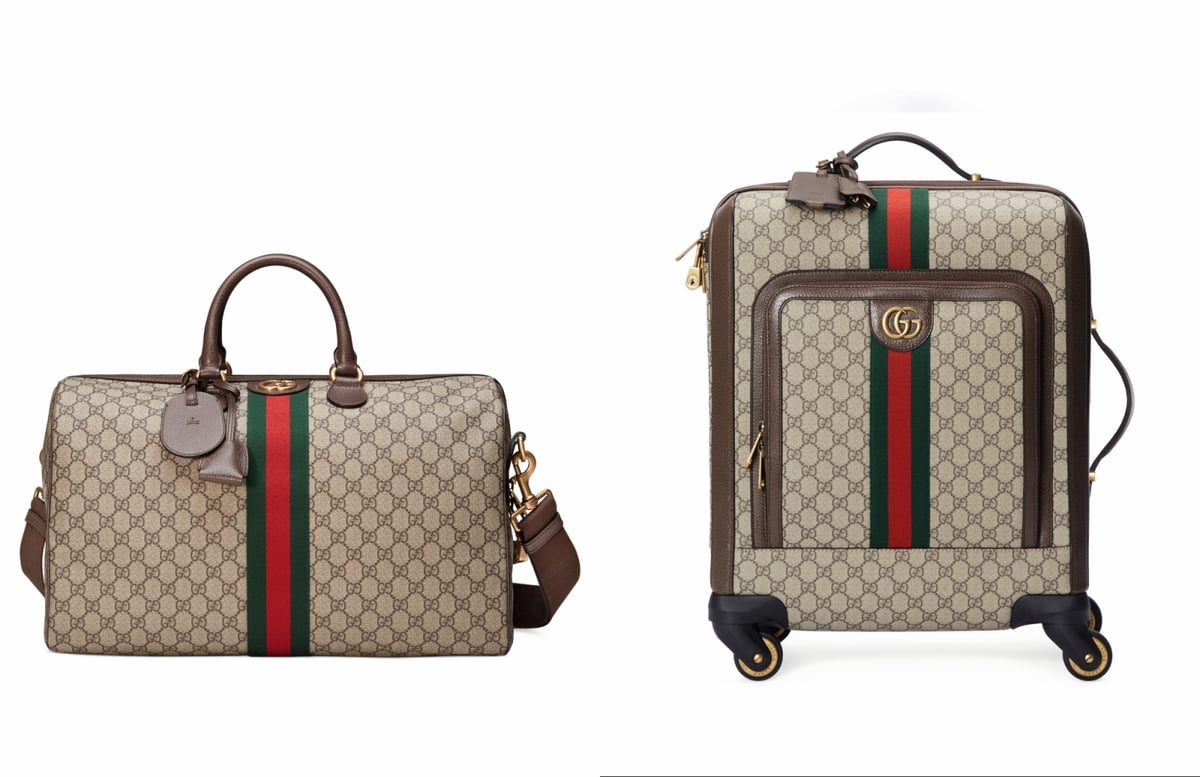 The use of an archival monogram design and slinky 70s-inspired colourways can't detract from the modernity of the Savoy collection. Despite the look, these are a very contemporary way to transport your essentials indeed: manufactured with environmentally gentler processes and details (e.g. the duffle's purpose-built cellphone pocket) that illuminate the times we live in.
That is in staggering contrast to the Valigeria trunk: a rare, full-throttle throwback to the gargantuan steamer cases of yore, which Gucci would have made throughout the 1920s and 1930s.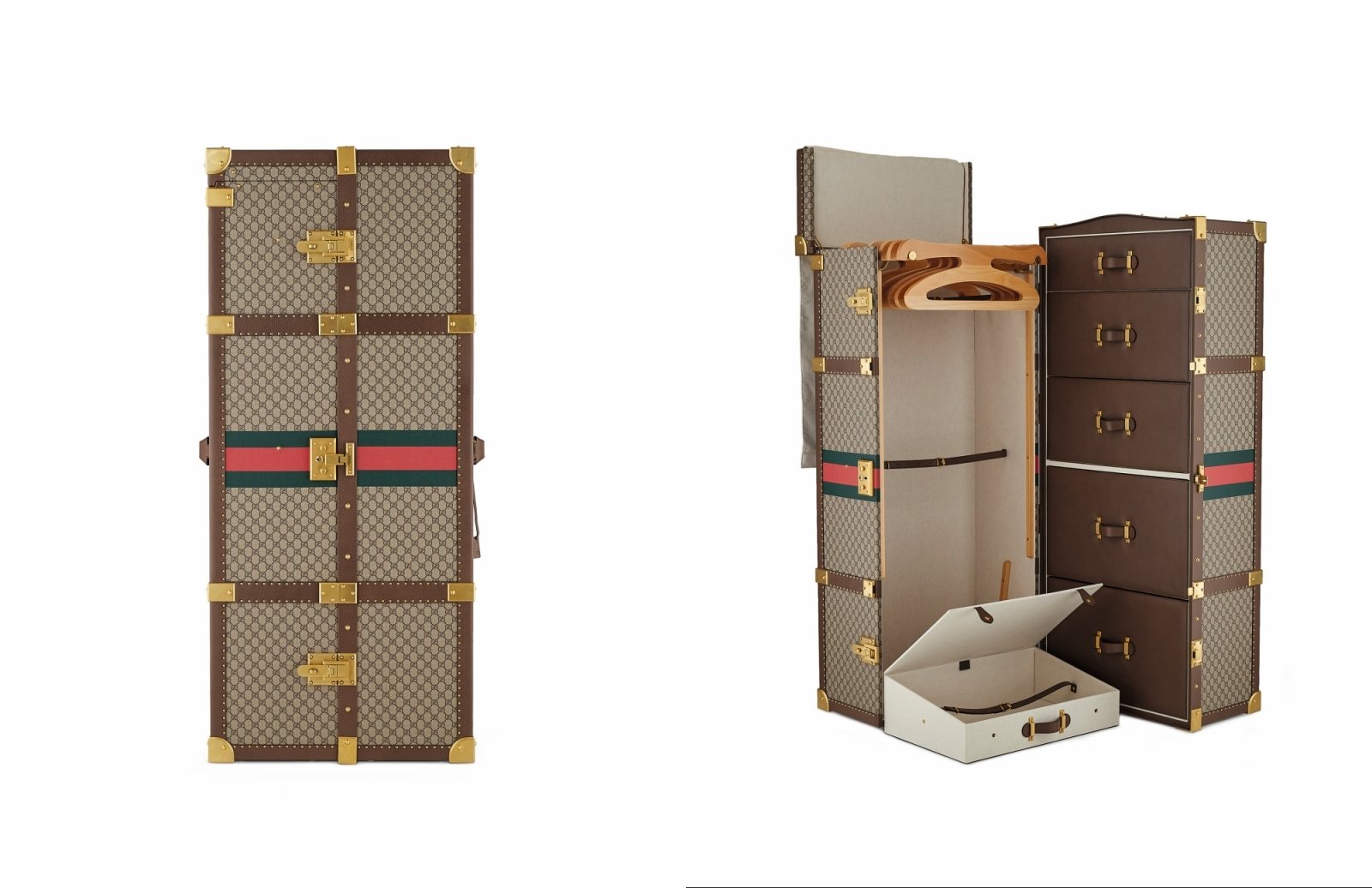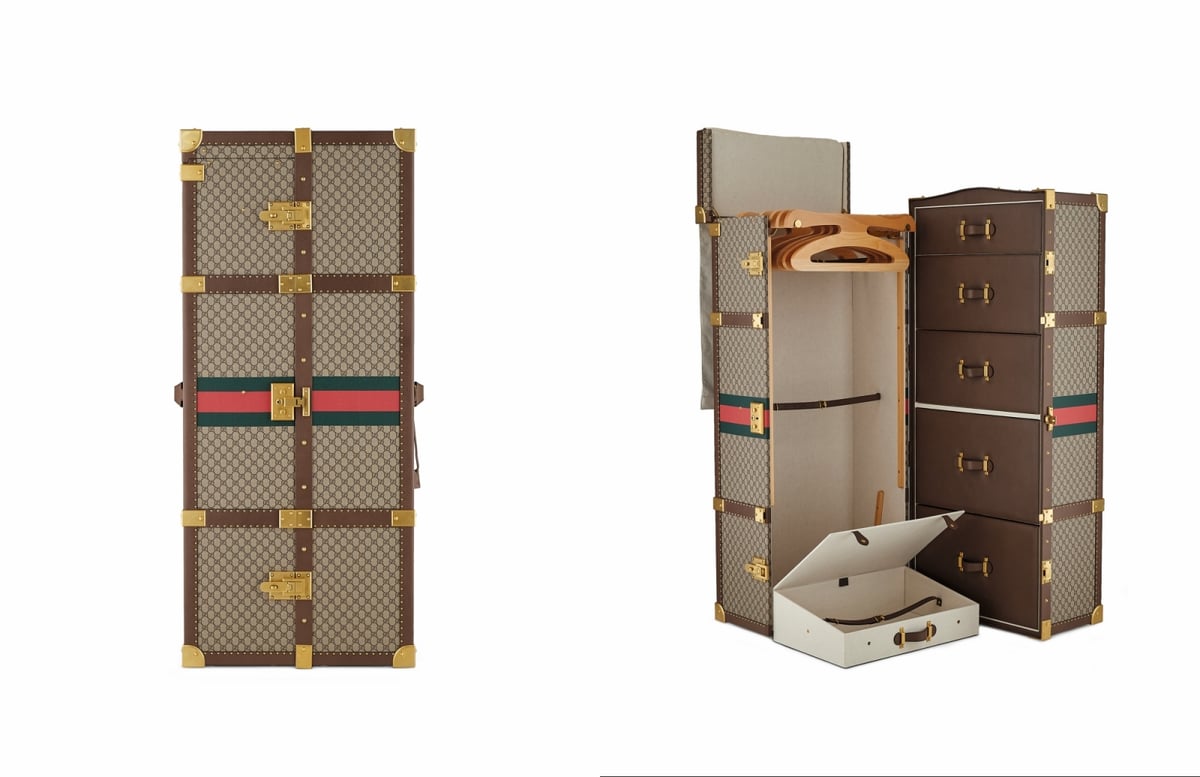 Outfitted with five drawers and an antique garment rail (easily capable of transporting a dozen full outfits) you're going to need more than a first class baggage allowance if you're planning on checking it in. Covered in the same 'Supreme Canvas' as its smaller siblings (in the mainline Savoy collection) other distinguishing features of the Valigeria trunk include dozens of hand-applied gold-tone studs; a latching system made up of three push-locks; and even a smaller, handled shoe box (capable of being carried separately).
Complex and hard to make, it's unsurprising that the Valigeria trunk isn't available to add into your online shopping cart at a moment's notice. Rather, interested parties can get a closer look at this traditionally crafted hard-side trunk at select Gucci Valigeria boutiques globally, with the latest addition opening in David Jones, Elizabeth St Sydney.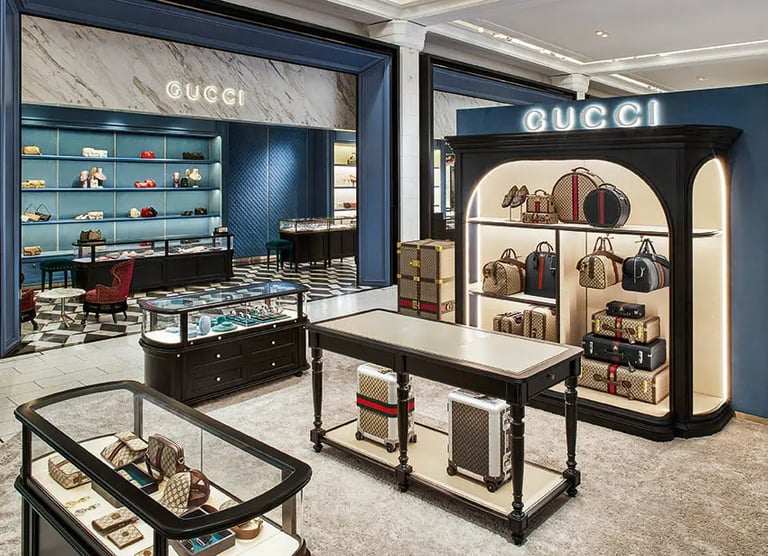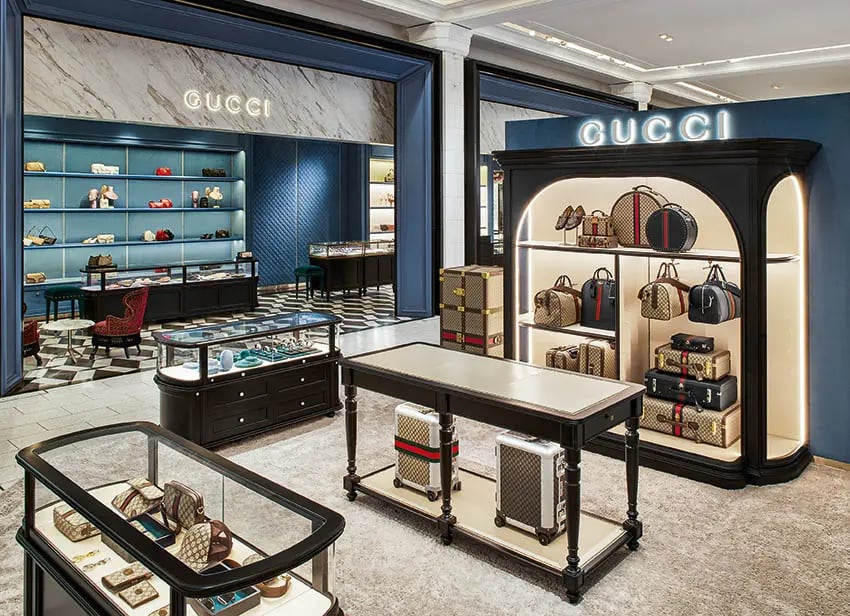 Rediscover the Golden Age of travel just in time for summer (with the luggage, trolleys, and accessories of the Gucci Savoy Collection) at the Gucci Valigeria store — now open at David Jones Elizabeth Street.