Jason Statham might not be the greatest actor on the planet, but he's certainly one of the best dressed. While action flicks such as Crank, The Expendables, and the Fast & Furious franchise have made him a cult figure in Hollywood, it's Statham's masculine persona and everyman look that's helped transform him into an underrated style icon.
If you're a fan of the Stath and his understated wardrobe, here are a few tips on how to achieve the great man's look.
Embrace your receding hairline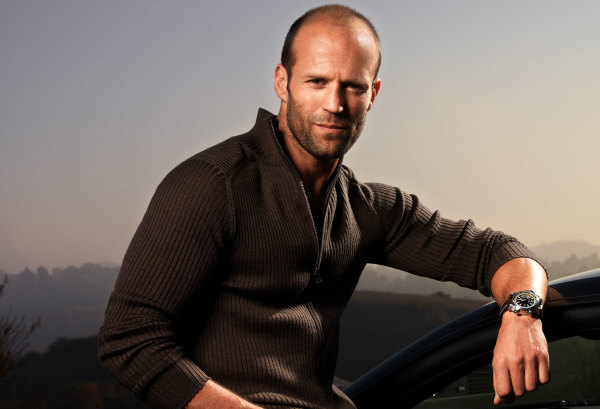 The most recognisable feature of the Stath isn't his buff body but the classic buzz cut he nails with confidence. Instead of any attempts to hide his receding hairline, Statham has well and truly accepted his fate from early on.
---
---
What really makes Statham's almost bald look is the three-day growth he often sports. This complements his shiny noggin and adds another layer of manliness to his overall appearance. So if you're in the same situation as Statham or wanting a change, shave the head and grow a beard for a unique look sure to drive the ladies wild.*
[
*wild ladies not guaranteed.
]
A tailored suit with a classic cut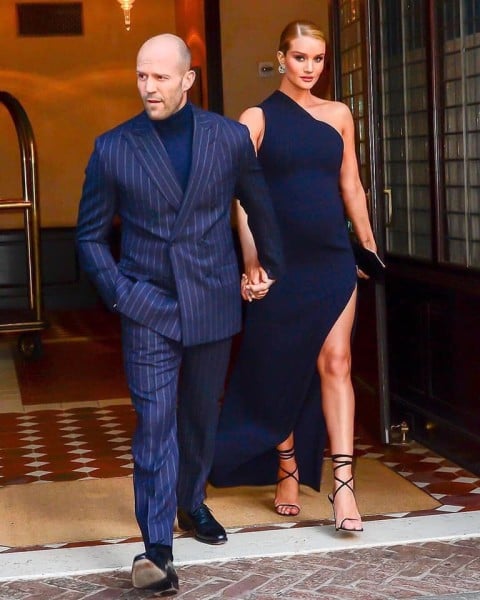 Scroll through snaps of Statham and you'll soon realise he enjoys wearing a classically tailored suit. But unlike many of his contemporaries, Statham keeps things relatively simple with traditional cuts, preferring a two-piece suit that allows easy movement through the chest while still accentuating his impressive, structured physique. Statham favours dark colours such as black, navy, and grey, often with an open shirt instead of a tie and a peak lapel.
His number one choice of brand is Giorgio Armani, with Statham reported to have worn a $4,000 suit, shirt and tie combination from Armani during filming of The Transporter.
RELATED: Jason Statham's travel outfit is what you should be wearing everywhere
Aviator sunglasses for a bold, timeless look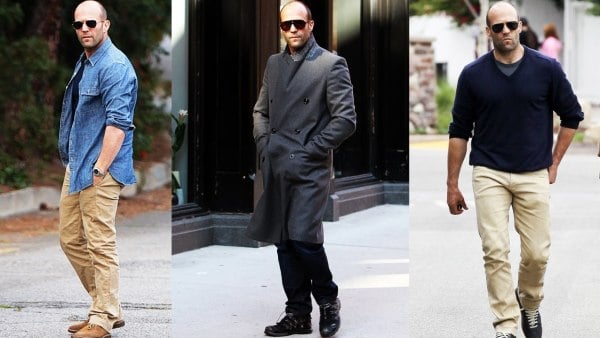 The Stath loves a good pair of sunnies and his preferred choice is the classic Aviator design. The action star has worn a number of different brands over the journey but is particularly fond of Ray-Bans and American brand Randolph. Adding a pair of sunnies to your outfit is a simple way to stand out from the crowd while oozing some timeless cool.
A unique watch is a gentlemen's best friend
Similar to a pair of sunnies, an attractive watch helps add to your sense of style. Statham is an avid watch collector and has amassed a massive array of limited edition timepieces over the years. He owns an Orange Hand Rolex Explorer II, first made famous by Steve McQueen, a Panerai Luminor GMT, and a Jaeger LeCoultre Valentino Rossi – a tribute to the Moto GP legend.
A Reddit thread asked women to give the curious males of the world an insight into some unexpected things they notice first about a man. Guess what? A subtle watch on the wrist made the top three.
---
---
Leather jackets aren't just for bikies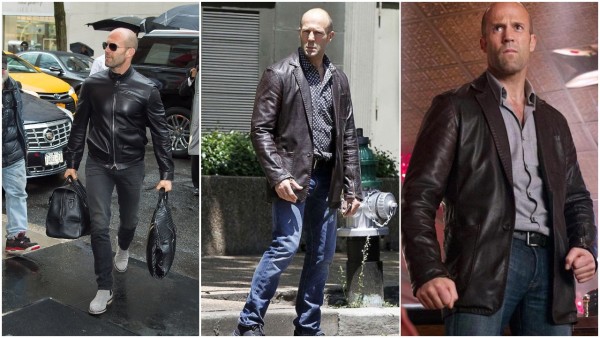 Another staple of Statham's wardrobe, and one that can be part of every man's collection – if he's got the game – is a leather jacket. While the traditional denim jacket creates a rock star look, a black or leather jacket can be worn with any combination of clothing and adds an edgy look to your outfit. Pair it with some jeans and Chelsea boots for a casual style or wear it with a white shirt and trousers for an evening function.