Ronnie Fieg is no stranger to ambition, but partnering his revered lifestyle brand, Kith, with German automakers BMW for a supersized capsule collection may be one of his biggest plays yet.
The dramatic output from this collaboration has swelled to almost 100 pieces of apparel and accessories, as well as a complete one-of-one restoration of Fieg's personal 1989 E30 M3 and a promo-only 2021 BMW M4 Design Study.
Easily Kith's largest offering to date, the capsule combines the brand's staple silhouettes and custom-milled fabrics with BMW iconography. Included in the upcoming release are staples like racing-inspired jackets, suede bombers, nylon tracksuits, colour-blocked cardigans, a stack of graphic hoodies and tees, and kimono blazers – many of them co-branded. Some have even been specifically designed to echo BMW's emblematic hues and imagery, with one specific intarsia-knit sweater sporting a sewn-in rendering of the E30's front.
---
---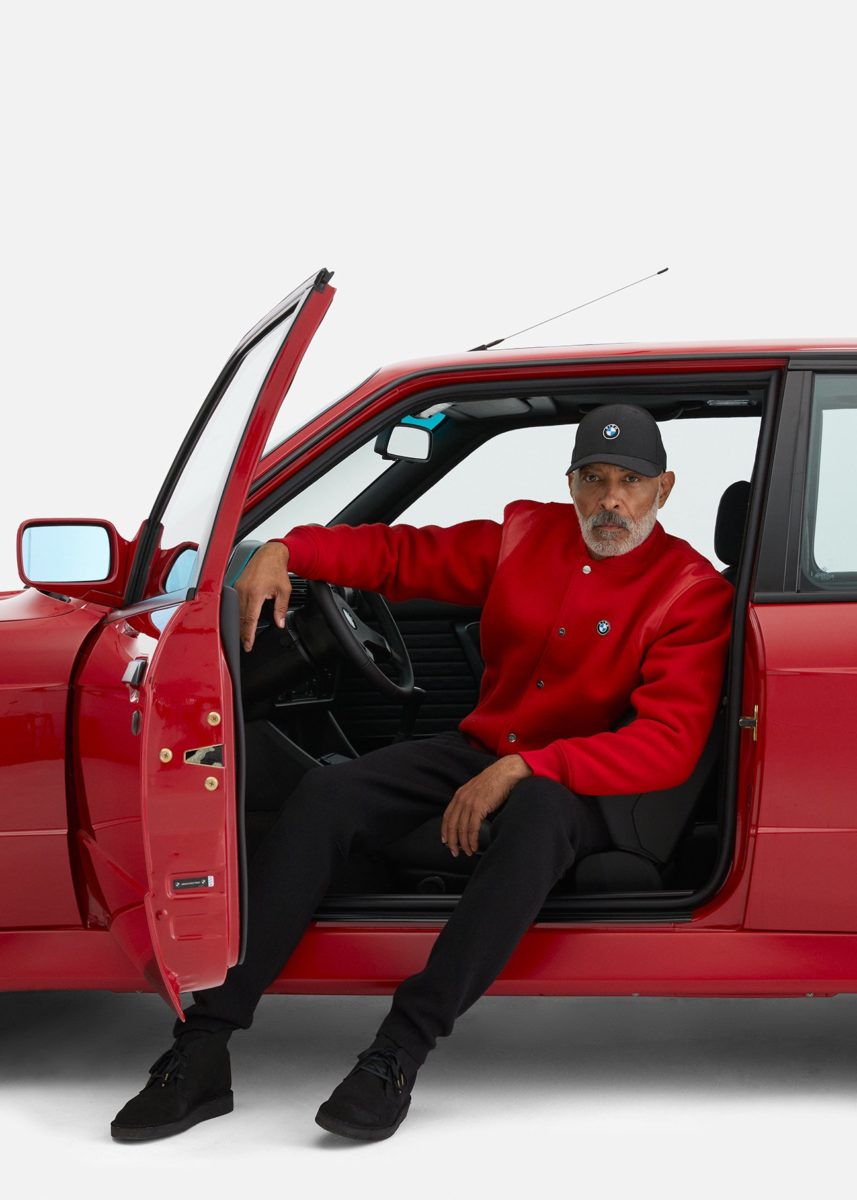 The partnership has even resulted in a few home products nodding heavily to the design language specific to both brands, tracking pillows, mugs, umbrellas, as well as car-specific products like custom valve caps, microfiber towels, and license plate frames.
Such a deep and varied collaboration with Kith is the first of its kind for BMW, which is probably why it has been given such a large and dramatic ceremony as a complete revival of the original 1989 E30 M3 which represents a cherished childhood memory for Fieg. The young fashion mogul holds onto fond memories of driving around Queens in his grandfather's prized red E30 M3 in the late 1980s, a nostalgia which inspired this collaboration in the first place.
RELATED: Ronnie Fieg Teases Kith x Coca-Cola Season 5 Goodies
In rebuilding Fieg's personal M3, the car was sent to the automotive manufacturer in Germany to undergo a remarkable journey, retracing the history of the E30 to source parts from various BMW archives. Special care was taken to theme the full restoration towards Kith's aesthetic, so the car features kith logos embossed throughout the leather upholstery, as well as on door panels, headrests and the center armrest. Kith-inspired BMW Roundels feature on both the hood and the trunk, while a unique BMW M-inspired "Kith" logo rounds out the symbolism on the trunk.
A similar one-off BMW M4 has been worked up in the exact same Cinnabar Red as the original M3, most notable because the colour is no longer offered by the brand, yet was one of the most popular hues in the E30's heyday. Mirroring the M3's restoration, the M4 has also been treated with a homage to the partnership, sporting similar Kith logos throughout but keeping the fundamentals – 3.0-litre twin-turbocharged I6 (S58) with 510 horsepower, eight-speed automatic and all-wheel drive – the same.
RELATED: 2021 BMW M3 & M4: Sedan And Coupé Debut With Aggressive Update
Given both models are one-for-one and have been made exclusively for the collaboration, it's unlikely they will ever make it to auction. However, you're able to get your hands on anything from the capsule collection, which releases on Kith's website this week.
---
---
Check out the new threads and the Kith BMW M4 below.