Levi's – the global leader in denim that we all know and love – has recently launched their new campaign: Buy Better, Wear Longer. The campaign encapsulates Levi's ongoing efforts to drive more sustainable production practices and its investment to choose more sustainable material and innovations such as Cottonised hemp and organic cotton.
According to the World Economic Forum, the global fashion industry creates 20% of the planet's total water pollution and 10% of humanity's carbon emission. In total, it takes about 2,000 gallons of water to produce a pair of cotton jeans, which is enough water for one person to drink 8 cups per day for ten years.
Levi's recognises that the apparel industry has a tremendous impact on the environment, and as a leading fashion brand, they play a significant role. The Buy Better, Wear Longer campaign represents Levi's commitment to raising awareness about the shared responsibility on the environmental impacts of apparel production and consumption.
---
---
Featuring an inspiring group of changemakers ranging from Jaden Smith, Emma Chamberlain, to Marcus Rashford MBE, the Levi's Buy Better, Wear Longer campaign focuses on their longstanding commitment to making quality clothing while encouraging consumers to be more conscious about their fashion choice; meaning upping the consideration factor to buy products sourced in better ways, made from better materials, crafted at the highest quality – and made to be worn for as long as possible.
Innovative Production Techniques
While many brands might haphazardly slap on the 'sustainable' label, Levi's is committed to making real change by actually creating more sustainable clothing and ultimately bettering the planet. To use less water, they've switched to Cottonised Hemp. Compared to cotton, it grows quicker, requires much less water, and leaves behind cleaner, healthier soils. Designed especially for Levi's, it's soft like cotton and gives you the same authentic Levi's feel in a garment that's easier on the environment.
Unless you're buying raw denim, the finishing process that provides the denim that classic broken-in look uses a tonne of water. In 2011, Levi's rolled out their Water<Less innovation, and since then, they've been able to save more than 4.2 billion litres of H2O from the finishing process and recycle a whole lot more. By this year, at least 80% of Levi's jeans will be finished with this technique. Additionally, 75% of their cotton comes from sustainable sources, and 65% of production occurs in factories that run their Worker Well-being programs.
RELATED: What Is Sustainable Fashion & Who Is Owning It?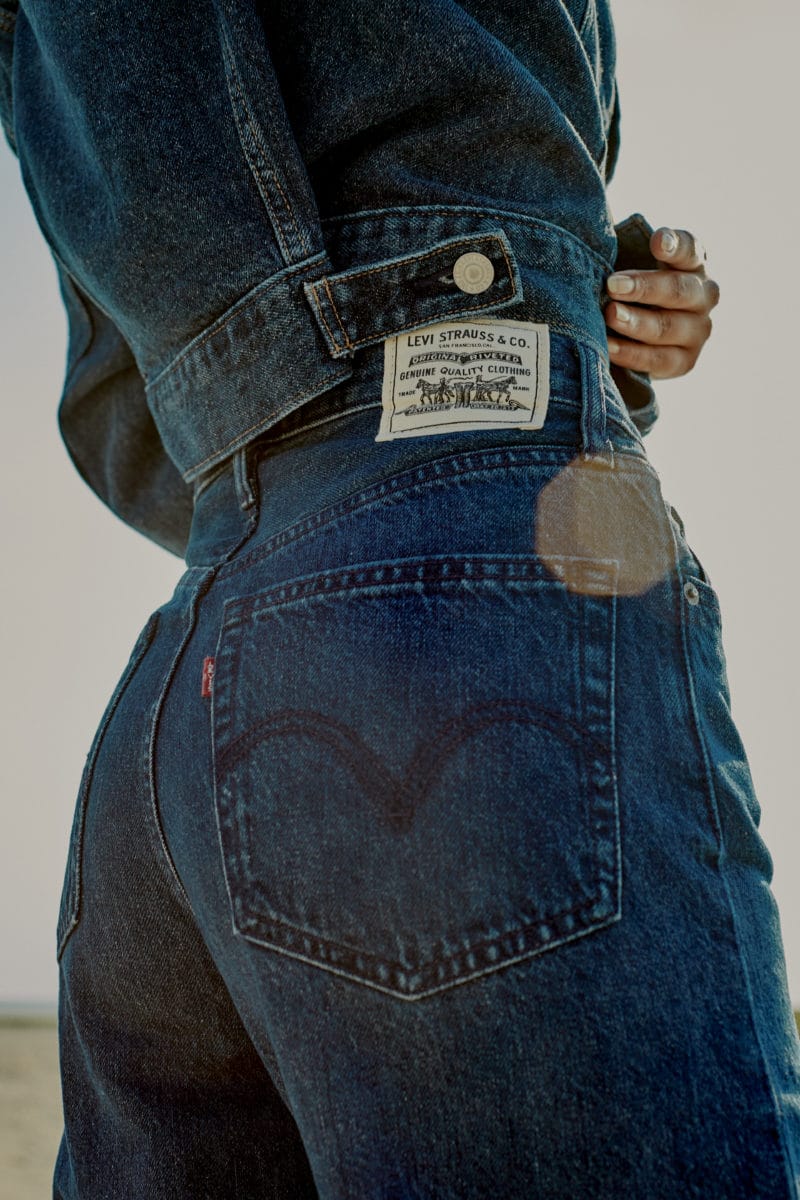 Built To Stand The Test Of Time
Levi's choice of sustainable practices also ensures that their products can stand the test of time with tried and tested durability. Levis' philosophy on durability goes beyond just everyday use. Their products get better with age.
"Ultimately, Levi's denim is meant to be worn for generations, not seasons," says Jennifer Sey, Brand President at Levi Strauss & Co.

"So we are also using this campaign to encourage consumers to be more intentional about their apparel choices and to wear each item longer."
To demonstrate the extent of their commitment to long-lasting garments, Levi's now has a Tailor Shop in Melbourne that will repair and reimagine your clothing to "literally last a lifetime". In the US, they introduced SecondHand last year, with a missions statement to extend their products' lives by offering the vintage styles that have proven to be a hit among customers.
---
---
The WellThread Collection
Levis WellThread Collection is arguably the pinnacle of their sustainability efforts. The collection stands on design principles that embody fashion built for a better future. The line is durable and timeless, prioritises environmental conservation, and is produced in factories that promote worker well-being.
The entire collection comes from a sustainable blend of Cottonised Hemp and organic cotton. And all the t-shirts are made using plant-based dyes, water-saving techniques, and a low-impact dye method, reducing both chemical and heavy metals used in traditional dying methods. You can shop the complete Levis WellThread Collection online.
Beyond what they've already accomplished, Levi's is currently working toward industry-leading targets, including 100% sustainably sourced cotton by 2025, 100% renewable energy in owned and operated facilities by 2025, as well as reduction of water use in manufacturing by 50% in water-stressed areas by 2030. To change the fashion industry for good, they will make products that last, products that transcend seasonality, and products you can continue to style out in year after year. For Levi's, wearing what you own is the most sustainable thing you can do but when you do buy, buy better.