When the cooler months drag on into one long dreary season, finding the motivation to wake up and dress your best, on the daily, can be exhausting (never mind the myriad of other reasons as of late). In an attempt to inspire you and your jaded winter wardrobes, we chatted with esteemed stylist Lana Wilkinson, to provide a handful of winter style points to elevate your attire and enhance how you present to the world.
What are some great ways for men to layer in the cooler months?
Men's winter fashion is built around layering, so the cold weather months mean freedom to style pieces together that you may not otherwise. For me, the must-have items for layering are:
---
---
A Wool overcoat: Long lines, minimal detailing and a cool silhouette make your standard wool overcoat a versatile, stylish choice.
Selvedge Denim Jeans: A wardrobe staple, selvedge denim jeans provide texture, offer durability, style, and a great thick fabric that will block out even the coldest winter winds. Selvedge, like those offered by Nudie, is considered to be among the highest quality when it comes to denim, so they also offer longevity for seasons to come.
Cable Knit Sweaters: While cable-knit sweaters come in a variety of forms, crewneck sweaters made from thick, ropy lambswool are my go-to's. My recommendation is to either go for the classic or try a shawl collar cardigan, like the TOM FORD example below, to show off your layers.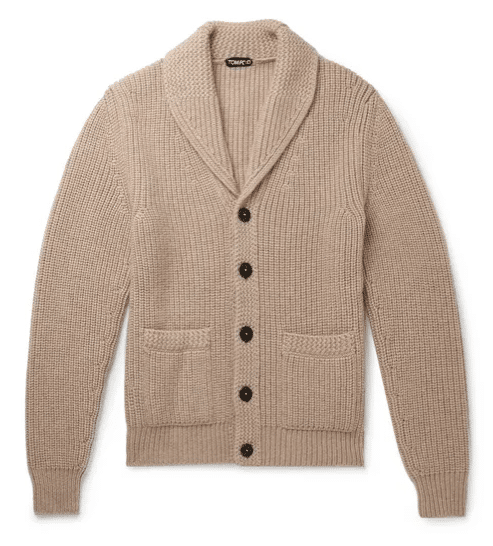 Sweats: When the temperatures drop, it's only natural to reach for a cosy pair of sweatpants. Not only are they great insulation from the cold, but tapered technical sweats also provide a street-ready replacement for chinos in case your winter look calls for sneakers. My hot tip: they're super stylish when paired with your wool overcoat.
Winter Jacket or Sports Coat: The perfect layering piece! You can't go past the puffer jacket or a sports coat; they're absolute wardrobe staples. No list of layers is complete without the winter jacket.
Hoodies: As a supplemental layer on those truly freezing days, nothing is better than a thick hoodie paired with any sort of weather-ready shell. Look to the likes of Kanye West for style inspiration.
What are your key men's winter fashion accessories?
My key accessories for men are scarves, leather gloves, beanies, leather boots, wool socks and trainers. Sunglasses are also a year-round must-have accessory. I'm loving the new collection from RIMOWA.
---
---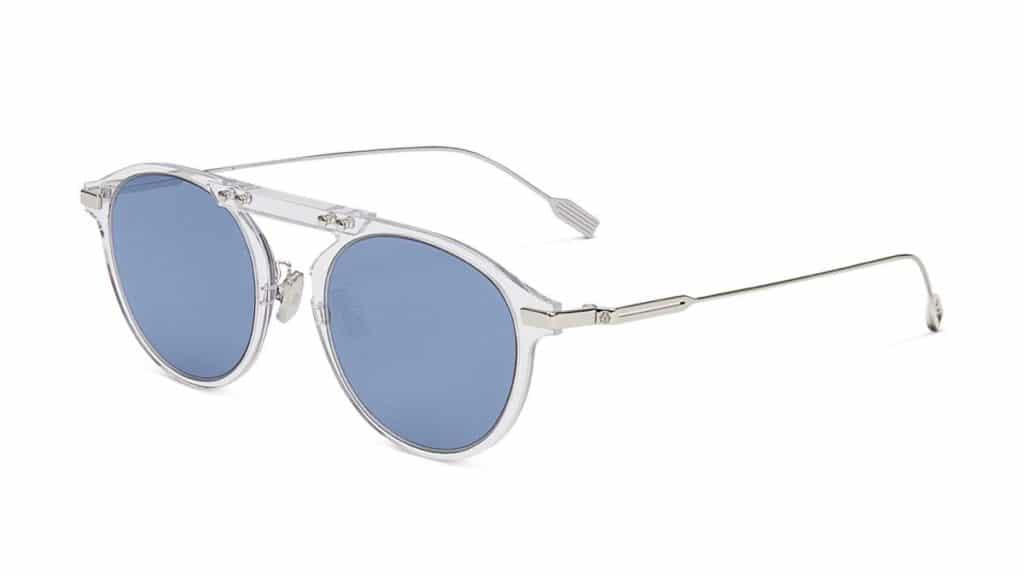 Are there any emerging trends you're seeing and loving/not loving for men?
This one is a slightly predictable one, but the AW20 runways of Milan were awash with shearling coats, and they're a personal favourite. Whether the shearlings are long-line and moody or mixed with leather, the silhouettes and finishes are sophisticated and a cool addition to your wardrobe.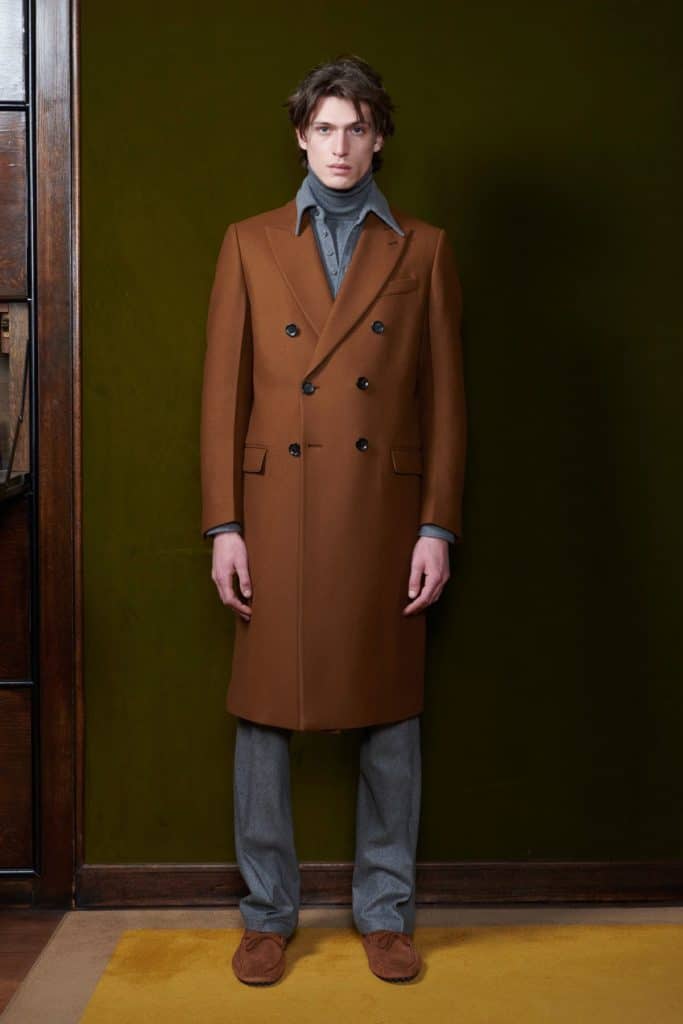 I'm also loving the focus on the wool overcoat and the trench for men this winter. These pieces immediately add an element of tailored, timeless style. Available in an array of colours and lengths, the wool overcoat and trench are a great way to dial up an outfit. For more versatility and longevity, stick to bold colours such as navy, charcoal or camel to compliment the rest of your wardrobe.
Something I'm not loving? Many designers this season featured shirts and sweaters finished with prints of faces. A slight curveball of a trend — it's not a vibe I love.
What types of colours/patterns do you love for the winter season?
It's all about jewel tones this winter. Think classic red, cool blue or even a bottle green, which all look chic when paired with denim or leather.
Are there any types of winter footwear you love for men?
The foundation of any fall/winter wardrobe is the boot – a perfect choice for functional and stylish cold-weather footwear. Those seeking both trend and tradition should opt for something from Aussie favourite R.M. Williams, in the form of the Craftsman in Black or Dark Tan or the Yard Boot, for something more contemporary.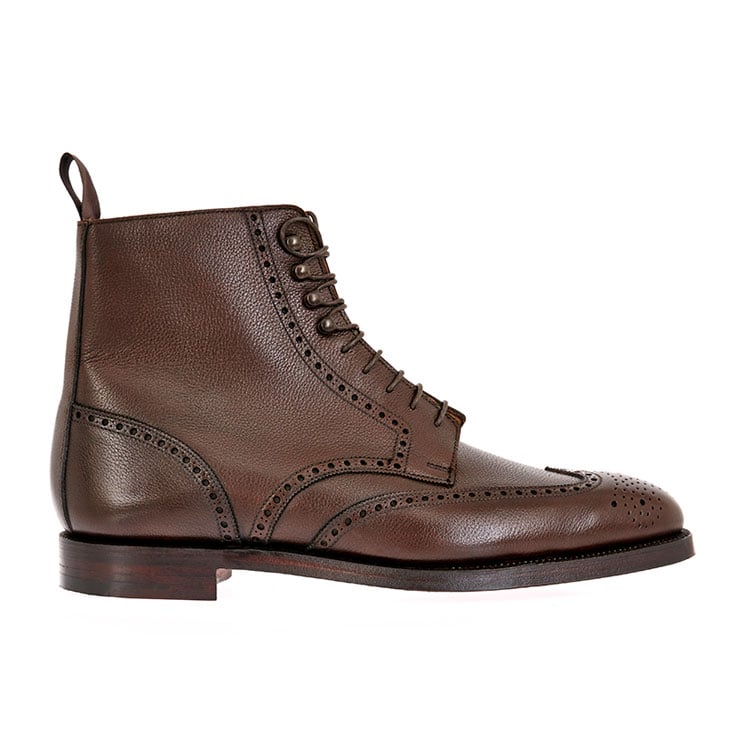 Most quality shoe brands will offer their own version of the Chelsea boot, featuring elastic sides or zip, as well as a Chukka or Desert boot in suede or leather. I'm also a big fan of brogued boots, with military-style hard wear and laces, from the likes of George Cleverly, which you can now shop on Mr Porter.
Any other styling tips and tricks you'd like to share?
My other must-haves for winter include the flannel shirt, for a more casual approach to winter styling and added winter warmth, as well as the all-important leather jacket.
Style flannel with a t-shirt and jeans, or with a roll-neck, selvedge denim jean and a dark coat to elevate the look. As for the leather jacket, it's a timeless piece that transitions seasons, styled best with either a t-shirt, knit, hoodie or sweater.
---
---
Check out our favourite looks from Moncler's 2020 Fragment Collection.