Leading Aussie tailors Oscar Hunt have joined forces with luxury UK fabric merchant Dugdale Bros & Co and the iconic Sydney Cricket Ground for an exclusive club member's jacket.
As Australia battle England in the second Ashes test at Lord's today, the made-to-measure blazers will soon be available for SCG members to purchase and wear with pride when the Aussies take on the Kiwis this summer.
Crafted from several hundred metres of cloth sent from Dugdale's headquarters in Huddersfield, England, the blazer reflects the long standing heritage of the SCG, capturing the green of the pavilion's roof and the golden bronze of the SCG logo. The green, gold and silver 10z woollen fabric has a classic English finish, but is lightweight and durable, making it the ideal jacket to cope with the Australian heat.
---
---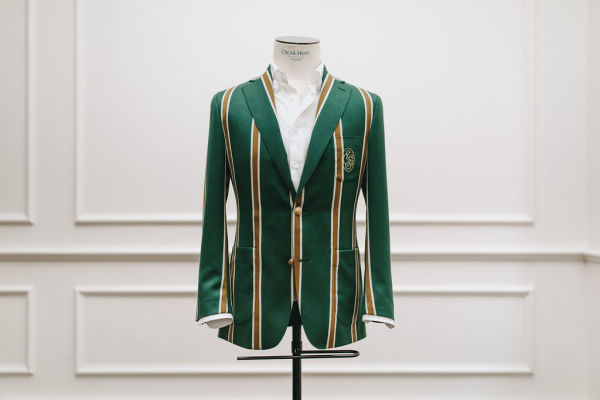 Oscar Hunt director Chris Edwards believes Dugdale Bros' 123-year heritage makes them the ideal partner in the blazer project. "[The] SCG is steeped in sporting history and the Trustees wanted a cloth which reflected this level of heritage. We were looking to source fabric capturing tradition and timeless craftmanship – features not found in mass-produced textiles – and this aligned perfectly with the Dugdale Bros' ethos."
The SCG XI cricket team will wear the new blazer during their two-week playing tour of England, with the first custom blazer given to Kerrie Mather, the first female CEO of the SCG in its 160-year history.
Oscar Hunt will take three fittings in their Sydney showroom for SCG members once the cloth has arrived, with the process set to take six weeks to complete.
Find out more at oscarhunt.com.
RELATED: Steve Smith's $100k Koala Mattress investment now worth $12 million