Welcome to Fragrance Friday, where each week we'll be keeping you abreast of the newest and most iconic releases in the dynamic world of men's fragrances. Born out of the desire to showcase one of the most overlooked, yet versatile, elements of any discerning man's style this weekly column will help you finesse your own signature scent.
For our first entry last week, I took a close look at the intrepid, fresh-forward citrus body of Sicilian Leather by Memo Paris. The spotlight this week leaves the zest for something spicier, woodier, and smoked. That'd be Amouage Boundless, coming from the well-known, highly-regarded, Omani luxury fragrance house anyone with even a surface-level knowledge of the perfume world would recognise in an instant.
If you're already familiar with Amouage's incredibly strong output in recent years, it already speaks volumes that we'd choose Boundless to highlight ahead of other entries like Enclave, Meander, Crimson Rocks, and Material. And it was a tough choice, to be quite honest. Enclave has become a fast-favourite in the Boss Hunting office, and Crimson Rock's minty, cardamom body is simply fascinating.
---
---
Boundless by Amouage was shaped by talented perfumer Karine Vinchon Spehner, whose pristine track record with the Omani house includes Interlude Woman, Memoire Man, Overture Man, and Opus III. Boundless is her best creation yet, and this is coming from the nose behind a lot of strong scents from brands like L'Artisan, Memo, and Atelier.
With clear inspiration from Michel Almairac's legendary Gucci pour Homme, she has worked up a recipe I think nails the character of Arabic perfumery – in that the scents stemming from Middle Eastern culture are typically gregarious in style and generous in taste, perfect for men who've graduated from single-scent signatures and have begun to experiment with layering.
Spehner has already said her inspiration for Amouage Boundless mostly centres around a vivid idea of a golden forest, with the sun streaking through a dense canopy. Amouage is relentless with these portraits-cum-fragrances, and they've already proven that when a perfumer has a very specific scene in mind, they tend to put forward their best work. Much like Memo seeks to bring a specific destination in mind, Amouage give life to hyper-realistic scenes, mostly drawn from Oman's surprisingly diverse landscape.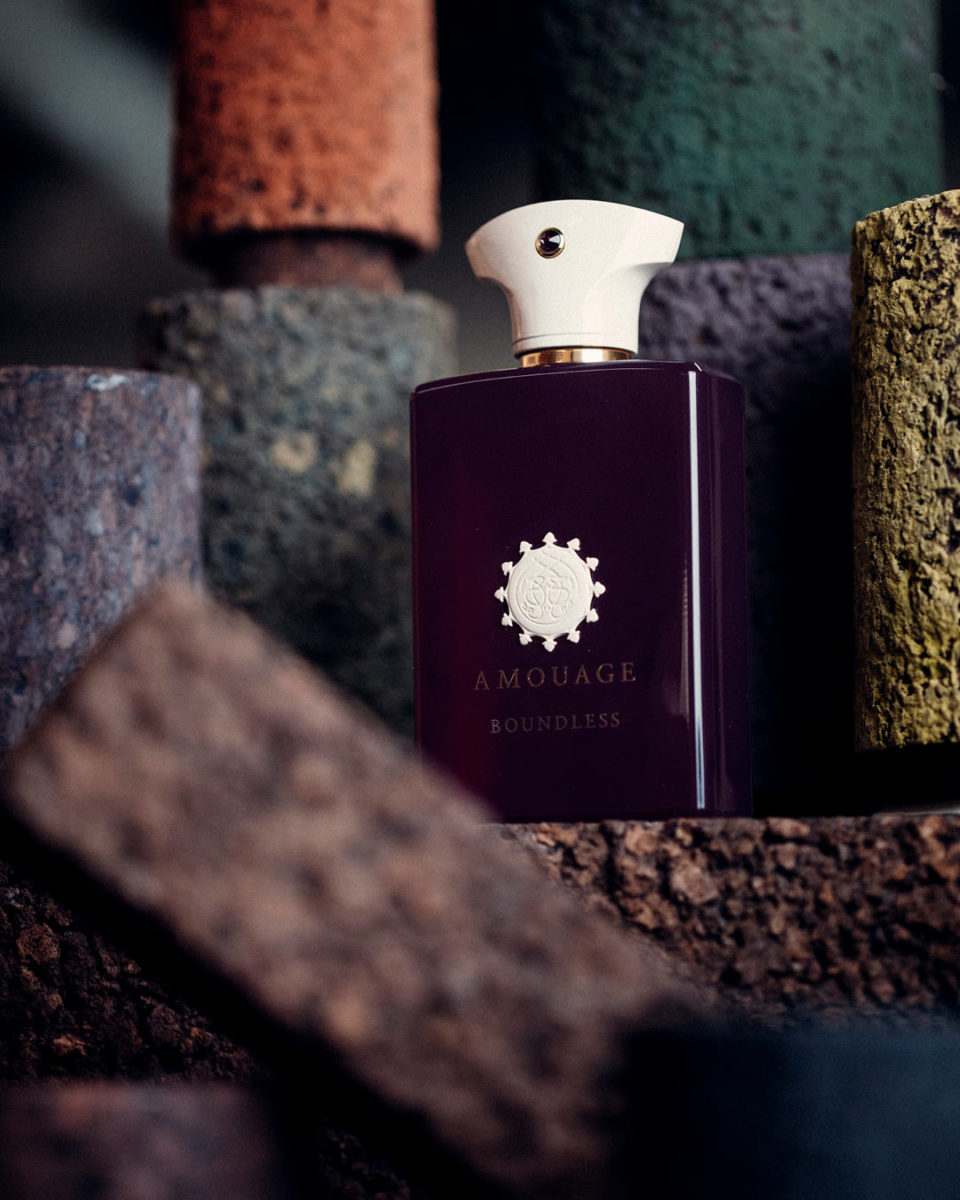 RELATED: 31 Best Perfumes & Colognes For Men In 2021
So yes, a forest. That's what has spurred Spehner to put together this profile, which is introduced with an absolute bang through notes of blood orange overlaid with cardamom oil, ginger C02, and elemi oil. If you want an opening show that leaves an incredibly spicy impression, this is it. The ginger C02 is especially potent and dominates much of the first few hours, while the cardamom is refreshing and blends well with the blood orange. Elemi oil is an interesting choice as it adds a slightly honeyed element. I'm going to go ahead and assume Spehner chose to include this because elemi is adjacent to frankincense and myrrh – not only mirroring the essence of Oman's storied history with fragrances but reflecting much of what has defined Amouage since the house was founded in 1983.
The Elemi oil is also a nice bridge to the middle of Boundless, which is elegant and brings in that key, lingering hit of vanilla mixed with benzoin. The classically complementary profile leans towards the sweeter side but having guaiac wood oil in the base layers on a fantastic smoky character. By the time you hit dry-down, there's a nice little base to work onto that more complex character, which could go in plenty of different directions depending on the individual.
The base is unmistakably Amouage – as is the fragrance as a whole. If you think you're walking into an effervescent citrus delight, think again. The elemi oil on the top gives the whole profile a nice segue into the deeper, more mature, notes of papyrus oil, intense tobacco, oakmoss, frankincense, myrrh, vetiver, and patchouli.
---
---
This is when the Le Labo-scented masses would start to feel a bit overwhelmed, tugging towards the seductive, woody side of the spicy-woody label. It's all very well-blended here, first with the tobacco and guaiac wood swirling around with plenty of smoke, and then the cocoa and patchouli bringing up those toasty, roasted chocolate notes. I think this is why Amouage chose the brownish-purple colour for Boundless, as opposed to something more amber and golden to reflect the "golden forest" mentioned above.
Top Notes: Blood orange, cardamom oil, ginger C02, elemi oil.
Middle Notes: Vanilla bourbon absolute and C02, benzoin resinoid.
Base Notes: Guaiac wood oil, papyrus oil, cocoa absolute, tobacco absolute, oak moss absolute, frankincense absolute and oil, myrrh resinoid, vetiver oil, patchouli oil.
Amouage's Boundless is now available in Australia at $459 for a 100ml bottle.