Independent footwear label Oliver Cabell is forging a path in the sustainable sneaker industry with the creation of their new 3D printed white kicks dubbed the 'Phoenix'.
After concluding last month that Oliver Cabell's Low 1 White kicks were the best alternative to Common Projects, we were stoked to hear that the brand's latest release are not only 3D printed, but they're also made from recycled bottles and are 100% machine washable.
Over 300 million tons of plastic are produced every year, and amazingly, just 9% of that is recycled. While it may only be a drop in the ocean in a world consumed by snowballing fast fashion, Oliver Cabell has launched the 'Phoenix' as its hail mary to a bleak industry future.
---
---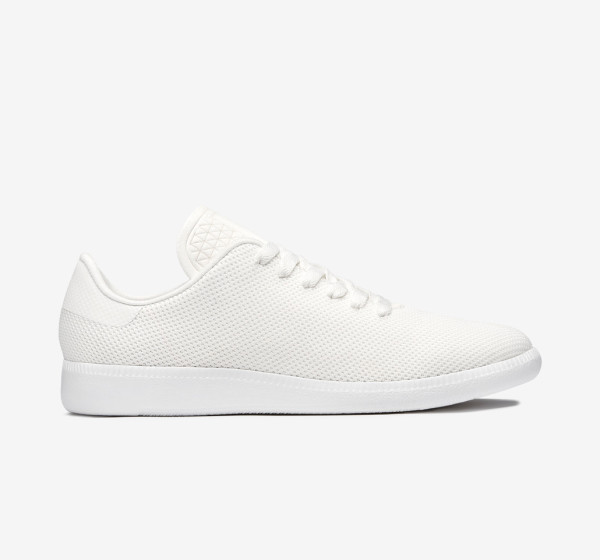 "Our mission has always been fairly simple," Scott Gabrielson, founder of Oliver Cabell, explains. "To marry the finest design, materials, and process with the latest technology, while leading the way for socially conscious businesses. We feel that the Phoenix is the culmination of what we've been striving for since we launched."
The unique process involved in creating these kicks is quite impressive. Recycled bottles are sterilised, washed and cut into flakes. These flakes are then spun into a fibre that's put into a 3D knitting machine that prints the light and breezy upper. Each pair of shoes is made from over seven recycled bottles, with the process resulting in 80% less waste. The finished product is a soft, lightweight sneaker suitable for every occasion.
"It took 48 samples to get it right. We needed to find the perfect balance of softness, stretch, and structure. The shoes are designed to be worn sockless, and includes an antibacterial lining that is moisture-wicking and silky-soft," adds Gabrielson.
The Phoenix will come in two colours, white and black, and retails for just US$95 a pair (circa AU$140). The kicks are exclusively available at Oliver Cabell.
RELATED: Oliver Cabell's Low 1 White sneakers are the best alternative to Common Projects