The hotel world is getting more and more competitive, with even the best of the best finding it necessary to latch onto a unique point of difference to attract customers. Some operators have found that one of the most intriguing and clever methods of achieving success is building luxury accommodation inside caves and cliff faces across the world.
These boutique offerings immerse guests in stunning natural surroundings at some of the most exotic locations around the globe. From 4th-century hotels built into cliff faces in Turkey to stunning constructions in the mountain ranges of South Africa, here are 10 awesome cave hotels worth accommodating into your next overseas jaunt.
Amangiri Resort, Utah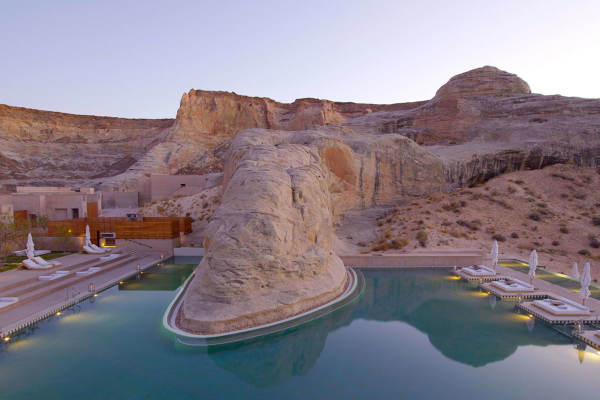 Built around a 164-million-year-old rock formation in Utah's Canyon Point, Amangiri is surrounded by thousands of kilometres of untouched landscapes next to one of the largest Indian Reservations in the country. Each suite is minimal in design and reflects the natural colours of the area.
---
---
Relais La Sommità, Italy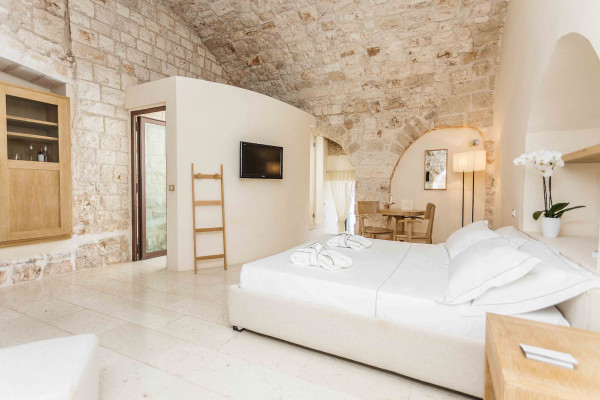 This 5-star, 16th-century boutique hotel features white decor, wooden furnishings and stone covered walls through its 15 suites. A pool snakes through the outdoor area of Relais La Sommità, while the elegant Cielo restaurant serves the best in Italian cuisine.
The Kagga Kamma Nature Reserve, South Africa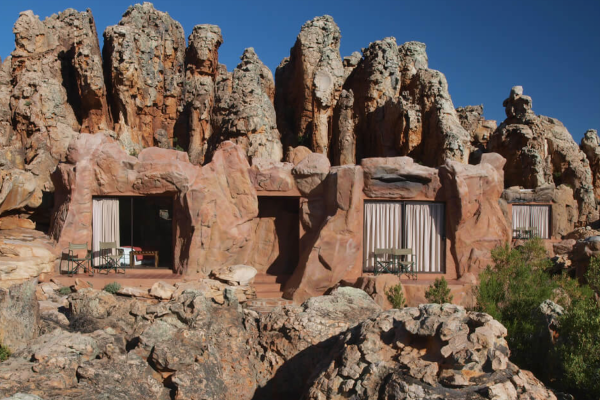 Nestled into the ancient rock formations of the Cederberg Mountains, this stunning luxury hotel offers breathtaking views of the South African wilderness. Resort facilities include two swimming pools and an outdoor spa and treatment centre.
Post Ranch Inn, California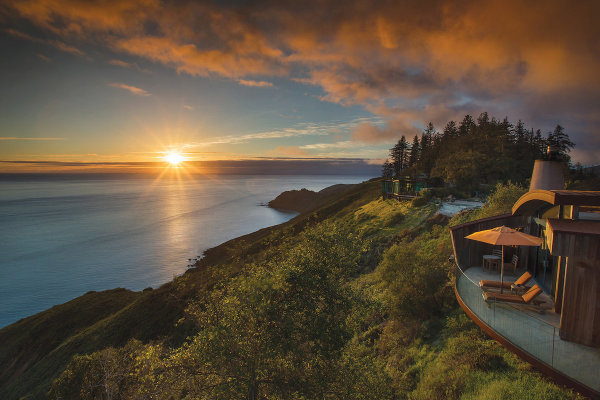 Erected on a ridgeline some 1,200 feet above sea level, Post Ranch Inn is built from sustainable materials and is a leader in environmental tourism. Guest rooms have a rustic vibe with a cliff face infinity pool offering views of the Pacific Ocean.
Hotel Capotaormina, Italy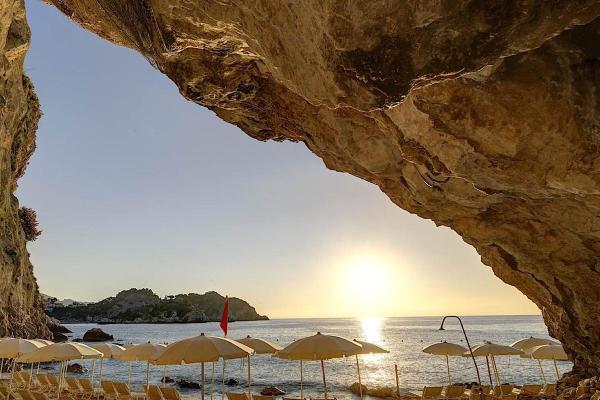 Exit your hotel room and walk to a sheltered beach cave beach to soak up some rays on the Sicilian coastline. Hotel Capotaormina is ideal for those who want to forget the real world and immerse themselves in the small town life of Italy.
Yunak Evleri Hotel, Turkey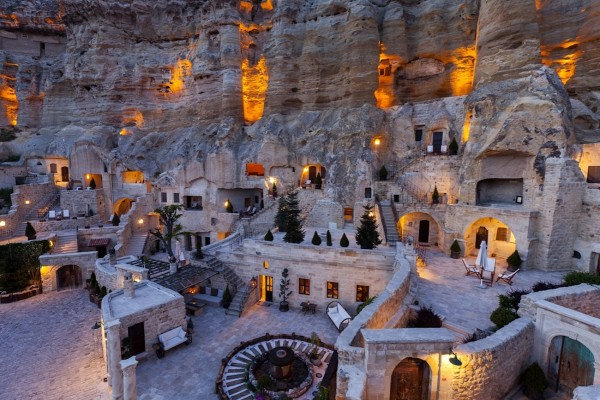 The historic region of Turkey's Cappadocia is home to an assortment of accommodation options built into the towering rock surfaces, with Yunak Evleri Hotel one of the most spectacular. The complex includes seven cave houses and 46 rooms dating back to the 5th and 6th centuries, with incredible views of the Turkish Mesa.
Cap Rocat, Spain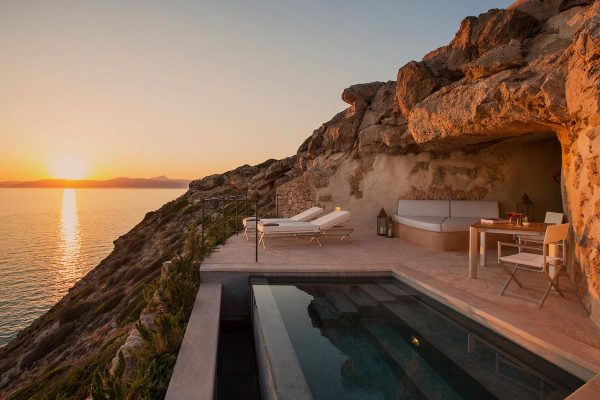 The Spanish island of Mallorca is favourite amongst tourists, with the refurbished military fort of Cap Rocat the pick of places to stay. Carved into the coastal rock face, this hotel nails Mediterranean life with its homely rooms, private pools, laidback setting and scrummy food available at its two restaurants.
Alto Atacama Desert Lodge, Chile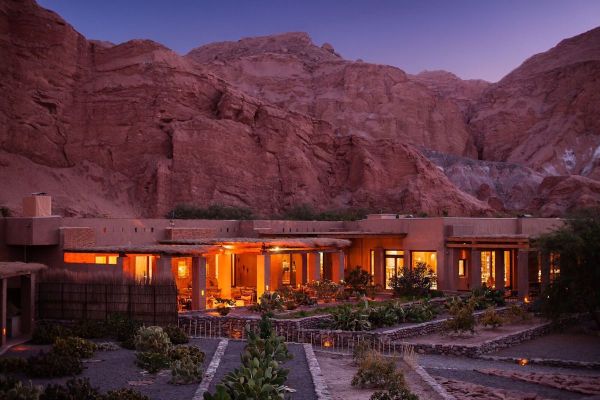 Built into the Salt Mountain Range in Chile's Catarpe Valley, Alto Atacama Desert Lodge is an environmentally sustainable hotel showcasing another side of the South American country. Designed by a team of Chile's best architects, this peaceful lodge finds a home in the mountainside, with guests able to indulge in the best Chilean wines while soaking in the tranquillity.
---
---
Hotel Marhala, Tunisia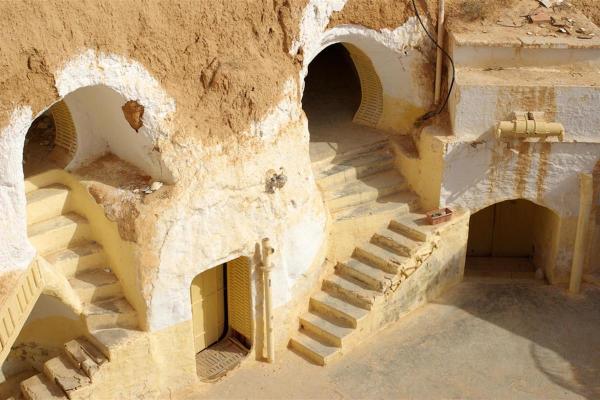 Dating back to the 4th century, Hotel Marhala is a labyrinth of rooms and tunnels dug into the ground under the Tunisian desert. Star Wars fans flock to this cool, subterranean hotel, as it's the site where many scenes were shot during the filming of Star Wars: A New Hope.
RELATED: Les Dunes Electroniques Is A 30-Hour Desert Rave At A 'Star Wars' Film Site
Iconic Santorini, Greece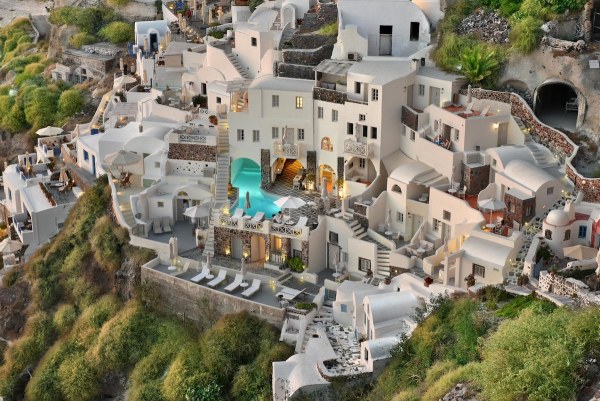 Santorini is one of the most beautiful locations on earth, and the Iconic Santorini is further proof of this. A converted white-cube village, this hotel is set into the rim of a volcanic cliff and offers a quintessentially authentic Greek experience.