For an island country widely regarded as one of the world's most fascinating, it's absolutely no surprise that New Zealand boasts some of the best hotels and lodges in the world. Whether they are simple beachside bachs, immaculately designed cliffside retreats, or pastoral homesteads, there's plenty of choice out there when looking for the best hotels in New Zealand.
Considering that Australia and New Zealand have finally decided on an official post-COVID travel bubble, here are 14 of the best options for those looking for the kind of restoration and mental break only the cross-section of luxury and nature can provide.
The Best Hotels New Zealand Has To Offer
---
Huka Lodge, Taupo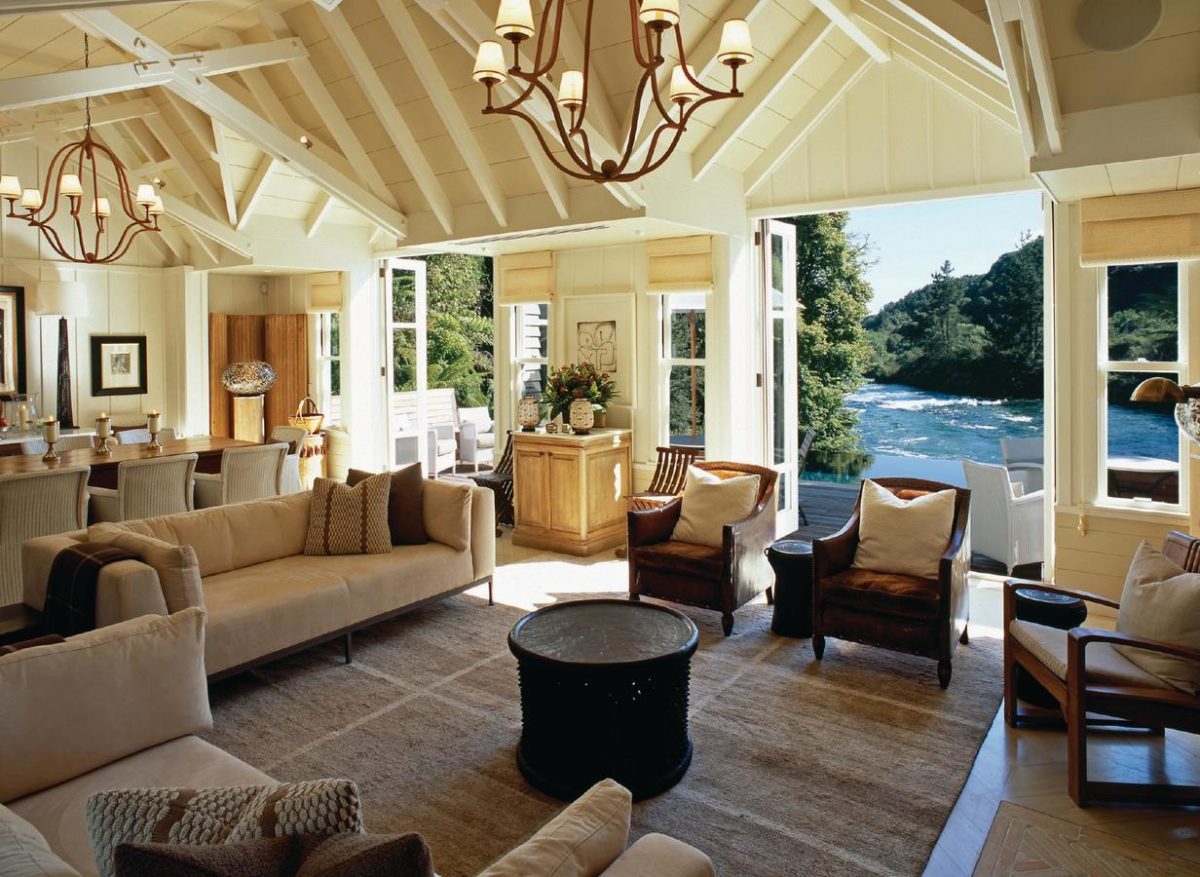 From humble beginnings as a fishing lodge in the 1920s to what is now the defining luxury nature escape for New Zealand, Huka Lodge is a true one-of-one. Located on the ruffled banks of the Waikato River, guests can fly-fish from their porch, hide away in the vaulted wine cellar, or just spend days exploring the property's sprawling 17 acres of countryside.
---
---
The exclusive lodge is built with 18 junior lodge suites, one lodge suite, and two exclusive cottages, with several suites spread between them. The bucolic and uncompromising slice of riverside luxury has proved so irresistible over the past 90 years, that Huka Lodge's illustrious list of regular guests includes Queen Elizabeth II, Bill Gates, William & Kate, and Rupert Murdoch.
Address: 271 Huka Falls Road, Taupo 3377, New Zealand
Contact: +64 7 378 5791
---
Matakauri Lodge, Queenstown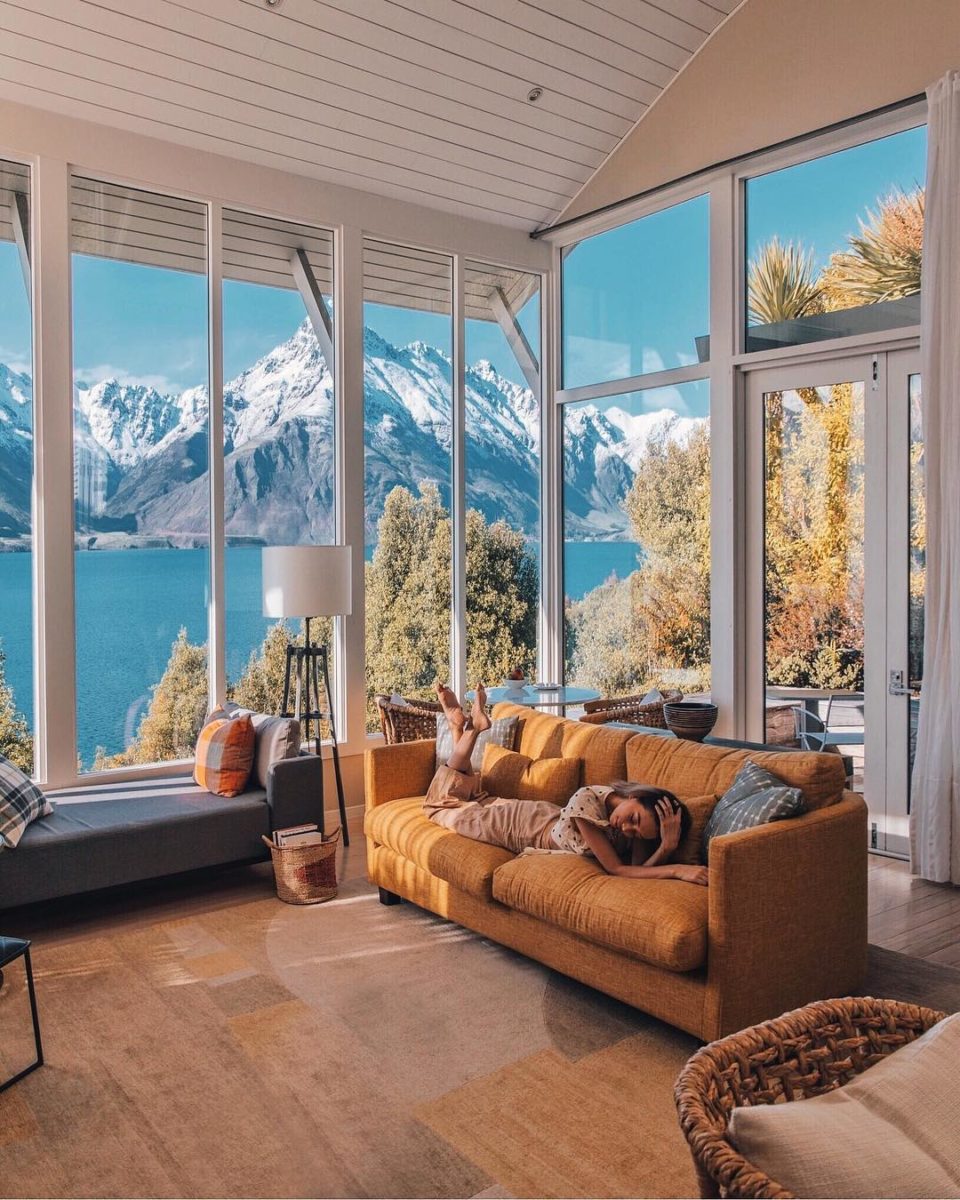 Right on the fringes of adventure-loving Queenstown, the 12-room Matakauri Lodge rests on much more than just the inspiring snow-tipped trio – The Remarkables, Cecil and Walter Peak – that surrounds the property. A high-standard of luxury complements that unrivalled location, all incredibly detailed and generous.
The elegance that defines Marakauri Lodge reaches its peak with the four-bedroom Owner's Cottage, fashioned as an alpine lakeside retreat with its outdoor courtyard and infinity edge balcony hot tub. Depending on the season, and the amount of bedrooms you need, the Owner's Cottage fetches anywhere between NZ$13,450 (~AU$12,390) and NZ$26,000 (~AU$23,952) per night.
Address: 569 Glenorchy Road, Queenstown 9348, New Zealand
Contact: +64 3 411 1008
---
The Farm at Cape Kidnappers, Hawke's Bay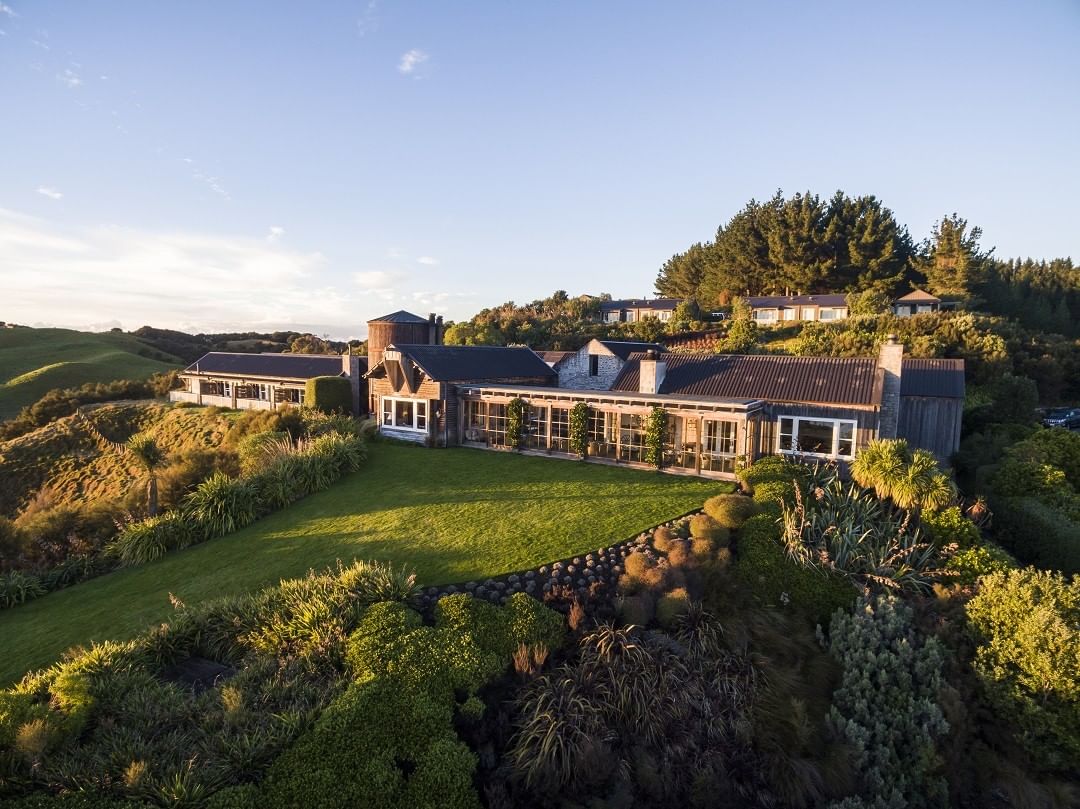 Although the same group that own Matakauri Lodge and Kauri Cliffs, operate The Farm at Cape Kidnappers, this property is the understated palatial escape of the trio, distinguished by its own par 71 golf course. The dramatic, Tom Doak-designed Cape Kidnappers Golf Course isn't the only reason to stay here however.
Much like Robertson Lodge's other properties, the Owner's Cottage is the pinnacle achievement, and the ultimate expression of The Farm's ageless charm. With four bedrooms, the lodge takes pride of place amongst the property's 6,000 acres of pristine waterfront land and rolling pastures. The four-bedroom cottage is tastefully appointed, with each bedroom featuring its own open fireplace and private balcony. Price is upon enquiry so make sure to get think long and hard about those dates before you go to make a booking.
---
---
Address: 446 Clifton Road, Te Awanga, Hawke's Bay 4180, New Zealand
Contact: +64 6 875 1900
---
Mahu Whenua, Wanaka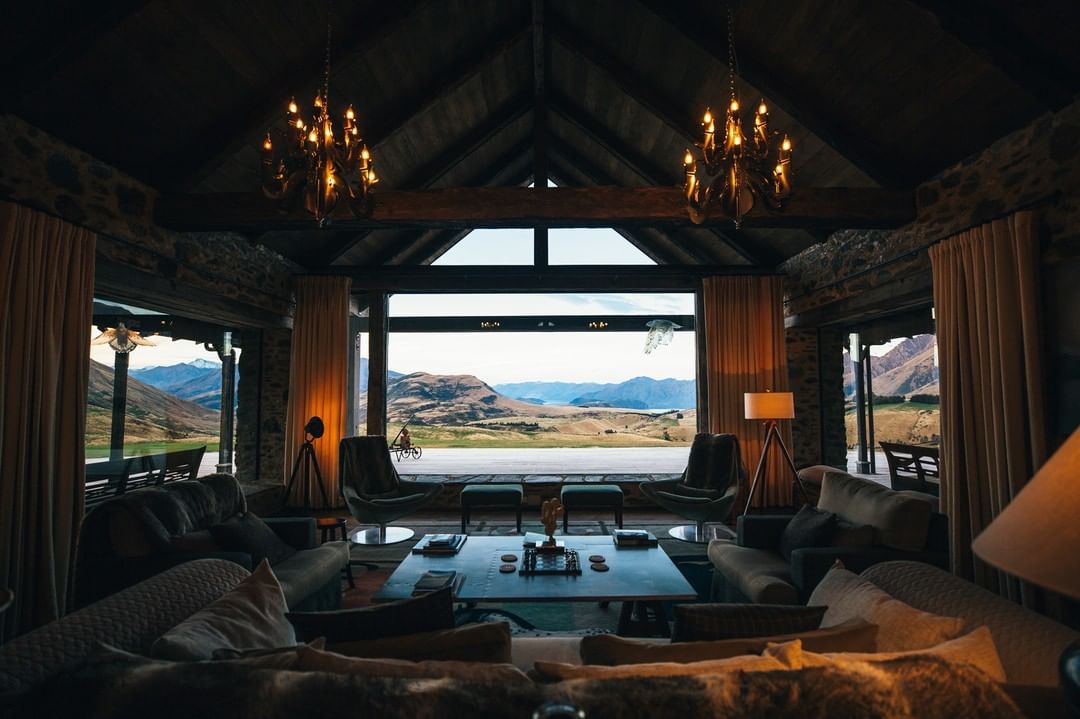 While almost all of the best luxury hotels in New Zealand hold privacy and pristine, ethical design as core values, few can claim an ambiance quite like Mahu Whenua. Located across 136,000 of private land and quintessential nature – think soaring peeks, endless green valleys, and winding rivers – it's rightfully one of the most treasured properties on New Zealand's South Island.
Why? Well this eco sanctuary and ridgeline homestead is as lost amongst nature as you can get, placing great value on seclusion while also offering a luxury farm-style style with all the expected creature comforts like an outdoor fireplace and heated spa pool. Only a 10 minute chopper ride from Queenstown Airport (or 20 minutes drive from central Wanaka), Mahu Whenua is a stark reminder of just how theatrical New Zealand's topography is – a perfect base for hiking, biking, horse riding, and 4WD tours.
Address: Motatapu Road, Wanaka 9382, New Zealand
Contact: +64 3 441 2200
---
Otahuna Lodge, Tai Tapu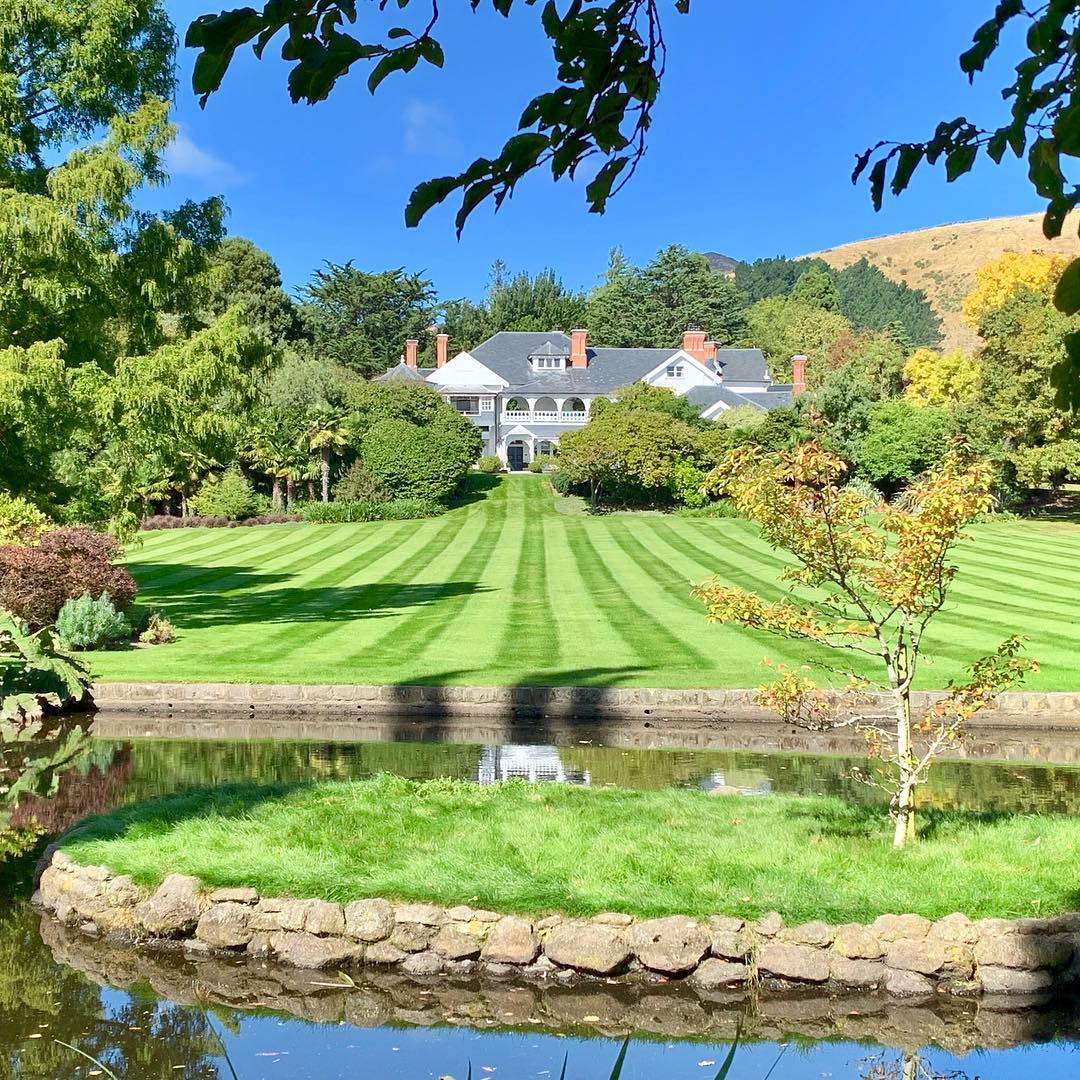 Of all the luxury nature lodges in New Zealand, the fabled Otahuna Lodge is one of the best known. Recognised for its magnificent contrast against the ever-changing pastoral landscape with a timeless 1895 homestead, it was originally built for Sir Heaton Rhodes, giving the graceful lodge an old-world, dignified patina that separates it from its peers.
The well-groomed lodge is connected to surrounding vineyards and restaurants with its own private helipad, but you'll likely want to switch off and spend all your time exploring this sprawling property, which hosts luxury suites as well as the estate's kitchen, parlour and dining room.
Address: 224 Rhodes Road, Tai Tapu 7672, New Zealand
Contact: +64 3 329 6333
---
Whare Kea, Wanaka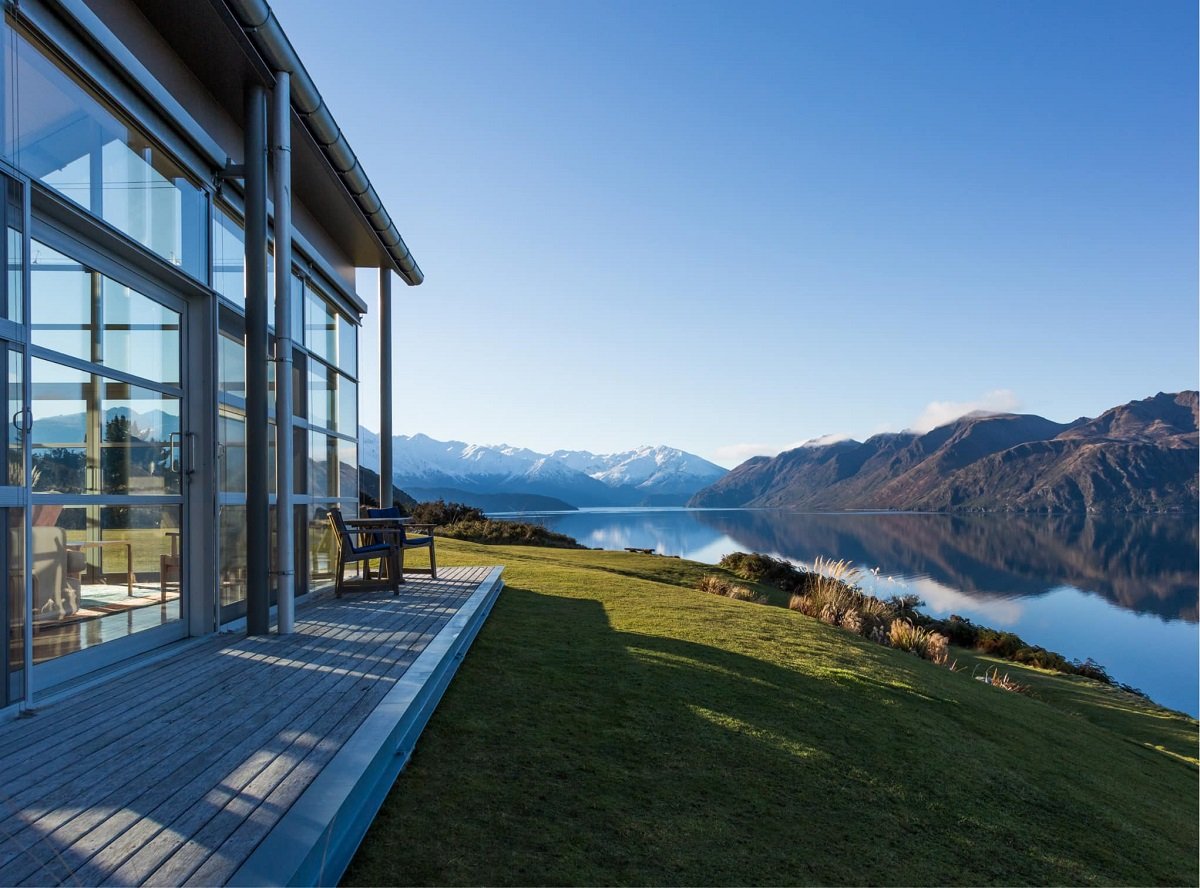 Framed by the Southern Alps, Whare Kea is a peaceful and luxurious nature retreat fringing the shores of Lake Wanaka. You only need to drive 10 minutes from Wanaka's town centre to get here, dramatically ripping you from urban life and planting you firmly in the restorative centre of abundant nature channelled by this gorgeous steel, glass and timber building.
---
---
Whare Kea also serves as the best possible base for adventures around Central Otago, which invariably translates to some of the finest wine in the country. And having that kind of relentlessly tranquil anchor, surrounded by all that adventure, is the perfect way to experience New Zealand.
Address: 494 Wanaka Mount Aspiring Road, Wanaka 9343, New Zealand
Contact: +64 3 443 1400
---
Minaret Station, Wanaka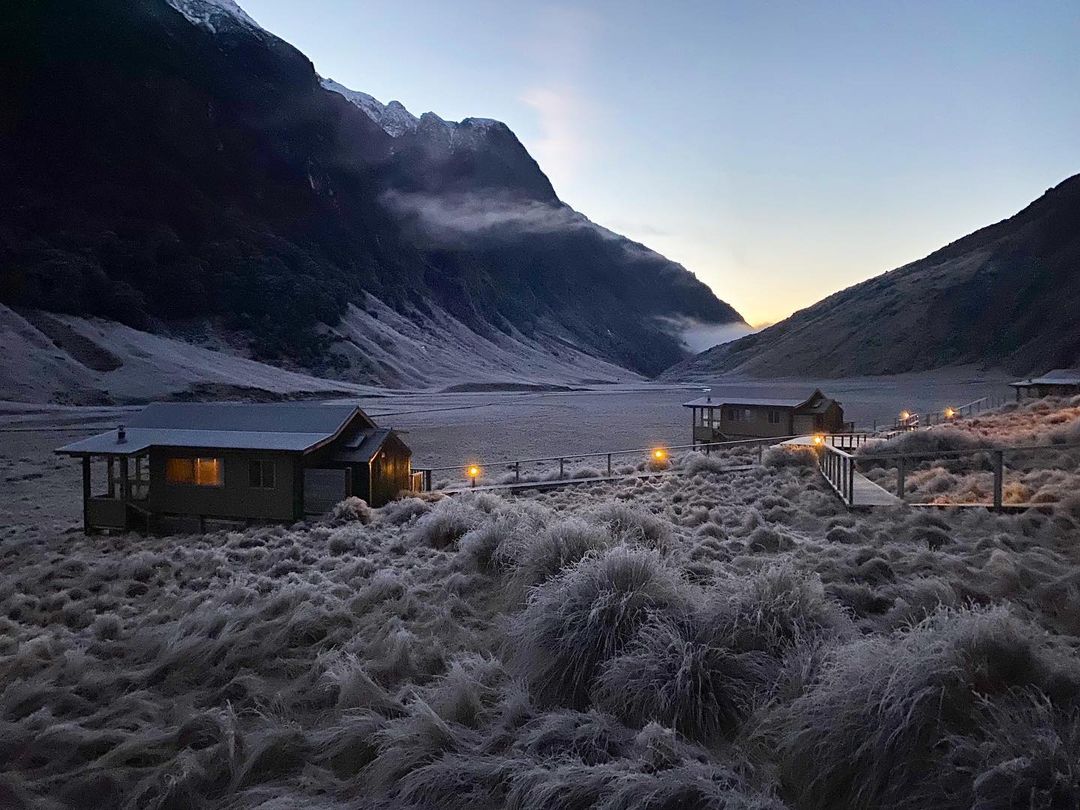 Accessible only by helicopter, Minaret Station is not only one of the best hotels in New Zealand, but easily one of the most remote. The alpine lodge is a bundle of hiking, fly-fishing, and heli-skiiing, combined with lavish living on 50,000 acres of working high country farm.
Many guests have referenced the Lord of the Rings vibe when staying here, given it feels like a fantasy at 915 metres elevation, surrounded by rugged wilderness and not much else. Between helicopter tours of nearby Fiordland and Dusky Sound, it'll be tough to find the time to actually spend in the luxuriously appointed chalets, of which there are only four in addition to the Mountain Kitchen and two living areas.
Address: 10 Lloyd Dunn Avenue, Wanaka 9343, New Zealand
Contact: +64 3 443 5860
---
Edenhouse, Ngatimoti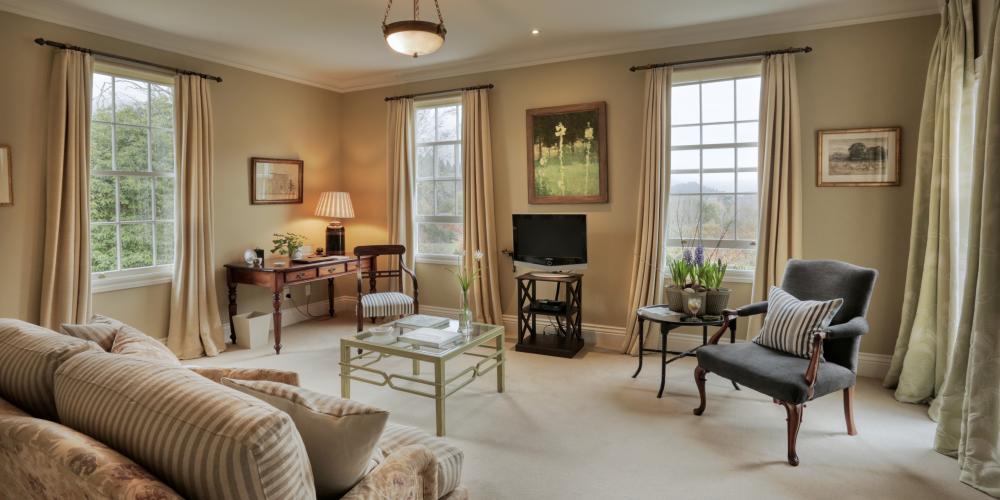 Idyllic with only three exclusive suites, Edenhouse is unquestionably the best luxury hotel in the dramatic Nelson-Abel Tasman region. Defined by all that quintessential South Island beauty, the property is constantly coated with accolades and showered with five-star reviews, many referencing the seamless service and singular sense of luxury.
The grand, bucolic manner-esque feel, helped by the well-manicured gardens, certainly helps with the atmosphere, but it's hard to look past the proximity to Abel Tasman National Park – consistently ranked as one of the top tourist attractions in New Zealand, and a huge source of adventure from trout-fishing to horse trekking.
Address: 213 Thorpe-Orinoco Road, Ngātīmoti 7196, New Zealand
Contact: +64 3 526 8174
---
---
---
Blanket Bay, Glenorchy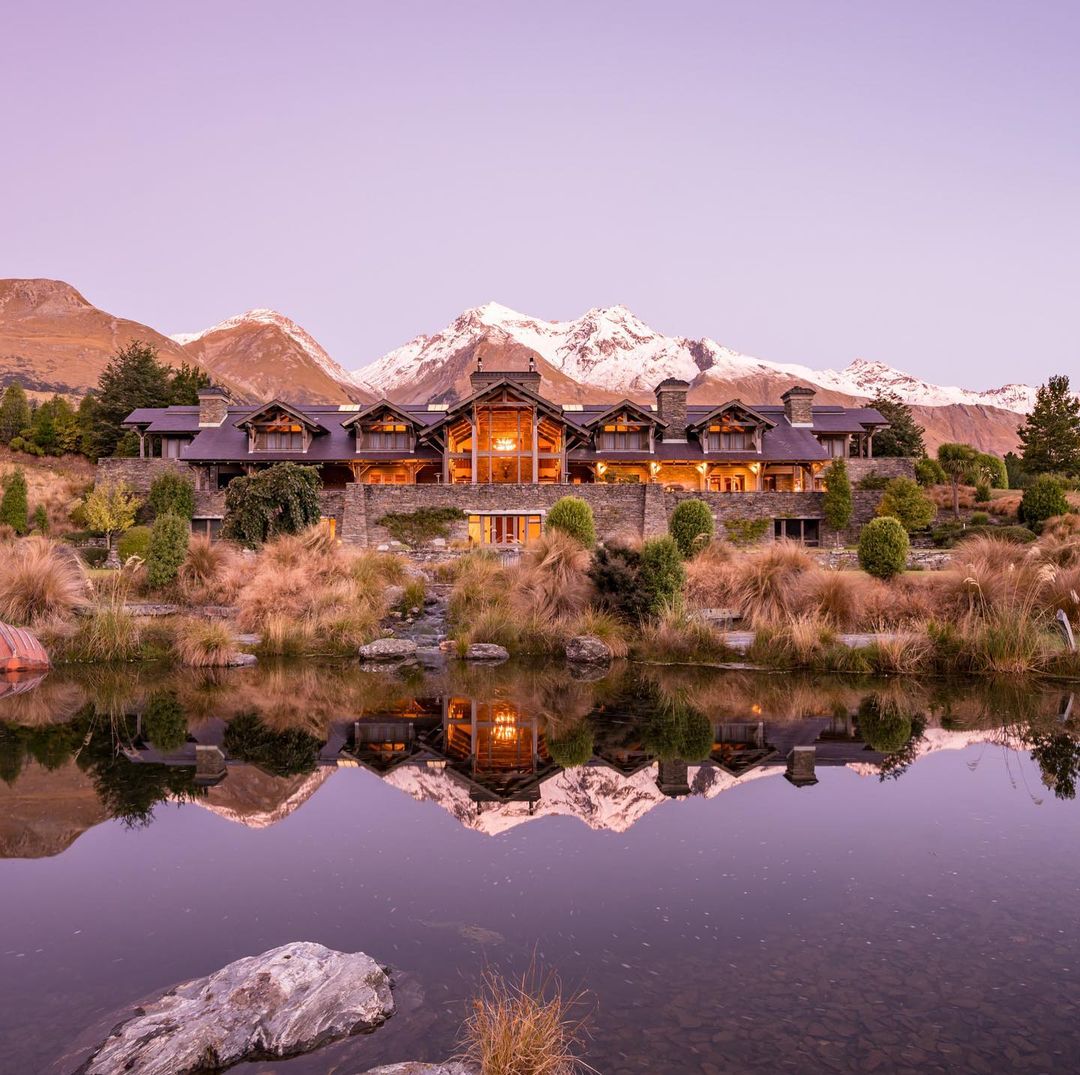 Although competition is fierce amongst the luxury hotels of New Zealand, few manage to best what's on offer at Blanket Bay. Just outside of Queenstown, carving out its own dramatic spot on Lake Wakatipu and lifted by views of the Humboldt Mountains, this wilderness spectacle is rightfully listed as one of the greatest experiences you can have in New Zealand.
Between the main lodge and several chalets, there are only 12 rooms that make up Blanket Bay, all worked up with worldly interiors and local artworks. A helicopter flight over Milford Sound is obviously a must here, but so it fly-fishing and a jet-boat ride through Dart River.
Address: 4191 Glenorchy-Queenstown Road, Glenorchy 9372, New Zealand
Contact: +64 3 441 0115
---
Acacia Cliffs Lodge, Taupo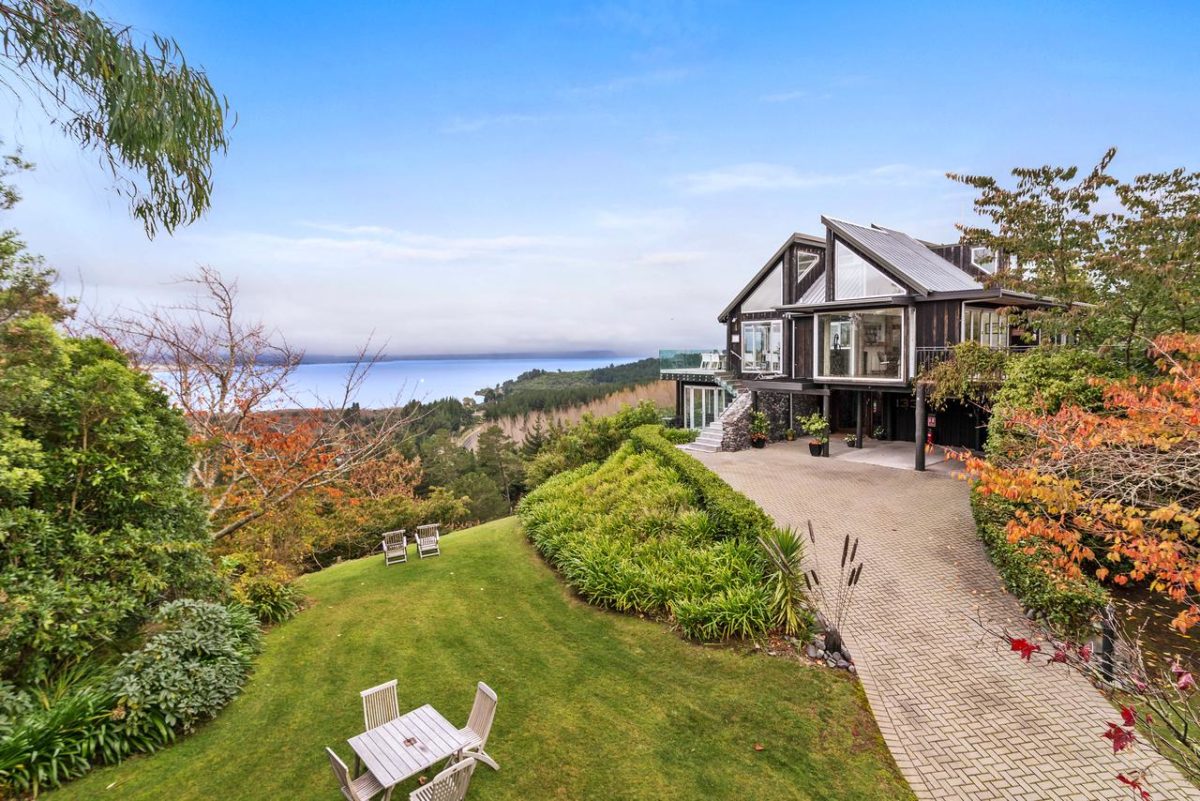 New Zealand architect Kelvin Peck has shaped this sculptural lodge as the perfect blend of luxury aesthetics and abstract design. And it's lifted even higher by its explicitly dramatic location.
Overlooking sparkling Lake Taupo, the visual flair on offer reflects the essence of New Zealand's distinct reputation as a country of unparalleled natural beauty. The second-by-second reminder of New Zealand's majesty is complemented by four luxury en-suite rooms, each with their own private deck, for individual bookings or exclusive use.
Address: 133 Mapara Road, Acacia Bay, Taupō 3377, New Zealand
Contact: +64 7 378 1551
---
Annandale & Scrubby Bay, Akaroa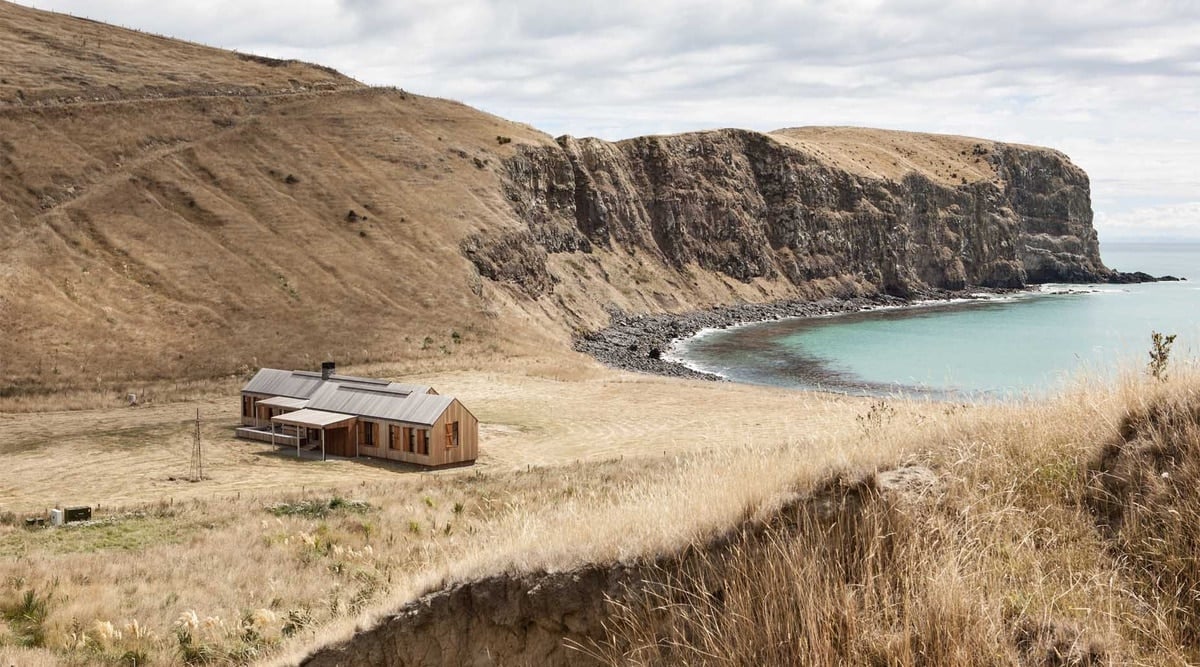 Annandale is one of the most renowned farms on New Zealand's South Island, and it's been that way ever since the property was developed back in 1948. Today, the sprawling 4,000 acre property boasts a few different luxury lodges, the original four-villa Annandale Homestead, and newer additions like Scrubby Bay and Seascape.
This kind of versatility makes Annandale a veritable network of some of the best luxury hotels in New Zealand, from the absolute romance and privacy of Seascape, to the decidedly modern cedar bach that is Scubby Bay. The latter, a picture of pure escapism, fringes a crescent-shaped surf beach and looks like nothing else you'd find in New Zealand (which is hard enough to prove, let alone believe).
---
---
Address: 130 Wharf Road, Pigeon Bay, RD3, 7550 Akaroa, New Zealand
Contact: +64 27 566 8776
---
Delamore Lodge, Auckland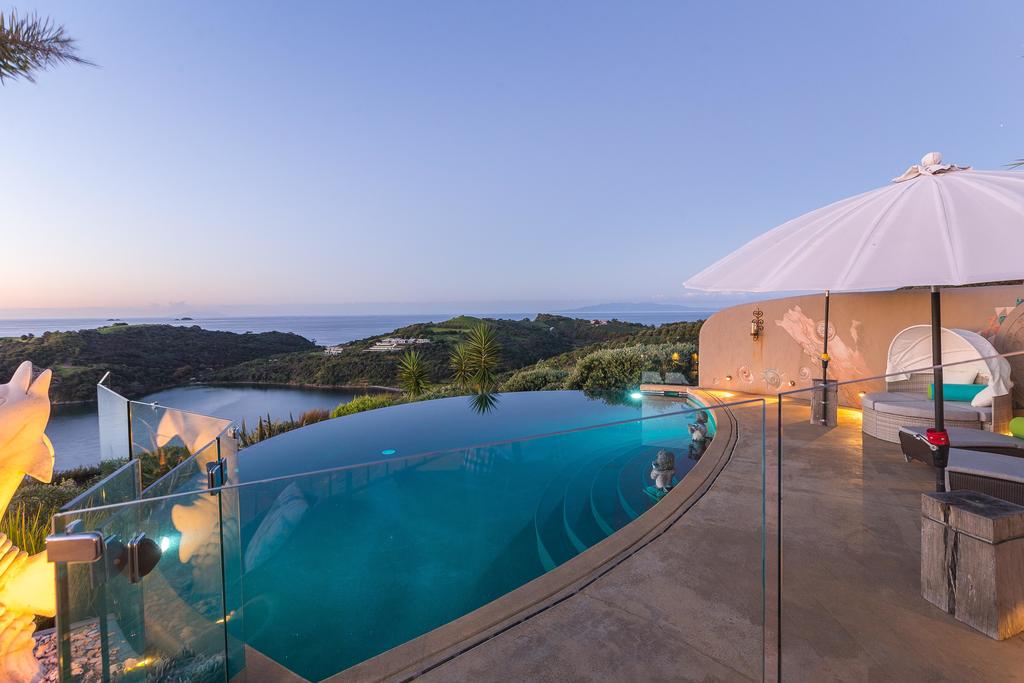 Located on Auckland's famous Waiheke Island, Delamore Lodge is clearly a shoo-in for lovers of fine New Zealand wine. The island is dotted with some of the best and most internationally renowned wineries you can find on the North Island, so the commanding cliffside lodge is obviously going to be swimming with some of the best drops around.
The hook-shaped, first-class lodge makes full use of its enviable location sweeping across Auckland's visually rich Hauraki Gulf for the ideal backdrop to all that wining and dining.
Address: 83 Delamore Drive, Oneroa, Auckland 1081, New Zealand
Contact: +64 9 372 7372
---
Owen River Lodge, Murchison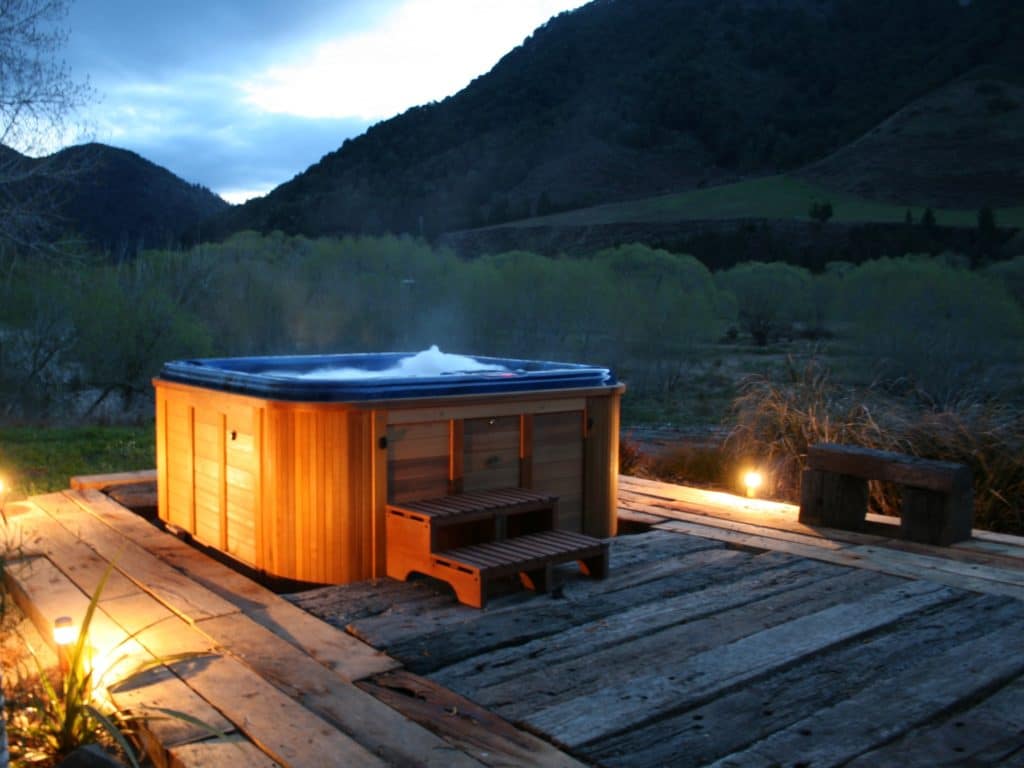 A speciality fly-fishing lodge located near Murchison on the South Island, Owen River Lodge boasts some of the best trout fishing in the world in stunning surrounds, both natural and man-made. The lodge itself offers any fisherman exactly what they'd need, including a stunning deck for an evening beer.
The make the most of the stylish accommodation be sure to check in on any fly-fishing packages regularly offered. They come up seasonally so time your visit right and you can experience why Owen River Lodge is frequently regarded as one of the best fishing lodges in New Zealand.
Address: 173 Owen Valley East Road, Murchison, New Zealand
Contact: +64 3 523 9075
---
The Lodge at Kauri Cliffs, Matauri Bay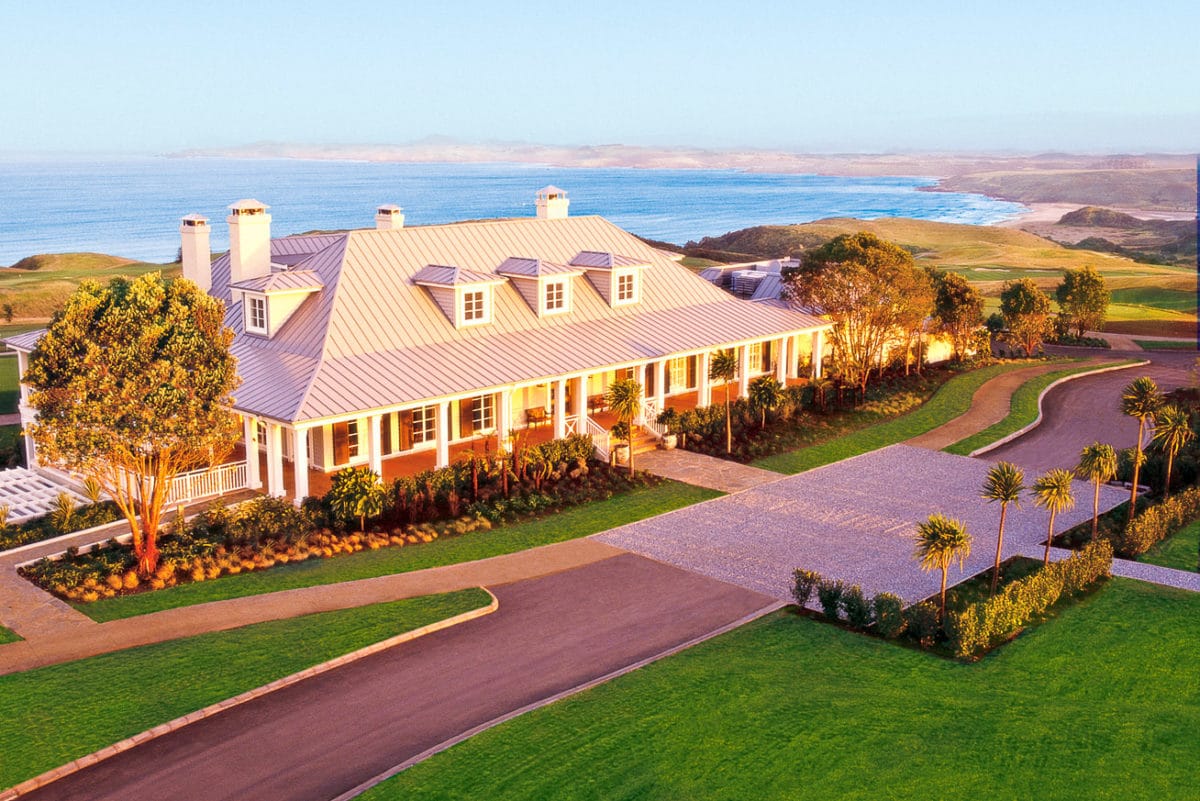 The mere mention of Kauri Cliffs is a name that gets any golfer's heart racing, and the accommodation is just about on par with the course. Part of Robertson Lodges, there's 22 guest suites, and a two Bedroom Owner's Cottage positioning this as the group's largest offering. Every suite at Kauri Cliffs offers its own private porch, bedroom with sitting area and open fireplace, walk-in wardrobe and en-suite
---
---
Northland fishing and seafood BBQ's are frequent here, so if you're not spending time in the high-end spa or making the most of the golf course, there's still plenty to do.
Address: 139 Tepene Tablelands Road, Matauri Bay, Northland, 0478 New Zealand
Contact: +64 9 407 0010