The capital of the U.S. state of Hawaii and the gateway to the island chain, Honolulu features an eclectic mix of beaches, cuisine and Polynesian culture. While many visit Hawaii on extended stays, many use it as a stopover en route to the US mainland, stopping in Honolulu for some sun, surf and a taste of the iconic state capital. Here's our guide to 48 hours in the vibrant epicentre of the Pacific.
Getting around
While public transport is cheap and plentiful in Honolulu, our preferred method for short trips is using Uber. Because Hawaii is a tourist mecca, car rental is abundant and is recommended if you plan on heading any further than Waikiki.
Cash or card?
Like the rest of the US, card is usually the preferred method of payment at any restaurant, hotel or retail or department store. However, the further you get out of Honolulu, the more cash will come in handy.
---
---
Eats
Leonard's Bakery– Famous among locals and almost a rite of passage among travellers, Leonard's is a Portuguese bakery famous for their malasadas. If you're unfamiliar with Portuguese pastries, a malasada is a fried Portuguese doughnut without a hole, akin to our jam doughnuts in Australia. Founded in 1953, Leonard's features a selection of fillings that are as good as you'll find anywhere on the mainland, all only a stone's throw from Waikiki. Our favourite is the haupia—or coconut—filling, but be warned—the lines and wait time here can be testing. Regardless, Leonard's is a must stop regardless of your length of stay in Honolulu.
Uncle Clay's House of Pure Aloha – While nestled in an unsophisticated strip mall (Aina Haina Shopping Centre) en route towards Hanauma Bay, don't let appearances fool you. Uncle Clay's fuses the best of Hawaii's favourite dessert—shave ice—with a modern approach beyond the basic syrup flavours you'll find at pop ups and food trucks around Oahu. Shave ice itself traces it's history back to Japanese settlers, and is not to be confused with snow cones, which are just crushed ice. What sets Uncle Clay's apart is the variety of all natural, locally-themed flavours that are all homemade and locally sourced, ensuring desserts feature 'no artificial anything,' living up to the 'house of pure aloha' title. Despite its location in eastern Honolulu, Uncle Clay's is a great stop en route to or returning from Hanauma Bay or Koko Crater Trail. If you're looking for the best shave ice in Hawaii, look no further.
The Cheesecake Factory – Hardly needing an introduction, The Cheesecake Factory has established itself as another rite of passage among travellers, most notably Australians. Situated on the upmarket Kalakaua Avenue, TCF is famous for its huge serving sizes, its 250+ menu items (excluding desserts) and its plethora cheesecake options to enjoy in-house or take away. Anyone familiar with US travel will know of TCF's reputation, and while it may not help the beach rig on Waikiki the next day, it's a must stop in Honolulu regardless of whether you're passing through or on an extended stay.
Shopping
Ala Moana Centre – Billed as the largest open-air shopping mall in the world, Ala Moana is—believe it or not—the seventh largest shopping mall in the entire United States. This is no mean feat, and Ala Moana doesn't disappoint with a huge range of designer options from Moncler to Vuitton, while department store options include Macy's, Bloomingdale's and our pick, Neiman Marcus. While Hawaii isn't specifically known for shopping compared to the rest of the country, Honolulu surpasses expectation and Ala Moana is a key factor. Perfect for a morning or afternoon of shopping away from Waikiki.
Kalakaua Avenue – Known locally as the Rodeo drive of Honolulu, Kalakaua is the beating heart of Hawaii's nightlife fused with some of the most illustrious hotels, restaurants and shops in Waikiki. Stretching from downtown Honolulu to the end of Kapiolani Park, Kalakaua juxtaposes the Waikiki oceanfront with a mix of high-end designer boutiques, with the hotspot of Luxury Row (or 2100 Kalakaua) featuring Hugo Boss, YSL and Gucci among others. Because of the high concentration of hotels and resorts in this precinct, the avenue is the best place to shop, eat and drink in close proximity to the beach. If you're travelling through Honolulu, chances are you'll be staying in Waikiki so get to know Kalakaua Avenue and everything it has to offer.
Our pick – Maui Brewing Co. Waikiki, easily the best spot on Kalakaua for afternoon or evening beers.
Beaches
Waikiki – The obvious pick in Honolulu and certainly not off the beaten track, Waikiki Beach is one of the world's most recognised beaches, and for good measure. While it offers no shortage of activities, from surfing to outrigger canoeing, Waikiki is best-utilised for working on that base tan or as a backdrop for evening drinks. With Diamond Head imposing its giant silhouette at one end, the tourist vibe along Waikiki can be polarising but is a must-see on any visit to Honolulu
---
---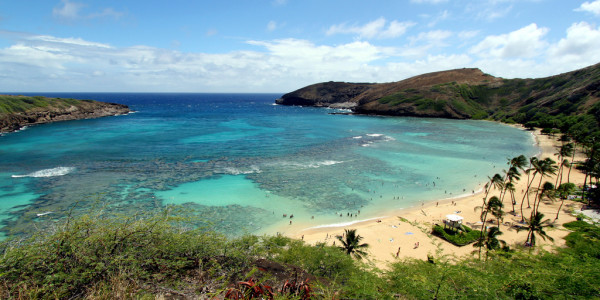 Hanauma Bay– One of the most popular tourist destinations on the island, Hanauma Bay is hands down the best place to snorkel on Oahu, with a plethora of marine life among its many reefs and inlets. Beach conservation is paramount as the bay is now a nature preserve and a marine life conservation district, meaning all visitors must pay an entrance fee and watch an educational video before entering the beach itself. While this might not sound enticing, it owes to past overuse of the bay, which used to service some 3 million annual visitors. Today, Hanauma bay sees around 1 million annual visitors, and is the must-see beach within Honolulu's borders. (note – Hanauma Bay is closed on Tuesdays)
Check out our guide to Hawaii's best surf spots.
Tourist attractions
Pearl Harbour – While not technically in Honolulu, touring Pearl Harbour is a great way to learn more about Hawaii's pre-statehood history. Used as a key military outpost in the middle of the Pacific during World War II, The Japanese Imperial Forces attacked Pearl Harbour on the morning of December 7, 1941, entrenching the harbour just north of Honolulu into human history for the key role the attacks played in causing the United States' entry into World War II. Touring the USS Arizona Memorial gives great perspective to the sacrifices made by all soldiers who fought in both World Wars, and while any Pearl Harbour tour requires an early start, you're usually done before midday leaving ample time to get to the beach or enjoy any of the many other options Honolulu has to offer.
Koko Crater Trail– A Boss Hunting favourite, Koko Crater Trail is an old railway turned staircase created to service the disused military outpost at the summit. The trail is 3km or 1050 stairs to the stop, and while not an easy hike it is suitable for most levels of fitness. Stunning views of Hanauma Bay await, and while the stairs are less of a trail and more of a workout with a view at the top, it's perfect for any short trip to Honolulu.