I started this Air New Zealand Business Class Review on the plane and finished it yesterday. Here are my thoughts on a top-shelf experience.
I'm writing this from Air New Zealand Business Class seat 1B, my first time in the front row of any plane. We're somewhere over the Pacific Ocean 1700km away from Sydney, I'm sipping a delicious Banana, Coconut and Mango smoothie and I'm feeling the freshest and rested I've ever been following an overnight flight.
I've flown Air New Zealand to America a few times, I actually don't mind the stopover in Auckland, I find it breaks up the trip a bit if you're in Economy but still allows you to get a good sleep in if you're in Business Class. This trip is my first in Air New Zealand's Business Class and for seven of the twelve hours from San Francisco to Auckland, I slept, and it was glorious.
---
---
Here's my honest Air New Zealand Business Class Review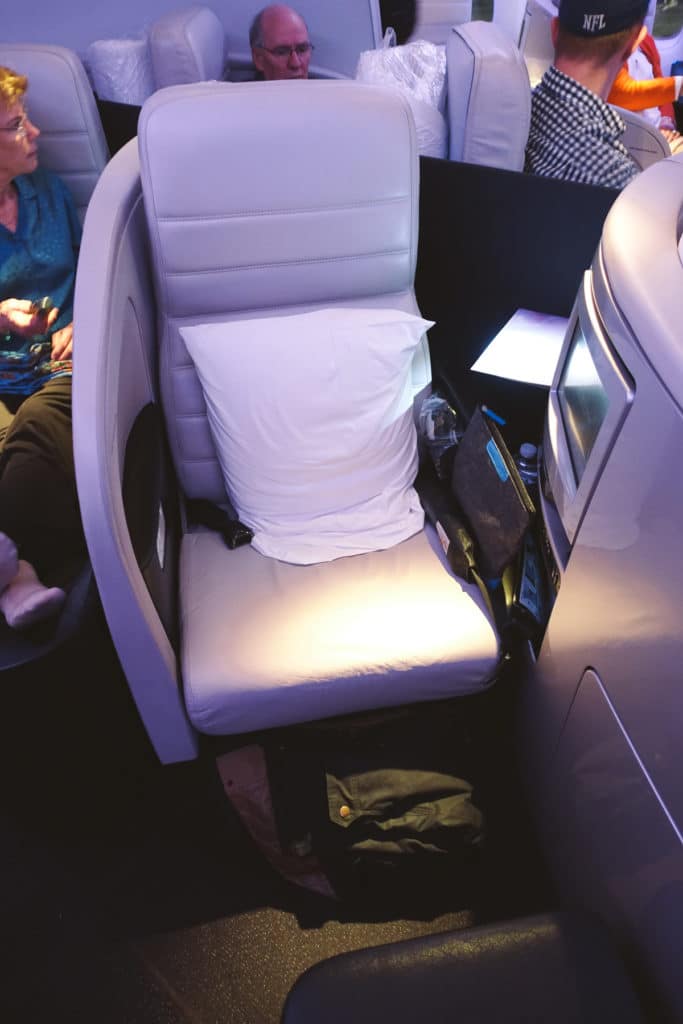 Seat & Layout
The Air New Zealand Business Class seats on their 777s features angled pods in a 1,2,1 layout, and in my opinion, it is a far superior experience than the traditional 2,3,2 on most Boeing 777s. The biggest advantage of Air New Zealand's 777 layouts, as opposed to Emirates, for example, is the true lie-flat bed. Not a bed that reclines to almost flat, but remains on an angle, which makes you feel as though you're sliding down it (that's how I feel anyway). Whilst the bed is the undeniable highlight, Air New Zealand's 777 Business Class seats also offer your own private space, much the same as those offered on the larger A380s like Etihad's. Ample storage, a huge tray table, collapsible armrest and flexible screen options all add to the experience, giving you enough personal space to relax and enjoy your flight.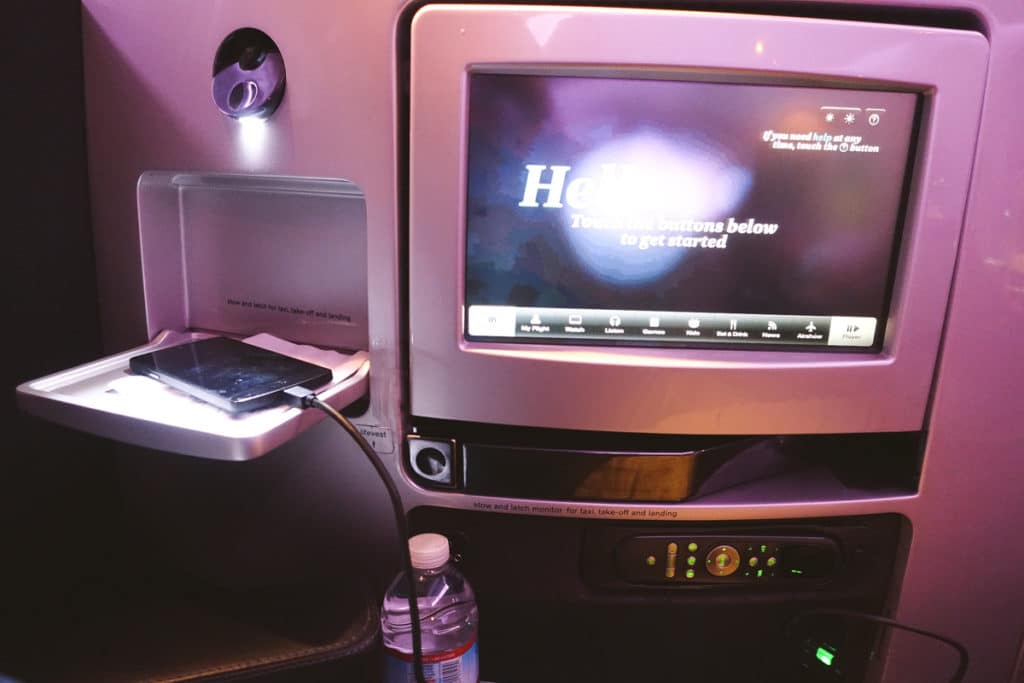 Settling in
For the first leg from San Francisco to Auckland, I flew on the 777-300 and sat in 10J. The seat angle takes a bit of getting used to at first, especially while the rest of the plane is boarding. It's also very invasive to other passengers when taking photos so bear with me. Once you sit down you are facing the rest of the plane as they file on and walk to the back, cursing at you under their breath (well that's what it feels like). You sit there with a mixture of feelings. You're smug about flying Business Class but almost a bit embarrassed as everyone stares you down on the way through. Once the plane has boarded, however, and you've got a Champagne in hand, you completely forget about the slight awkwardness and settle in.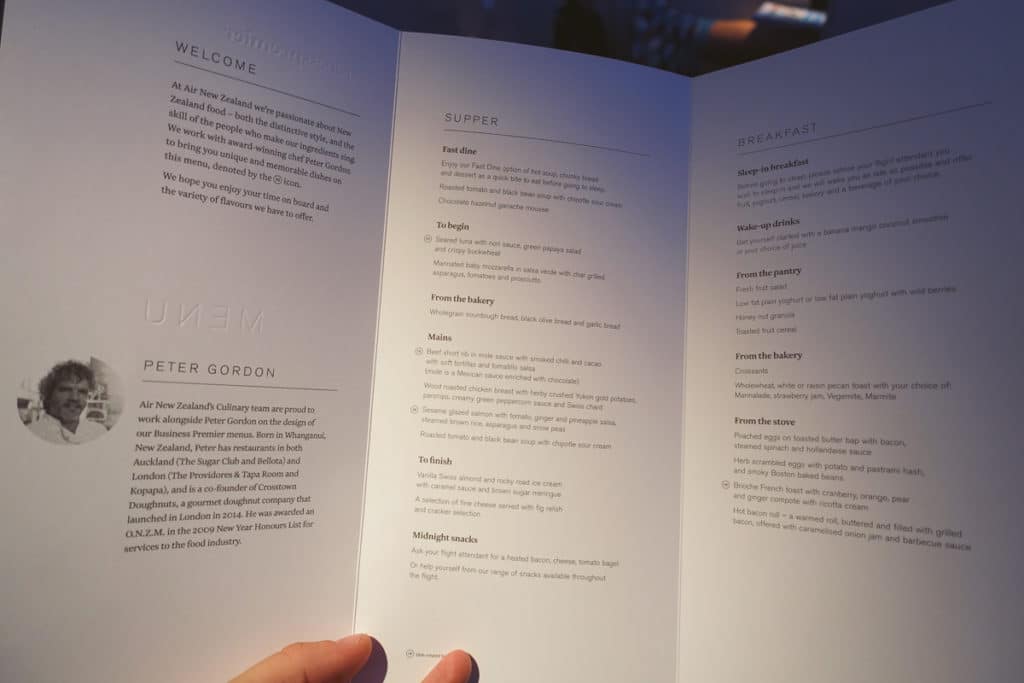 Food & Drink Menu
The menu created by Chef Peter Gordon is well presented but doesn't list specific alcohol items which I found frustrating. The attendants were excellent and I'm sure would have been happy to recite everything they had but I really like to plan out my evening and know what I'm going to accompany each meal with in advance, so I felt a bit in the dark there. Outside of that one thing, I was really impressed with the entire Air New Zealand Business Class experience.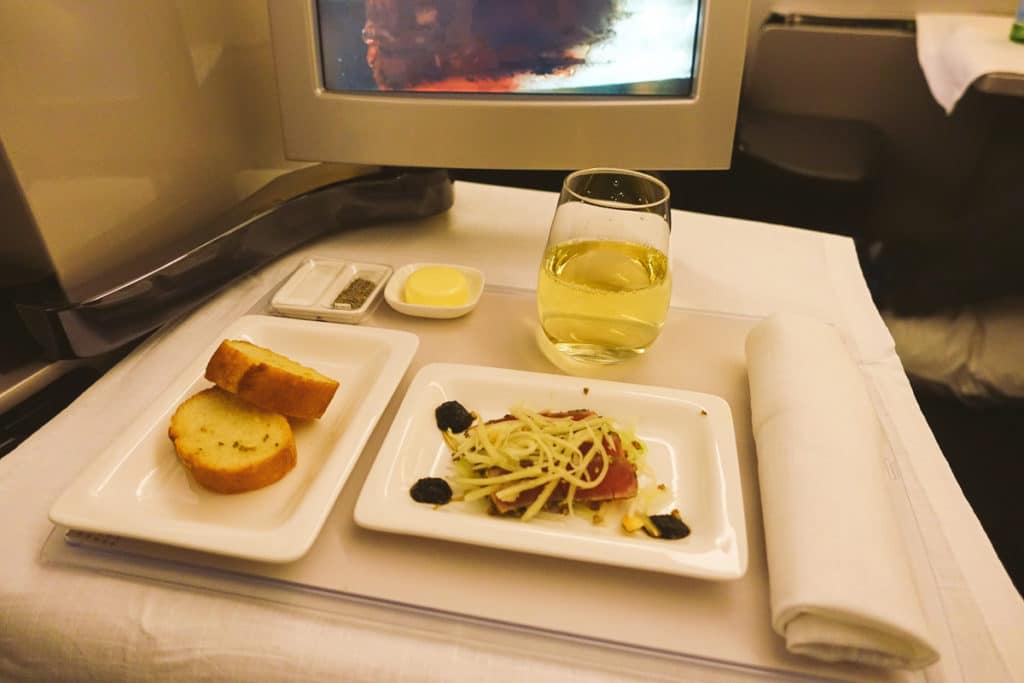 The Seared tuna with nori sauce to start wasn't out of this world but the accompanying New Zealand Chardonnay was excellent. I followed it with one of two mains, both designed by Peter Gordon, a Beef short rib in mole sauce (a Mexican sauce enriched with chocolate). It was one of the tastiest meals of my entire trip, easily the best dish I've ever eaten on a plane, I couldn't believe it.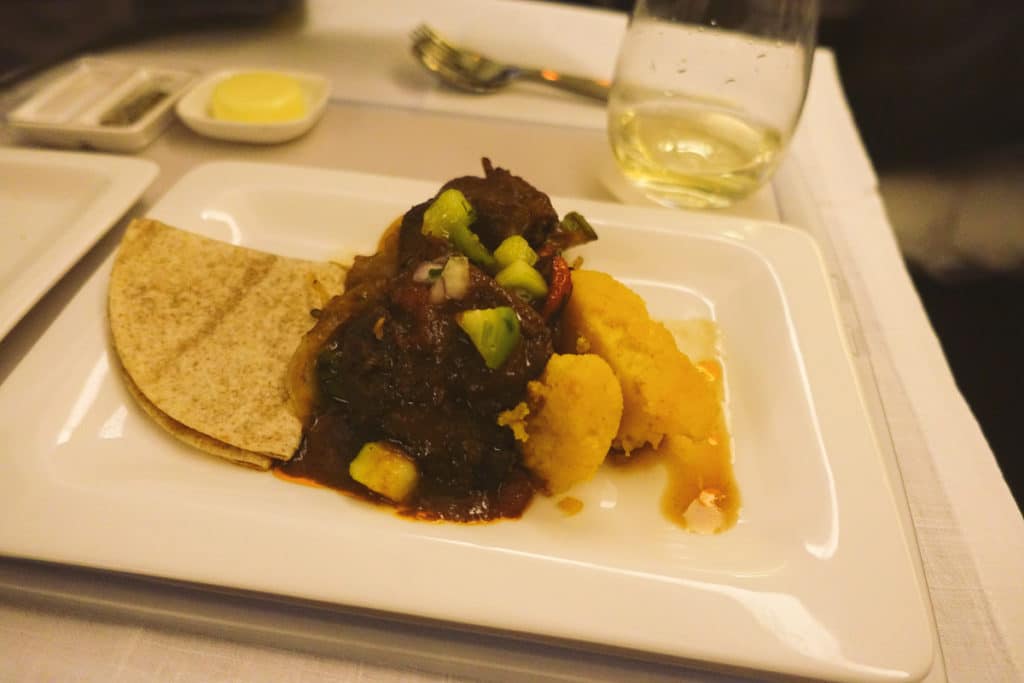 I moved to a New Zealand Pinot Noir throughout my main and it was filled without asking for an entire movie (Whiplash – which is excellent), before finishing with a Vanilla Swiss almond and rocky road ice cream – also excellent. As I rewound the movie to watch the fantastic last scene again, I was brought a selection of cheese and a glass of Port, which I followed with another two Ports.
For breakfast, I nibbled at a hot bacon roll, not particularly hungry and knowing that I'd have the opportunity to eat breakfast on the service from Auckland to Sydney. Overall, the Air New Zealand Business Class food was great.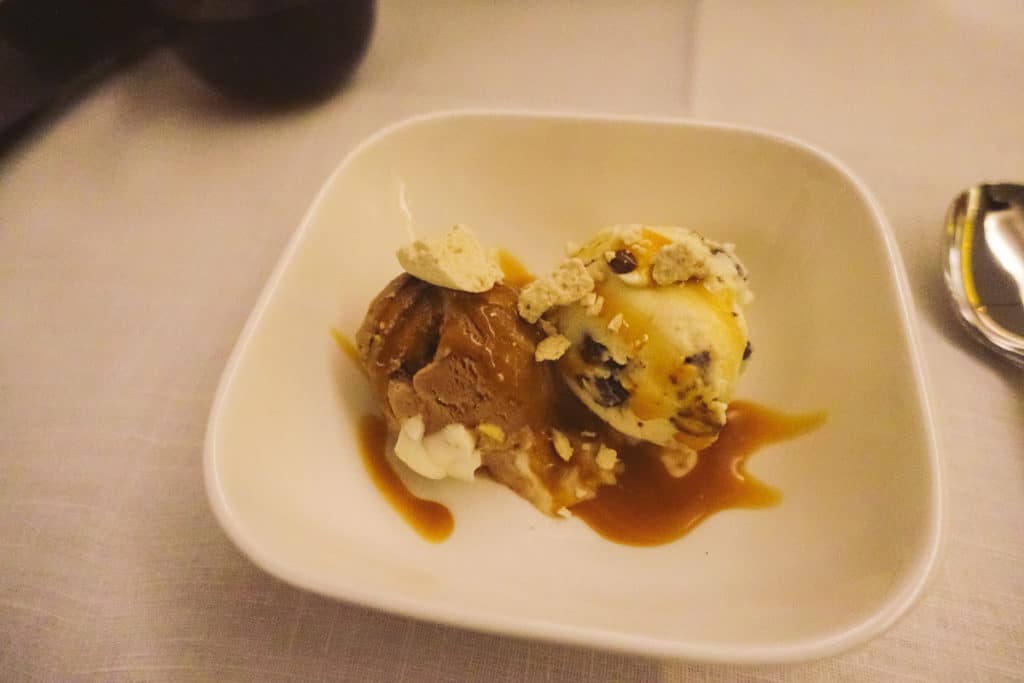 Entertainment and Service
Once my table was packed I looked through the extensive TV and Film selection and flight progress information before settling on some Jazz music (inspired by Whiplash of course) before I was asked if I would like my bed made (by a steward who genuinely seemed like he wanted to prepare my bed, not like it was a chore!) I stowed the screen and headed to the bathroom to sample the amenities provided. I returned to find my bed turned down waiting for me, looking as inviting as anything I've ever slept in. Soon after lying down I was asleep and woke up 7 hours later to have breakfast.
---
---
In summary, I thought the crew was as sensational as the service and I would (and will) recommend the Air New Zealand Business Class service to anyone who asks me.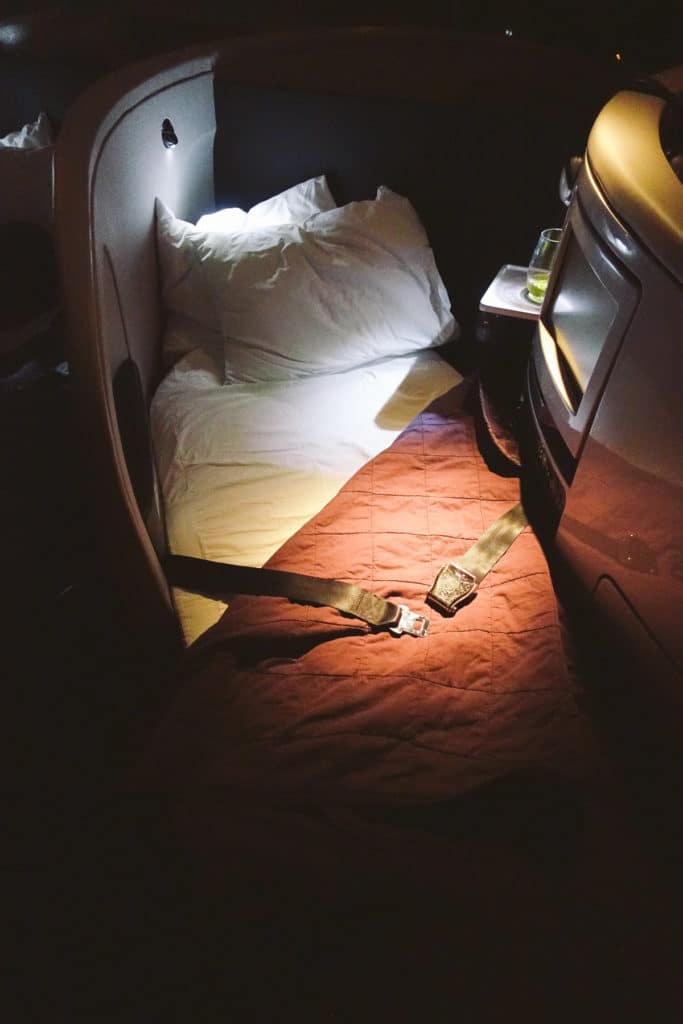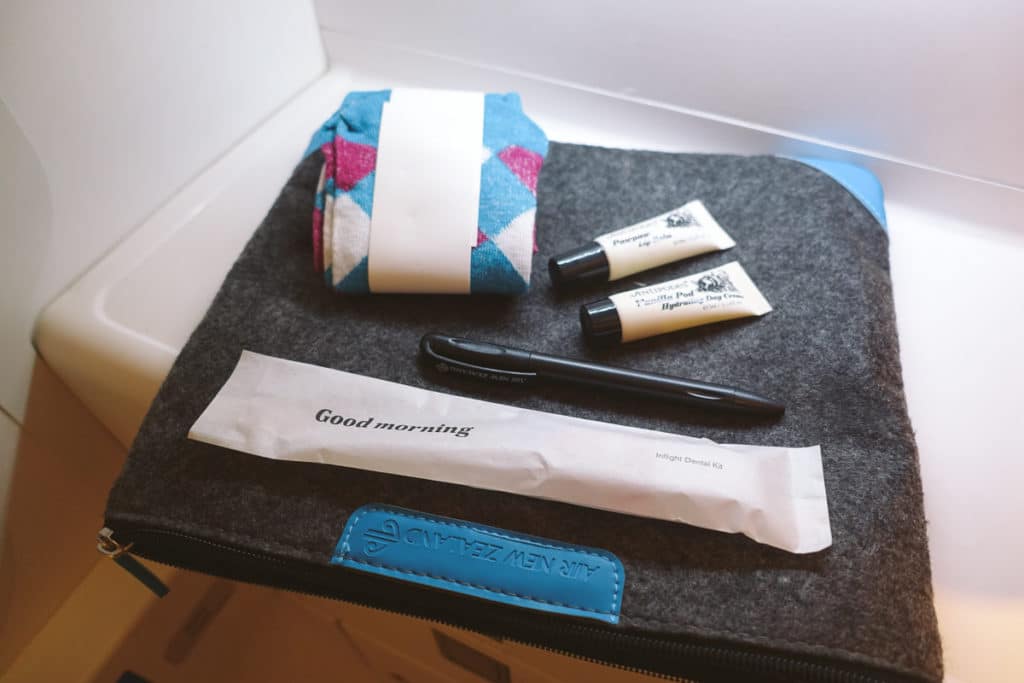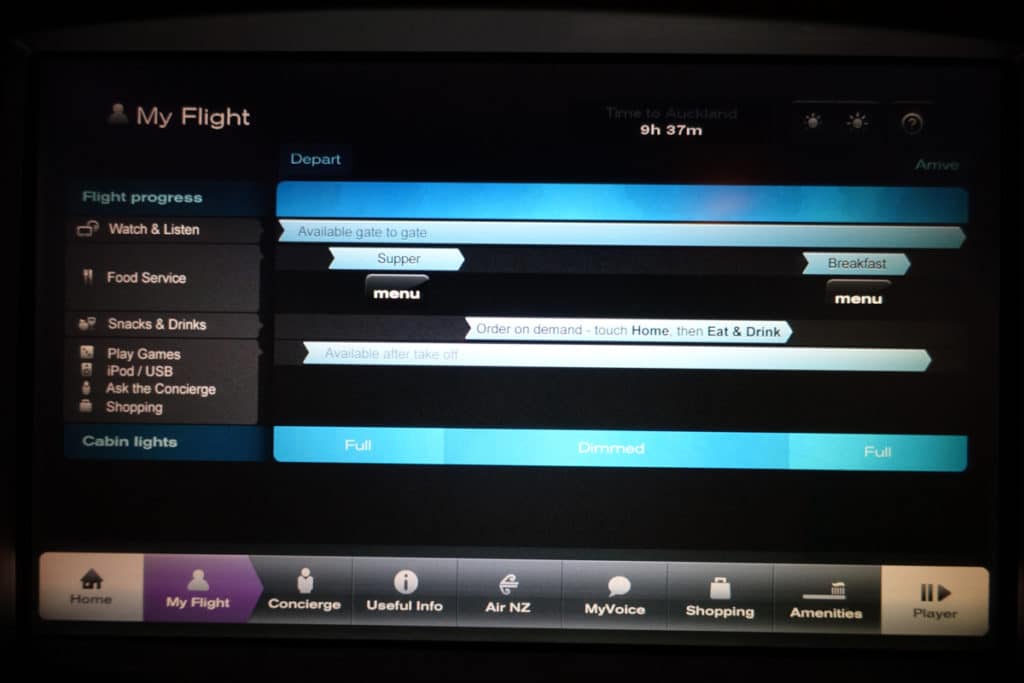 Auckland to Sydney
The three-hour flight from Auckland to Sydney on the 767-300 was completely painless following my sleep. I even had enough energy to start my article. I enjoyed another smoothie and a delicious cooked breakfast in the form of a Frittata before landing in Sydney. I suffered no jet lag whatsoever on my return, which really outlined the true value of flying Business Class.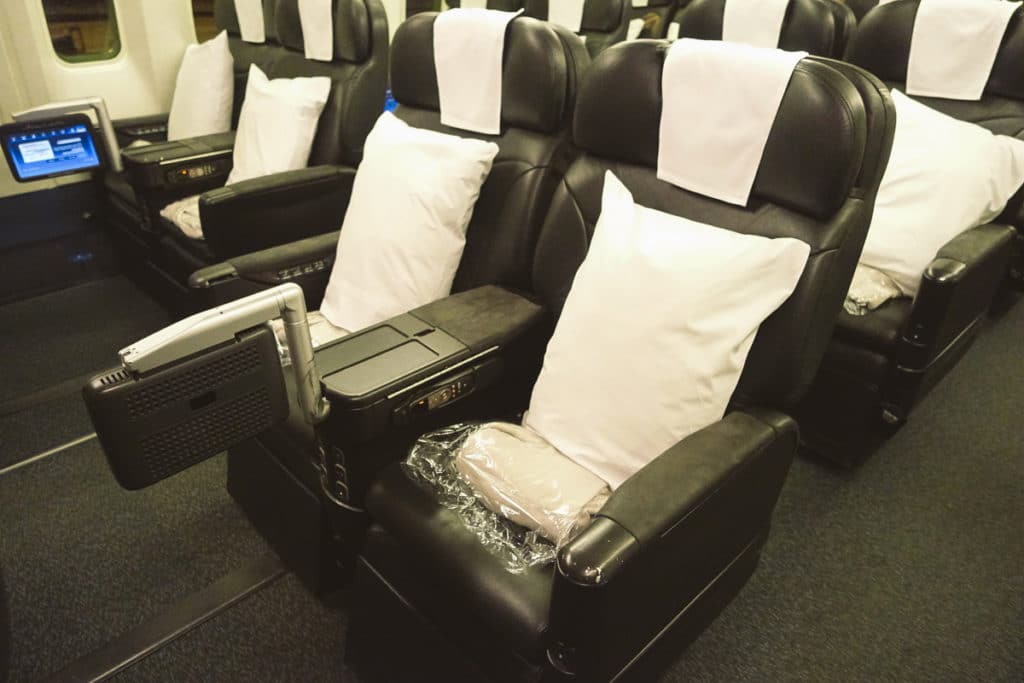 Final thoughts
I thought the entire Air New Zealand Business Class experience was pretty flawless so there's not a lot of tips to share but I'd like to offer the following thoughts with this map I annotated from Seat Guru.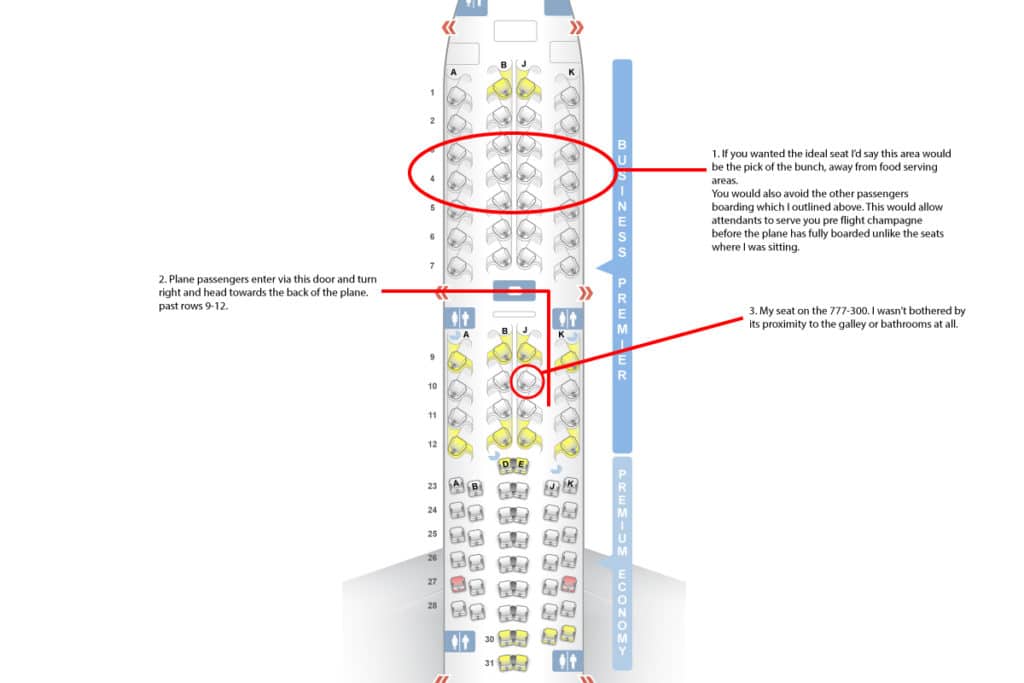 The featured image is actually from Air New Zealand's Dreamliner 787 Business Class Cabin (which looks exactly the same) but it was far superior to anything I shot and I thought it captured the layout brilliantly.
I also got the chance to check out the Premium Economy Space seats which I can't comment on at length but were comfortable and far more spacious than Economy.
RELATED: Our Travel Hacking Guide To Never Flying Economy Again
RELATED: United Airlines' Polaris Business Class Review: 777 vs 787