It wasn't all that long ago that Anthony Bourdain revolutionised the world of culinary entertainment. Prior to him, chefs and other food aficionados made the silver screen but they did so in a very scripted, specific way. They stood behind counters, artfully performed their crafts, cracked a joke or two, and then, bon appétit, presented their final product: a perfectly plated, refined culinary masterpiece.
Bourdain did things differently. Yes, he was a chef, but his culinary show was not about him nor was it about aesthetic perfection. Instead, he travelled far and wide, delving into street stands, hole in the walls, and upscale restaurants everywhere from Japan to Cambodia, Mexico, Scotland, and even Russia to showcase the locals so at home in their kitchens and try anything and everything that he possibly could. Fetal duck eggs, a cobra's heart, a warthog's anus – if it was obscure and on the menu, he ordered it.
Of all of the places he documented on his cultural culinary tours, the legend, who passed away last year, stated that Vietnam "changed his life". To honour his spectacular life and his enchantment with the country, Vietnam-based tour company Exotic Voyages has released a new culinary itinerary in his honour. "A Tribute to Anthony Bourdain: Taste of Vietnam" is 14 days, 13 nights, and nine cities worth of the best, most authentic food the country has to offer. The tour is led by Diep Nguyen, who worked with Bourdain on his 2016 Parts Unknown episode that took place in Northern Vietnam.
---
---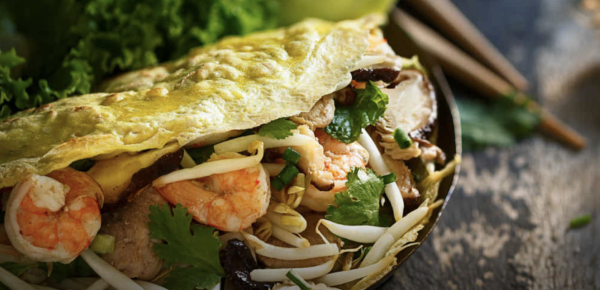 "Anthony has been my inspiration for years and I know he has awakened culinary curiosity in millions of people around the world," Nguyen said in a statement. "During the time I had a chance to work with Anthony, I have observed how he managed to not only open people's minds to different cultures and cuisines but also breach language barriers with his eagerness to learn about a new country through his taste buds."
There's more to the tour than just eating. Other activities include an awesome cruise through Halong Bay, browsing silk shops in Hoi An, and finding the beautiful waterfalls nestled within Da Lat. To see the full itinerary for the tour that takes place year-round, take a look at Exotic Voyage's site.
Clicking the "customize this tour" button will allow you to input the number of travellers going on the trip (and if you're going as a couple, with family, with friends, or solo), as well as your age, budget, interests, and time frame. Prices begin at $3,755 per person and include everything mentioned in the itinerary except for flights in and out of Ho Chi Minh's Tan Son Nhat airport, which is where the itinerary begins. It's a great way to see a spectacular country while trying some of the best food on offer.