Long spoken about in hushed tones amongst the global elite, Aspen remains atop the holiday destination list for the cognoscenti. Sure it's not cheap, but Aspen truly offers something for everyone – and with an in-resort airport, it's just one stop away from Australia's east coast. We checked it out with a group of mates in March to get a lay of the land, and to bring you 8 things you need to know before visiting Aspen.
Cloud 9 Is A Must
The first thing you need to do once you've decided to visit Aspen is to book in at the single best on-mountain après in North America. Cloud Nine Bistro holds the revered title of being the venue that consumes the most bottles of Veuve Cliquot anywhere in the world. Be sure to book the 2pm lunch sitting well in advance for some of the most debaucherous bottle spraying antics seen this side of Mykonos.
When you get back into Aspen town, head straight to Chair 9 at The Little Nell to continue the lavish après.
---
---
Each Mountain Offers Something Different
The beauty of visiting Aspen is that you've got four world class mountains within 18 minutes bus ride of each other. Offering a combined 5,285 acres and including eight terrain parks, four half pipes and 336 marked trails via 46 lifts, Aspen/Snowmass offers terrain for literally everyone.
For the most intrepid skiers and boarders, Aspen Highlands is where you need to be. Home to Aspen's famed bowls – Highlands boasts some of the most gnarly terrain in North America, but make sure you come prepared with avalanche gear if you choose to ski out of bounds.
If you're a little less adventurous, just coming to grips with sliding down a mountain, or if you love spending your day in the park, Buttermilk and Snowmass are the better choices. The gondola for Aspen Mountain (or Ajax as the locals know it) is located in Aspen town, so you'll probably find yourself skiing Aspen more than the other mountains from a pure convenience sake. Aspen Mountain has no green runs so if you're a serious beginner then probably best to stick to the easier mountains until you find your flow.
Stay In Aspen
One of the few authentic ski towns in North America, Aspen has a certain indescribable charm about it. Snowmass is probably the better option if you're travelling with children, but if not bite the bullet and stay in Aspen itself. The best hotels in Aspen are The Little Nell, St. Regis Aspen, and the Hotel Jerome.
If you're in a big group, a chalet is definitely the answer. Aspen's two biggest holiday letting companies are Frias and Aspen Signature Properties, but definitely give Airbnb a look too.
Travelling with kids? Then don't stay in Aspen – stay in Snowmass, and stay at the Limelight Snowmass, it's just opened and has an ice skating rink, indoor 5-storey climbing wall, and is ski in-ski out.
Buy The Ikon Pass
Like most things in Aspen, lift passes are expensive…we're talking US$179 a day sort of expensive. An Ikon Pass on the other hand is US$1,049 and gives you 7 days skiing at Aspen/Snowmass/Highlands/Buttermilk, another 7 days at 24 destinations globally (including Mt. Buller), and unlimited riding at another 14 around the world. Learn more and buy at Ikon Pass.
---
---
Hire Your Skis
With expense and exclusivity comes a discerning clientele and demand for the best. Because of this, Aspen has some of the best ski rental shops in the world, with top of the range gear available for rent at reasonably affordable prices. We used Stapleton Ski and loved the service, price, and the fact you could offset the price of rental if you decided to buy the skis you hired. Plus you don't have to deal with lugging your gear across the Pacific.
Hike The Highlands Bowl
It's a solid 45 minute hike in ski boots with a perilous ridge either side – and you'll be completely spent when you get to the top – but hiking the bowl is all worth it when you take in the spectacular views and enjoy some of the most exhilarating skiing you've ever done. The slopes are also managed daily Ski Patrol (if they need to bomb) to mitigate the risk of avalanche. Do not attempt if you're not a confident skier or rider.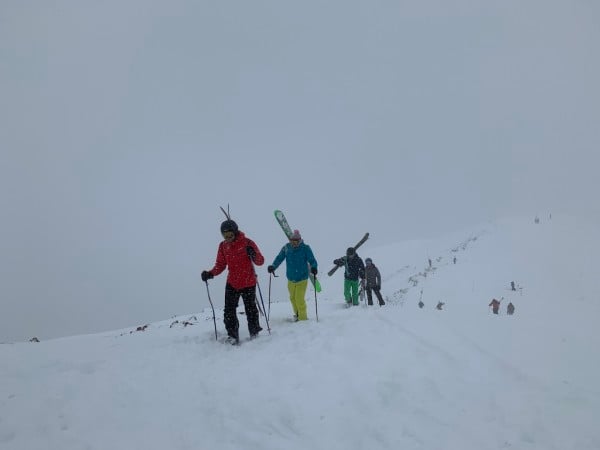 You Don't Have To Drop Mountains Of Cash
If it's not clear already, you're going to have to drop some decent cash during your stay in Aspen. There are, however, some great ways to reduce your spend during your visit.
Almost every restaurant in town has a 'bar menu' with similar dishes to the dining room, at a significantly reduced price. Unless you're royalty or have at least an eight-figure net worth, you're going to want to find a few opportunities to cut costs during your stay. This is one quality option that'll let you enjoy Aspen's quality dining options for a little less.
If you want to go all out, then there are ample options too. Try Nobu Group's Matsuhisa for some of the best Japanese this side of Tokyo, and Jimmy's for steak with a dash of old-school Aspen charm.
Aspen's second hand consignment stores are almost mythical in stature, where the super-rich sell their 'worn once' Gucci & Louis Vuitton gear for pennies on the dollar. Spend an afternoon or evening checking them out and see if you can find yourself a designer bargain.
Be Careful With Your Flight Home
Home to one of the only ski resort airports, Aspen can be one of the most accessible resorts in the world. Flying in and out of Aspen can also be an absolute nightmare in the event of a big storm. On the day I was due to fly out, a huge storm was forecast, and with a connecting flight back to Australia, I was seriously nervous. Fortunately I was lucky enough to get out at 9am on schedule, but the rest of my group, due to fly out at midday, ended up getting snowed in for two extra days – missing their connecting flights and adding myriad complexity to their trips home.
If you want to play it safe, book in and out of Denver and cop the 4 hour drive on the chin.
---
---