Boasting the title "Live Music Capital of the World" and becoming increasingly world-renowned for its seriously good food, drinks, and things to do, Austin, Texas has a lot to live up to. Luckily, with staggering views, brews, and tunes, this booming American city delivers on the hype.
At a glance
When to go: Spring or Autumn (Northern Hemisphere seasons) for the music festivals. South by Southwest rocks the city every March while Austin City Limits rolls through every year in either September or October. Temperatures hover between 21 to 26 degrees – balmy weather for exploring the city's natural beauty.
How to get there: An easy Qantas direct flight from Sydney to Dallas lands you a quick 45-minute flight from the final destination.
---
---
Do I need a visa? If you're visiting the US for less than 90 days, you can apply and be pre-approved for the Visa Waiver Program via the Electronic System for Travel Authorization (ESTA). Read more here.
Digs
As the city booms, so do its options for great places to stay.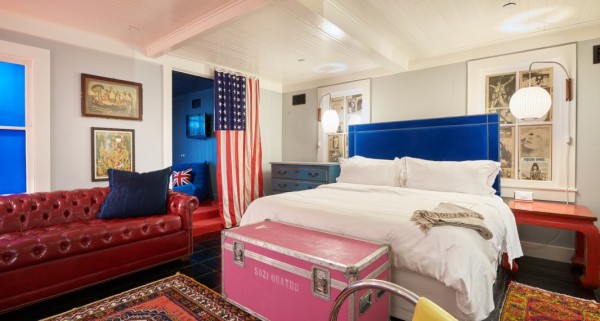 Luxury
Hotel Saint Cecilia – If there's one street that epitomises authentic Austin, it's South Congress. Even though this hotel is situated right along a street brimming with shops, eats, and an eclectic mix of hipsters and creatives, Saint Cecilia's primary selling point is its intimate privacy. Also, check out the inspired furnishings.
Four Seasons Hotel Austin – Almost so tranquil that you'll forget you're staying right in the heart of Texas! Take a front-row seat in the verdant gardens to look out over beautiful Lady Bird Lake and bask in luxury that wouldn't be out of place in Paris of Monte Carlo.
Hotel Van Zandt – Part of its appeal is its location on in the Rainey Street Historic District, providing easy access to an iconic bunch of easy-going, quirky, homes-turned-bars that often host a range of live music events.
Mid-Range
South Congress Hotel – Stay near the tattooed creatives that make Austin what it is while having the benefits of a stunning rooftop pool and bar, four fantastic restaurant options situated within the hotel, and regular music sessions in the lobby bar.
Hotel Ella – A beautiful historic mansion turned boutique hotel that is famous for its Texas charm. Featuring a great restaurant and a wrap-around porch perfect for enjoying the happy hour cocktails, beers, and wines by the glass during weekdays.
---
---
Lone Star Court – Contrary to the previous hotels mentioned, this revamped version of a metro motor court is located in North Austin's Domain District rather than downtown. Perfect for those who want a little distance from the hustle and bustle but still want a thriving social scene with great food and spectacular high-end shopping.
Budget
Native Hostels – Self-proclaimed creators of a "Culture of Fuck Yes", this hostel is a beautiful collision of music, arts, warm beds, food, and spirits. Definitely a unique experience – one even the locals will book a night in every now and then to experience.
The Highlander Hotel – Pink sheep. For some reason, this hotel is full of them. Life-size plastic pink sheep are the primary source of decoration throughout the yards and lobby. Escape them in the comfortable, simplistically stylish rooms.
Firehouse Hostel – Located in the upstairs portion of Austin's oldest standing firehouse and home to a bar accessed via a secret sliding bookcase. Also, a short walk from Sixth street, Austin's nightlife crown jewel.
Eats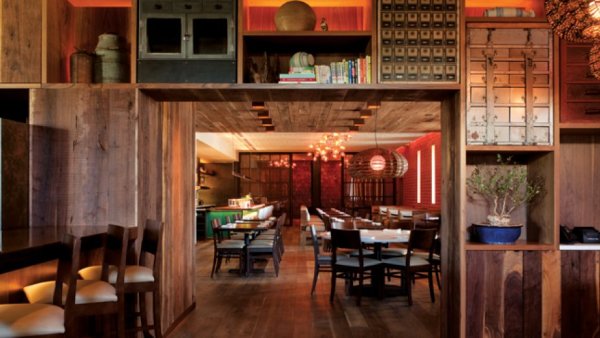 Restaurants
It's hard to find a bad meal in Austin, Texas. From the moment you step off the plane you have access to a smaller version of the world-renowned barbecue joint Salt Lick, good and greasy Tex-Mex food from Maudie's, and Amy's, a classic Austin ice cream shop famous for its ice cream acrobatics – and this is just some of what's within the Austin-Bergstrom International Airport. Venture into the city and you'll find even more to devour.
$$$ – Uchi
For a city with arguably the best barbeque and Mexican to offer, it shouldn't be fair for it to also have some of the best Japanese. However, Chef Tyson Cole makes it happen with his non-traditional take on Japanese classics.
$$ – Clark's Oyster Bar
---
---
A fresh, nautical touch of the Hamptons right in downtown Austin, Texas. Great raw bar, freshly baked sourdough and one of the best Bloody Marys in the city.
$ – Tacodeli and Torchy's Tacos
Two separate taco joints but you'll want to try both to adequately weigh in on the Tacodeli-versus-Torchy's debate that ravages among locals and visitors alike. Fantastic vegetarian options as well.
The Food Truck Scene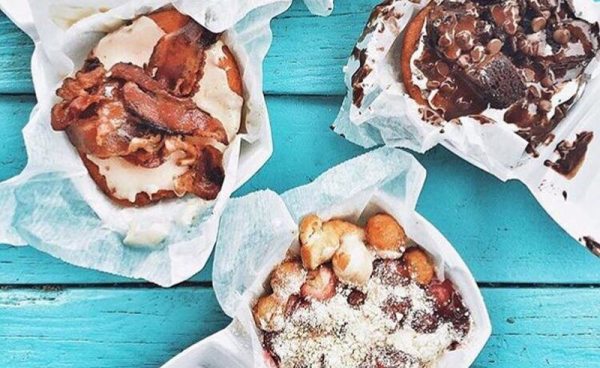 It's hard to go even a few minutes driving or walking through downtown Austin without stumbling upon a food truck. For a group of people, a fun option is to go to a food truck park where a whole roundup of food trucks gather in a circle around a cluster of picnic tables. Here everyone can order from wherever appeals to them and then meet back up in the middle to try a little bit of everything. Here's a great list of spectacular food trucks to check out. You also can't miss Korean-Mexican fusion from Chi'lantro BBQ or cupcakes from Hey Cupcake.
Experience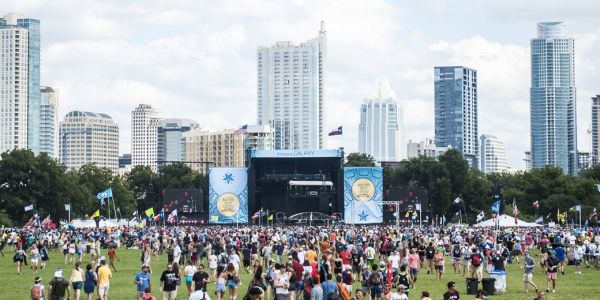 South By Southwest and Austin City Limits
There's a reason Austin, Texas is dubbed the Live Music Capital of the World. South By Southwest (SXSW) takes place every year for two weeks in March. It's a festival of innovation and presentation in all fields: tech, music, film, and so much more. Austin City Limits takes place around the beginning of October and hosts hundreds of artists for two weekends in a row over a collection of stages scattered throughout Zilker Park. The festival used to be contained to one weekend but that just wasn't enough. Buy a day pass – or one for the whole weekend – and see a wide variety of music by moving between the stages.
Hamilton Pool
Just a quick drive outside of the city and you'll find a gaping swimming hole that could be something out of Jurassic Park. A creek spills out over limestone outcroppings to create a 15-metre waterfall plunging into the head of a steep box canyon.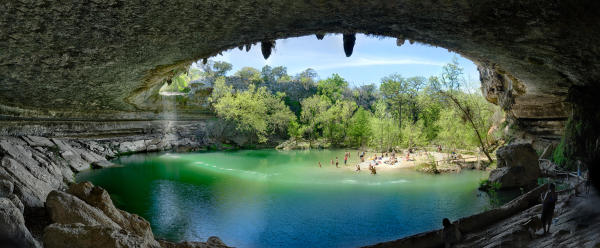 Barton Springs
Nestled within Zilker Park is an outdoor swimming pool filled entirely with water from nearby underground springs. The pool is a popular venue for year-round swimming, maintaining a consistent temperature of 20 to 23 degrees. Get ready to see locals and tourists alike sprawled on the slope leading down to the blue oasis.
Play
Sixth Street
There are two sides to Austin's Sixth Street: East Sixth and Dirty Sixth. You should experience both, but especially the dirty. Dubbed 'dirty' because of dollar shot options that sometimes lead to people unable to handle their alcohol, Dirty Sixth is a surefire fun time. It feels like a buffet of great bars – you'll find a collection of rooftops, piano bars, and basically any other type of watering hole you might desire.
---
---
Rainey Street
A bit more chill than Sixth, this residential neighbourhood of bungalows-turned-bars is a good place to stroll around to find solid food and drink options at any hour of the day or night. Almost all places are equipped with stringed-light patios and often host live music.
Shop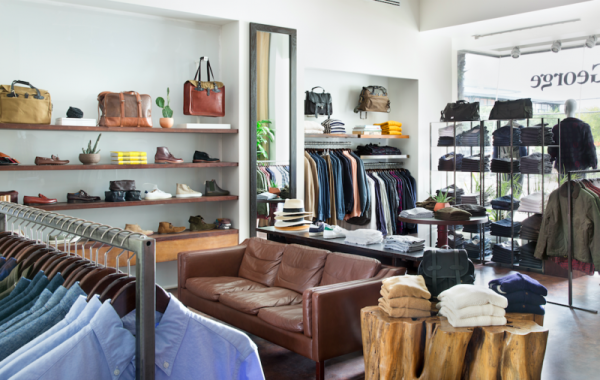 $$$ – ByGeorge
Brands such as Lanvin, Dries Van Noten, and Givenchy all within a humble strip-mall like exterior. A must visit.
A fresh style scene boasting a selection of American-designed clothes, antiques, and grooming lines with prices that waver on the line of affordable and "come again?".
$ – Service
Started by a man who turned his passion for vintage fashion into a full-time gig. A unique collection of curated items.
Shots for the 'Gram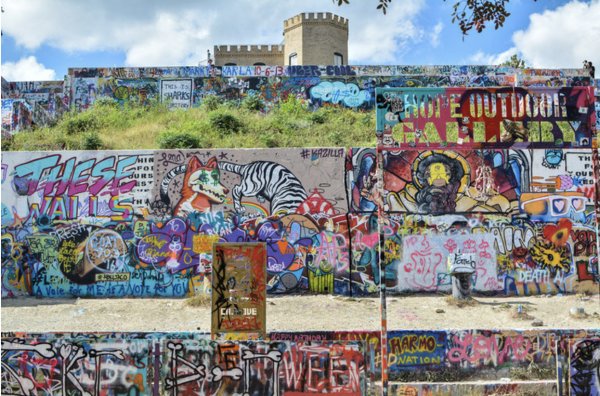 Murals, murals everywhere.
Street art is big in Austin, Texas. You'll find the classic "I love you so much" mural outside of Joe's coffee shop on South Congress usually has a line of people wanting to snap a picture with family, friends, or a significant other.
---
---
The list of murals is basically endless and you'll find photo opportunities without meaning to. However, one place worth the visit (and the 'Gram post) is the Hope Outdoor Gallery. This community paint park was designed to provide muralists, street artists, arts education classes and community groups the opportunity to display large-scale art pieces driven by whatever their heart desires. The landscape is constantly changing and there's always more to discover.