The wide-open spaces, memorable scenery, local vibe, and untouched wilderness are major ingredients when it comes to the best hotels in Tasmania Australia. Whether that translates to a lavish harbourside splash at Hobart's famed MACq 01, a dip into luxury solitude at Pumphouse Point, or an unparalleled adventure at Saffire Freycinet, there's absolutely no arguing that some of Australia's greatest luxury hotels are found below the mainland.
In recent years, Tassie has emerged as one of the most desirable holiday destinations in the country. That's only going to continue as long as the wine, produce, adventure, and eccentric art events keep tempting Aussies to make the trip down south.
We've already got your appetite heaving with our eating and drinking guide to Hobart, but you'll also need to know where to stay when exploring the city centre and wider state. Below you'll find the best accommodation options spread across Tasmania for when those luxury escapes are too hard to resist. Just be sure to make time to check out the 11 best country pubs in Tasmania while you're at it.
What Are The Best Hotels In Tasmania?
---
Saffire Freycinet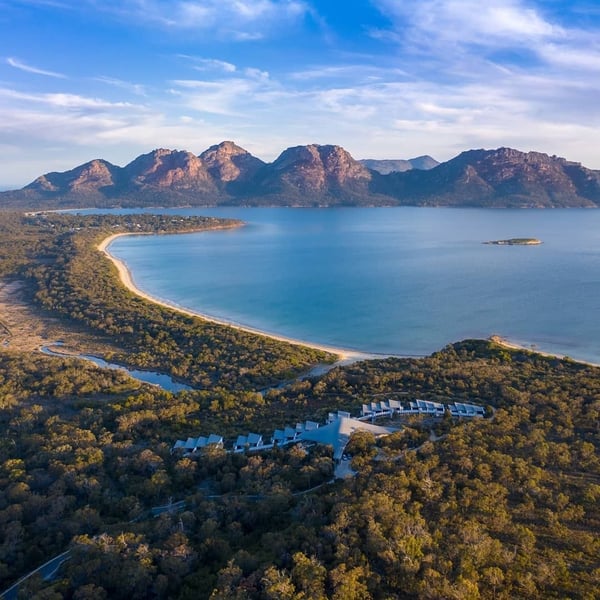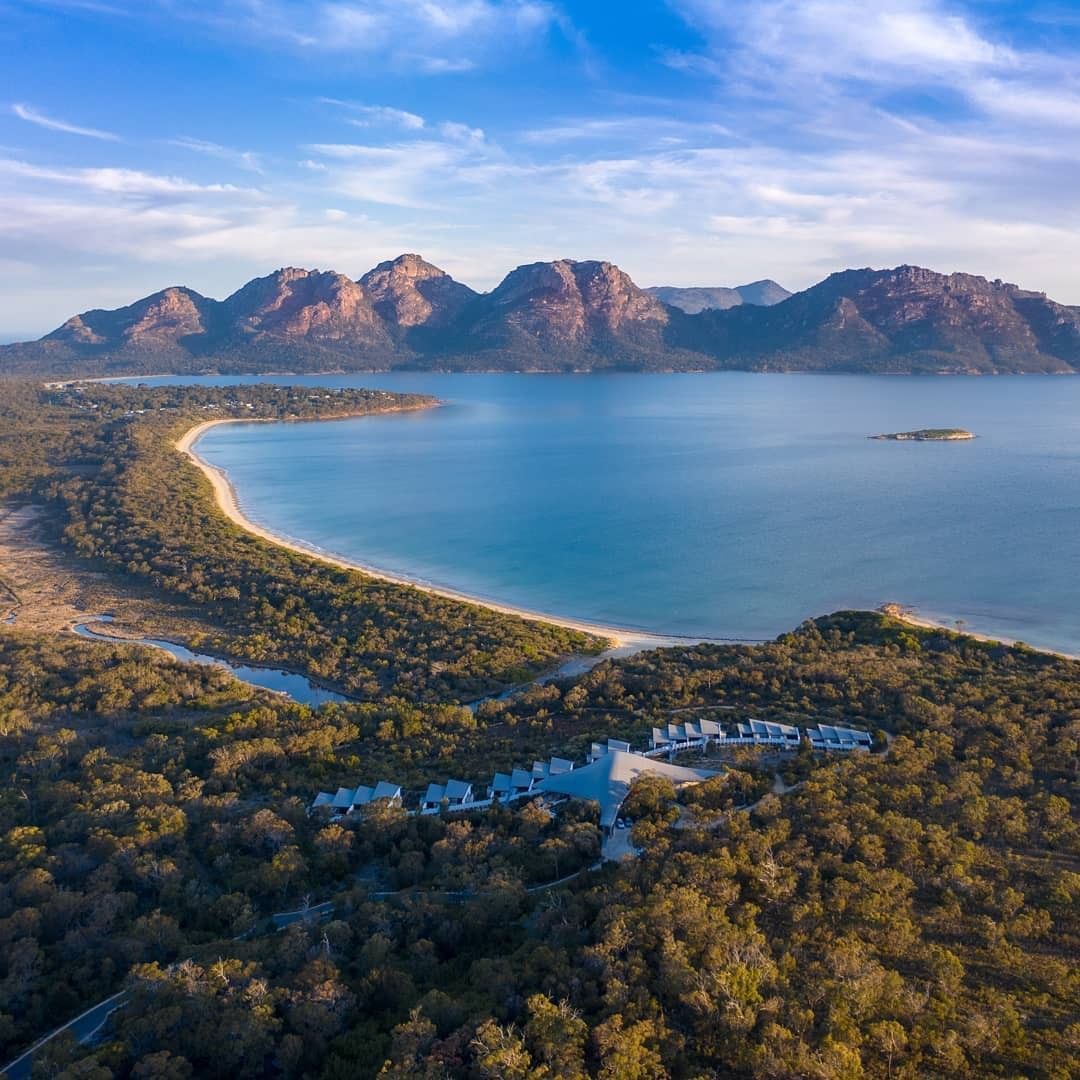 There's nothing to write about Saffire Freycinet that hasn't already been imprinted in just about every national and international publication. This is one of Australia's best luxury hotels – or rather, eco-luxe resorts – and the world knows it.
Cradled by the waters of Great Oyster Bay and framed by the Hazards mountain range, this sculptural property offers a wealth of luxury experiences, as well as educational ones – from touring an on-site apiary (in protective suits) to shucking at a working oyster farm.
Tasman views and the gorgeous Freycinet National Park frames the property perfectly, best observed from the private pavilions that are perfect for a romantic getaway, with beautiful contemporary furnishings and a design scheme inspired by the native bushland. There's little wonder why this is such a popular destination for honeymooners, mostly who come down from the East Coast capitals. There's no shortage of wow factor across the Freycinet Peninsula.
Address: 2352 Coles Bay Rd, Coles Bay Tasmania, Australia 7215
Contact: (03) 6256 7888
---
Kittawa Lodge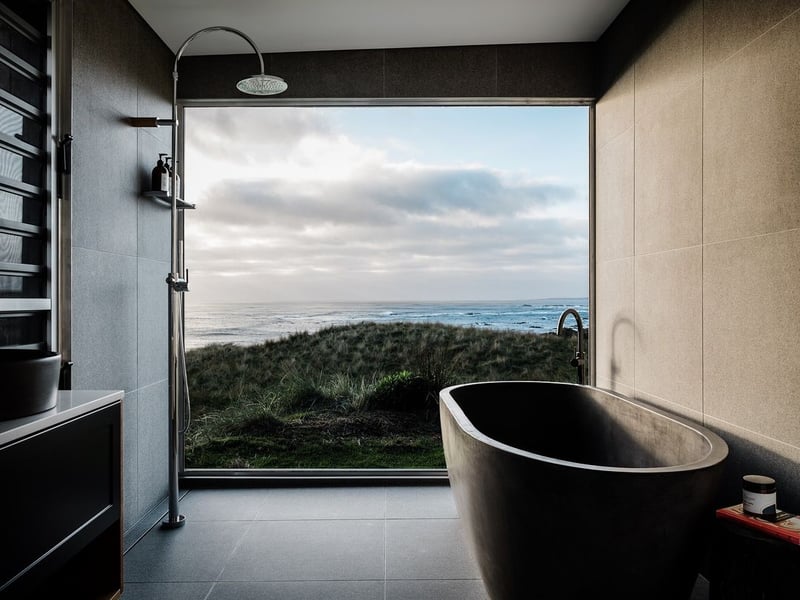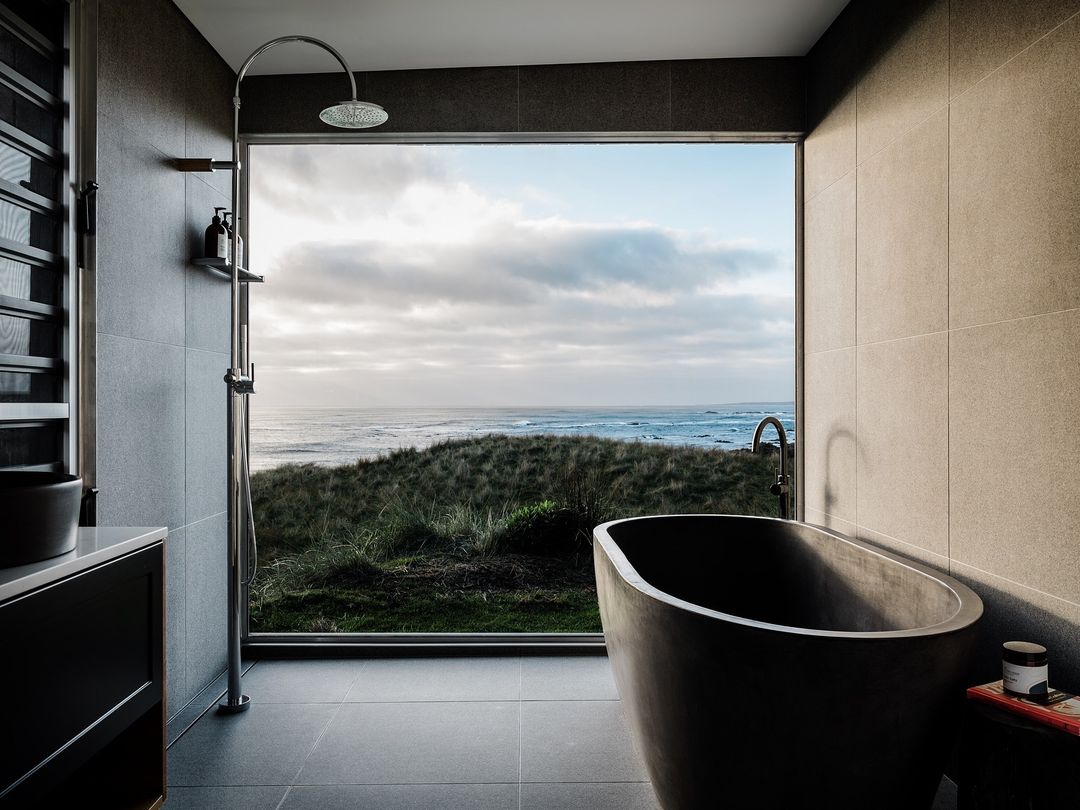 Named Australia's #1 resort in Condé Nast Traveler 2023 Readers' Choice Awards, the gorgeous Kittawa Lodge is a fine example of Tasmania's preference for boutique, artisan products. The King Island retreat represents peak remote luxury, fortifying guests from the rugged nature but never shying away from the land's pristine beauty.
The luxury chalets that make up this property make fantastic use of large, picture windows so all the nature and wildlife that defines King Island is gently pulled in while guests are nestled in high-end amenities and a sense of absolute comfort.
Address: 1272 South Road, Pearshape TAS 7256
Contact: 0437 962 020
---
MACq 01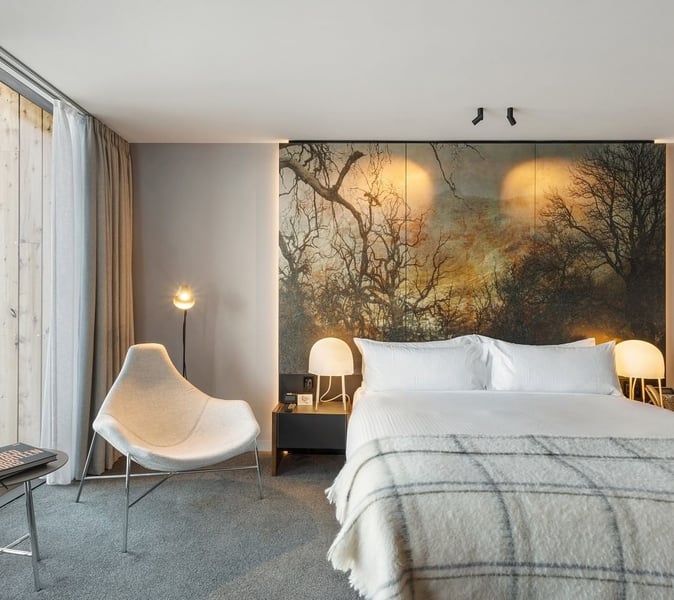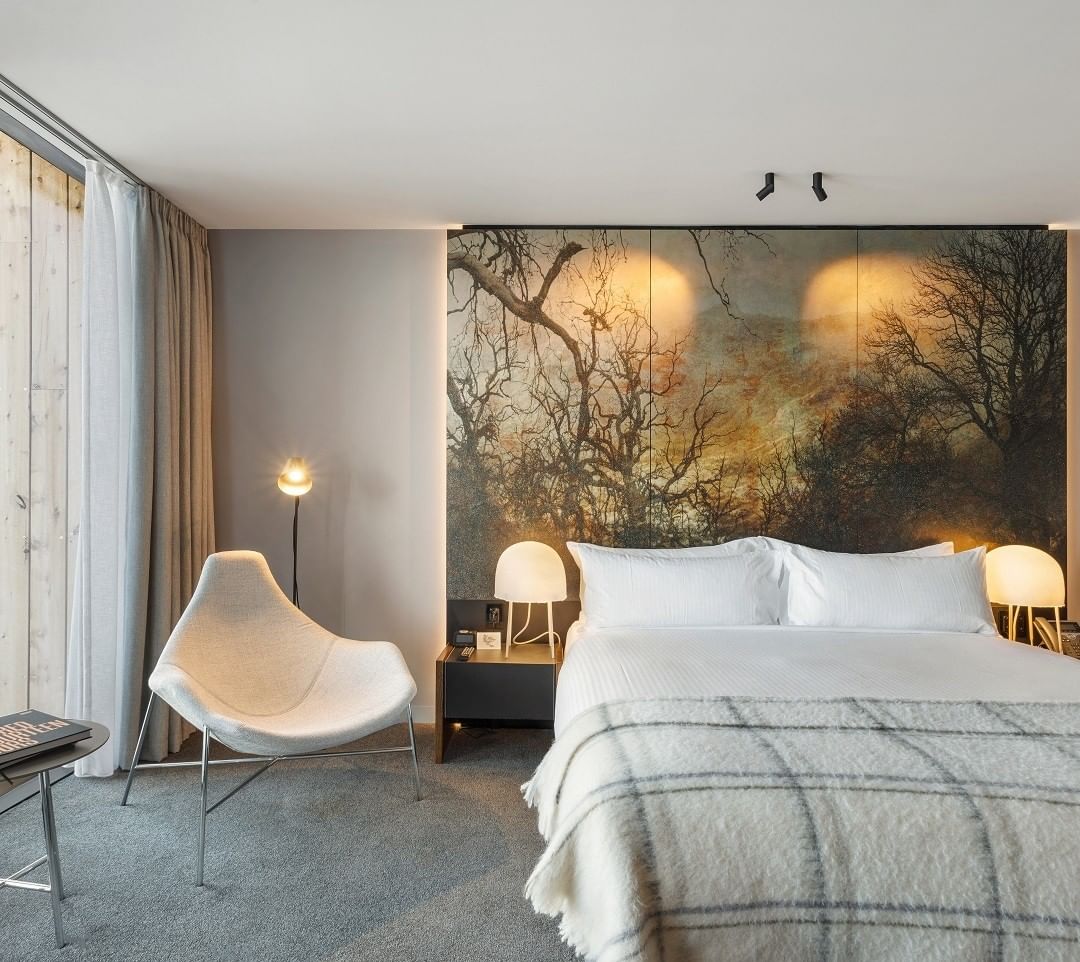 It's impossible to talk about hotels in Tasmania without immediately jumping to MACq 01 in Hobart's city centre. It's the quintessential city luxury accommodation, standing stately on Hobart's capricious harbourfront with an impactful concept, genuine five-star hospitality, and easily one of the best lobby bars in the capital. The hotel features also include easily one of the best lobby bars in the capital.
With an obvious love of timber and tasteful design, the MACq 01's identity is hinged on a seamless 'storytelling' concept, theming each and every room after an individual Tasmanian identity, and even offering free individualised city tours to hotel guests. You'll either want to spend most of your time in one of the 114 beautifully appointed hotel rooms, or the award-winning Evolve Spirits Bar located in the lobby with its highly curated rare spirits list and ornate, almost museum-like fit-out.
Address: 18 Hunter St, Hobart Tasmania, Australia7000
Contact: (03) 6210 7600
---
Pumphouse Point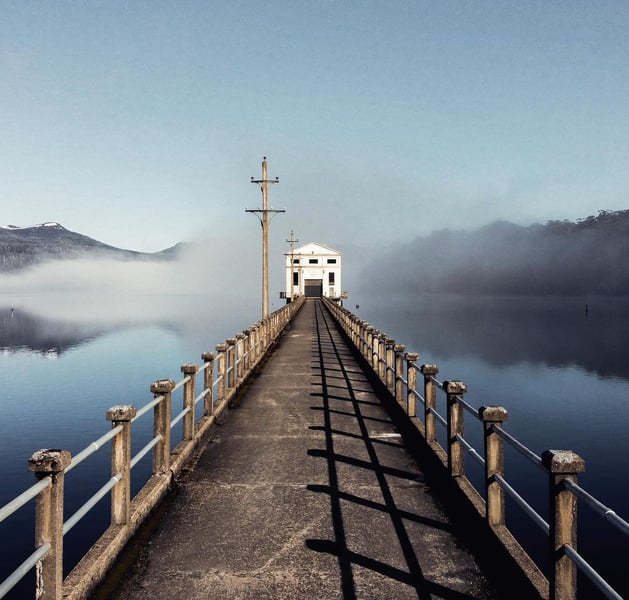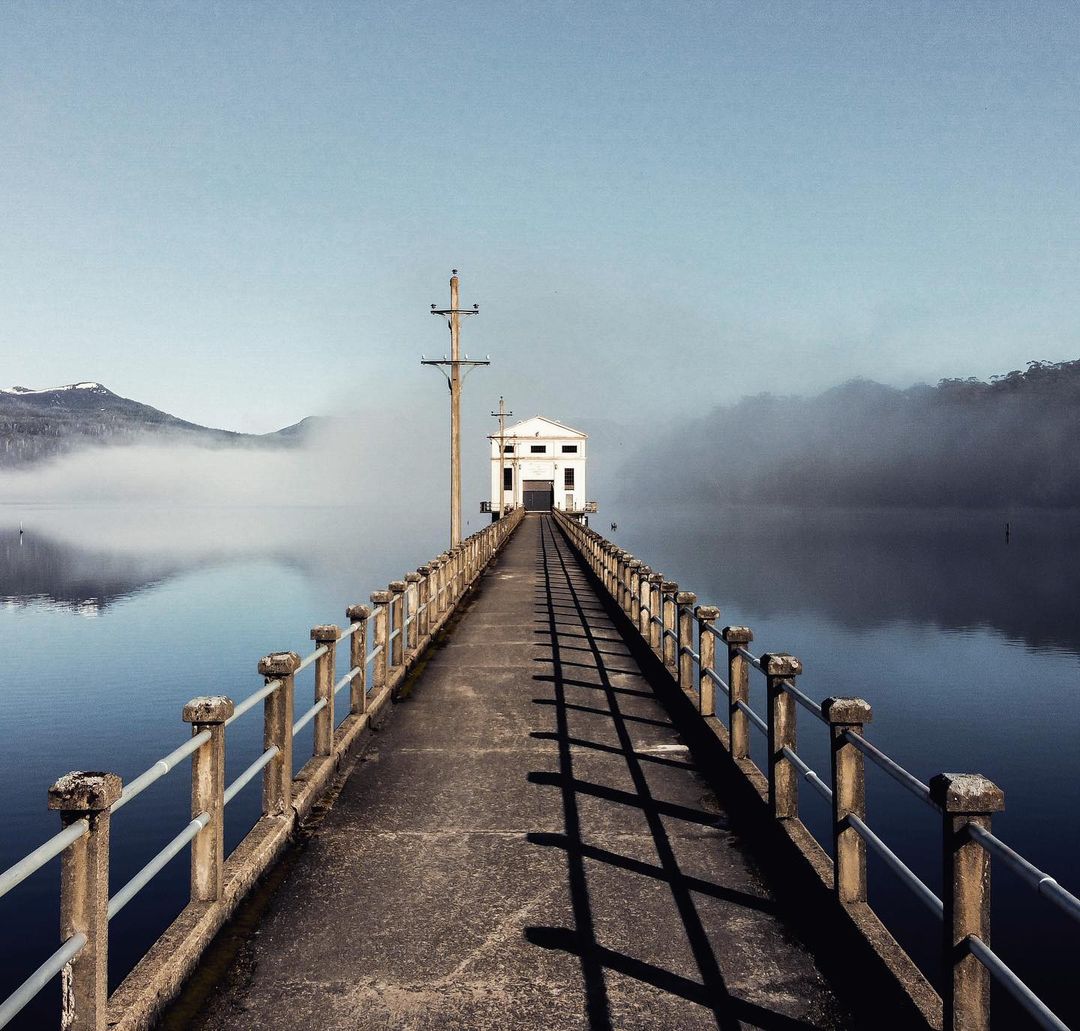 Located at the tip of a lonely, almost 270-metre long jetty, nestled into a bay of Lake St. Clair, the pumphouse of Pumphouse Point is easily one of the most unique stays Tasmania has to offer. While the property also offers waterside accommodation at the Shorehouse, it's this 12-room pumphouse that is the best expression of this unique accommodation, and a strong case for just how restorative the cross of luxury and nature can be.
The solitude is as dramatic as the landscape itself, with the former 1930s hydroelectricity station surrounded by very little but the deepest lake in the Southern Hemisphere. The rich, atmospheric outside is contrasted by elegantly designed guest rooms offering a supreme level of comfort, pulling in those unbeatable – and sometimes disconcerting – views. As far as luxury accommodations go in Tasmania, you'd be hard-pressed to find one as beautifully lonely as Pumphouse Point.
Address: 1 Lake St Clair Rd, Lake St Clair Tasmania, Australia 7140
Contact: 0428 090 436
---
Satellite Island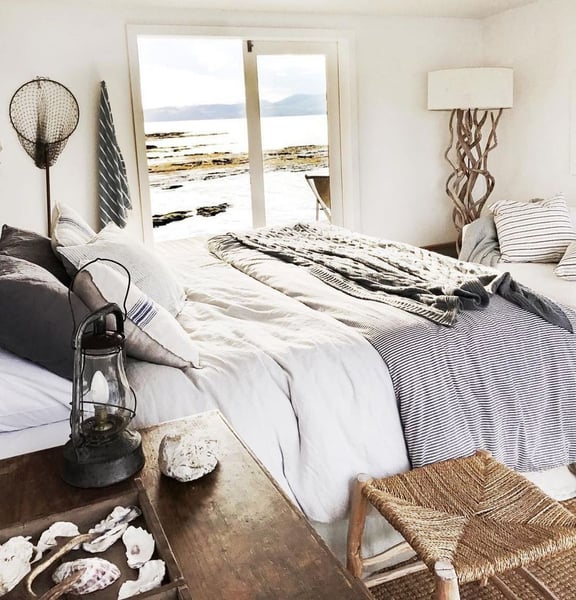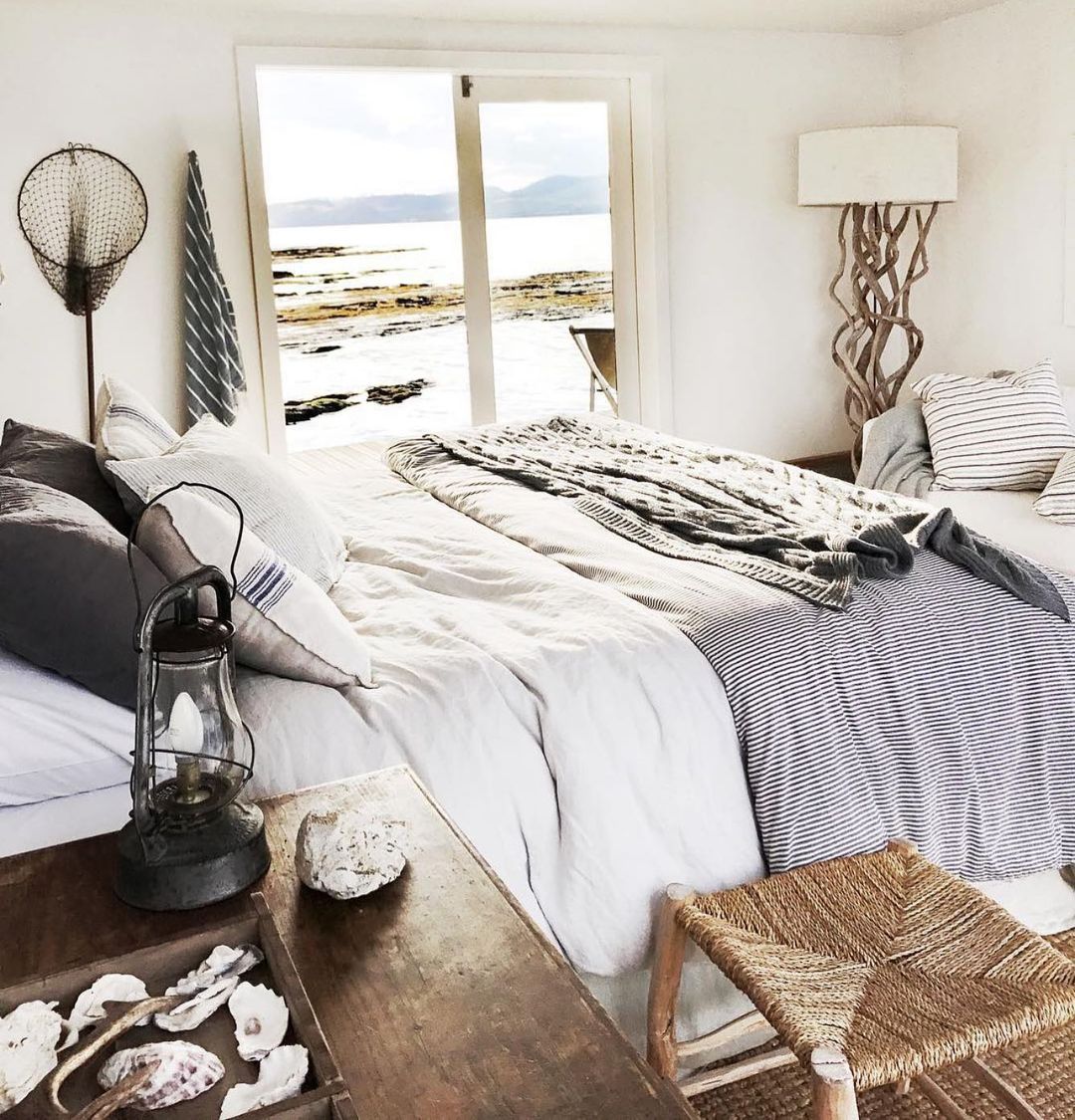 While Satellite Island is less a hotel and more a world-class rental property, the retreat more than earns its place on this list. Tasmania has several island accommodations that you and a few mates can rent, but few matches up to this adventurous property lost at sea in the middle of the wild and productive D'Entrecasteaux Channel.
Satellite Island is for travellers who seek remoteness, staying in a beautiful three-bedroom house, hiking the island, dodging white-breasted sea eagles and fishing for your own urchin and mussels to add to the already stacked fresh produce baskets your given on arrival.
Address: South-eastern coast of Tasmania, Australia in the D'Entrecasteaux Channel between Bruny Island and the Tasmanian mainland.
---
Moss Hotel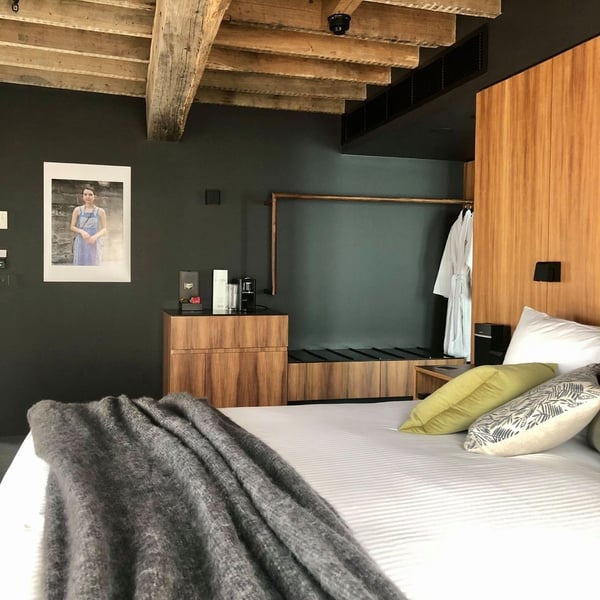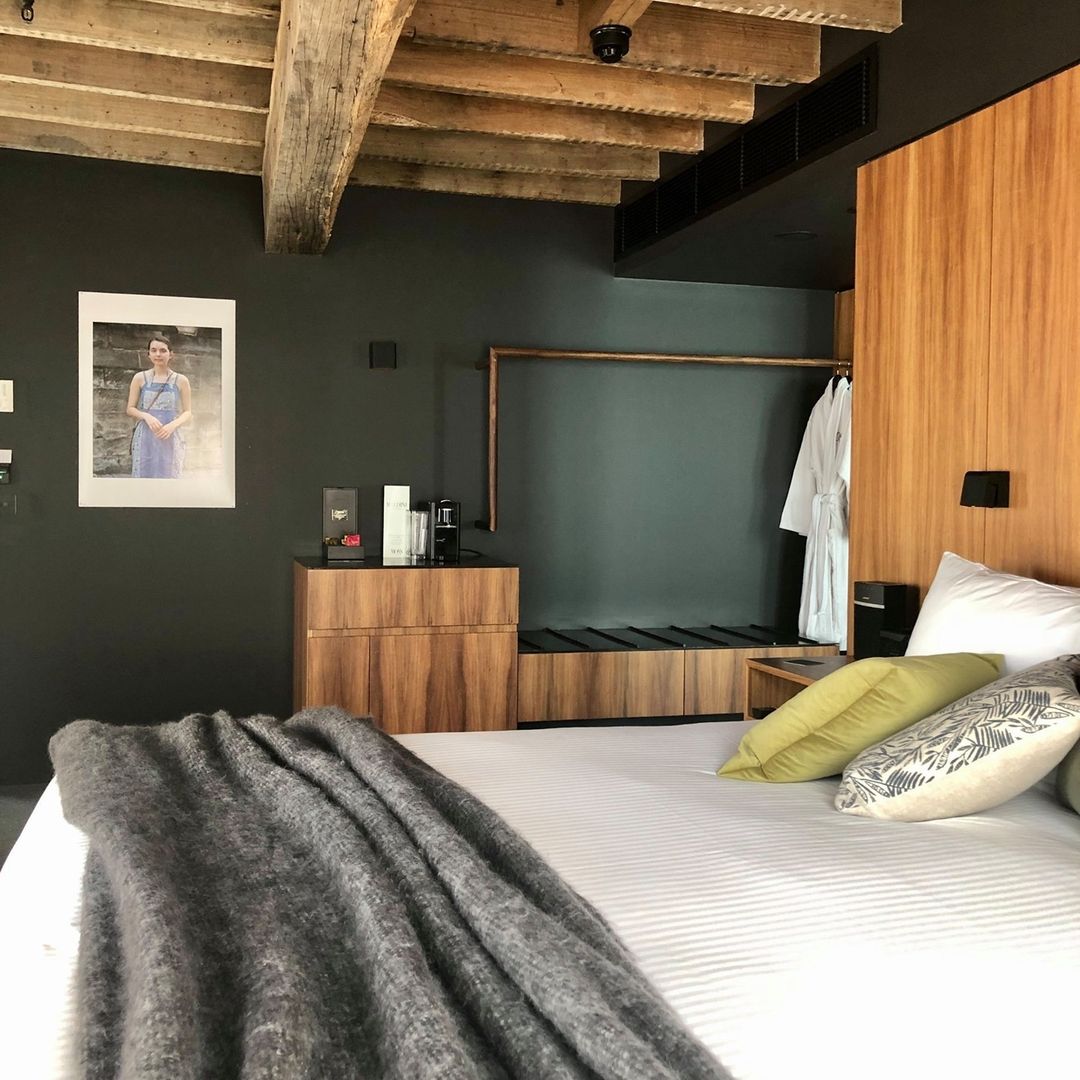 Many of Tassie's top stays are a result of immaculate restoration projects, given the state is absolutely heaving with unique heritage buildings. Hobart is the centre of this renaissance, and The Moss Hotel is a perfect example, transforming an early 19th century sandstone building in Salamanca into a charming boutique hotel that plays smart with lighting, texture, and greenery.
Low lighting and dark surfaces are gorgeously contrasted primarily with two shades of green – health green and alpine moss green – worked up specifically to reflect the colours of Mt Field National Park. The seamless concept also spills over to the guest rooms, giving them individual character with incredible attention to detail, handmade furniture, and five-star comforts from this boutique hotel. It's also above The Whaler Pub, where you can sample the island's local beer and whisky selection.
Address: 39 Salamanca Pl, Hobart TAS 7000
Contact: 1300 772 270
---
The Keep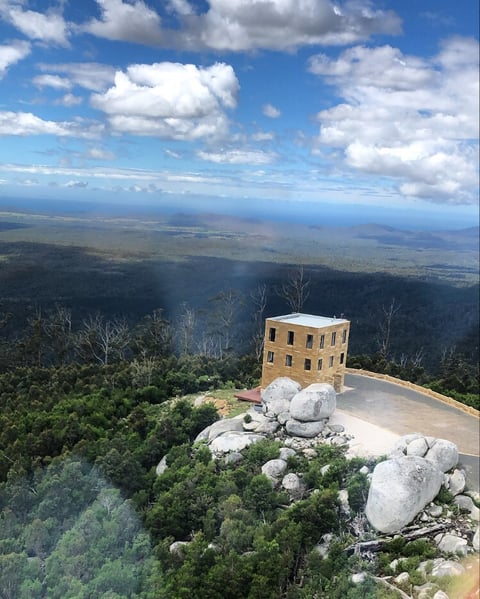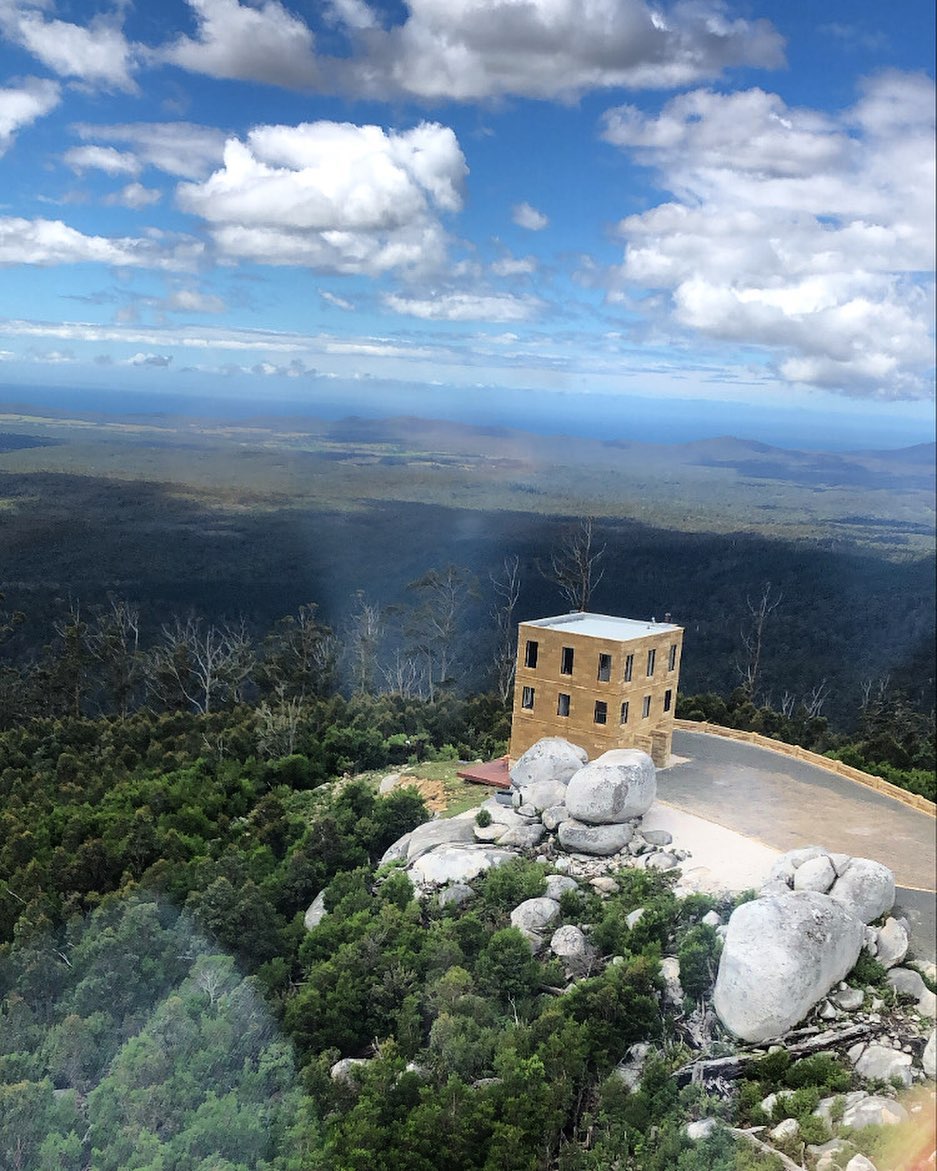 Looking like a Scottish castle that's been ripped from a 90s film set, The Keep is undoubtedly the most private accommodation in Tasmania, and one of the most impressive. Standing tall on a 650 metre rocky pinnacle, with views outstretched over the state's bountiful north-east coastline, this luxury accommodation is a single building that's been transformed from a private residence to a deeply rich and calming luxury nature escape.
From the granite outdoor bathtub hidden in the jagged rock formations and visually connected to the jaw-dropping vista, to the luxury interiors, this dramatic accommodation is surely one of the coolest new openings Tasmania has seen in years.
Address: 535 New England Rd, Goulds Country Tasmania, Australia 7216
Contact: 0431 468 272
---
Ship Inn Stanley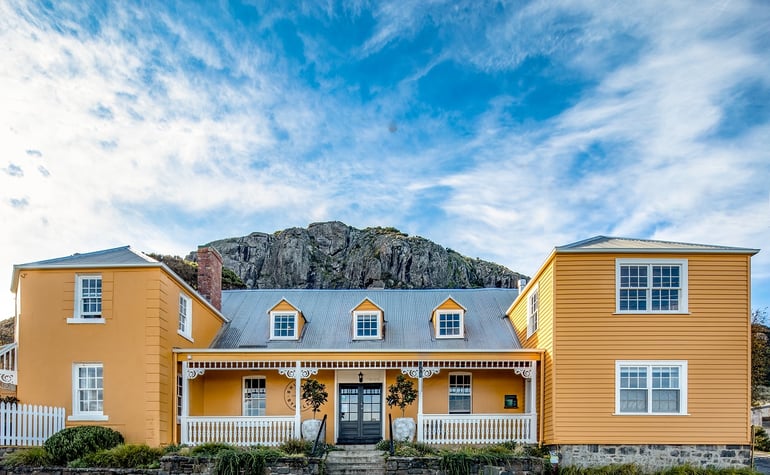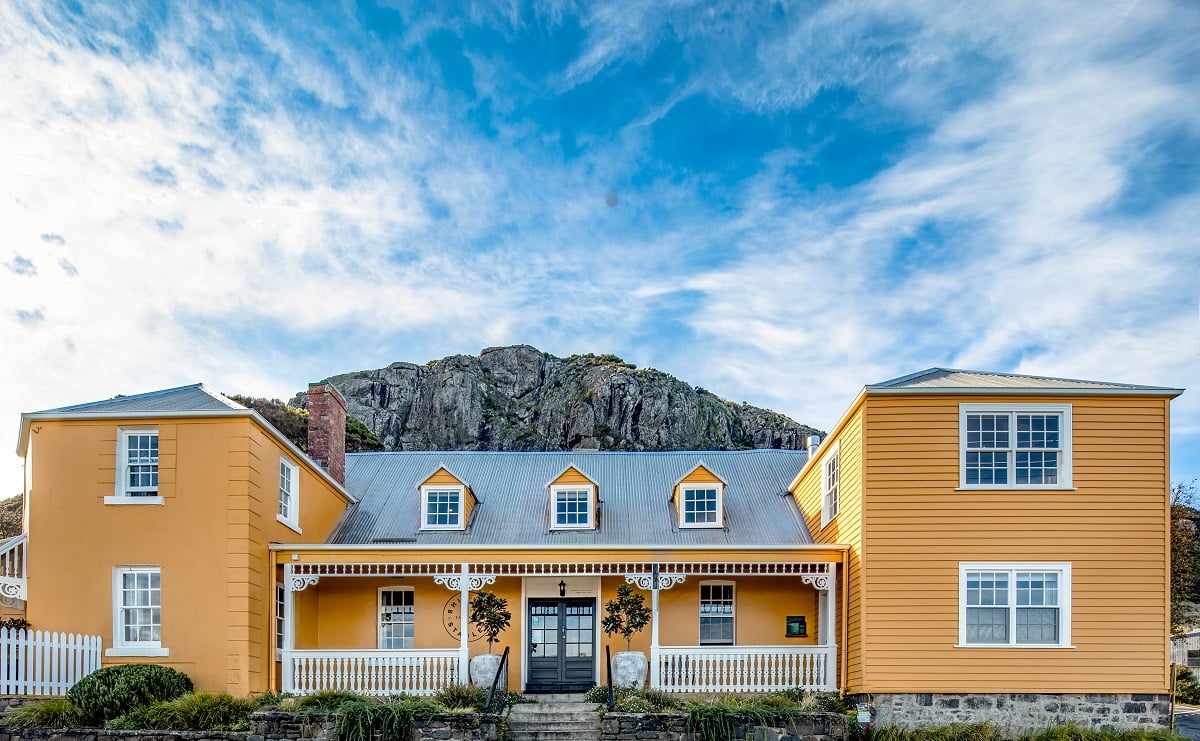 One of the better options in Tassie Far North West is the newly refurbished Ship Inn Stanley, a favourite amongst those seeking out Tasmania's rich and deeply complex boutique accommodation options. The historic 1849 guest house beautifully expresses much of the area's fascinating history, and does it with a modern style through restored timbers, celestial windows, leather armchairs, and velvet couches.
It's a sophisticated aesthetic to park up alongside all that unique storytelling, which includes the conversion of a historic billiards hall into the new Ghost of Old John Peacock guest lounge, and the newly conceived Van Diemen's Apartment, which is a spacious retreat built for two on the second story of the inn.
The inn is only big enough for 20 guests a time, which makes it a popular choice for larger groups who want to book out the entire accommodation at once and anchor down in one of the more obscure parts of Tasmania, in the historic coastal town of Stanley.
Address: 16 Alexander Terrace, Stanley TAS 7331
Contact: 0439 749 140
---
The Henry Jones Art Hotel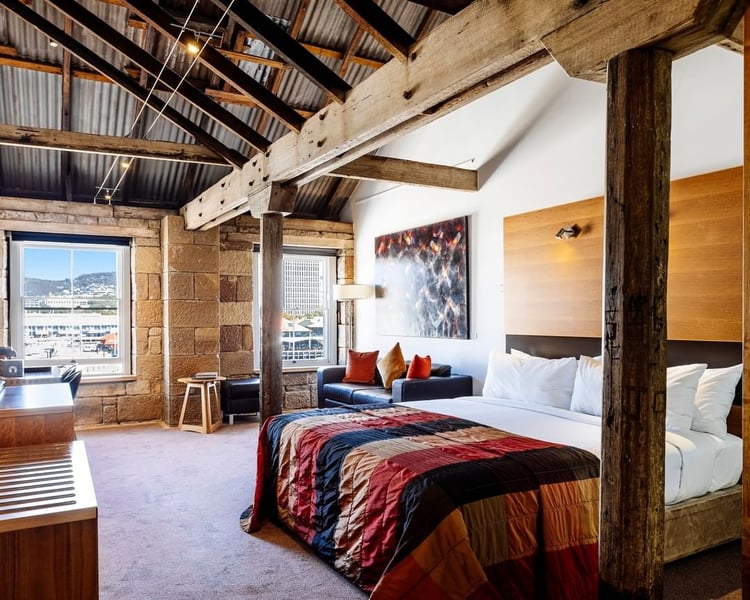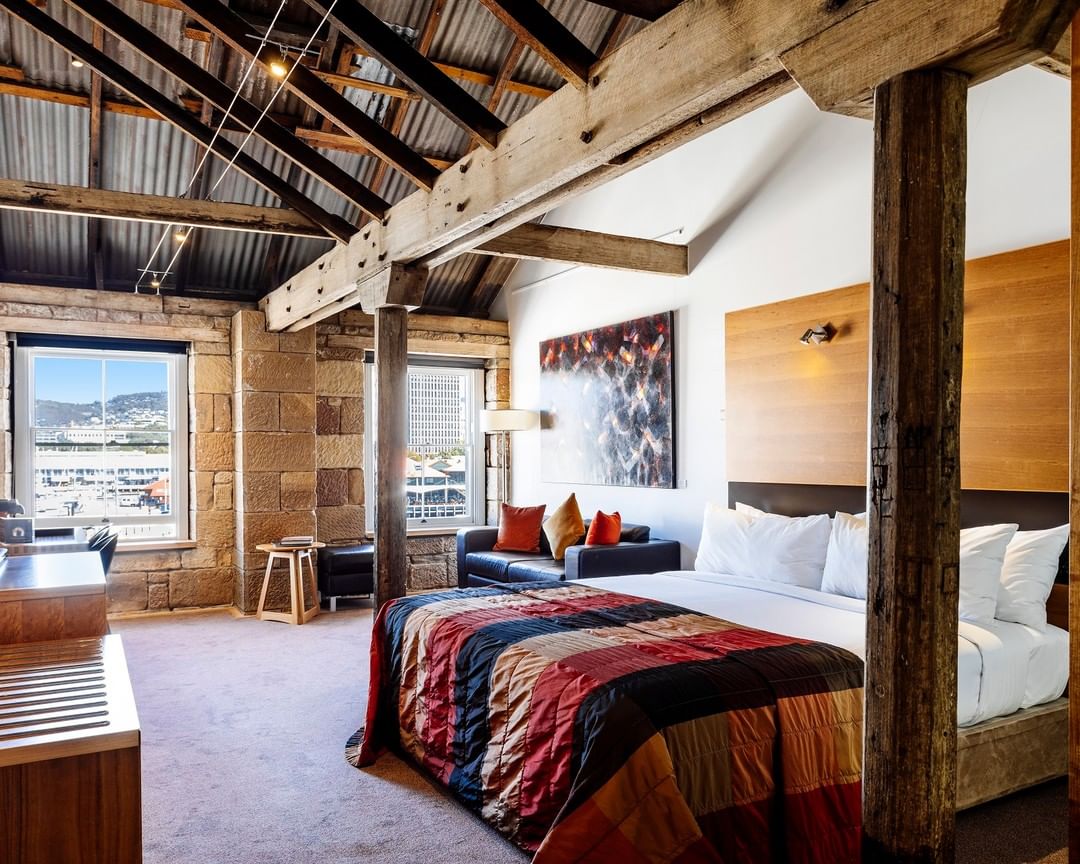 It isn't just the eccentric Museum of Old and New Art that has completely redefined Hobart as one of Australia's greatest cities for art lovers. The Henry Jones Art Hotel can take its fair share of credit for enlivening the once-sleepy Tasmanian capital, with over 400 original and contemporary artworks spread across this 56-room boutique hotel.
Like many of the other accommodation options in Hobart, Henry Jones is a translation of heritage, working with the swathes of 19th-century sandstone to contrast with tasteful furnishings like king-sized beds draped in exotic silk covers, and an impactful sense of five-star hospitality, from the acclaimed Peacock and Jones dining room to the IXL Long Bar.
Address: 25 Hunter St, Hobart Tasmania, Australia 7000
Contact: (03) 6210 7700
---
Peppers Silo Hotel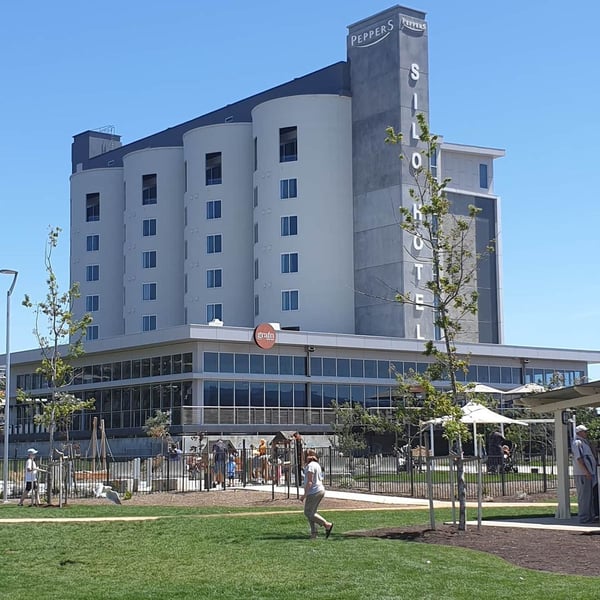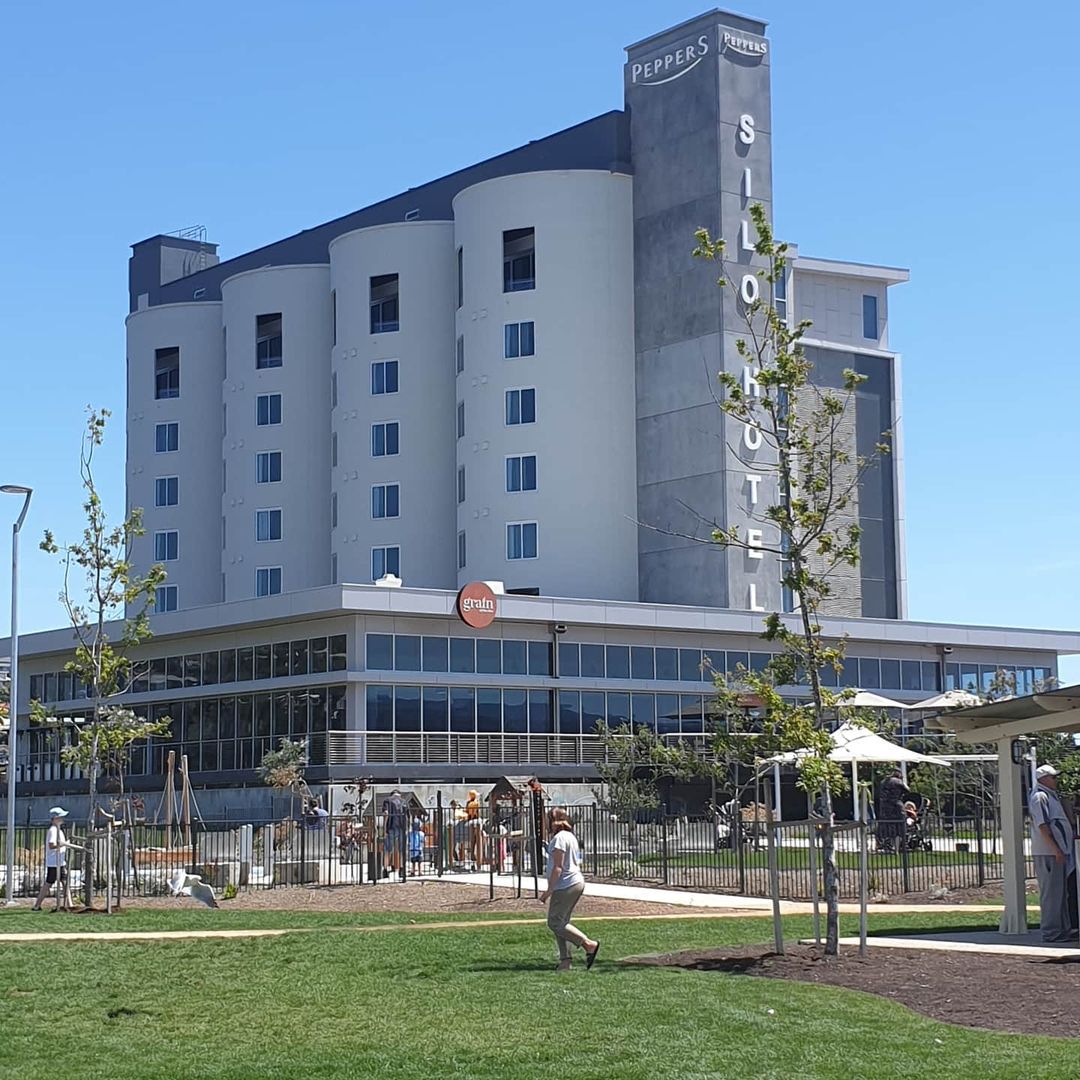 One of the newest luxury hotels in Tasmania is a part of the Peppers brand and a unique transformation of disused grain silos in the middle of Launceston. Mantra Group has shown an incredible amount of creativity here, retaining the character of the 1960s landmark, from the circular-shaped guest rooms to the building's exterior.
The hotel also boasts what is now one of the city's most celebrated restaurants, The Grain of the Silos, with a simple ethos showcasing the very best of Tasmanian produce.
Address: 89 To 91 Lindsay St, Invermay Tasmania, Australia 7248
Contact: (03) 6700 0600
---
Movenpick Hobart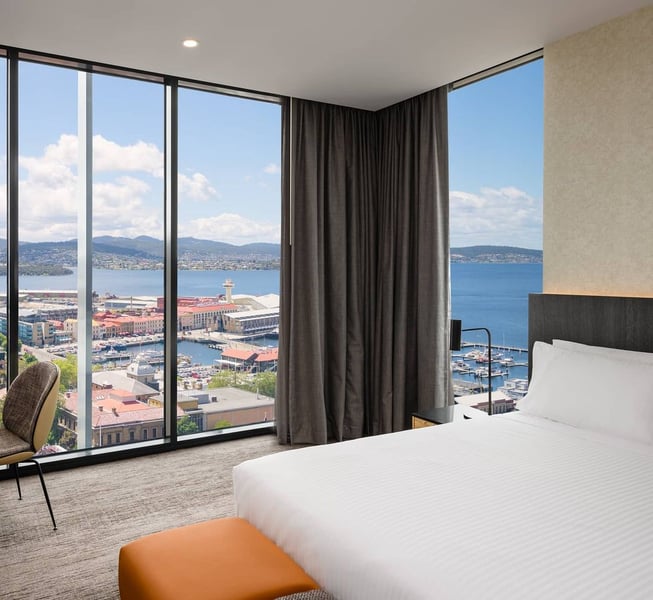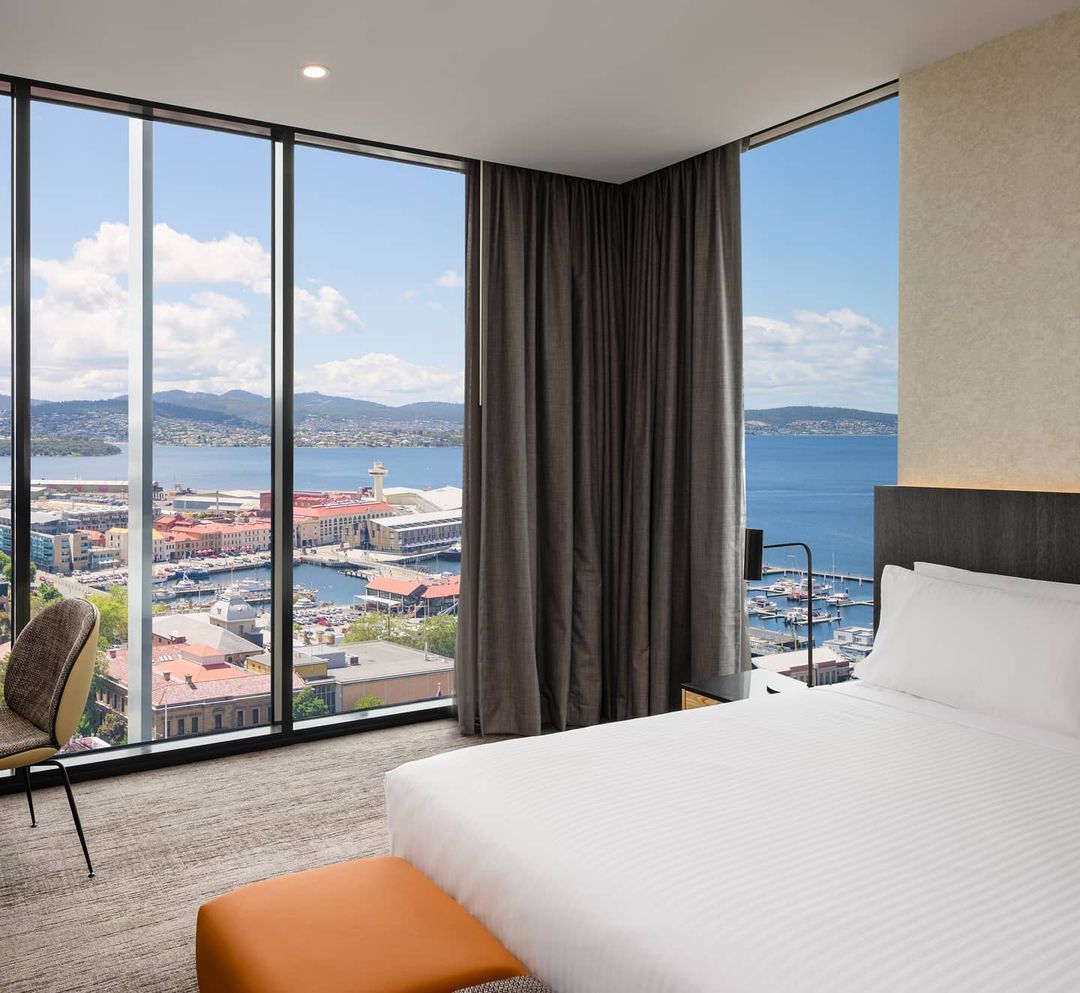 Accor's newest property has finally bought Mövenpick's accommodation brand to Australia with the opening of Mövenpick Hotel Hobart. And they have clearly gone all out for their down under debut, building a lush 221-room hotel that balances daily "chocolate hours" with Italian fine-dining.
The design has been worked to reflect the rhythm of Tasmania's wild landscape, presenting slick common spaces and a dynamic tonal style that takes these contemporary guest rooms far beyond what you'd expect from a hotel brand built by an ice cream empire.
Address: 28 Elizabeth St, Hobart Tasmania, Australia 7000
Contact: (03) 6235 9888
---
Thousand Lakes Wilderness Lodge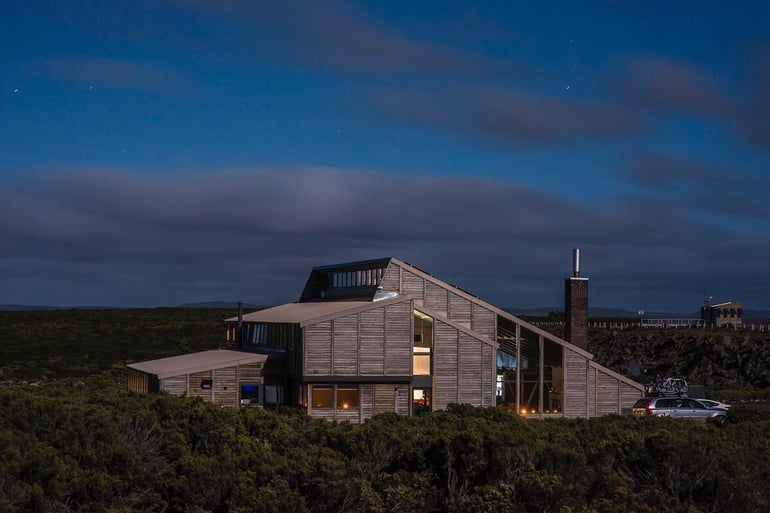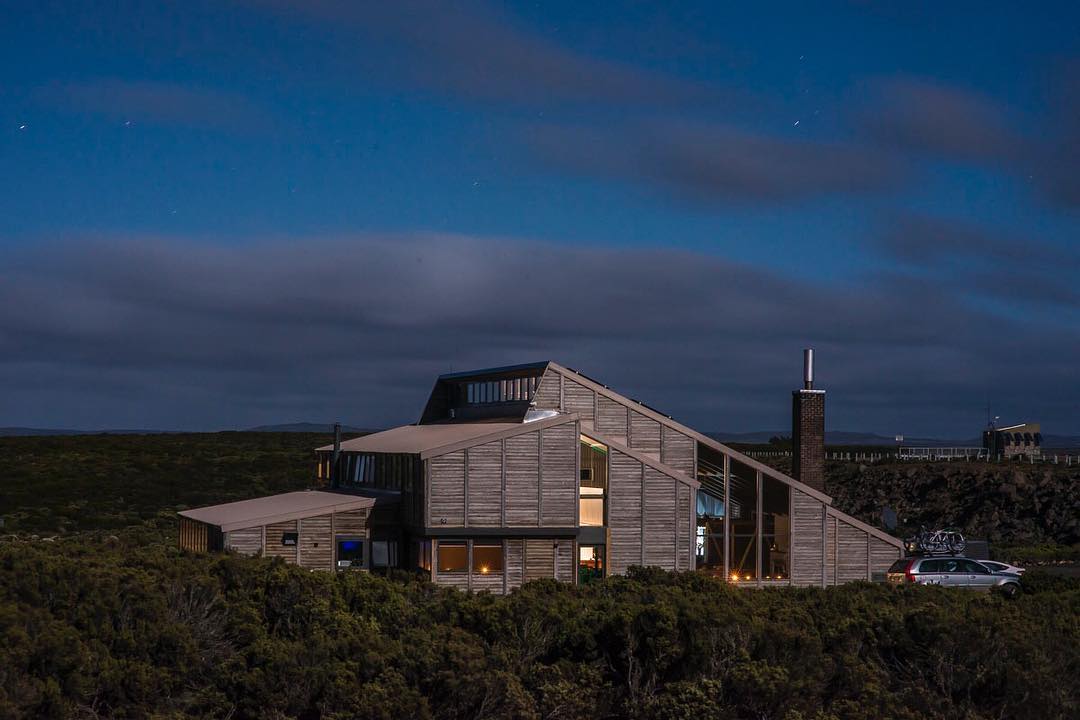 Thousand Lakes Wilderness Lodge is an off-grid lodge directly connecting guests to Tasmania's wealth of adventure. That's the long-short of it – buried in the barren landscape with nine premium rooms and a central lounge with a roaring double fireplace.
The appeal here is having immediate access to various alpine tarns and trails around the World Heritage Area, blanketed by a wide-open sky and anchored by luxury creature comforts.
Address: 1247 Lake Augusta Rd, Central Plateau Tasmania, Australia 7304
Contact: 0418 342 694
---
Piermont Retreat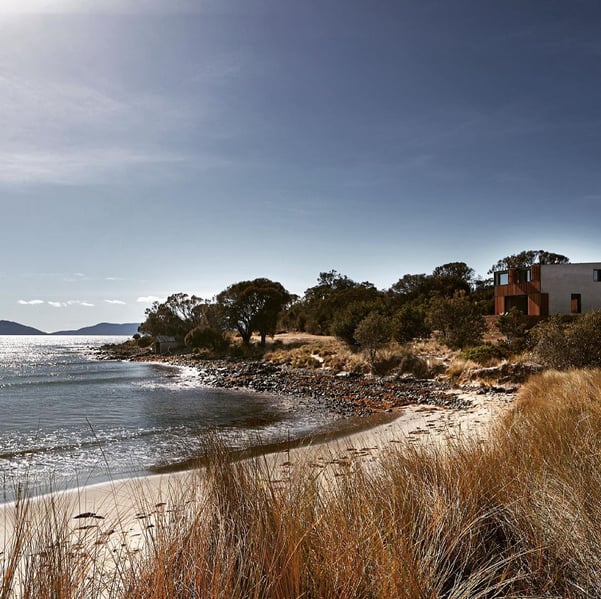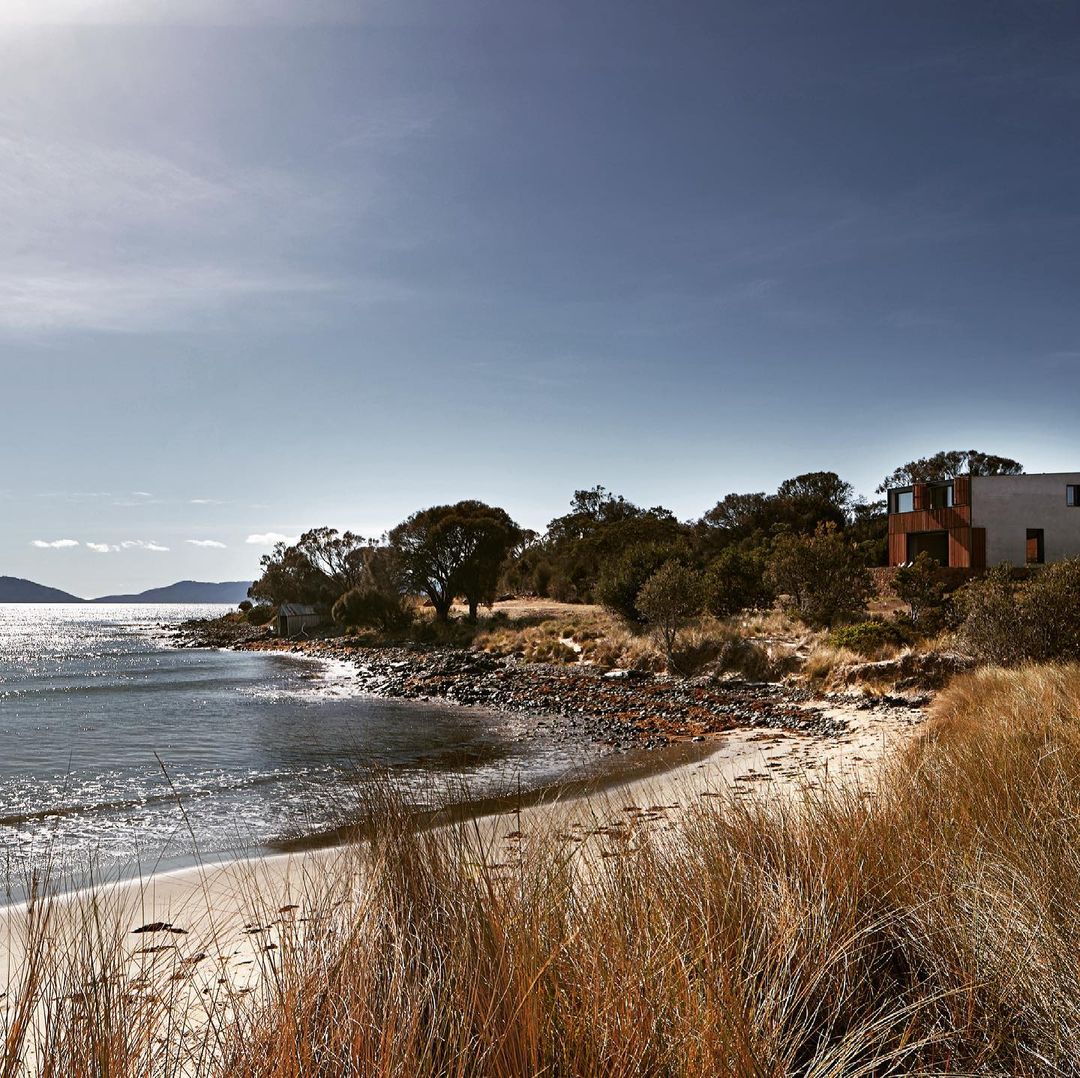 Piermont Retreat is made up of several cottages and suites, as well as two private white-sand beaches and a saltwater outdoor pool. A modern Australian restaurant in the property's original homestead building completes the picture, offering up what is easily one of the best retreats in Tasmania.
Guests can borrow kayaks and mountain bikes to explore the surrounds before winding down with some fine Tassie wines in front of a fireplace. The mix of adventure and luxury in the pristine Swansea region is more than enough reason to break away from the state's more frequented destinations like Hobart, Cradle Mountain, and Freycinet National Park.
Address: 12990 Tasman Hwy, Swansea Tasmania, Australia 7190
Contact: (03) 6257 8131
---
Quamby Estate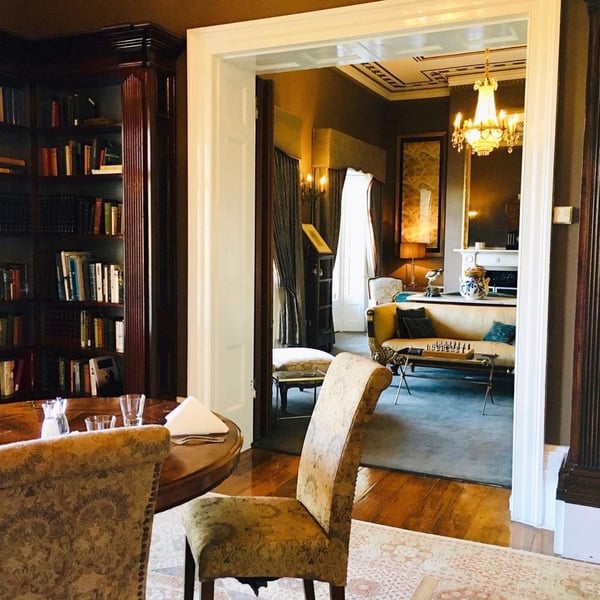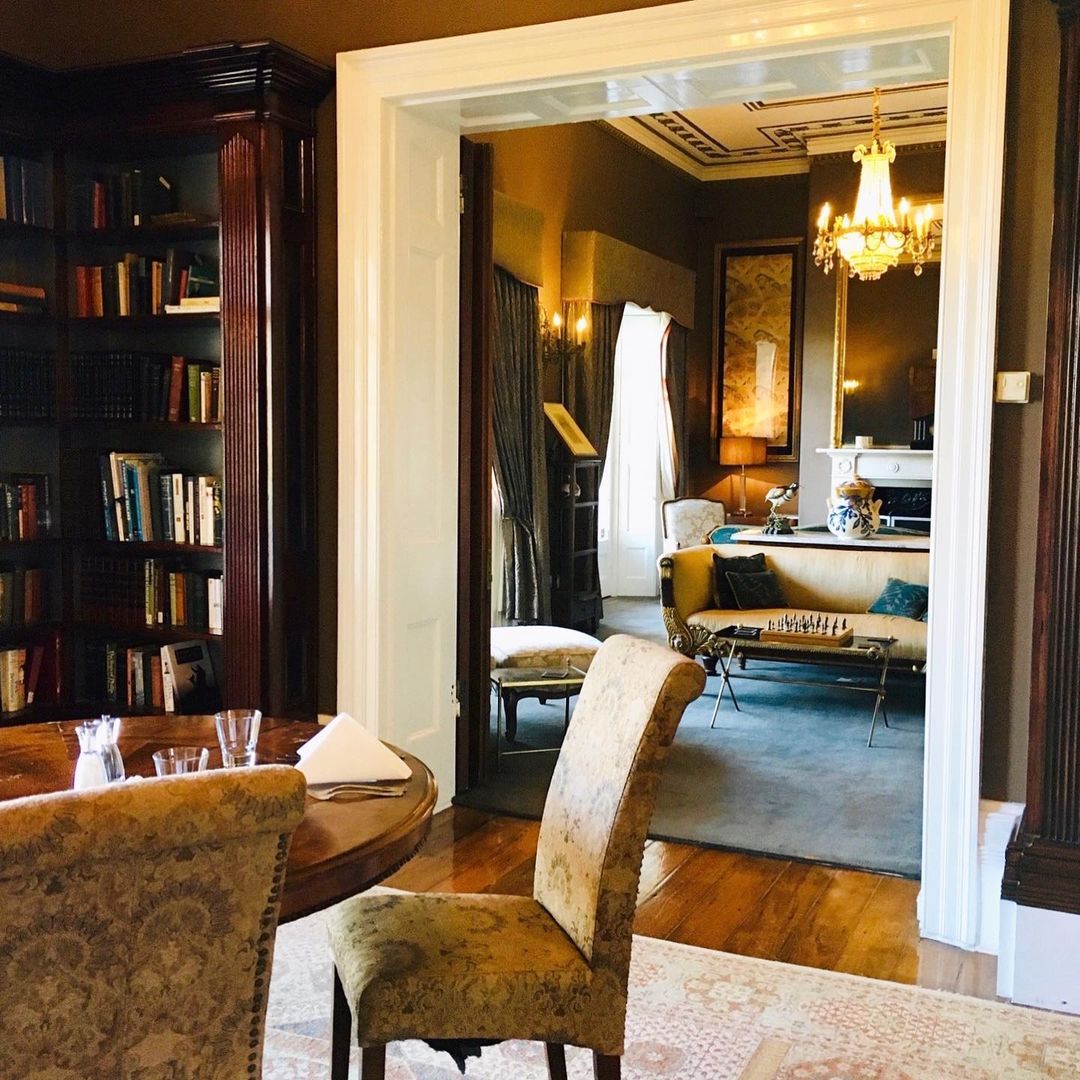 Once the ancestral home of Sir Richard Dry, Quamby Estate is a sophisticated 10-room manor with its own golf course and fishing lake. The kitschy mismatched furniture in each room helps with the eccentric style that can be found all throughout the property, which is located near the quiet village of Hagley.
The 1828 Georgian manor house oozes with the kind of old-world luxury appeal that sets it apart from the other luxury hotels in Tasmania. And the almost 68-acre property provides plenty to do with an abundance of golfing and fishing when you're not darting through nearby Cradle Mountain of course.
Address: 1145 Westwood Rd, Hagley Tasmania, Australia 7292
Contact: (03) 6392 2135
---
The Woodbridge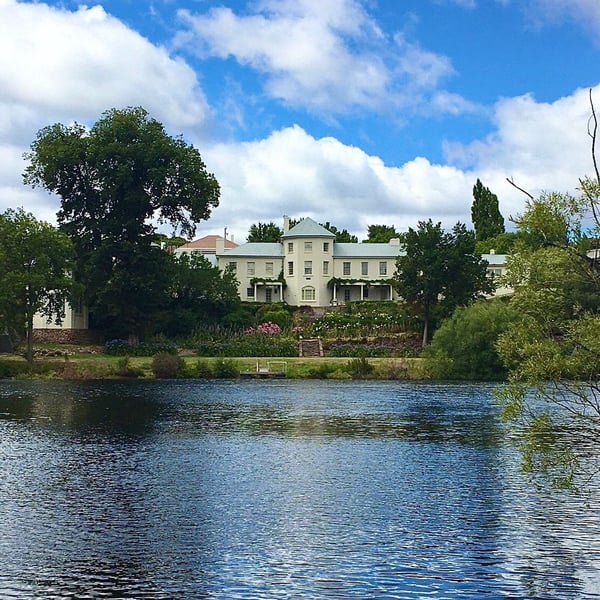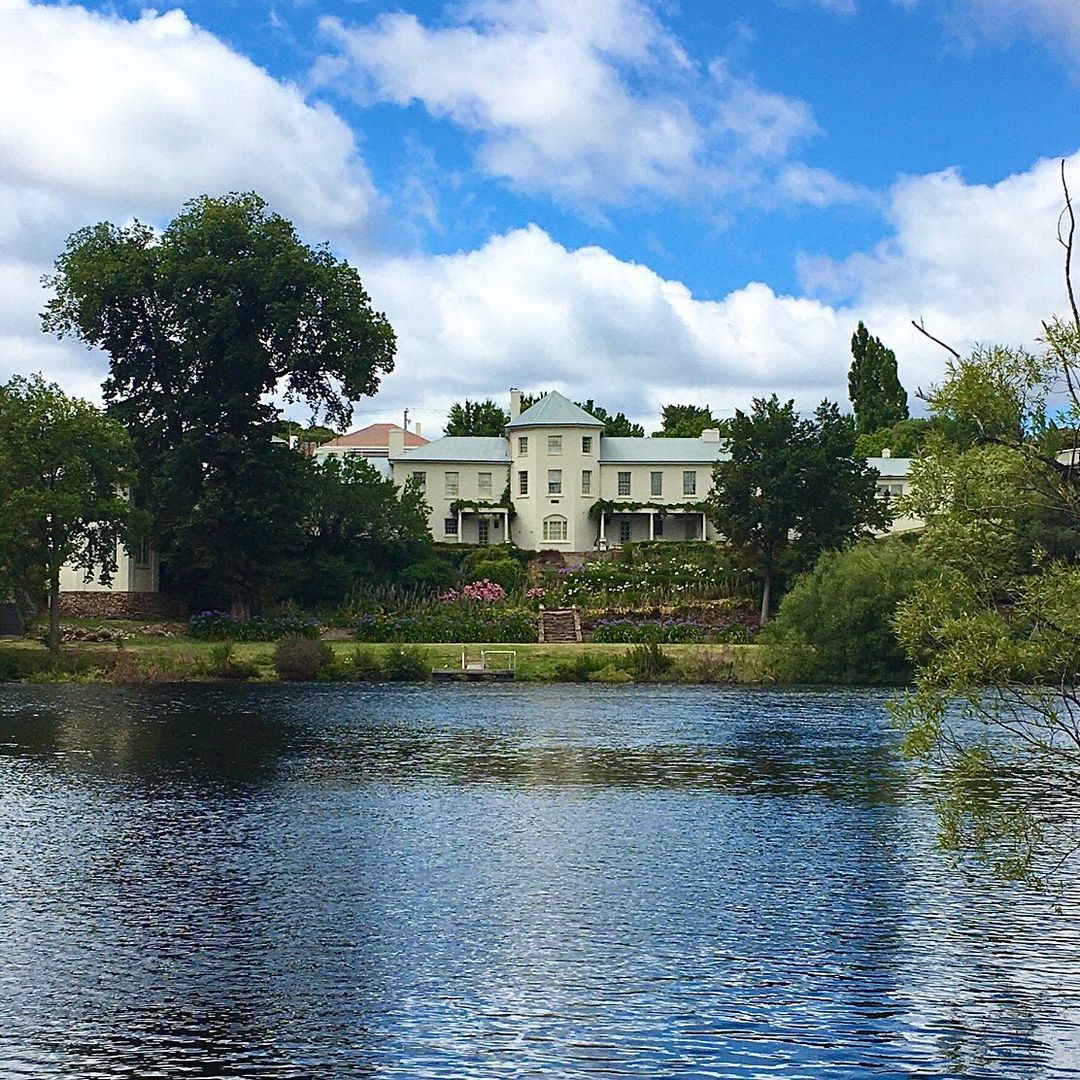 This five-star boutique hotel just outside of Hobart is one of the oldest mansions in Australia, built in 1825. Only 9 bedrooms make up Woodbridge, overlooking the Derwent River with enough pizzazz to have joined the coveted Small Luxury Hotels of the World stable.
The homely furnishings and 200-year old blackwood floors take care of the interiors, but it's really the riverside location that takes Woodbridge beyond expectation.
Address: 6 Bridge Street, New Norfolk Tasmania, Australia 7140
Contact: 0417 996 305
---
Islington Hotel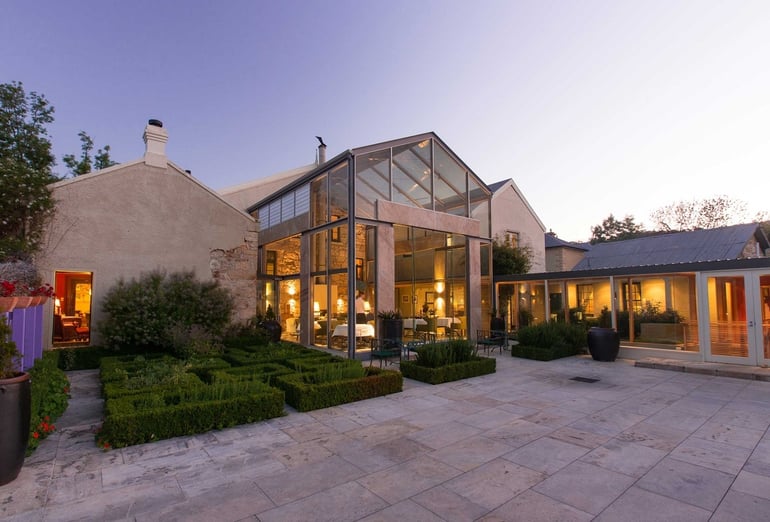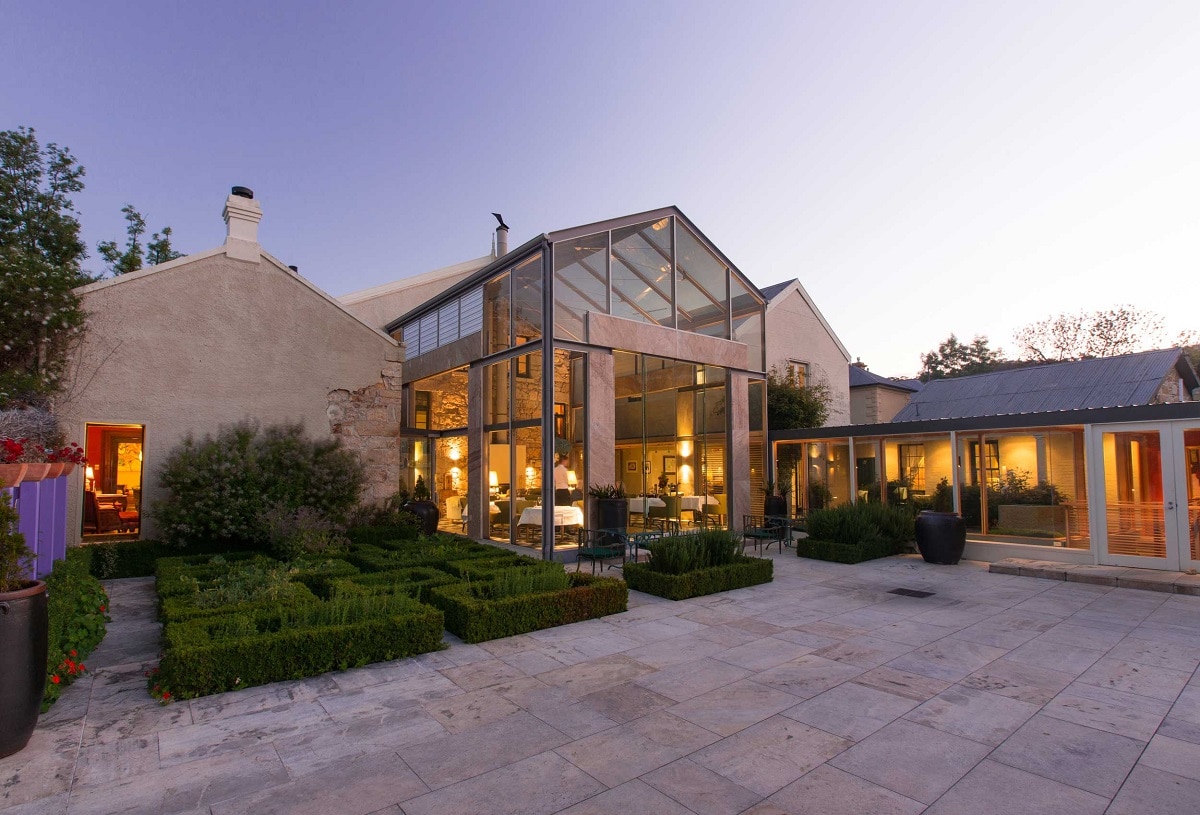 Hobart's Islington Hotel is an architectural gem, unrelenting when it comes to its five-star hospitality with 11 luxury lodges offering views towards Mount Wellington.
The grip on pure opulence is obvious, from the worldly art collection and smart interiors to the fine on-site double-glassed restaurant making the most of its produce garden.
Address: 321 Davey St, South Hobart Tasmania, Australia 7000
Contact: (03) 6220 2123
---
What is the best way to get around Tasmania?
Hiring a car would be your best bet. Uber is around, but the service is only really convenient within Hobart.

The family-run Drive Car Hire based out of Hobart is one of the better choices – be sure to book in advance.
How far is Launceston from Hobart?
The distance between Tasmania's two major cities is 201km, which translates to just under 2.5 hours of driving time via the National Highway 1.
How do you get to Cradle Mountain?
The UNESCO World Heritage Listed Cradle Mountain is a 4-hour drive from Hobart or a 2 hour from Launceston.
How do you get to Saffire Freycinet from Hobart?
Saffire Freycinet is a roughly 2.5 hours drive from both Hobart and Launceston.
What is the best restaurant in Hobart?
Hobart has no shortage of impressive dining experiences including Templo, Peacock and Jones, and Fico.