That Australia has some of the best kayaking spots in the world should be no surprise. Nor should it be taken lightly. From the vastness of British Columbia and the coastal wilderness of Alaska, to the immense beauty of the Southern French Alps, the world is certainly not lacking when it comes to pristine and unforgettable places to kayak. So why does Australia stand so distinctively amongst these often otherworldly destinations?
Diversity is definitely one. Whether it's the storied seduction of Sydney Harbour, or the jaw-dropping tranquillity of Tasmania's Freycinet Peninsula, there is absolutely no shortage of choices for those keen on exploring the country's dramatic coastal treasures.
Although there are many places across this country that are best seen from the cockpit of a trusty kayak, it would be foolish to try and list them all, or else you might end up feeling overwhelmed and indecisive. Rather the following is a tightly curated list of the most unforgettable kayaking spots in Australia – the best of the best, whether you're at the helm of one of those fishing kayaks perfect for rod holders, recreational kayaks for comfort, sea kayaks for better stability, or a touring kayak for speed, range and efficiency.
---
---
Whichever seat you choose to sit on top of, you'll have an absolute pearler of a day out if you've looked all over the country, from the best kayaking spots in Sydney to the best kayaking Tasmania has to offer, to zone in on only the finest.
If self-guided is your style, and you've had plenty of experience paddling through Australia on kayak, make sure you pick a good launch site and go from there. I've included a tour in each of the suggestions below just in case those less experienced enthusiasts want a more accessible route without sacrificing the experience. Most of these tour operators will rent kayaks out as well, so if you're feeling confident enough to go out on your own (or with some mates), make sure to ask if they do rentals before you go and book a multi-day tour.
Although you might want to browse around online for all the regular sale kayaks that are regularly posted with generous discounts. If you want the best price on good quality stock kayaks, it's really not that hard to find what you're looking for in Australia. Given the country has so many great places for kayaking, there's a lot of different types of second hand kayaks always being shopped around. You might have a tougher time if you're looking for delivery, so keep in mind that you'll likely have to go and pick it up yourself.
Where To Go Kayaking In Australia
---
Tasman Peninsula, Tasmania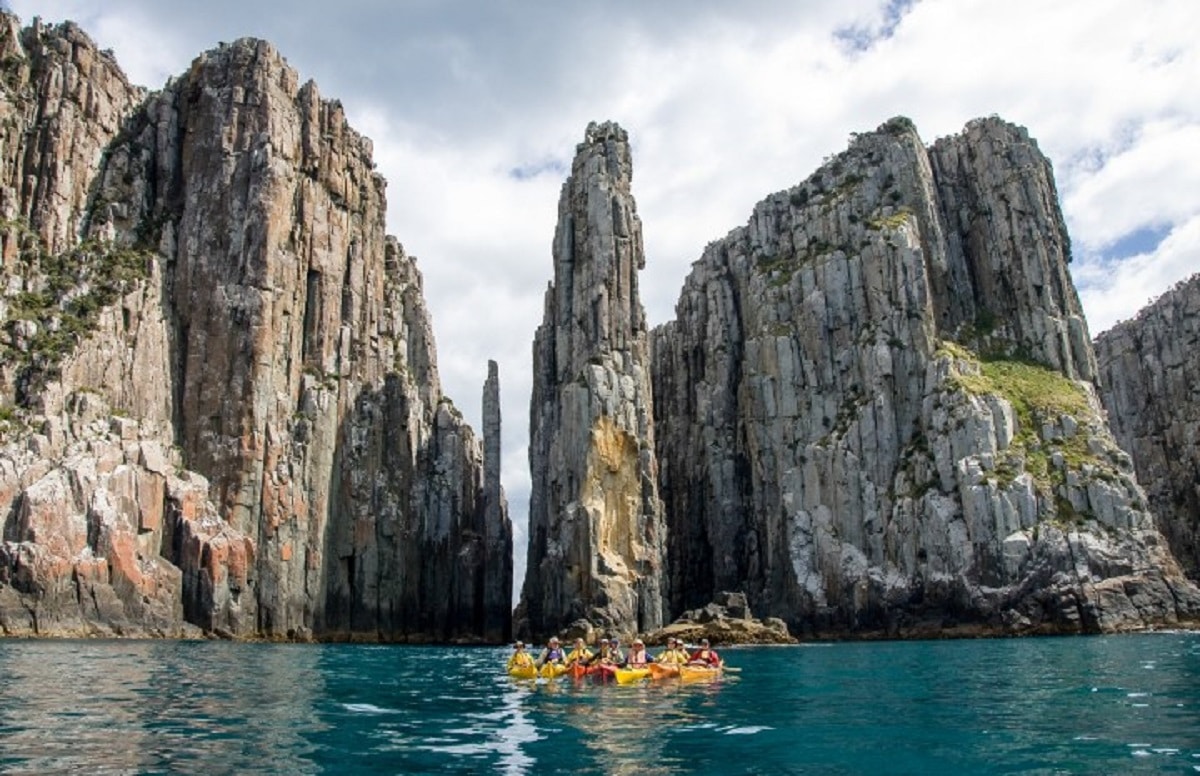 Where should you kayak in Tasmania? The answer is simply 'everywhere'. Kayak everywhere you possibly can in Tasmania, given the breathless beauty that sits under mainland Australia. Although if you only choose one spot, it should be the Tasman Peninsula on the island's southeast, just over an hour's drive from Hobart. Jump on the phone with long-running business Southern Sea Adventures, which has only recently introduced new multi-day itineraries for kayakers – one down to Bruny Island with visits to secluded coves, sea kelp forests, and sea caves. The second is a paddle past the coast's mighty dolerite cliffs and sheltered bays to the historic site of Port Arthur and the famously wild Three Capes walk.
---
Adelaide Dolphin Sanctuary, SA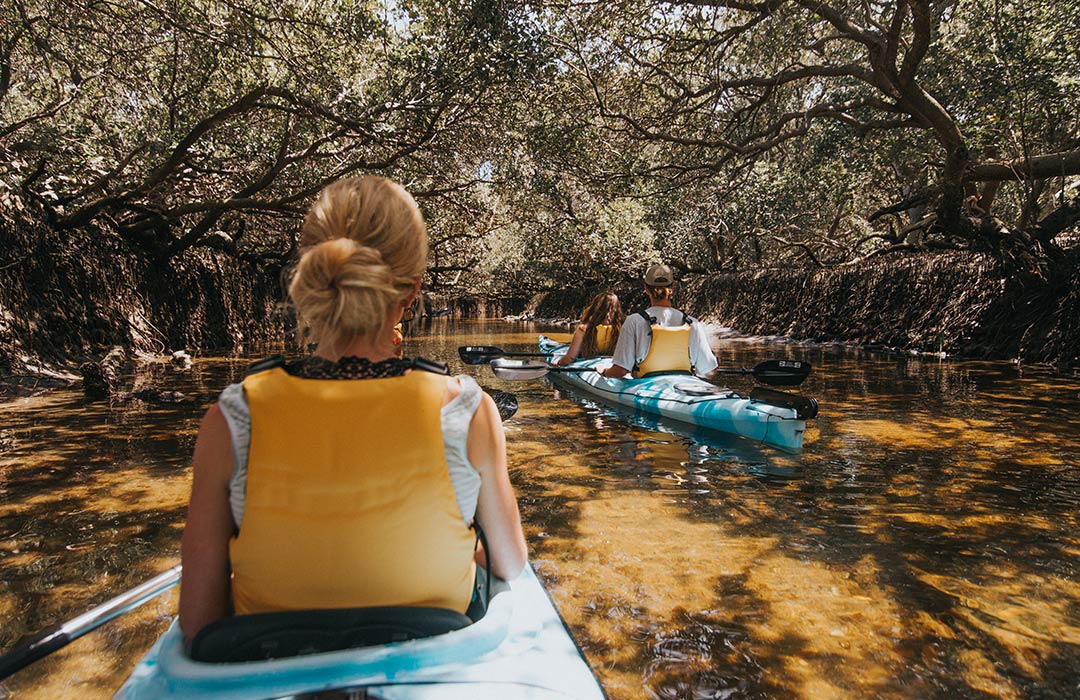 There are plenty of pristine kayaking spots in South Australia, from Coorong National Park to Coffin Bay. Although it's hard to look past the convenience and diversity of Adelaide Dolphin Sanctuary, which is surely one of the most accessible for kayakers no matter the level of experience. There are a few tours to choose from, or you can just launch from Garden Island Boat Ramp and take yourself on a tour around the historic mangrove forest and dense Ships' Graveyard. The name should give away the main attraction – don't be surprised if several Port River dolphins come circling your kayak at some point.
---
Ngaro Sea Trail, QLD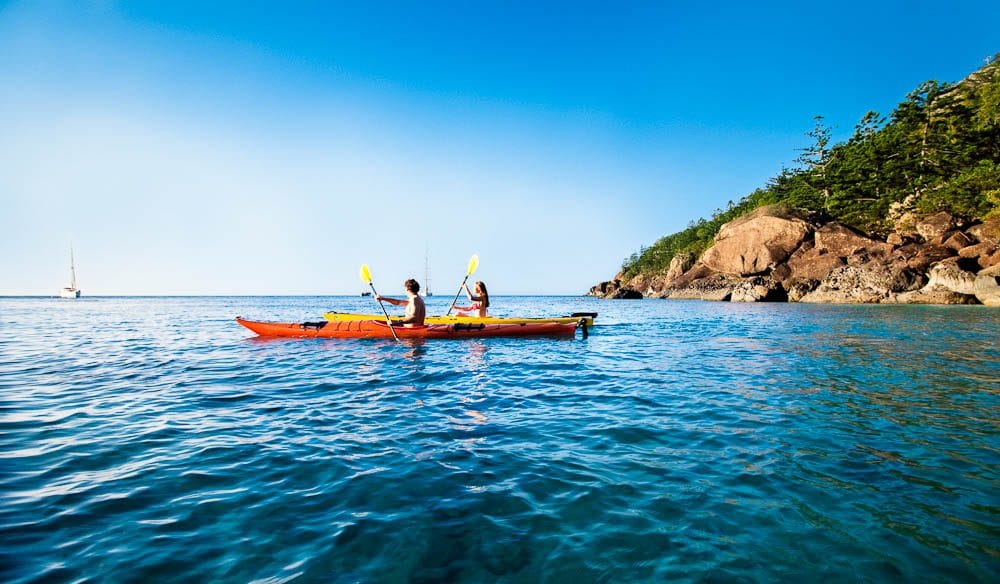 The Ngaro Sea Trail in Queensland will take you through the Whitsunday Islands if you're opting to kayak the vast circuit, although be prepared to break land a few times. The trail is best tackled through a combination of kayaking and hiking when you're venturing across the South Molle, Hook, and Whitsunday islands. The trail is known as one of the state's 'Great Walks' for good reason, and it's certainly worth it to mix it up across a few days rather than kayak for half-day and not experience the full potential of this special part of the country. It can be quite overwhelming for beginners so it's wise to hit up Salty Dog for one of their guided tours, ranging from half-day to a full 6 days with gear supplied.
---
Ningaloo Reef, WA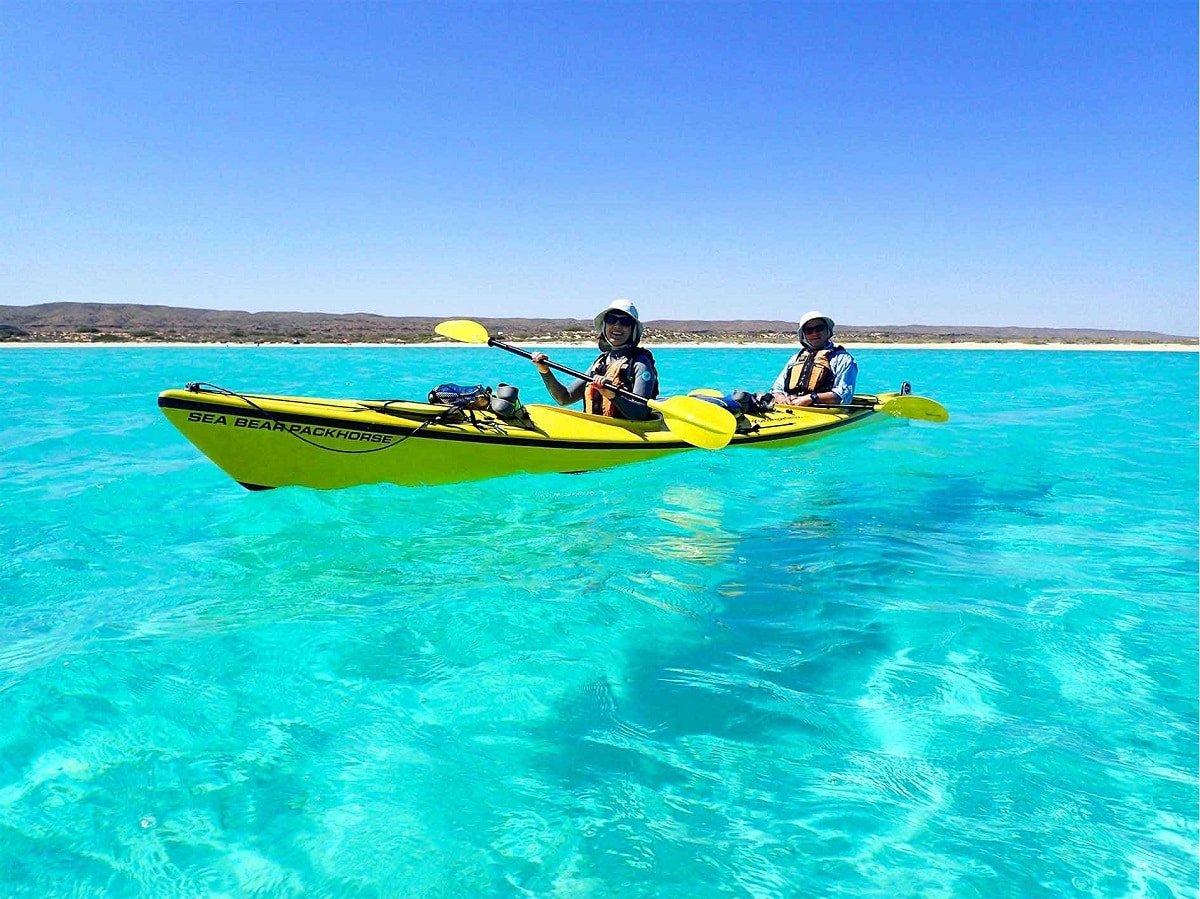 Ningaloo's World Heritage-listed marine environment is, aside from the Great Barrier Reef, the most admired in Australia. The abundant waters make this one of the best snorkelling spots in the world, but kayak enthusiasts get a good nod as well with several launch sites along the coast. One of the better choices is Tantabiddi, giving you direct access to stunning coral and staghorn gardens. Although with the numerous things to see across the reef, it's wise to go through one of the local tour operators like Exmouth Adventure Co., who list several kayaking tours that can last up to five days.
---
---
---
Freycinet Peninsula, Tasmania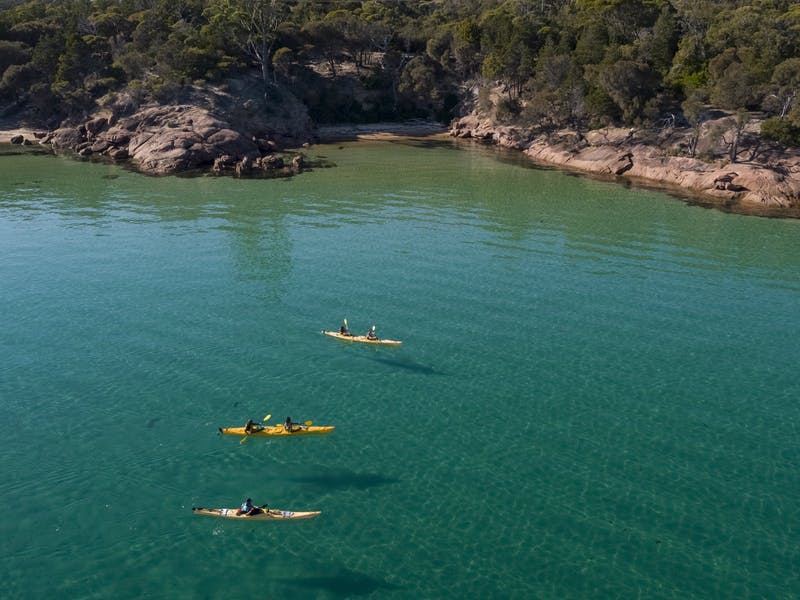 Tasmania has no shortage when it comes to the best kayaking in Australia, but this article would be multiple pages if I dared list them all. Rather, let's keep it at 2 to make things a bit more manageable. You already have Tasman Peninsula listed, but it would be a mistake to overlook the awe-inspiring Freycinet Peninsula. Those pink granite mountains and white sandy beaches look incredible while you're bobbing up and down in the waters of Great Oyster Bay. It's best to hit up Freycinet Adventures for a guided tour here, launching from the small town of Coles Bay and paddling through the best the area has to offer.
---
Sydney Harbour, NSW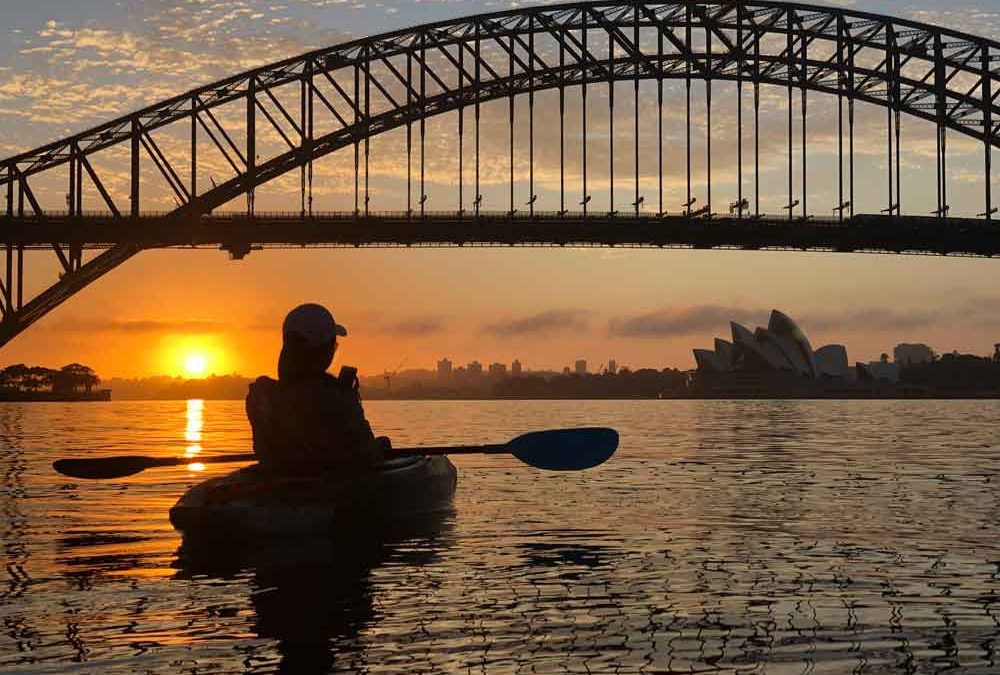 Cliche? Sure. But Sydney Harbour being one of the best kayaking destinations in the world is undeniable, and if you're looking for the best kayaking Sydney has to offer, this should be front-of-mind. You could go out to Bundeena and hire a kayak to paddle around Royal National Park and Port Hacking, or take in the intimacy of Pittwater Estuary if you've got the good sense to launch from Bayview. But it's Sydney Harbour that remains unbeatable simply because of those sunrise and sunset kayaking tours. You could go self-guided and take your kayak around Onions Point and Woolwich Dry Dock, or simply launch over at Lavender Bay for the quintessential sunrise kayak and coffee guided tour, weaving around the various boats for a very atmospheric day out.
---
Eden, NSW
If you've already conquered Sydney Harbour and Royal National Park, it's a good idea to take a dip in the glassy waters of New South Wales' Sapphire Coast. Zone in on Eden, part of the famous Humpback Highway. Take a kayak through the coastal estuary snaking from the town of Kiah and head upstream for one of the more relaxed and easy-going kayak experiences in the state.
---
Look for some water activity without the effort? Take a look at the best hotel pools you can find in Australia.
---
Best Kayaking In Australia – Frequently Asked Questions
Where is the best state to kayak in Australia?
If you're looking at the very best kayaking in Australia then you're either heading straight to Tasmania or you're hitting up Ningaloo Reef out in Western Australia.
Where is a good spot to kayak for beginners?
If you haven't had that much experience kayaking then you should launch over at Sydney Harbour or Adelaide Dolphin Sanctuary.