Africa's Big Five are still going to be there when international travel starts up again. But for now, Australians pining for that adrenaline-fueled safari fix will need to look closer to home. Fortunately, this country has plenty of comparable experiences, throwing you into the proverbial ring with native wildlife and – while largely different from the traditional African game drive – brings you just as close with free-roaming animals in their own natural environments. Here are five stand-out options you should consider for a safari in Australia.
Kakadu National Park, Northern Territory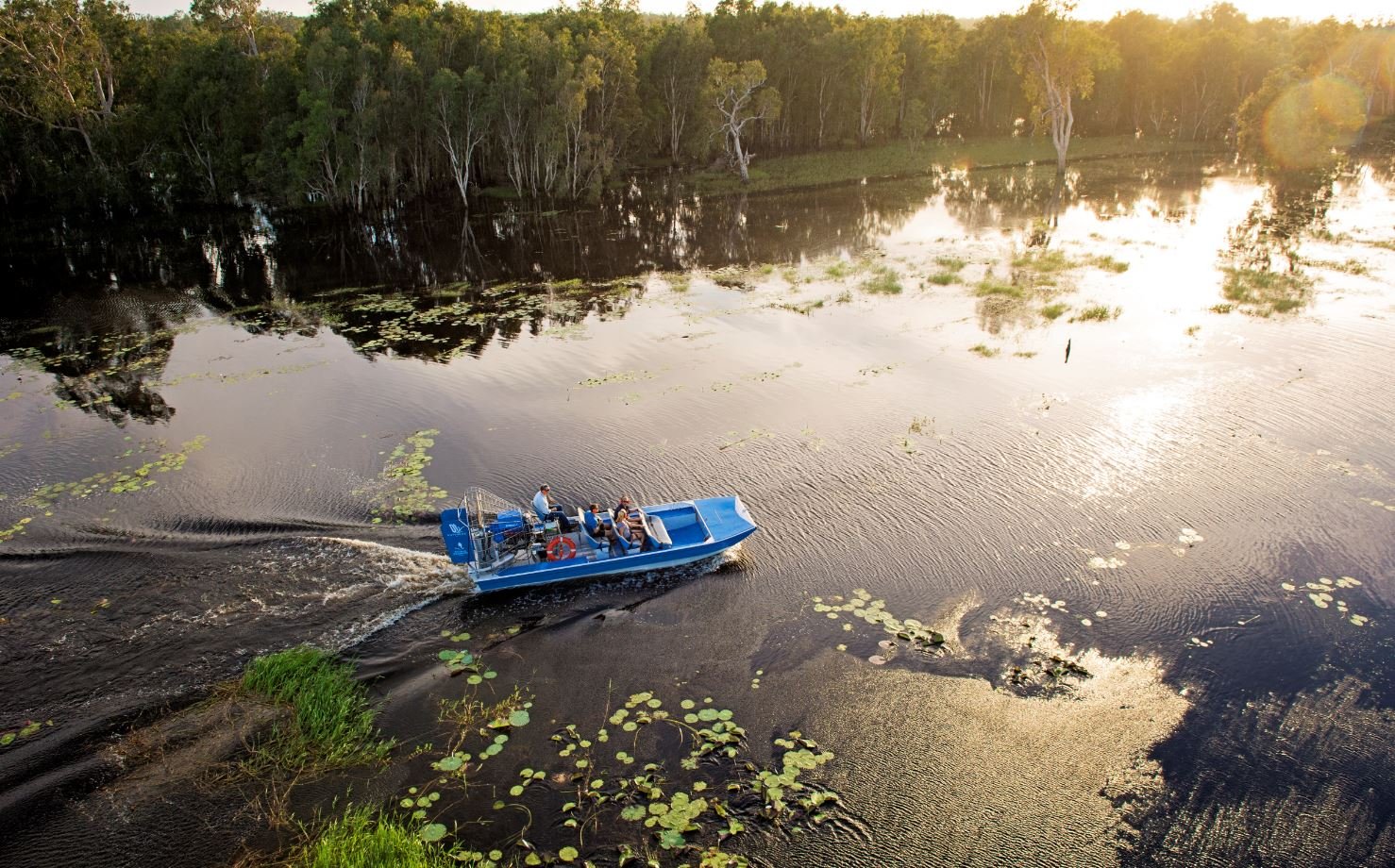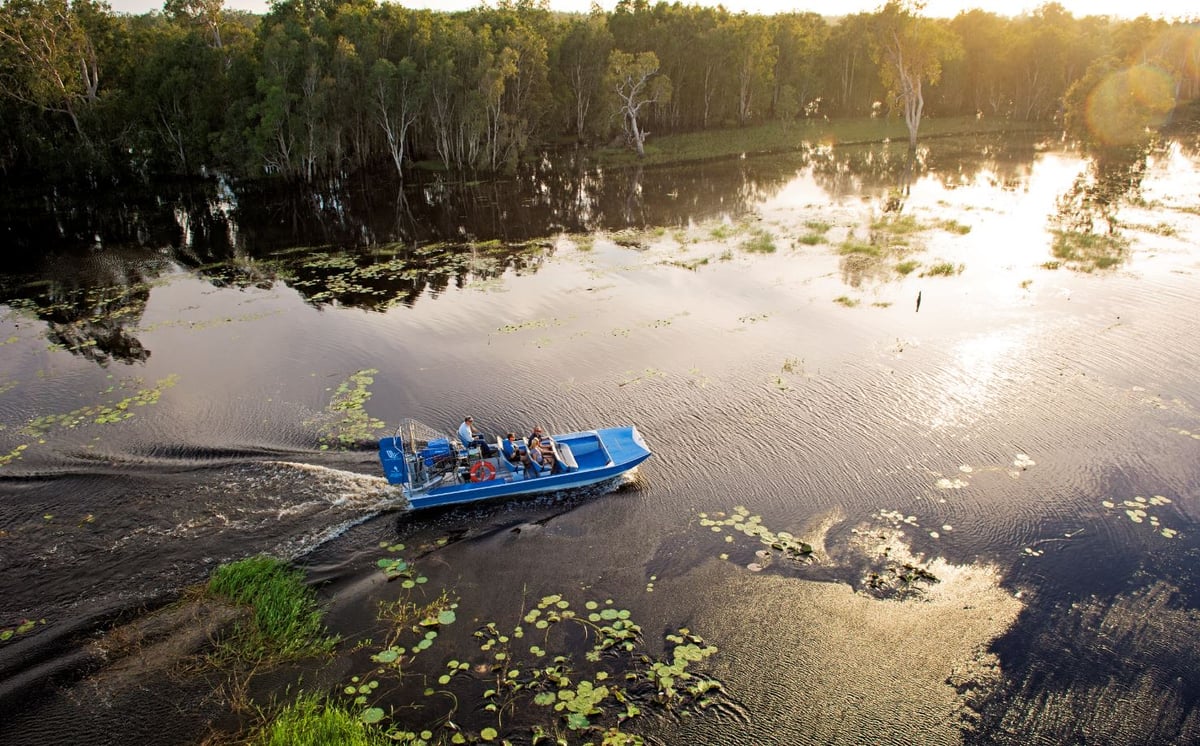 The World Heritage-listed Kakadu National Park is easily Australia's largest, spread across 20,000 square kilometres with a reputation for nature's extremes across various biomes, i.e. savanna woodlands, floodplains, open and monsoon forests, mangroves. As you can imagine, the wildlife is just as abundant and diverse, making it the ideal destination for a productive Australian safari.
There are several different tour operators vying for attention here, but if you want to pair the experience with an immersive overnight stay, you've got two key options. Firstly, overlooking Mary River National Park is Wildman Wilderness Lodge – which mirrors an African safari-style accommodation with ten air-conditioned cabins and fifteen generously sized glamping tents.
The trophy experience at Wildman is a brisk airboat safari trailing the dramatic waters of Mary River Westlands. This area claims the world's highest density of crocodiles – both saltwater and freshwater – so it wouldn't exactly be unusual to see more than a few toothy grins snapping above the surface, as herds of water buffalo wade the waters and magpie geese go about their business.
Your second option is a step higher on the scale of luxury, landing at the nearby Bamurru Plains Lodge where 10 rustic-chic bungalow tents stand spaced out for a limited number of guests. Again, the airboat safari is the top choice, zipping the floodplains to observe nature at its most wild. Though you'd also have open-sided safari vehicles to take you past the wildlife, which includes 236 bird species on the property.
Flinders Ranges, South Australia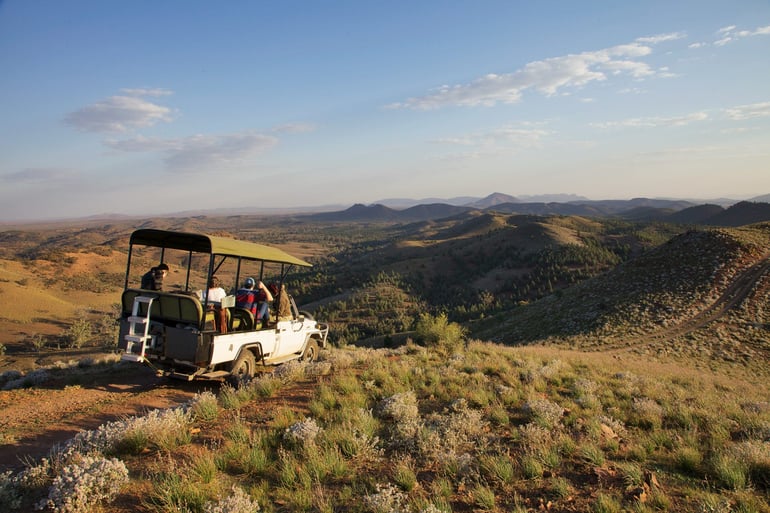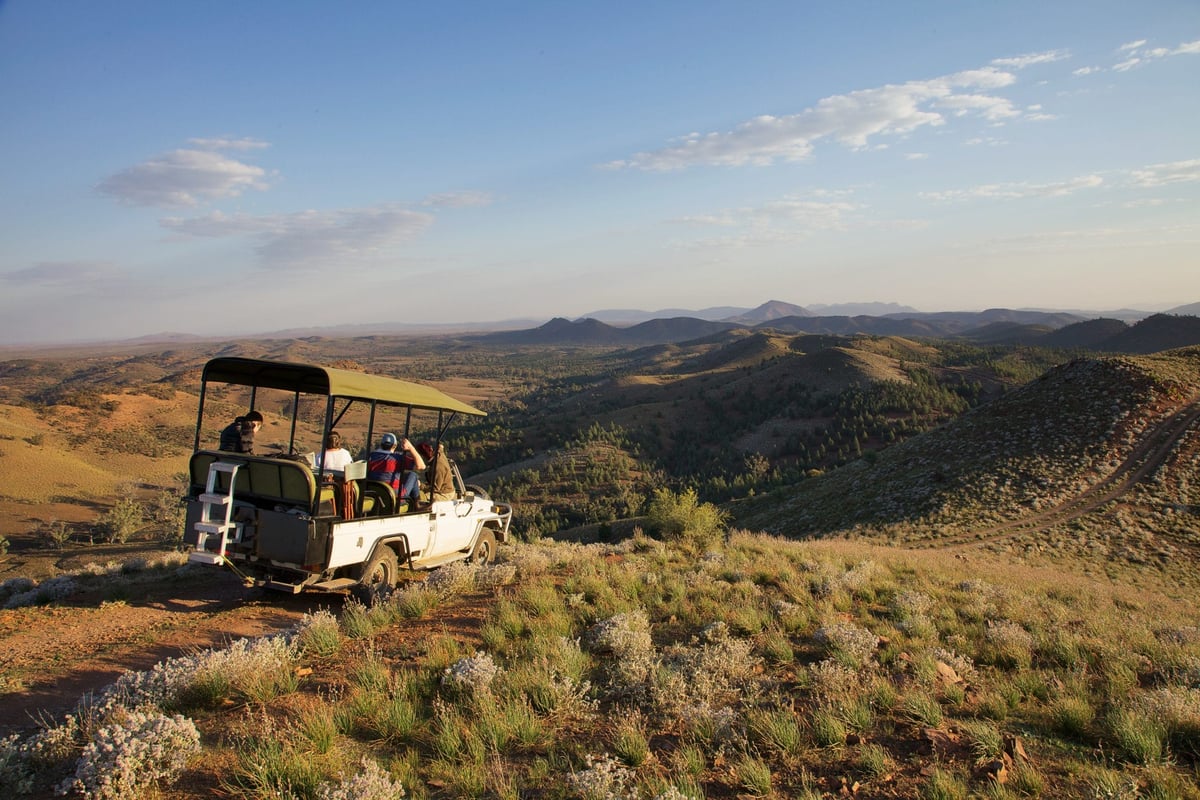 The weathered peaks and rocky gorges of South Australia's Flinders Ranges make for one of the country's most archetypal outback experiences. Here, you'll find a notably untamed and diverse terrain, concentrated mostly in Ikara-Flinders Ranges National Park where you'll also find the immense amphitheatre of saw-toothed mountains known as Wilpena Pound.
If you want to safari here, 4X4 roaming on the countryside will be replaced with a four-day adventure on foot commonly referred to as The Arkaba Walk. The immersive and demanding expedition is a fully hosted, all-inclusive journey with a maximum of ten people – and the option to rough it out with swag camping or taking it easier with a lodge-based accommodation is available.
Either way, it's a deep dive into privately-owned property spanning 60,000 acres, heading straight into the heart of a landscape populated by red kangaroos, emus, dozens of reptile species, bearded dragons, echidnas, and plenty of other undisturbed wildlife.
RELATED: The Wildest & Most Remote Luxury Hotels in Australia.
Ningaloo Marine Park, Western Australia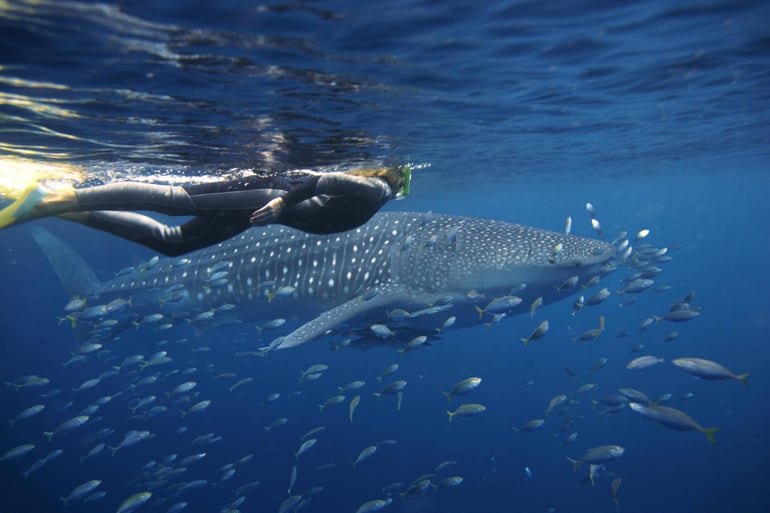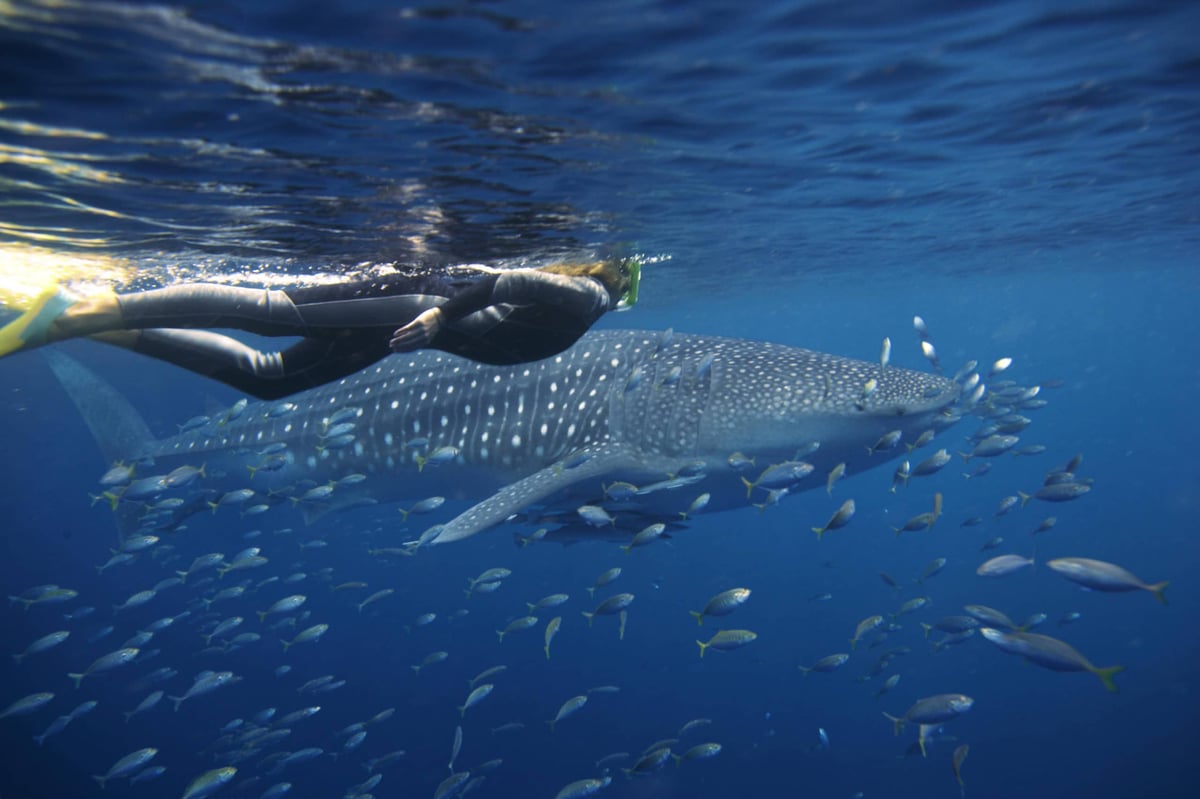 Africa's marine safaris may thrill with the "other" Big Five, but you wouldn't want to climb into their waters without the protection of a shark cage. That's not the case at Western Australia's Ningaloo Marine Park, where you're encouraged to get up close and personal with some magnificent wildlife.
The country's largest fringing reef is home to a high density of whale sharks, manta rays, dugongs, dolphins, and humpback whales. And you can be as close as actually swimming with these magnificent creatures.
In fact, Ningaloo is the only place in the entire state where you can interact directly with migrating humpbacks, bringing you face to face with the gentle giants. Consider it the Mozambique of Australia.
Tasmania… in general
Tasmania's unique wilderness and often overwhelming landscapes are almost impossible to experience in just a day. Instead of the traditional game drive, the best way to truly take in the island state is on a multi-day adventure.
There are several operators tracking the extraordinary bushland and mountains of Tassie, like Pepper Bush Adventures who offer up a number of tours such as the "Bushie's Tasmania Wildlife Safari." The two-day-two-night affair kicks off in the highlands of northeast Tasmania, searching for the more elusive creatures like the Tasmanian devil, while also mixing it up with wine-fueled cellar stops, and long productive hikes.
If you want to take the reins, grab a few mates and spend a night on Picnic Island. A well-designed guest house has been built on the remote island, along with a 300-metre boardwalk which tracks the tiny landmass so you can find the perfect angle from which to view the various sea eagles, shearwaters, dolphins, seals, and whales that count as regular visitors. Though penguins are the main draw here, with an entire colony calling the island home, making Picnic Island the only place in the world where you can actually sleep amongst an army of those gregarious marine birds.
Kangaroo Island, South Australia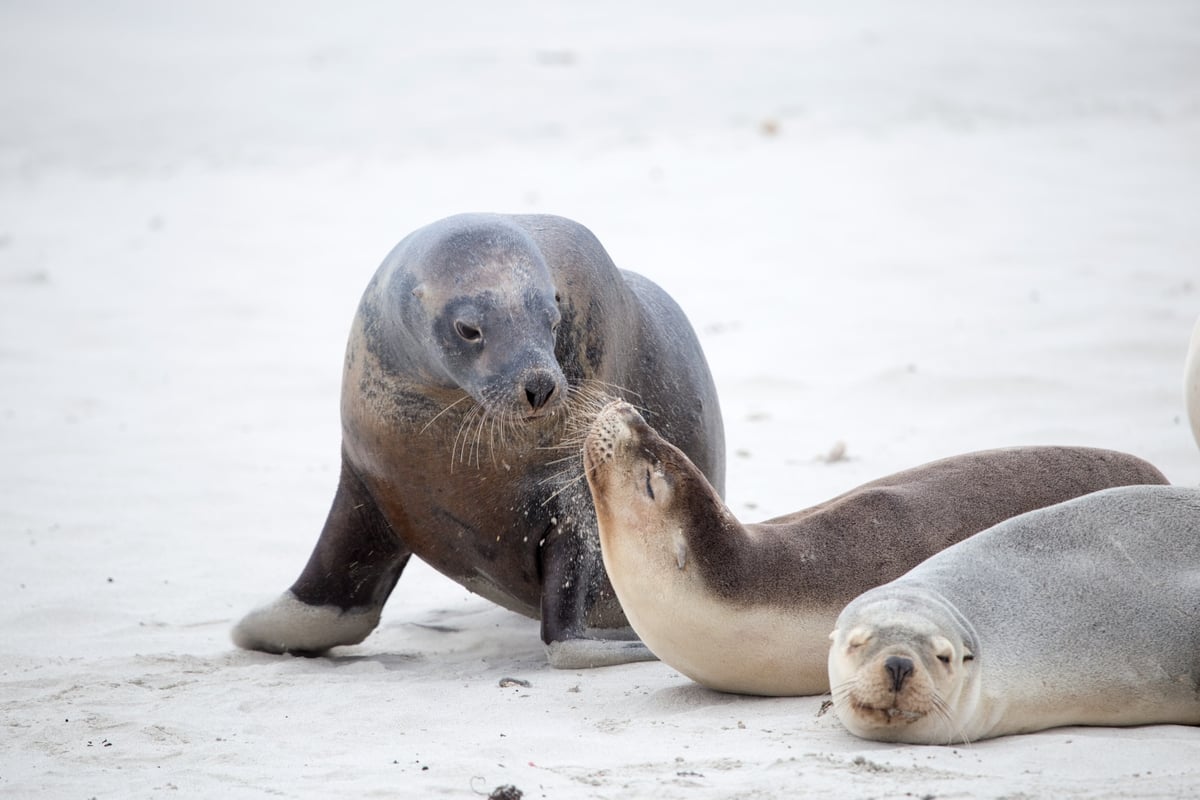 One of the most obvious places to get amongst the wildlife in Australia would be Kangaroo Island. Seven times the size of Singapore, the island is home to close to 150 species of native Australian animals and has earned its reputation as the Galapagos of Down Under.
Although Kangaroo Island was one of the most ravaged parts of Australia during the devastating bushfires of 2019-20, much of the 145-kilometre long rock is still brimming with life; and curated small-group tours like those run by Exceptional Kangaroo Island are still operating.
If you've got four days to spare, go for the "Kangaroo Island Immersion" tour which takes in a large scope with private bush camps, a visit to Seal Bay Conservation Park, and hikes to hidden coastal grottos usually populated by a large colony of long-nosed fur seals. The last day of the tour is an overly indulgent dip into the best food and wine on Kangaroo Island, which is how every safari in Australia – and beyond – should end.